Every year, Saad and I try to take at least one trip abroad with friends, who are more like family. In 2017, we traveled to Italy, which was a litmus test for our couples' chemistry and ability to travel together in a group. This year, we recruited our usual A-team crew for another European getaway - to Portugal! Admittedly, Portugal wasn't high up on our list of places to visit because 3 out of the last 4 trips we've taken have been to Europe.
Then why did we pick Portugal?
Because we had heard amazing things about it from friends and co-workers, and because it was a short, 6-hour direct flight from Boston. It was also someplace no one in our group had been to.
So off we went to Portugal! Our first stop was Lisbon (a.k.a. Lisboa, which is how it's pronounced in Portuguese).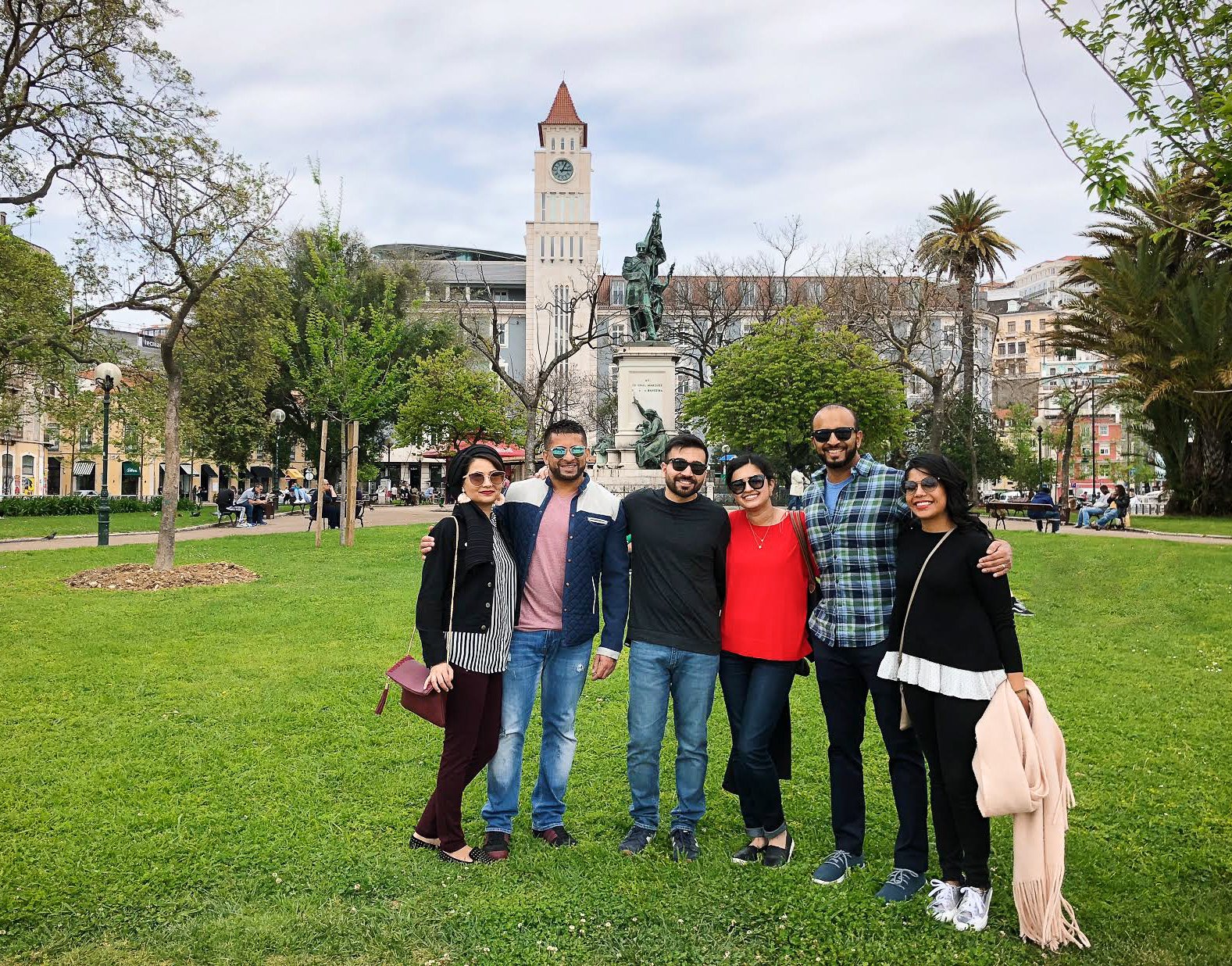 The six of us shortly after arriving in Lisbon
Section overview
A Moorish past
Lisbon is one of the oldest cities in the world, predating other European capitals like Paris and Rome. Its strategic location at the mouth of the Tagus river, its proximity to Europe, Africa, and America, and its mediterranean climate have always made it an important trading port. Throughout history, various empires fought over Lisbon for this very reason; to gain control over its commercial routes.
It's particularly interesting to note that, beginning in the 8th century, Lisbon was ruled by Islamic Moors for 500 years. These Moors were mostly Berbers and Arabs from North Africa and the Middle East. They called Lisbon "al-Ushbuna," and it ultimately became part of the Caliphate of Cordoba. Under Muslim reign, Lisbon's economy flourished as they introduced new navigational sciences so Portuguese ships could travel further, implemented irrigation systems to cultivate the Algarve plantations south of Lisbon, and opened up trade with countries like Morocco, Tunisia, Egypt, and Syria.
Although Lisbon was eventually conquered by Christian crusaders, and much of the physical evidence of the Muslim era was destroyed, you can still find traces of Arab influence here and there. For example, the Portuguese language is sprinkled with words of Arabic origin, like oxala which is related to inshAllah (God willing). How cool is that?!
As I recount our trip to Lisbon in the rest of this post, I'll do my best to point out other examples of Muslim influence that linger today.
What to expect
Architecture
Lisbon is a hilly city with a landscape similar to that of San Francisco. The city's architecture is colorful, fascinating, and as eclectic as its history. You'll see state-of-the art buildings in one part of the city, and partially collapsed, centuries-old structures in another. You'll see pearly white exteriors next to bright yellow ones. You'll see funky graffiti on one corner and intricate tile art on another. Lisbon's architectural beauty lies in its lack of uniformity.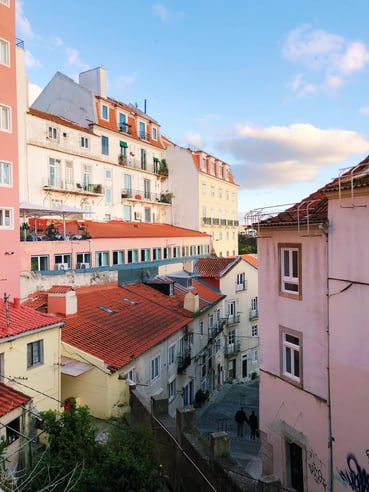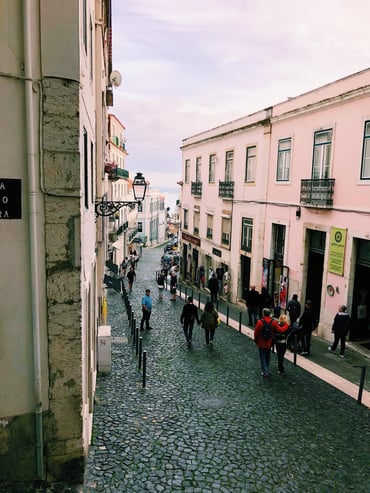 Lisbon's hills and winding streets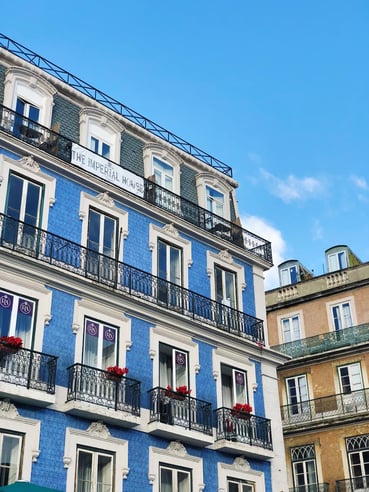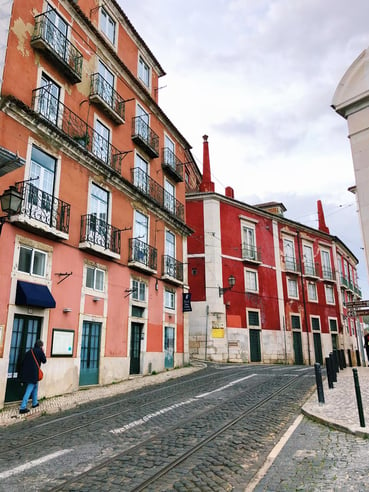 Lisbon doesn't shy away from color
Travel tip: One of the most unique things about Lisbon's architecture is the use of azulejos (elaborately-painted Portuguese tiles) on the exterior of traditional homes. These tiles can be found adorning walls, sidewalks, buildings, etc. You can also buy decorative tiles in local craft shops so be sure to stop by - they make wonderful souvenirs!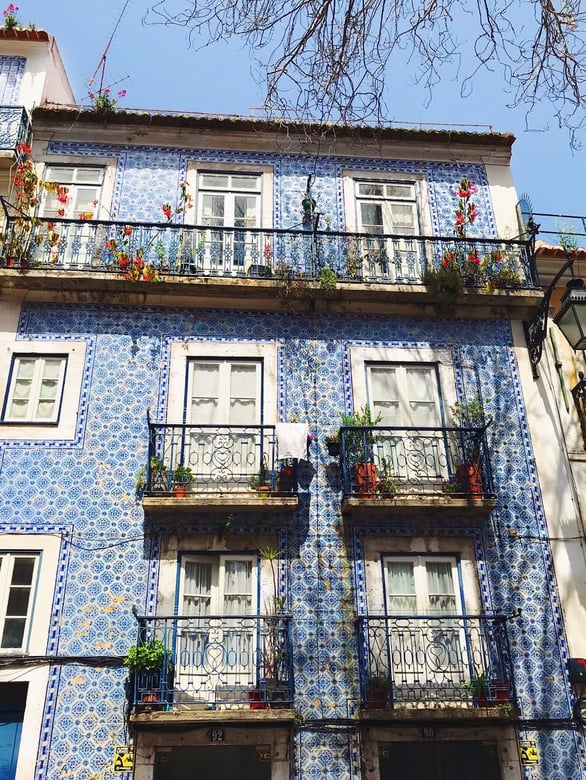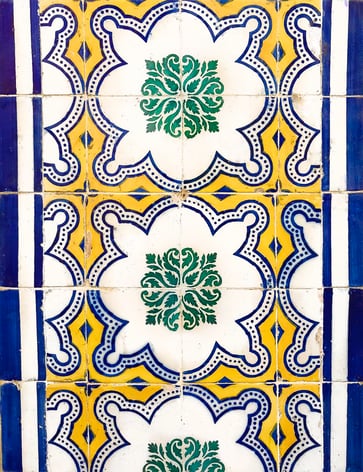 Azulejos, hand-painted Portuguese tiles
Transportation
Lisbon is a fairly walkable city, but we rented a - wait for it - 9 person van to help us get around like this. If you're not as cool as us want to use public transportation, Lisbon has plenty of trams and tuk-tuks (pronounced took-took).
Travel tip: I'd recommend riding a tuk-tuk at least once because they're super fun. It's like riding a glorified rickshaw. If you take the tram, be wary of pickpocketers! The Santa Justa Lift is technically also part of the public transportation system. This is a wrought-iron, neo-gothic lift and tourist attraction that transports people from Baixa (new Lisbon) to Largo do Carmo (an old square). The lines are usually long and we'd heard it was overrated so we didn't take the lift. If you do take the lift, check out the ruins of the Carmo Convent Church in Largo do Carmo.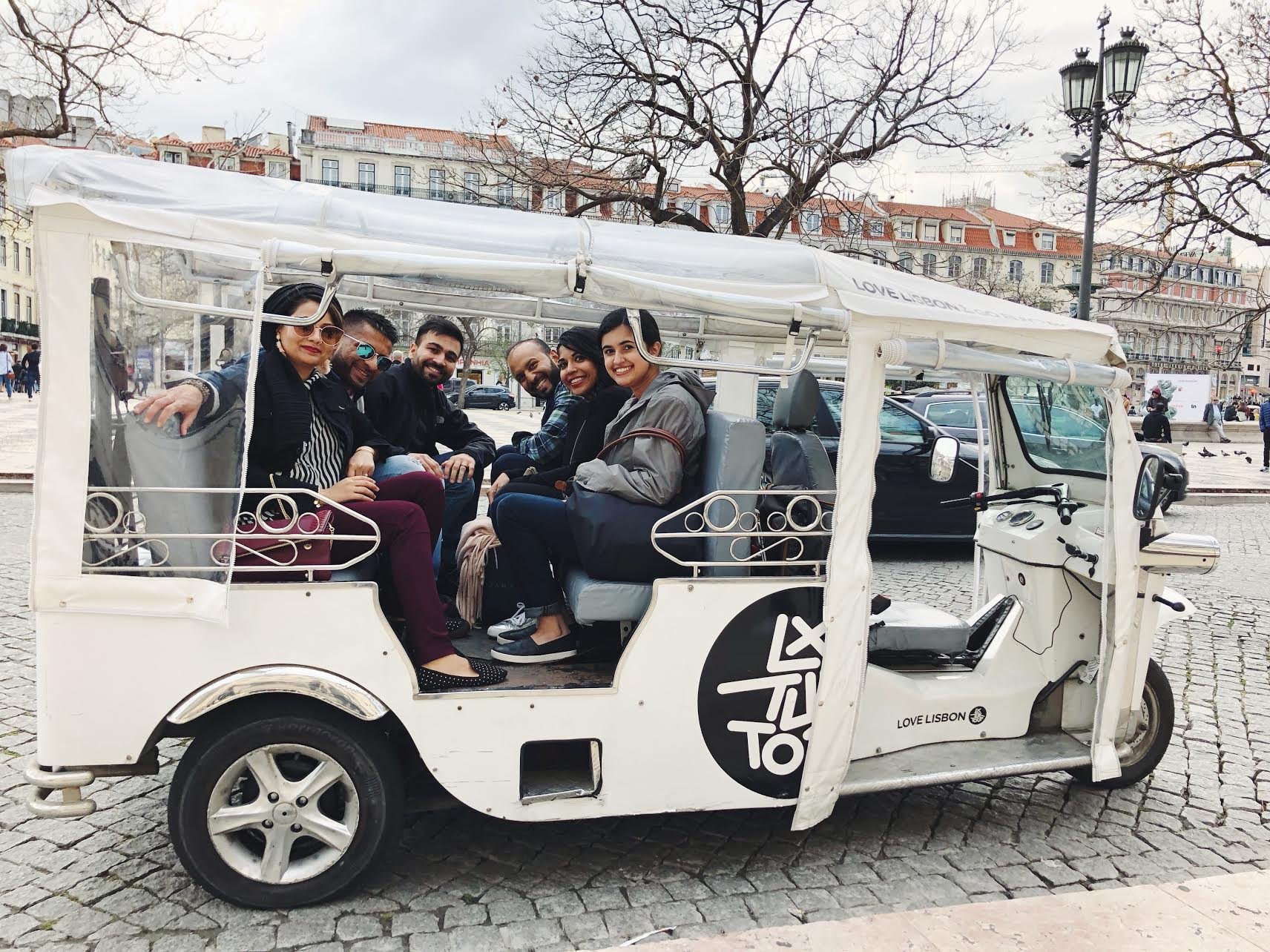 About to take our first tuk-tuk ride!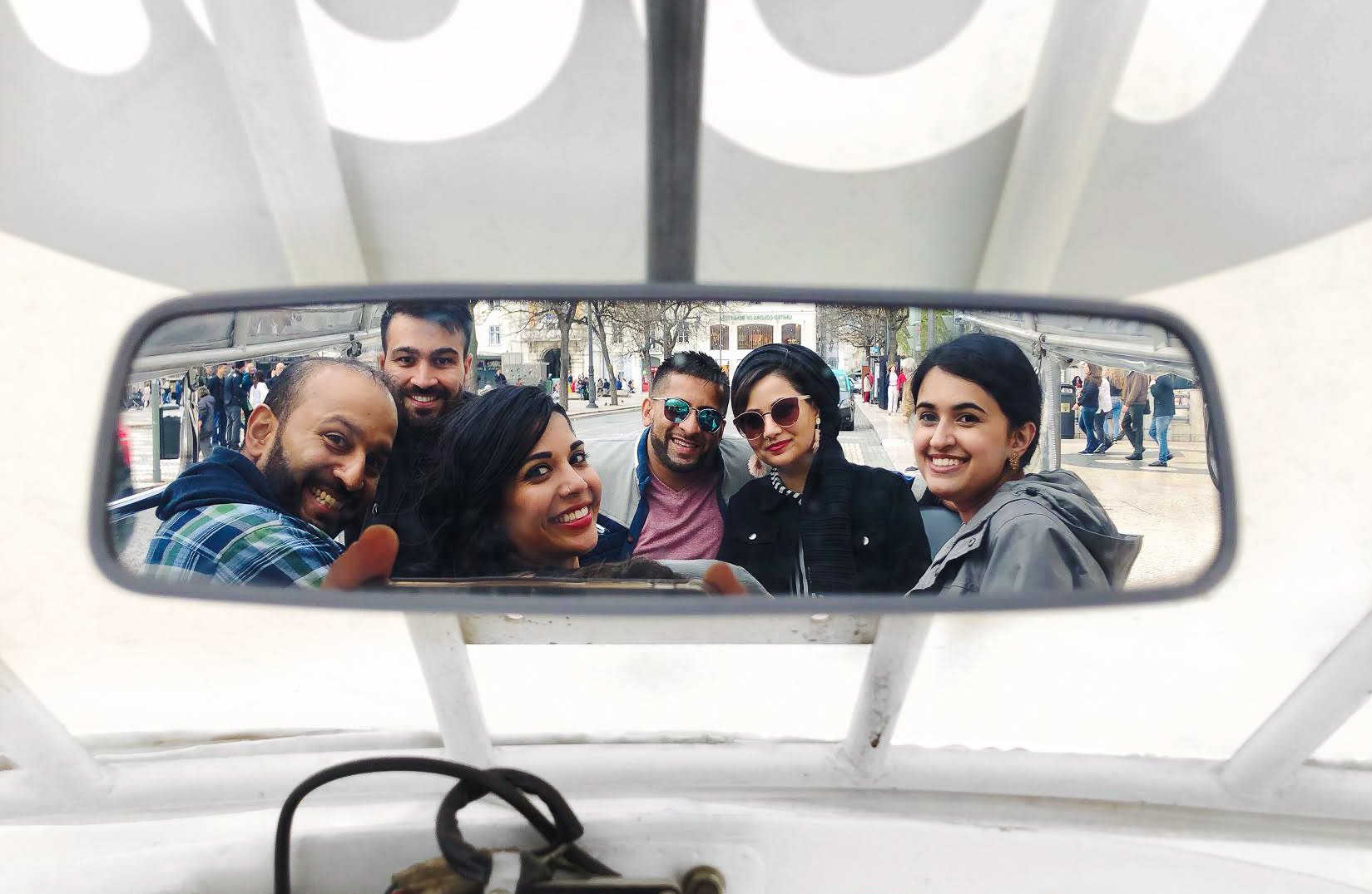 Our tuk-tuk driver was an Instagram pro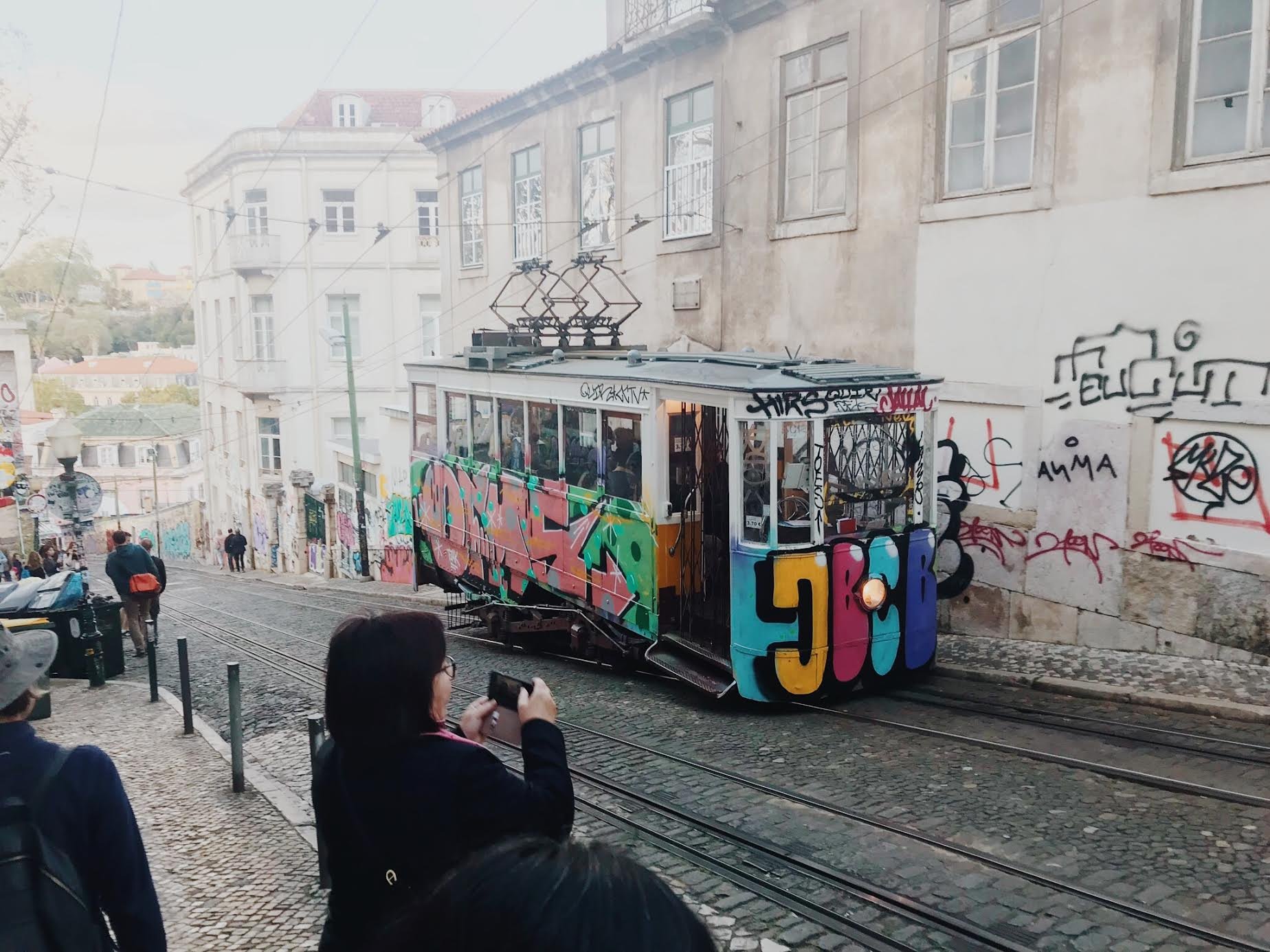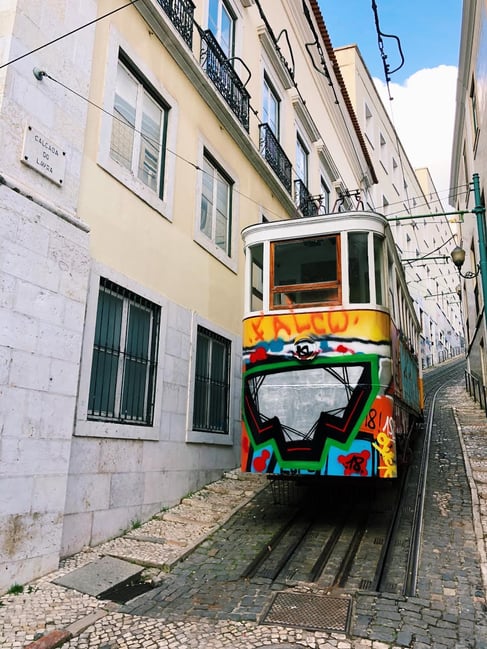 Lisbon's iconic trams
Culture
As you stroll down Lisbon's cobblestone streets, you might stumble across local musicians playing folksy tunes, see a group of Lisboners dancing, or pass a flea market. While Lisbon may lack the majesty, imperial avenues, and grand monuments of other European cities, there's plenty of charm in its narrow, winding streets, tiled houses, and bohemian aura.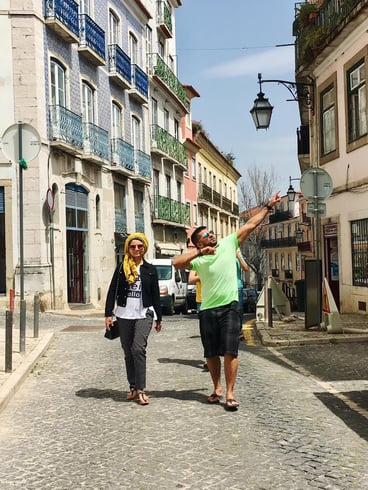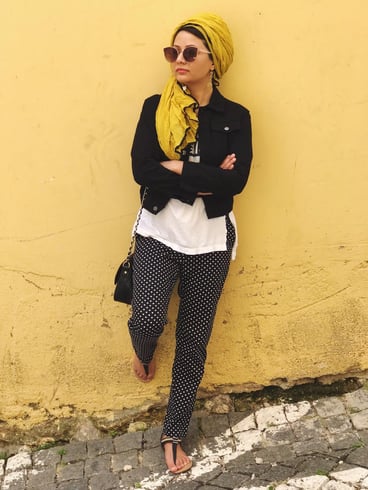 Casually strollin' the streets of Lisbon
Lisbon also has a wild lively party scene. Art, song, dance, and revelry are woven into its cultural fabric. When we arrived in Lisbon in the wee hours of the morning, we were shocked to see the streets littered with mounds of trash and empty bottles. But thankfully, Lisboners clean up during the day as hard as they rage at night. By the time we'd wake up, the streets were always spotless.
Travel tip: There are certain neighborhoods in Lisbon that are particularly known for their nightlife (like Bairro Alto), so make sure you pay attention to which part of the city you book your accommodations in.
In the next section, I'll share some tips on where to stay and what each neighborhood offers.
Where to stay
Lisbon is divided into several neighborhoods, which represent distinct quarters of the city. Broadly speaking, there is an "old" part of Lisbon and a "new" part of Lisbon. We stayed in both, but spent the majority of our time exploring the city's historic side. Here's an overview of some of Lisbon's neighborhoods based on our experience, research, and some good ol' Googling.
Best for design: Santos
For the first part of our trip, we stayed in the Santos neighborhood. Santos is a small design district located next to the Tagus River. It's an older part of the city and is primarily known for its art shops, design schools, bars, and clubs.
While Santos may not be the most Muslim-friendly neighborhood in the evening (unless you like to party with the college kids, astaghfirullah just kidding), its location was convenient because we could walk to the main squares, tourist spots, and historical sites in 20ish minutes.
Travel tip: Accommodations in this neighborhood are budget-friendly. The six of us stayed in this modern penthouse Airbnb, which is great for groups (if you're comfortable climbing stairs).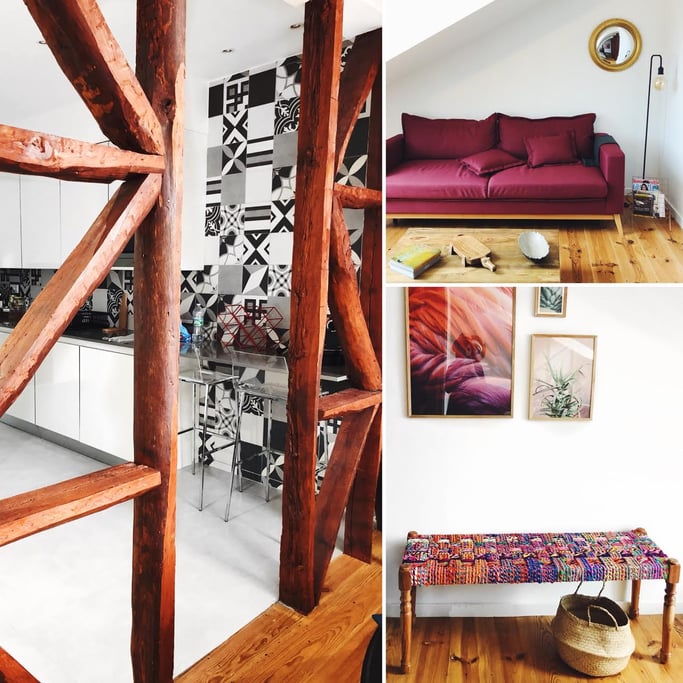 Best for views: Alfama
Alfama is the oldest (and arguably the most charming) part of Lisbon. However, it's also one of the poorest. Alfama is distinguished by a labyrinth of narrow streets that weave through tightly packed houses with terracotta roofs. This traditional neighborhood is home to many fado restaurants (but we'll get to that later). Recently, parts of Alfama have undergone renovation, but it still retains its old-village appeal.
Once upon a time during the Moorish reign, Alfama was the heart of the city. In fact, Alfama comes from the Arabic word "Al-hamma," which means "hot fountains."
Travel tip: If you want to enjoy Alfama's picturesque views around the clock during your time in Lisbon, stay at the Memmo Alfama hotel. It's a modern, impeccably-designed boutique hotel surrounded by fado restaurants and minutes from downtown - the perfect place for old-town exploration. To be honest, if I ever visit Lisbon again (inshAllah), this is where I'd probably stay.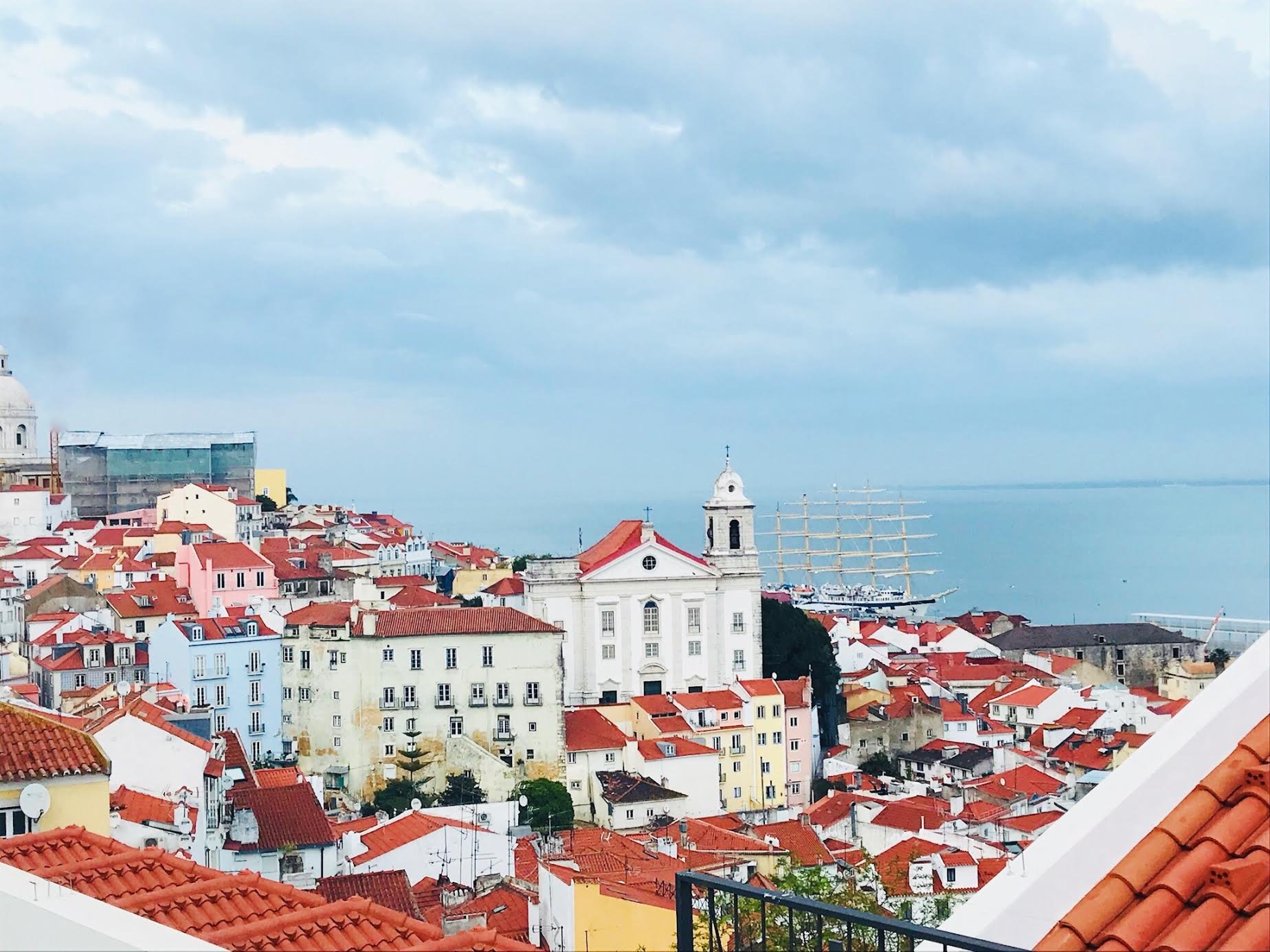 Alfama, Lisbon's oldest neighborhood
Best for location: Baixa & Chiado
The most central and tourist-friendly area of Lisbon is Baixa (and nearby Chiado). These areas are considered downtown Lisbon because this is where you'll find Lisbon's main landmarks, tiled art deco cafes, neoclassical hotels, and commercial squares. The hotel I'd recommend in this area is Hotel Avenida Palace.
Travel tip: From trains to trams to tuk-tuks, Baixa and Chiado have excellent access to public transportation. If you want to experience a ride in the tuk-tuk, you'll have no problem hailing them down in one of the squares.
Best for modernity: Parque das Naçoes
For the last leg of our trip, we stayed in Parque das Naçoes, which is the newest part of Lisbon. Built to accommodate the World Exposition in 1998 (Expo '98), Parque das Naçoes is full of impressive, ultra modern architecture like the Oriente Train Station, the Vasco da Gama Tower (the tallest structure in Lisbon), and the Vasco da Gama Bridge (the second longest bridge in Europe). Although only a 20 minute drive from Alfama, Parque das Naçoes stands in complete contrast to old Lisbon.
Travel tip: Have you ever wanted to stay at the Burj Al-Arab in Dubai, the world's most luxurious hotel? Well, in Lisbon you can stay at it's doppelganger, the MYRIAD Sana Hotel attached to Vasco da Gama Tower, without draining your life savings. This is where we stayed. Every room boasts a water view, futuristic decor, and everything in your room is automated. I wouldn't recommend this hotel for families because the bedroom and bathroom in the rooms are only separated by a curtain, not a wall, which could make for some awkward moments. We also tried the on-site restaurant, but the food was too fancy for our middle-class palette, so I wouldn't recommend it.
However, we did discover some other delicious eateries. Let's talk about where to get your yums in Lisbon.
What to eat
Dishes to try
Portugal's all-time favorite fish is bacalhau, which is dried and salted cod. Walk into any authentic Portuguese restaurant in Lisbon, and you'll likely find some variation of bacalhau on the menu. The most popular and beloved bacalhau dish is bacalhau à brás. There are more than 1,000 ways to make bacalhau à brás, but it usually consists of shredded codfish served with potatoes. It can be pretty tasty if made well, but remember, it's supposed to be salty. Another bacalhau dish to try is pastéis de bacalhau (fried fishcakes).
Travel tip: If you find a halal Portuguese restaurant, like Barbatana, a few other dishes to try are:
Bife a Portuguesa - Portuguese style steak and egg
Alheira - A mixture of chicken (or other non-pork meat) and bread encased in a sausage
Franco no churrasco (Chicken Piri-Piri) - Grilled chicken seasoned with piri-piri hot sauce
Dessert to try
Aside from bacalhau, Portugal is famous for pastel de nata, a scrumptious egg tart pastry that I'd recommend you eat at all times of the day, in multiples. When devoured warm, the custard inside the tart melts in your mouth and has the power to soothe your soul. It's divine.
Travel tip: You'll see shops offering pastel de nata everywhere, but the best bakeries are Manteigaria and Pastéis de Belém. If you visit these bakeries, eat five one pastel de nata for me.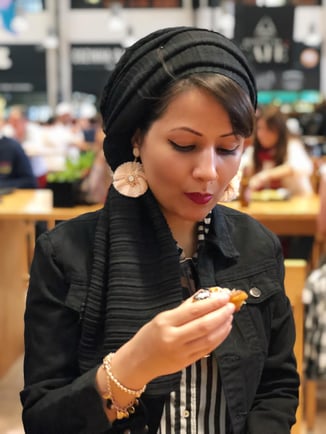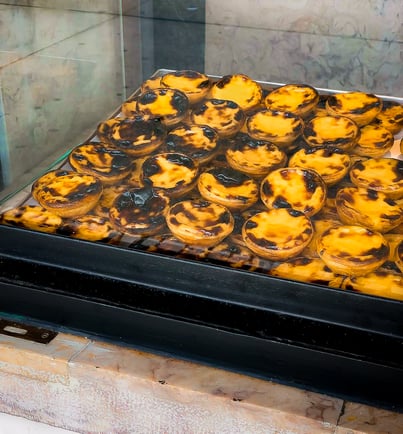 Achieving nirvana while eating a hot and fresh pastel de nata
Restaurants
For breakfast and brunch
No matter where I am, I'm always on the hunt for good great amazing brunch. In Lisbon, we found two spots that knocked my proverbial socks off.
La Boulangerie
is the place to go to enjoy croissants with a view. Located in Santos, this is a cute French bakery where you can enjoy brunch on a terrace. Try their almond croissant and salmon and chive omelette!
Travel tip: If the weather is nice, I'd recommend sitting outside. La Boulangerie offers terrace seating which consists of bar stools, high tables, and most importantly - umbrellas for shade. Plus, the terrace overlooks a beautiful square with a water fountain.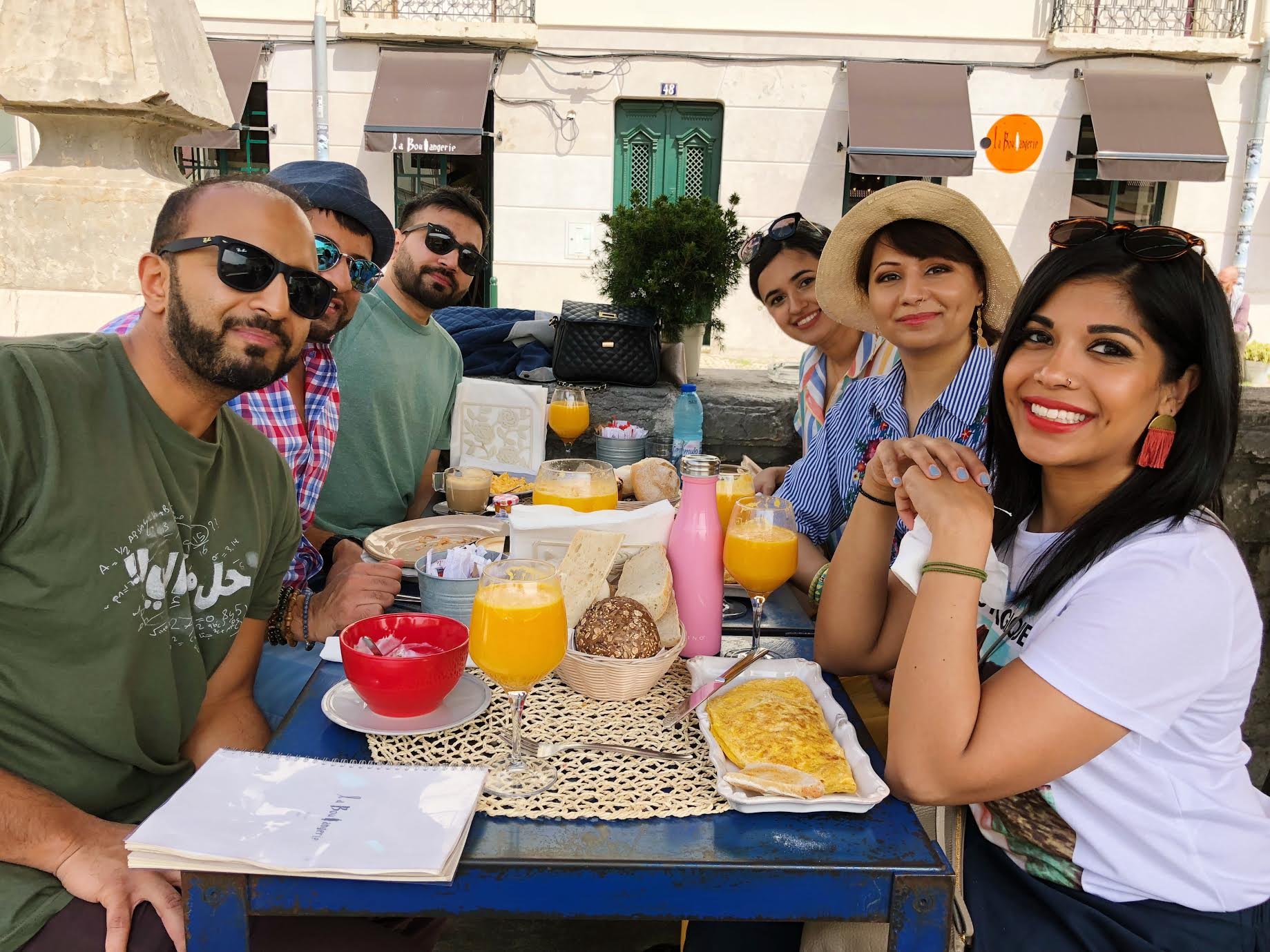 Brunch on the terrace
Fauna & Flora
is all about healthy, hearty, and natural food - and it shows not only in their menu and name, but also in their interior decor. The moment you walk into Fauna & Flora, you'll notice an abundance of greenery - from the moss adorning the windowsill to the succulents on your table to the potted plants hanging from the ceiling. Fauna & Flora's food is both good for your body and your taste buds. Make sure you try their pancakes and fresh juices (the pancakes literally melted in my mouth).
Travel tip: They serve breakfast all day.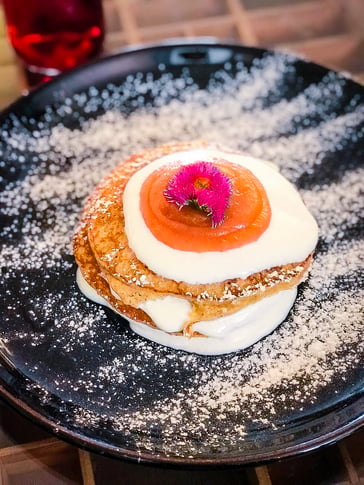 Possibly the best pancakes I've ever eaten (yes, that's a flora - see what I did there - on top)
For dinner
At least once during your trip to Lisbon, go to a restaurant where you can listen to fado, a musical form of storytelling that originated in Alfama. Great fado singers can command the attention of an entire room with their powerful, mournful, and resounding voice. Although the songs are typically sung in Portuguese, even non-Portuguese speakers will be enchanted by the heartwrenching tunes. I didn't cry, but you might.
Travel tip: We listened to fado at Casa de Linhares, a Michelin star restaurant that features Lisbon's more renowned singers within a rustic setting. To ensure you get seated, make a reservation a few days before and ask what time fado starts. Your evening at this restaurant will alternate between food and fado (i.e. place order, fado song, appetizer, fado song, dinner, fado song, dessert, fado song).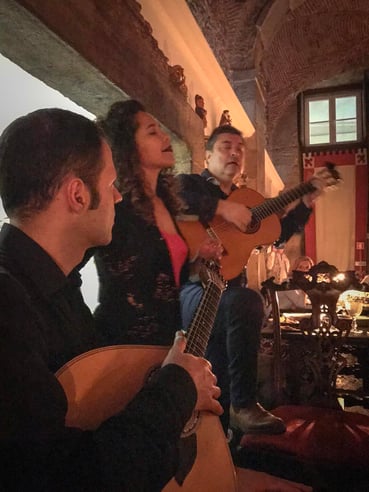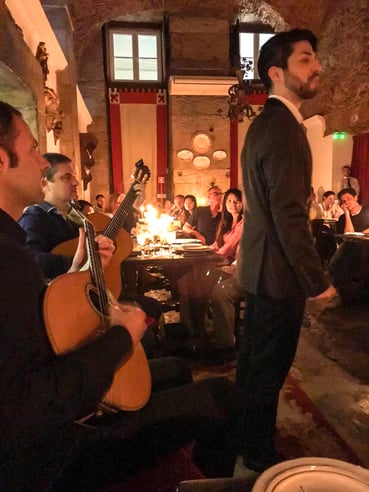 Fado at Casa de Linhares
For snacks
A few places to grab a light bite are:
Amorino gelato

- Artisanal Italian gelato maker where you can get gelato shaped like a beautiful rose

Café A Brasileira - An ornamental cafe in old Lisbon serving coffee and pastries (although overpriced)
Portas do Sol - A rooftop coffee bar with a terrace that offers the best view of Alfama
Time Out Market

- A trendy food court selling a variety of food, drinks, sweets, and crafts with communal seating
Travel tip: Time Out Market can overwhelm you with options, so if you're feeling indecisive, I'd recommend Barracuda by Sea Me for fish, Compal Frutologica for fresh juices, and Manteigaria for pastel de nata!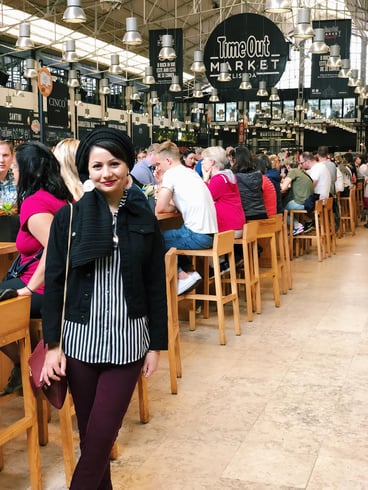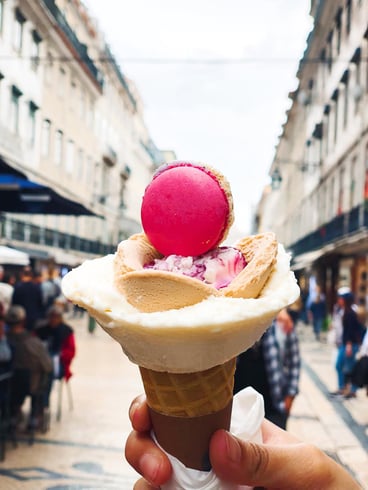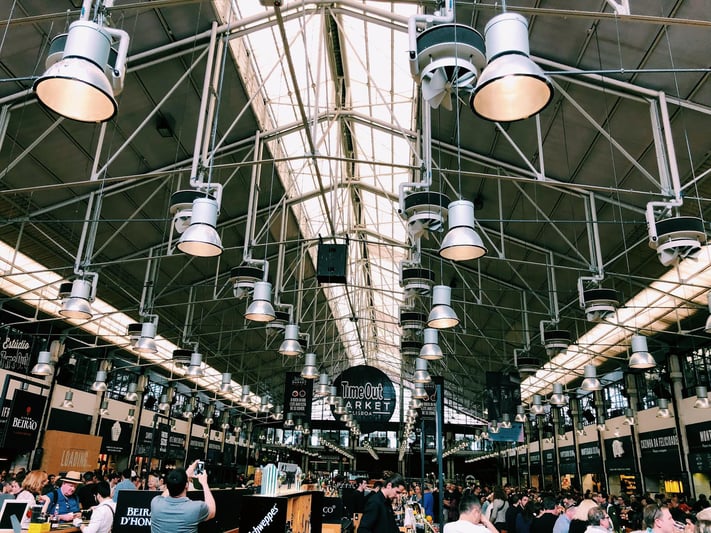 The always-buzzing Time Out Market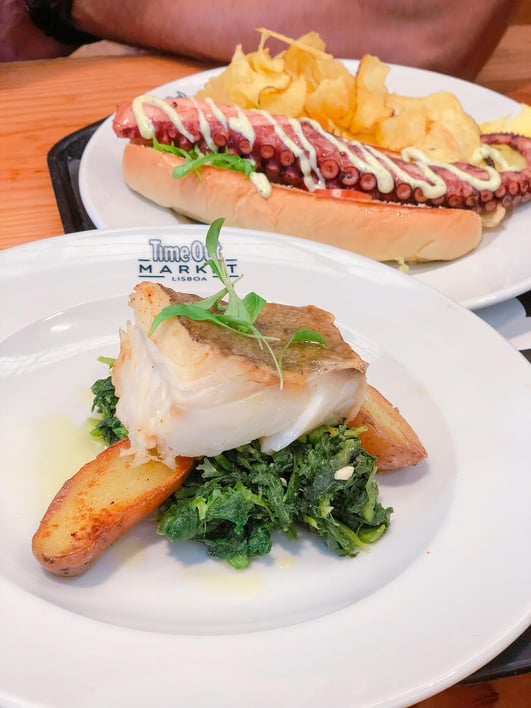 If you're feeling especially adventurous, Saad tried Sea Me's octopus hot dog *cue barf gasp*
Now that I've covered where to stay and what to eat, let's talk about what you can see and do in Lisbon.
What to see
Lisbon is full of historical landmarks and notable squares, the majority of which are located in old Lisbon.
São Jorge Castle (St. George's Castle)
Standing majestically above the city and overlooking the Tagus River, is São Jorge Castle, a Moorish fortress that used to house military troops in case of siege. The castle is visible from most parts of central Lisbon both during the day and at night. While the uphill walk to the castle can be tiresome (I'd recommend taking a tuk-tuk like we did), don't miss the panoramic views from the castle's towers.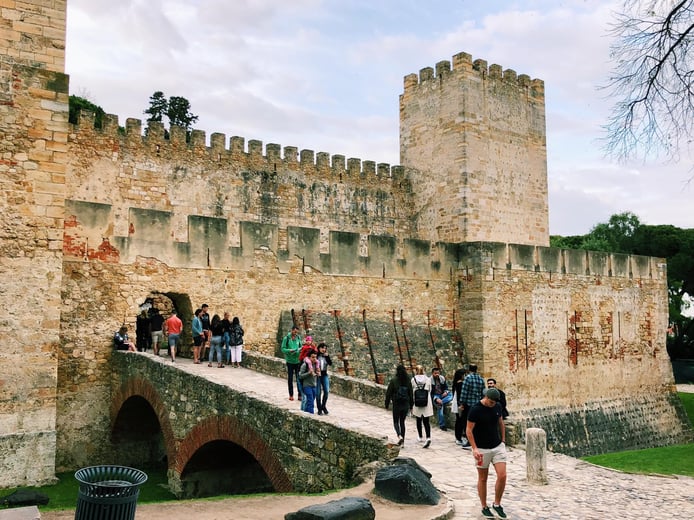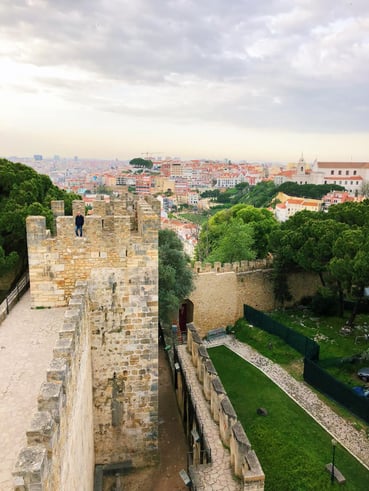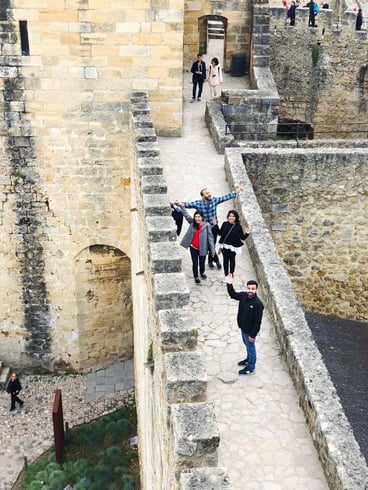 This is a great place to snap a picture of you and your significant other with the Lisbon skyline in the background… or of your husband and his bros looking off into the sunset.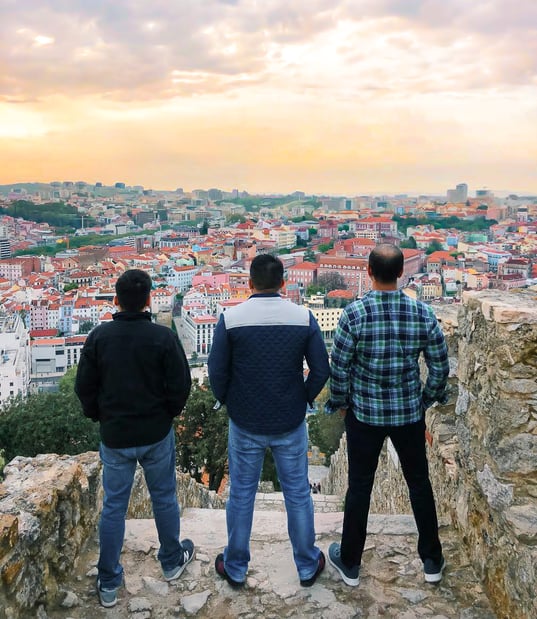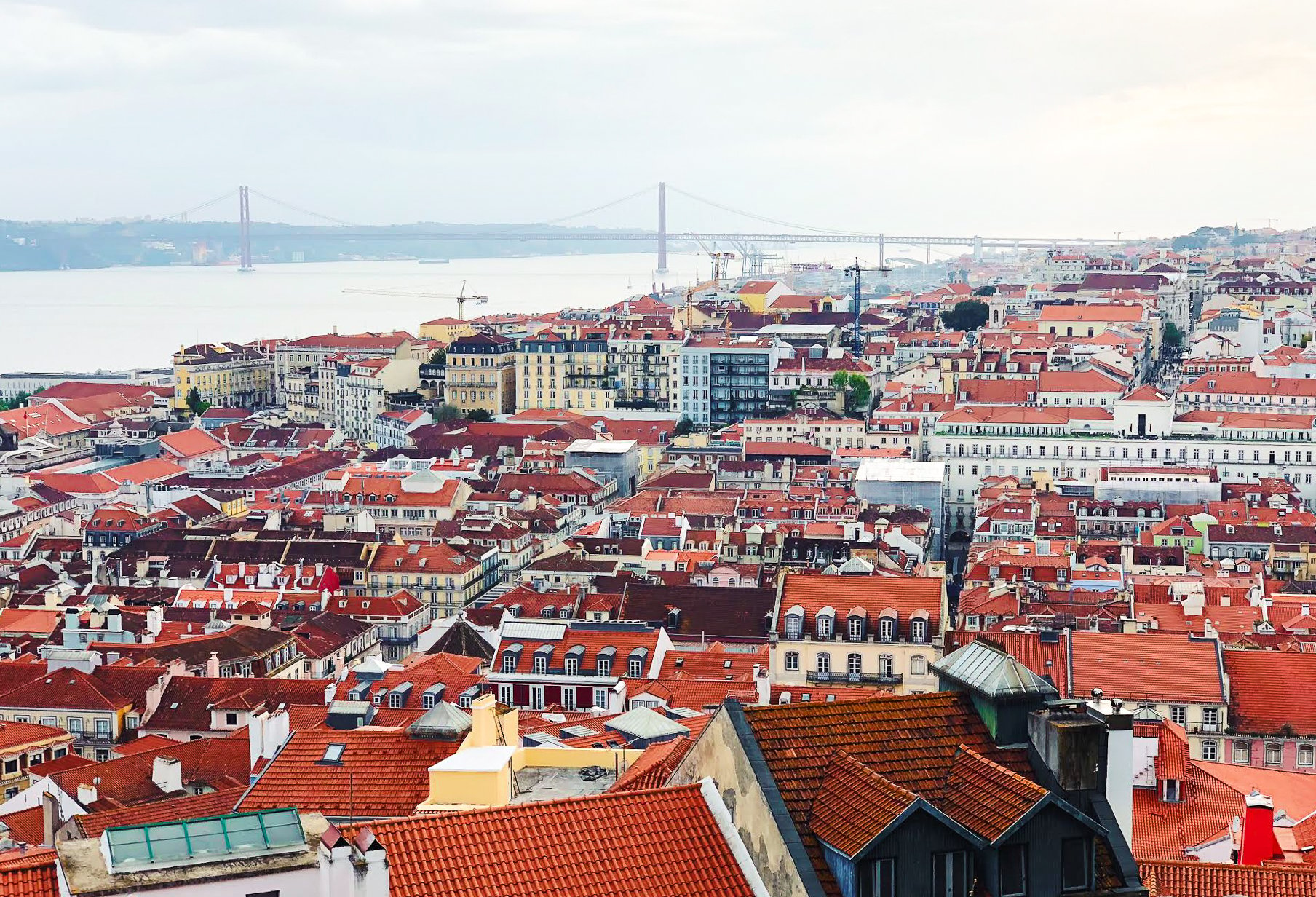 Views from the castle
Travel tip: There's a small museum inside the castle grounds that contains relics of the Moorish occupation of the citadel. You may also see peacocks roaming around 🤷🏽‍♀️.
Praça do Comércio & Rua Augusta Arch
Praça do Comércio is Lisbon's grandest square lining the edge of the Tagus River. The buildings that surround this plaza resemble a palace, because - surprise - it was once the location of a palace that was completely destroyed in the 1755 Lisbon Earthquake. When the square was being rebuilt, the architects incorporated some of the original palace designs into the exteriors. In the center of the plaza is a statue of a former king of Portugal.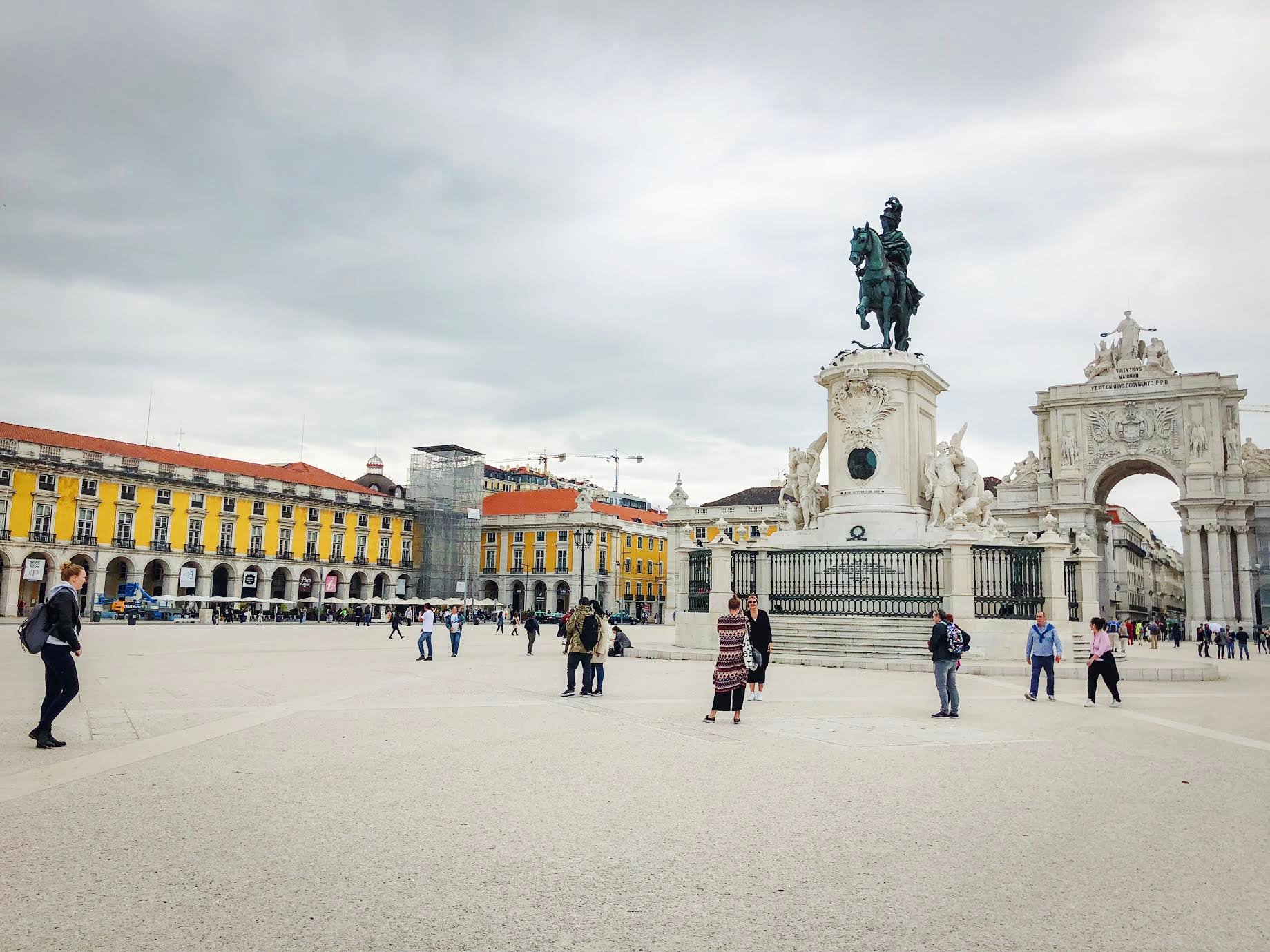 Opposite the Tagus River, Praça do Comércio is also home to the Rua Augusta Arch. This magnificent stone arch was built to symbolize Lisbon's recovery, reconstruction, and triumph after the earthquake. The columns of the arch are adorned with historical figures. At the top, are allegorical statues of Glory rewarding Valor (the elf figure) and Genius (the winged figure).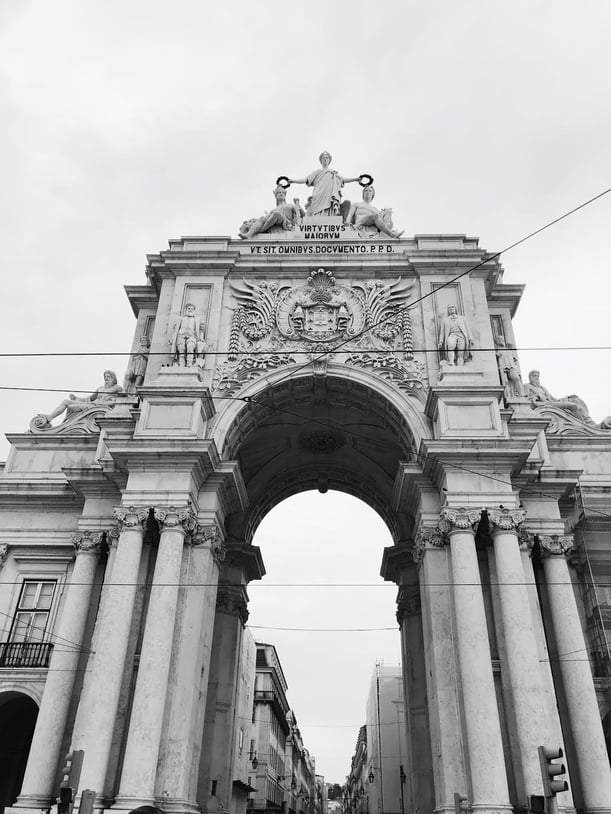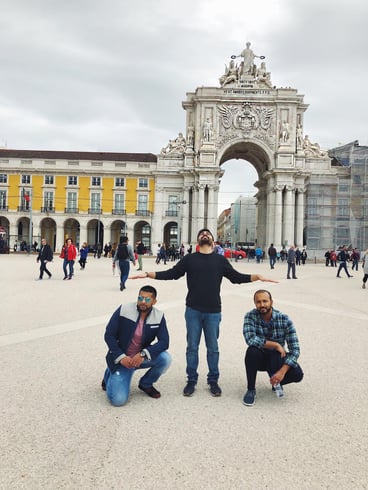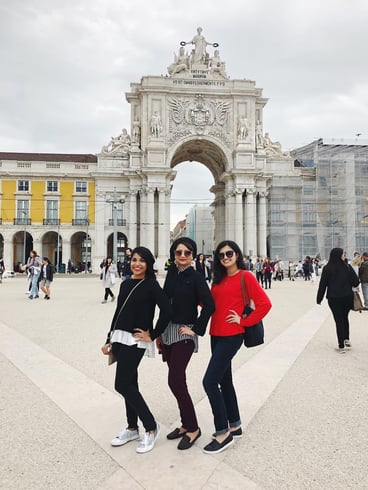 How boys vs. girls pose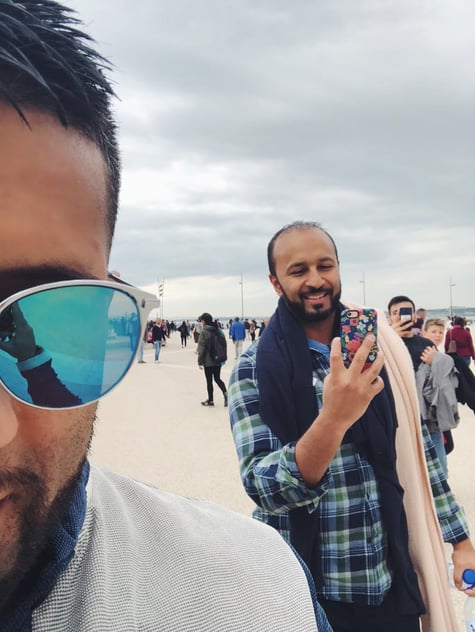 Real Instagram husbands of America
Travel tip: Walk through the arch to the elegant Pombaline downtown area, where you'll find a grid of streets that'll take you past other squares, cafes, and restaurants. We took this route and strolled through the city taking pictures admiring the buildings.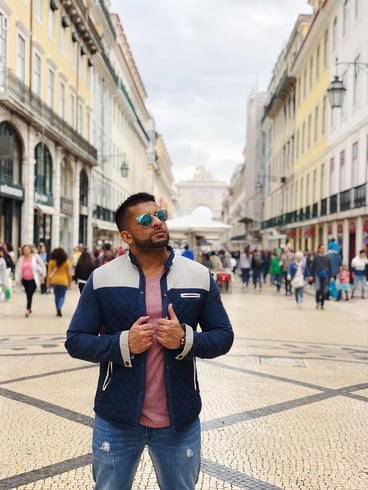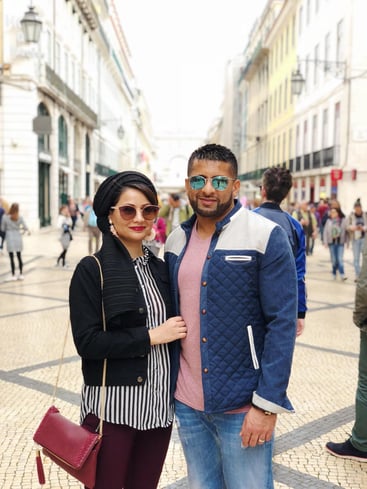 Launching Saad's modeling career in the Pombaline district
Rossio Square
If you take my advice and walk around the Pombaline downtown area, you'll stumble upon another well-known plaza: Rossio Square. Rossio Square is a popular meeting place that is usually bustling with people. Needless to say, it's a great place to sit down, grab a snack, and take in the view. And in case you're wondering, the column and fountain in the middle pay tribute to another king of Portugal.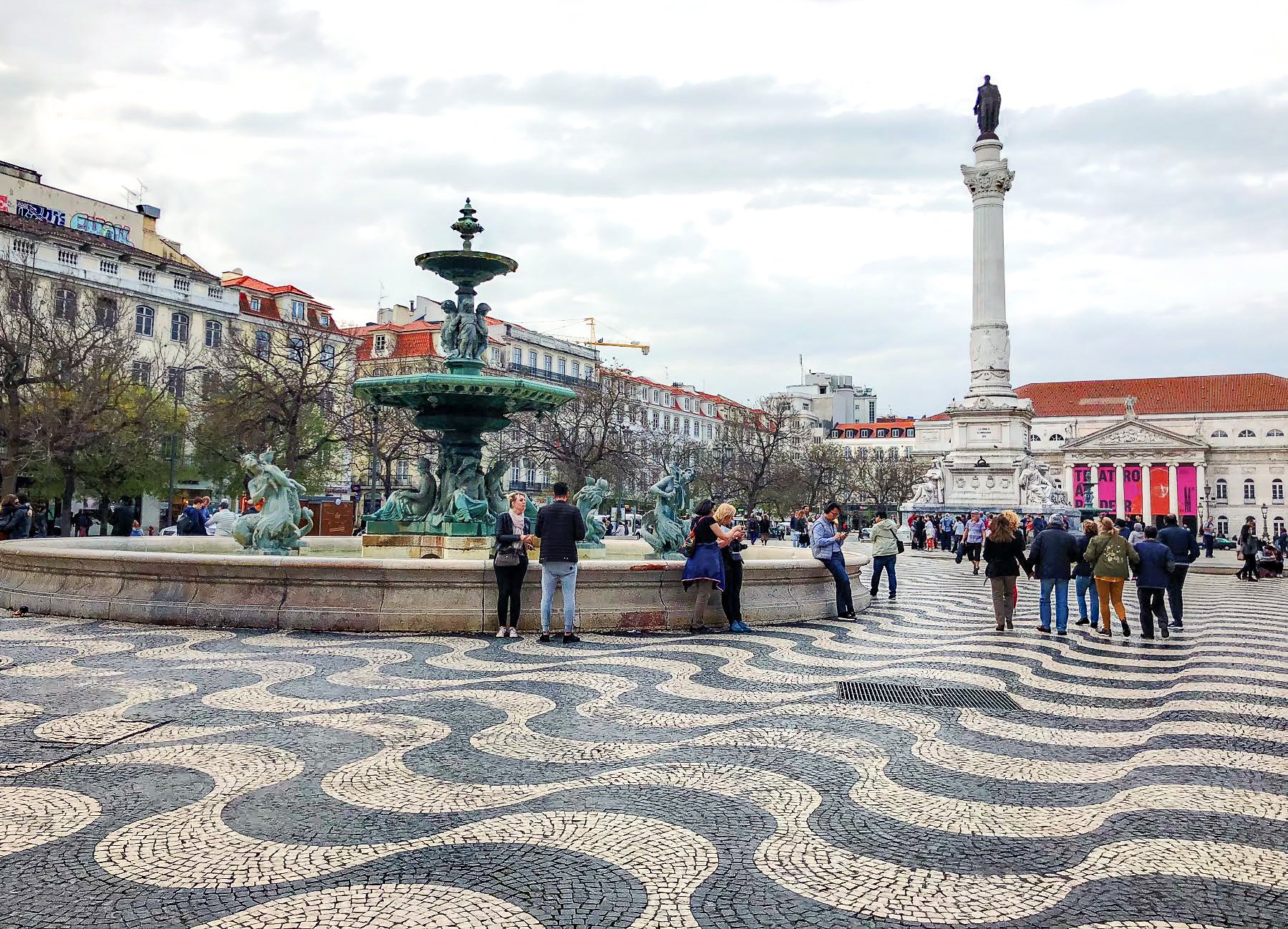 Travel tip: Look out for the cool facade of the nearby Rossio train station.
Avenida Liberdade
When we got tired of hopping between squares, we headed to Avenida Liberdade for some retail therapy. Portugal's version of Champs-Elysées, this boulevard is lined with luxury stores, designer brands, and high-end restaurants. As you stroll down the street, you'll also see grand statues and fountains nestled between the opulence and trees.
Travel tip: If you have time, go to the Embaixada in the Príncipe Real district. The Embaixda is an innovative shopping gallery, which showcases the work of local artists. It's located inside a former Moorish Palace, the iconic Ribeiro da Cunha.
Docas & LX Factory
Remember how I mentioned Lisbon's party scene earlier in this post? Another must-see place we heard about was Alcantara. During Muslim reign, this region was famous for a bridge which extended over the Alcantara ravine. Today, this riverside neighborhood is known for Docas (docks filled with bars, clubs, and restaurants) and the LX Factory (an industrial complex turned into an artistic area with a hipster vibe). For Muslim travelers, it may be interesting to check out during the day, but I wouldn't prioritize it if you're short on time.
Travel tip: Two of our friends (Farhaan & Henna), visited the LX Factory the night before the rest of us arrived and they report that it was nothing spectacular. If you check it out, let me know in the comments if you agree or disagree.
If we had more time…
We were only in Lisbon for about a day and a half. Despite hustling from one place to another, we didn't get a chance to check out all the sites. I wish we had more time to:
Travel tip: If you visit Lisbon, 3-4 days should be enough to eat, see, and do most of what I listed above.
Day trip to Sintra
The next stop on our week-long Portugal couples' trip was Sintra, a mountain town I was dying to see! Find out why in part II of my Portugal post!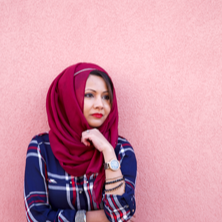 I'm a twenty-something Muslim blogger who's guilty of falling in love with every place I visit. I'm always planning the next trip in my head and missing the last one in my heart. When I'm not off discovering new parts of our beautiful planet, you can find me happily immersed in an art project.