Autumn is fast becoming my favorite season. The falling leaves, the golden-yellow and rapturous red trees, pumpkins everywhere, and the crisp air fill me with warmth and coziness. Not to mention hot apple cider doughnuts - my belly is full of about a dozen of these, and counting (hey no judgment, they're delicious!). This time of year is also perfect for visiting orchards to go apple picking, taking photos in a pumpkin patch, and screaming your butt off as you run wildly through a spooky corn maze - while dressed in plaid prints. All of which I've done.
Oh Autumn. I adore you.
Despite my love for this season, it's kind of blasphemous that I've never decorated our condo for it. I used to think seasonal decorating was something only people with children did… or that you need a big porch / yard to stage your giant pumpkins. But this year, I found a way to bring the beauty of fall into our contemporary condo. In this post, I'm sharing photos of our home decked out for fall, and some fall activities around New England, to help you fall in love with this enchanting season.
Let's start with decor.
Fall home decor
Modern mantle, not rustic
My challenge with fall decor is that often, it can look and feel rustic (i.e. rugged, featuring a lot of wooden elements and earthy tones). Saad and I live in a modern condo and rustic is not our style. Instead, we like pops of color and metallics against our black and white furniture. That's why I bought pieces with undertones of gold, brass, and silver. Here's some of the haul (I'll link to the sources at the end of this post).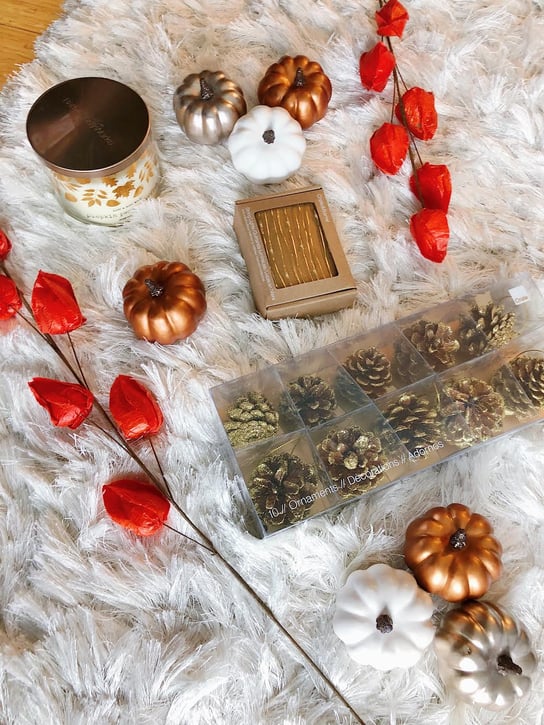 Most of these pieces ended up on the mantle of our entertainment center, which is the focal point of our living room in the absence of a fireplace. This is the finished set-up. Ta-da!
On both ends of the mantle, I used white candles to balance out the orange pumpkins and florals. I also added shimmery pine cones for texture. And because fairy lights add warmth and magic to any room, I draped them between everything.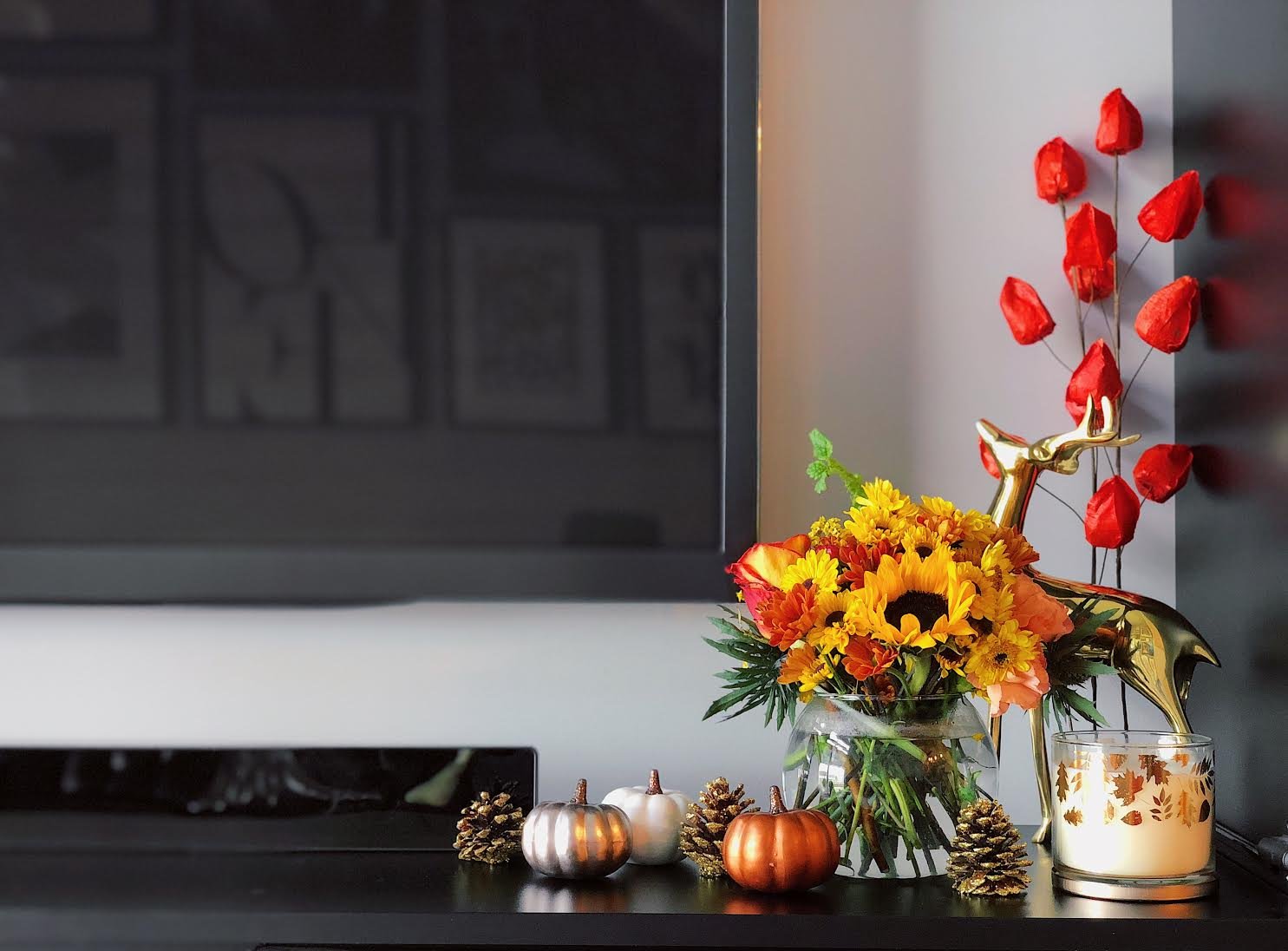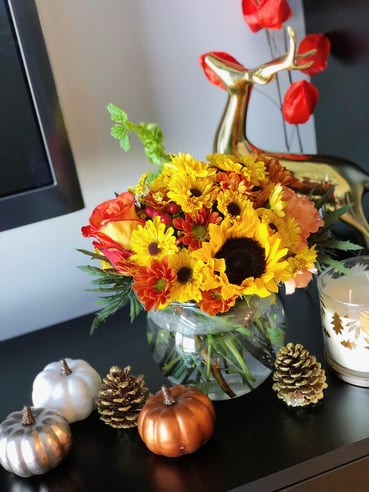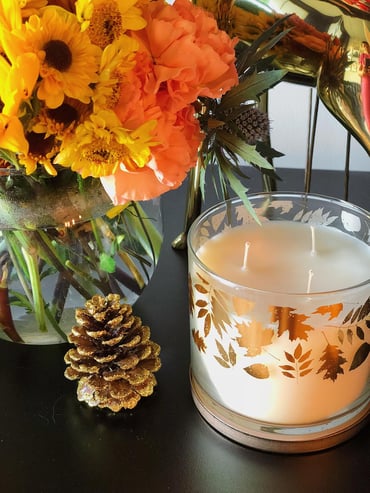 Fresh flowers, the golden stag statue, and a candle are year-round staples on this mantle - I just updated them for fall. For example, I swapped out my colorful summer peonies with a sunflower bouquet and purchased a seasonally-appropriate 'pumpkin pecan waffles' scented candle.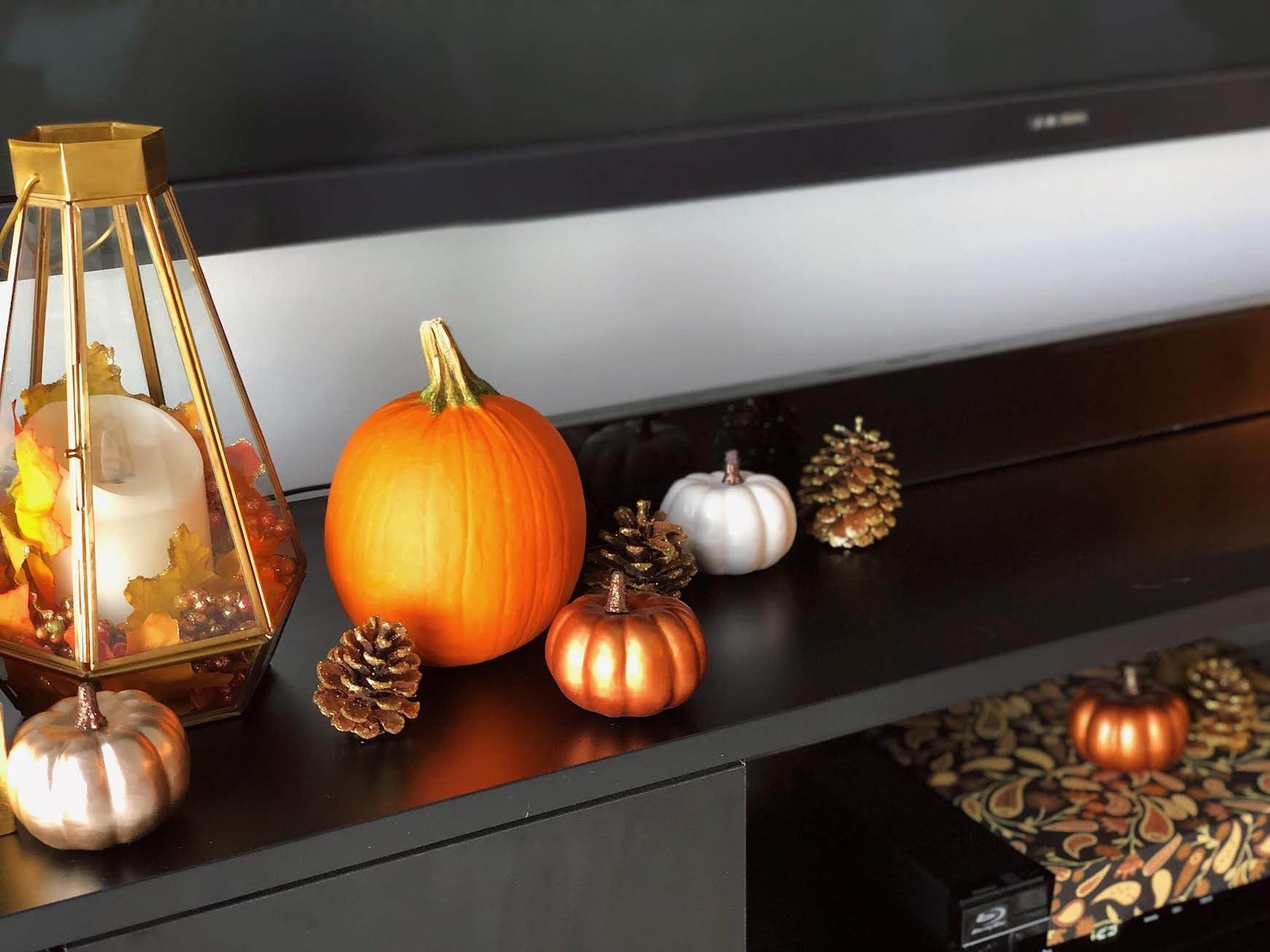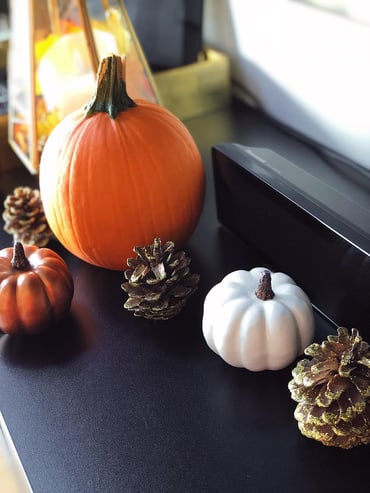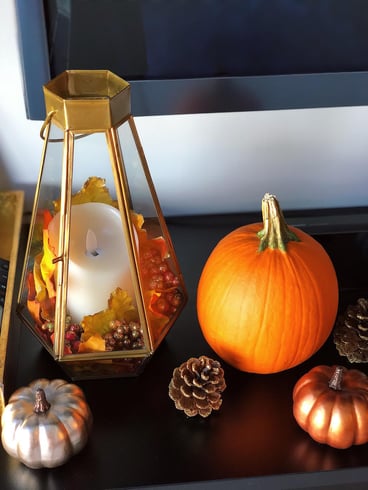 On the left hand side, I added gold-trim maple leaves (as a homage to my Canadianness eh) and berries inside my lantern. By the way, that bright pumpkin is a real pumpkin that Saad and I picked from a pumpkin patch in New England (more on that later). It's the perfect size and helps anchor the smaller, metallic pumpkins around it. After fall ends, I will perhaps turn it into pumpkin pie 😋.
Decorating tip: The best way to decorate pumpkins is to arrange them in groups of varying colors and heights. This adds dimension and character.
To partially hide our DVD player, I folded the edge of a piece of leaf-print cardstock paper and used a pumpkin as a paperweight.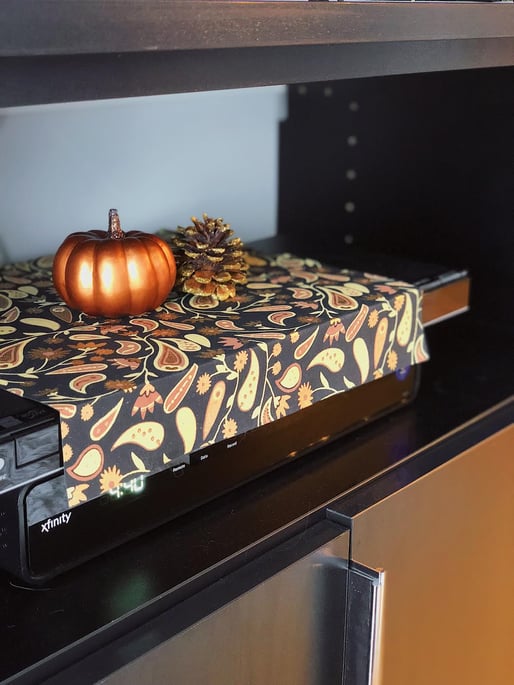 Here's what our mantle looks like at night with the fairy lights on.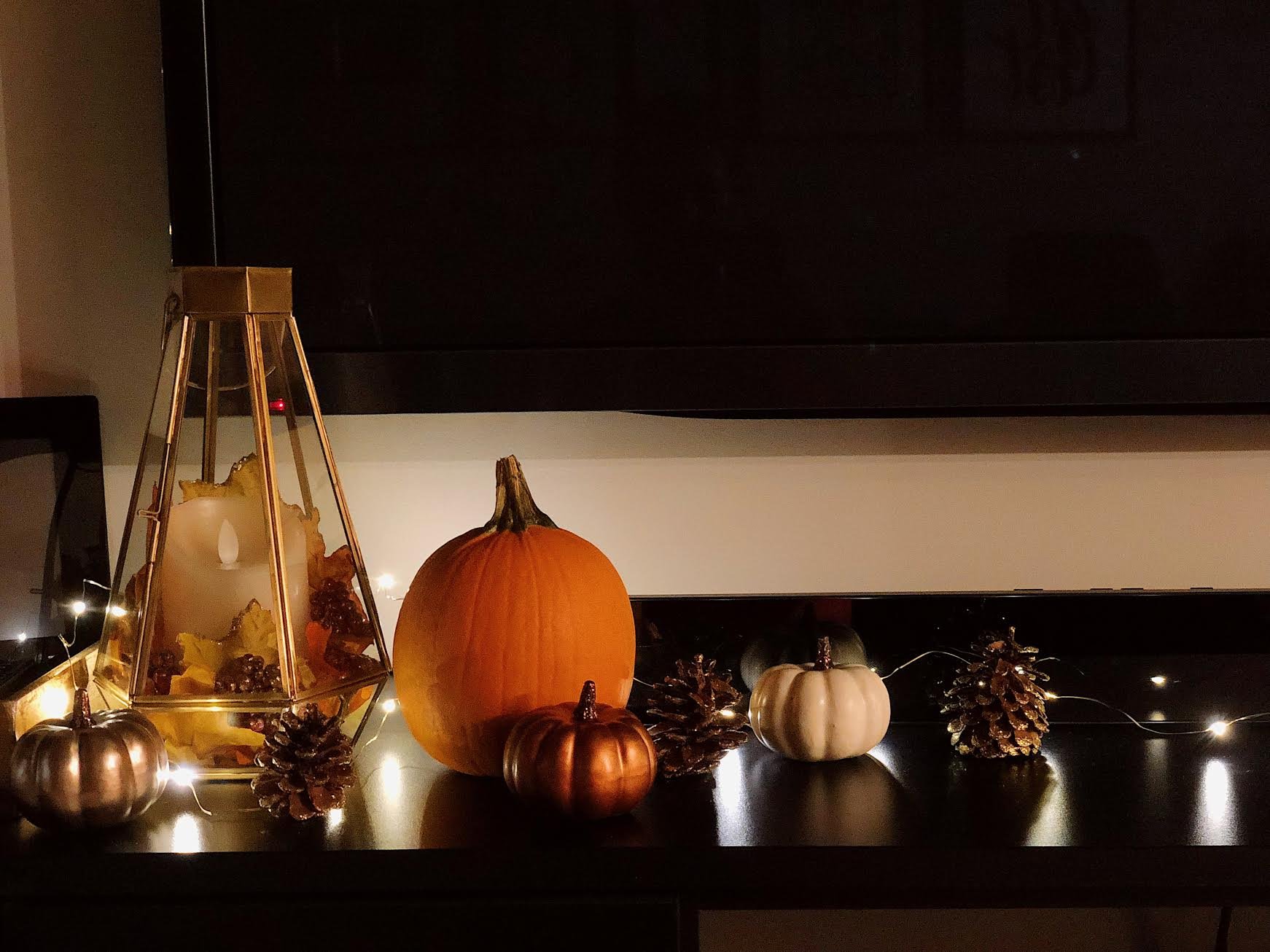 Night time vibes
Fall chalkboard & display
Since condo-living, nor my clean-freak personality, allow for clutter, I don't buy too many things that I can only use for a few months of the year. Instead, I like to repurpose permanent fixtures in our home and update them for the season.
During the summer, we installed a chalkboard onto our entryway coat closet and I customized it for Ramadan. I want this chalkboard to always contain a message or quote that reminds us of the important things in life (like faith, love, family) as we hustle in and out for the day.
This is the refreshed artwork I designed to suit the fall season.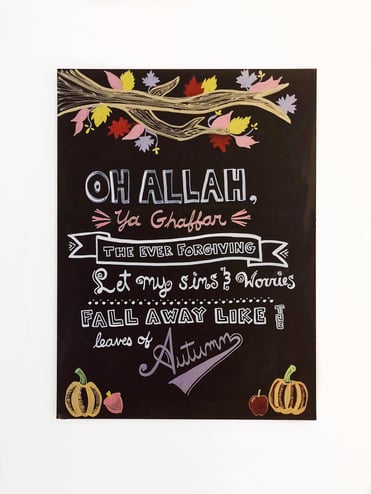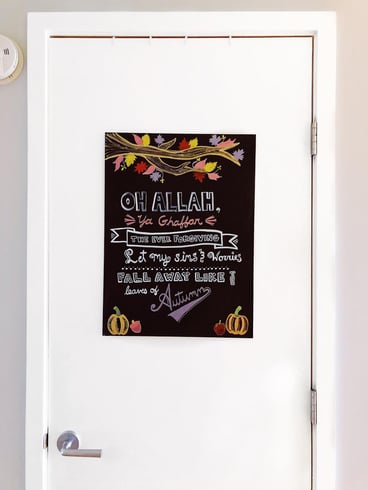 Decorating tip: Use chalk ink markers instead of chalk to create chalkboard art. They're less messy, can be easily wiped off with water, and don't generate clouds of dust. No one likes dust.
I also updated the display inside our baroque white frame, which hangs above our kitchen island. I used a combination of cardstock paper, paper flowers, twigs, and ribbon to create this "Hello fall" display.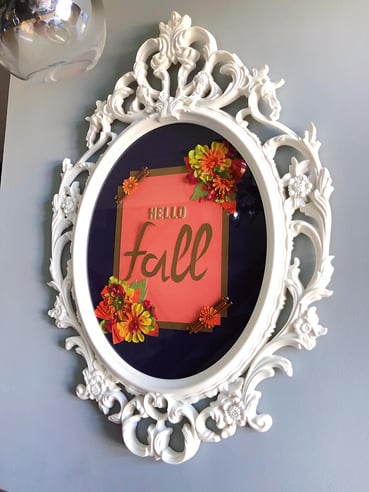 Glass vase with paper lanterns
Continuing to add a seasonal spin to permanent fixtures, I added stems of fiery orange-red lanterns and pine cones to the vase next to our entertainment unit.
Decorating tip: When selecting decor items, pick pieces that match the color scheme and style of your home. I bought red and gold fall accents because they nicely complement our red couch cushions. And as I mentioned earlier, our condo is modern so I stayed away from green gourds, which are more rustic.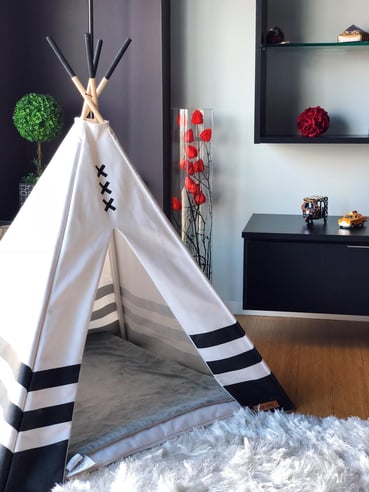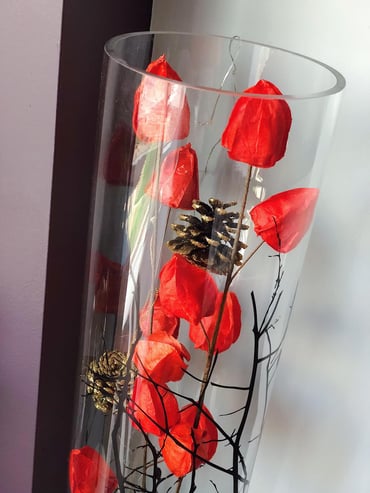 Sources
If you're inspired to do some seasonal decorating of your own, here's where you can buy the items I used.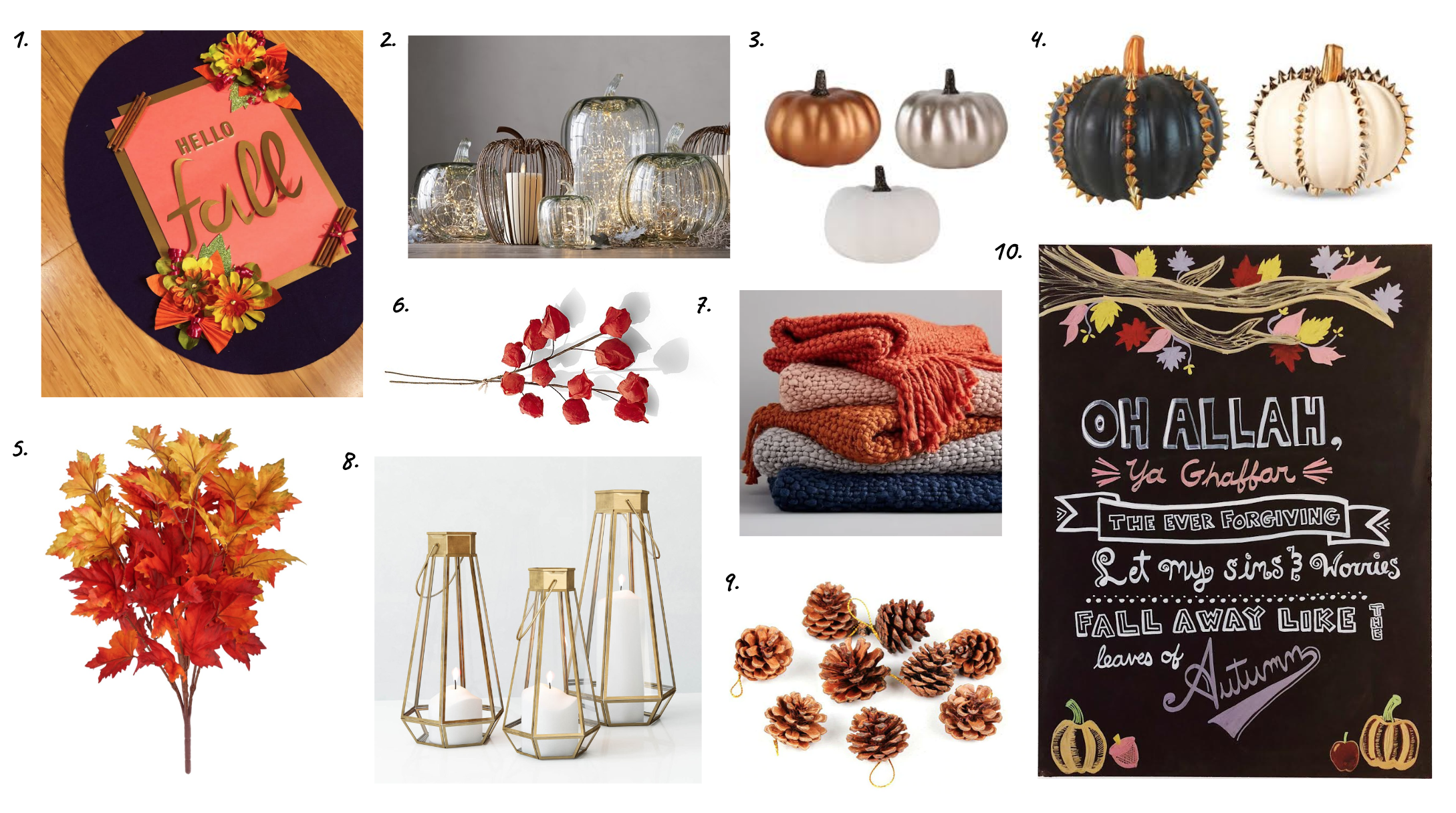 Now that I've shown you my fall decor, let's talk about fall activities (the other reason I love autumn).
Favorite fall activities around New England
Saad and I live in New England, so my recommendations for fall activities are all based in this area. Apologies for folks reading this that are based elsewhere, although I bet you can find similar places in your neighborhood too!
Pumpkin patch
If you're going to decorate with pumpkins, get them from a pumpkin patch, not a grocery store. The experience of wading through a field of well-rounded pumpkins to find the perfect one to take home is one of the simple pleasures of fall. Embrace it, and make sure to take a few #basic pictures. This year, we visited the pumpkin patch at Connors Farm.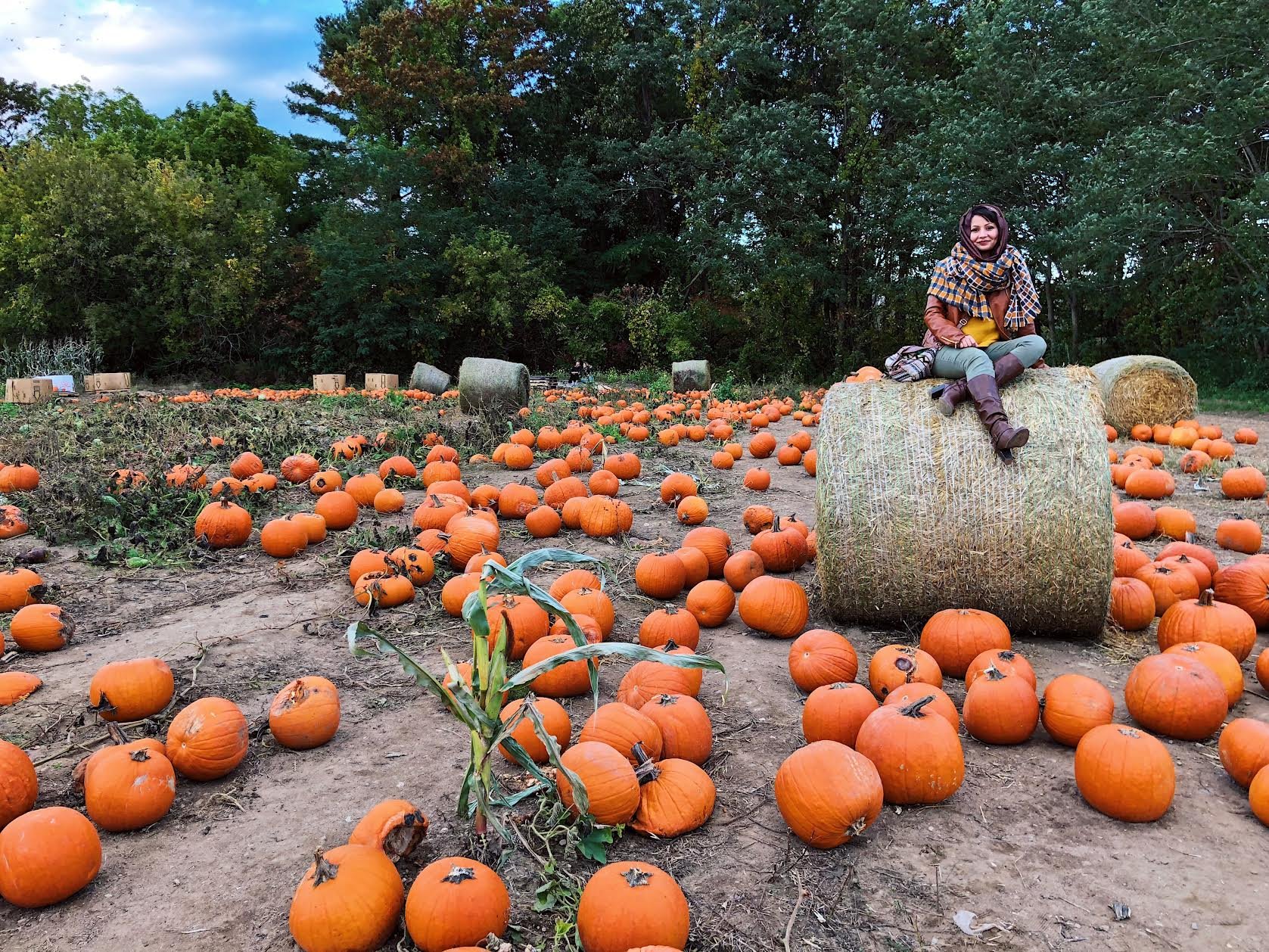 Here are our basic pictures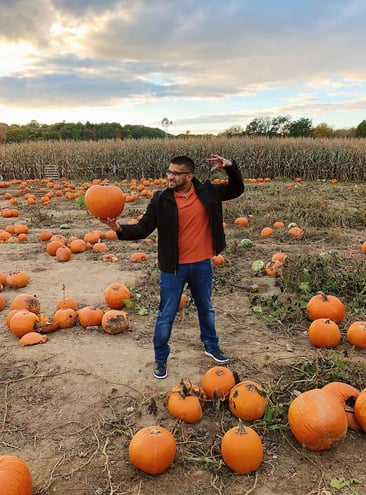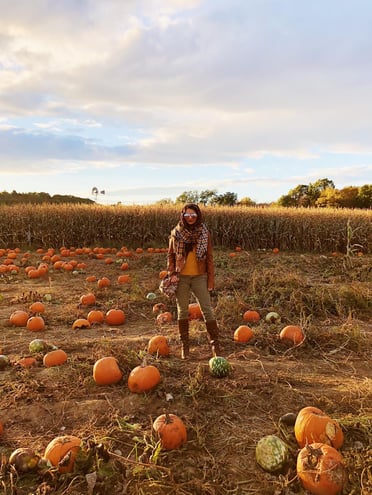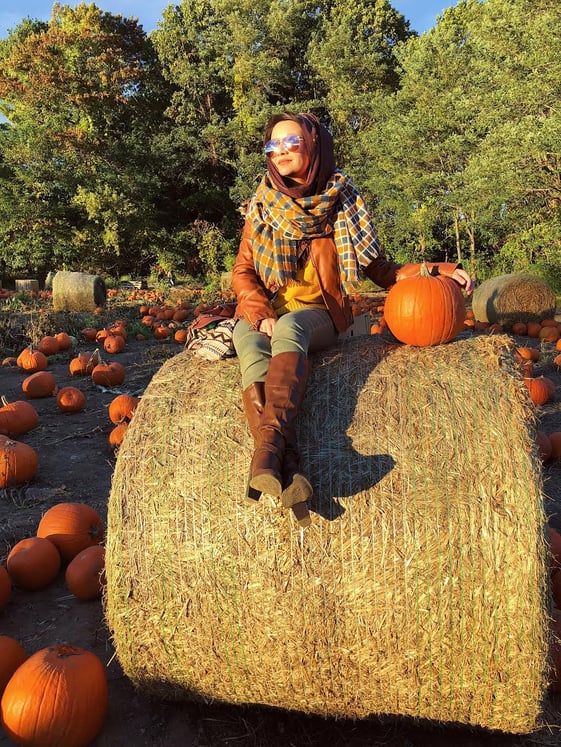 Here's my extra picture 🙈
Pumpkin festivals
Throughout the months of September and October, the state of Maine holds Pumpkinfest, a series of events centered around the magnificent orange squash. These events include a parade, giant pumpkin carving, pumpkin boat building, pumpkin derby, and more.
Apple picking
Apple picking is the quintessential fall activity. Some of the best farms around New England are:
Honey Pot Hill Orchards

- a huge, family-oriented farm with the whole gamut of activities including hayrides, barn animals, corn mazes, etc., although it can get crowded

Shelburne Farm

- beautiful location (the apple trees are surrounded by fall foliage), but not many other activities

Smolak Farms

- open year-round offering many kid-friendly activities including crafting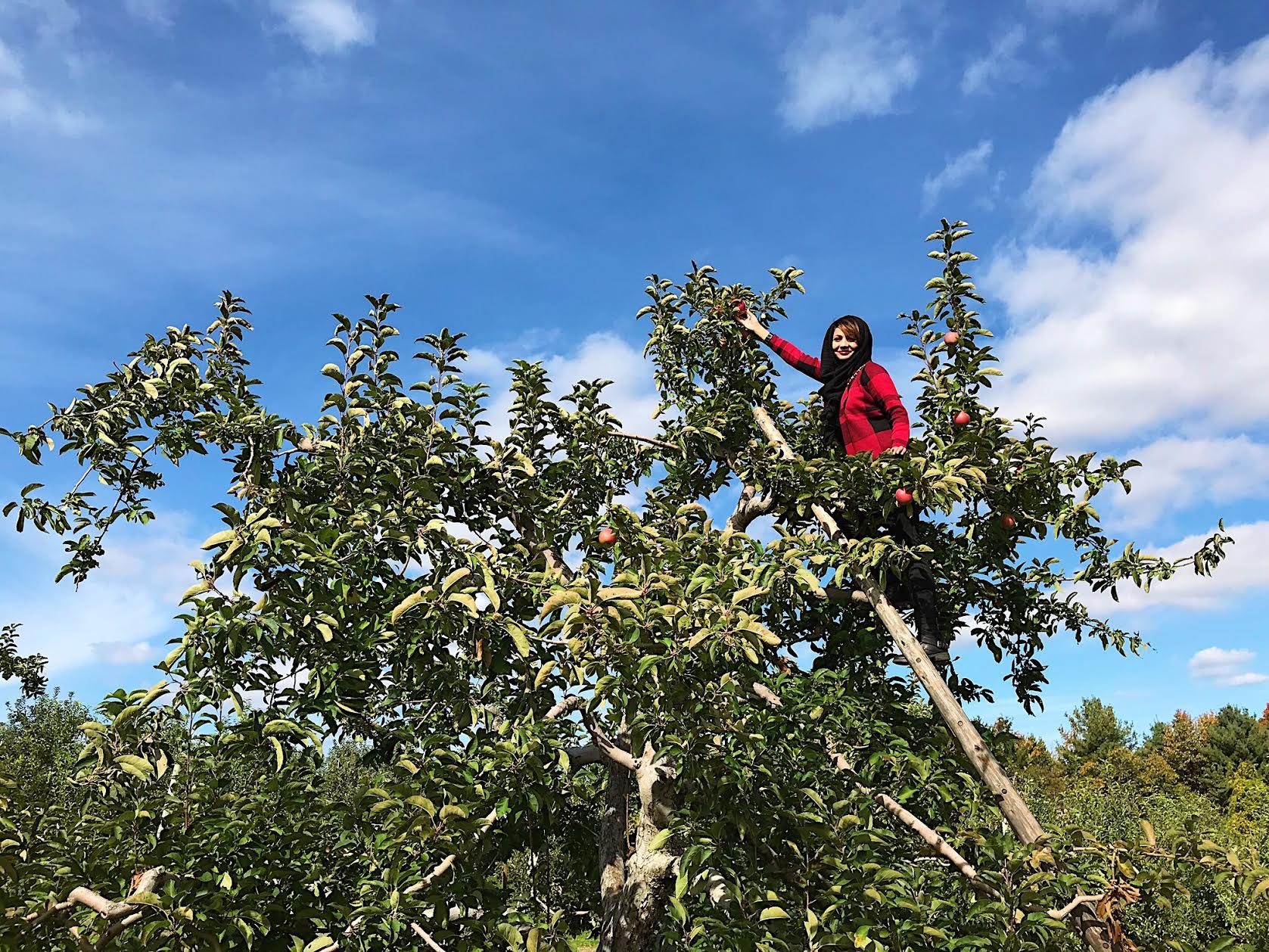 Apple-picking at Honey Pot Hill Orchards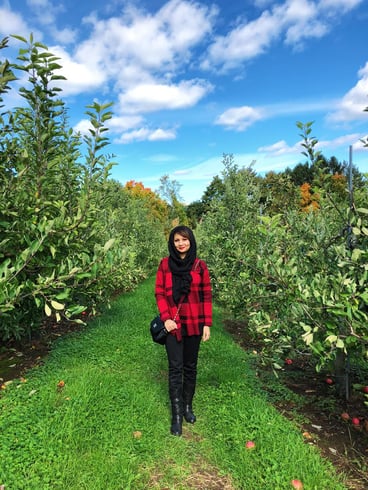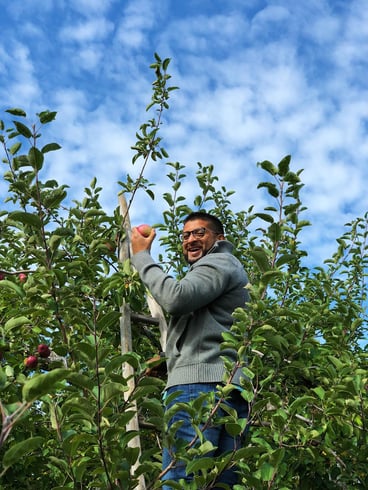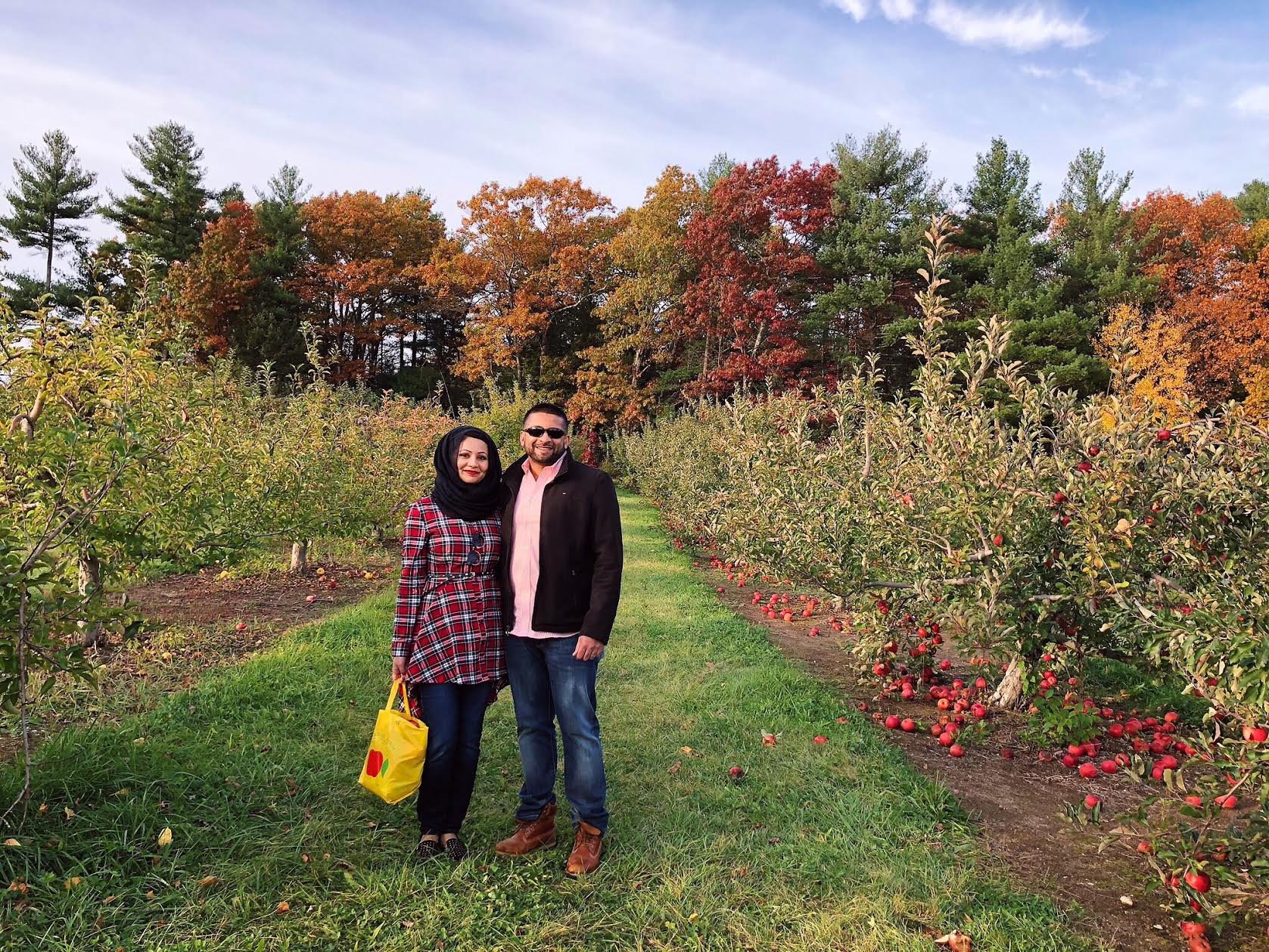 Apple picking at Shelburne Farm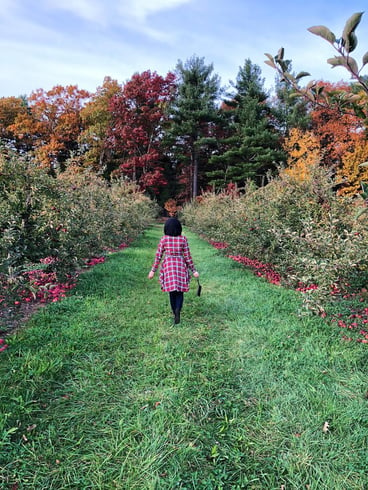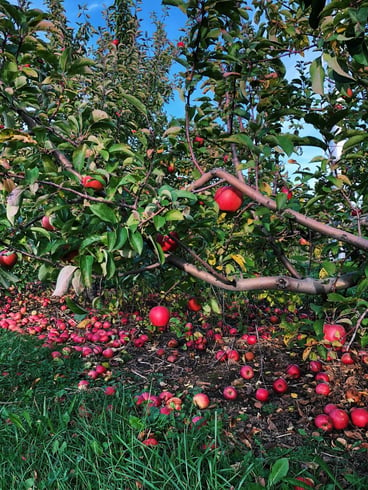 Flower picking
Did you know that in addition to picking your own fruit, you can also visit farms to cut your own flowers?! I love having fresh flowers in our home throughout the year because they remind of one of Allah (swt)'s attributes, Al-Bari, which means The Most Perfect Designer / Maker. In New England from July to September, you can visit Parlee Farms to dance through flower fields like you're in a Bollywood movie create your own floral arrangements.
Corn maze
Since Halloween is THE holiday of the fall season, exploring a haunted house or corn maze is a must. If you want to be scared and chased through a maze by freaky characters, I'd recommend Hysteria at Connors Farm. If you have fears little ones and want something less intense, check out the corn maze at Honey Pot Hill Orchards or the Great Vermont Corn Maze.
Railway ride up the mountains
For something different and unique to New England, take a scenic train ride to the summit of Mount Washington on the Cog Railway. Located in New Hampshire, this mountain-climbing train lets you enjoy the colorful fall foliage without requiring you to huff and puff hike up the mountain.
Happy fall
Whether you're the kind of person who likes to stay cozy indoors surrounded by pumpkins, or the kind of person who loves being lost amongst the sunburnt trees (or a bit of both like me), I hope you enjoy the fall season!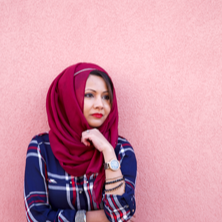 I'm a twenty-something Muslim blogger who's guilty of falling in love with every place I visit. I'm always planning the next trip in my head and missing the last one in my heart. When I'm not off discovering new parts of our beautiful planet, you can find me happily immersed in an art project.