Konnichiwa! Until last month, I had never been to Asia (waittt Annum, weren't you born in Pakistan? you know that's in Asia right?). Technically, I spent my first few years on this planet in Pakistan, but I immigrated to Canada with my parents when I was very young, so the memories I have are hazy at best and extracted from Bollywood at worst. At the end of summer, I returned to my mother continent, but this time, I went east to Japan, the land of the rising sun.
Modern trimmings
Our first stop in Japan was Tokyo. Tokyo is a fascinating place because it has all the hallmarks of a big, metropolitan city flush with influences from around the world - while preserving its own culture, heritage and traditional values (but we'll get to the traditional side in part II of this post). If you visit Shibuya and Omotesando, you'll see your fair share of American and European stores with digital billboards reminiscent of Times Square. In the lively and affluent Roppongi district, you'll find Japanese divisions of global brands like Google, Ferrari, and The Pokemon Company. Tokyo also has the highest number of Michelin star restaurants than any other city, making it a prime destination for fine dining.


Touring Tokyo (part I)
Now that I've given you a quick overview of the poppin' Tokyo spots, let's talk about all the things you can do there! Saad (my husband) and I spent four days in Tokyo, which isn't enough to do everything, but we tried to explore both the modern and traditional side of this global city with a special focus on finding Muslim-friendly spots and halal eats. In this post, I'll share my recommendations for the modern / trendy / funky and futuristic things to check out.
1. Shibuya Station
The first item on my list is a railway station… wait wait wait, don't go! Hear me out! Shibuya station isn't your ordinary, run-of-the-mill train stop - it's a famous meeting place and tourist destination for two reasons: scramble crossing and the Hachiko statue. Scramble crossing, or to call it by it's official name, Shibuya Crossing, is rumored to be the busiest intersection in the world. When the traffic lights turn red, pedestrians "scramble" across the crosswalks in all different directions to the surrounding cafes and shopping centers. You should definitely join the crowd and walk across the intersection to experience this mayhem first-hand. Then, head up to the second-story windows of Starbucks in the Tsutaya building to watch this fascinating surge of people from above.
This is one of the busiest pedestrian intersections in the world, called "scramble crossing" outside Shibuya station.
Shibuya station is also home to a bronze statue of Hachiko, an Akita dog who is remembered for showing incredibly loyalty to his owner. As an animal lover, Hachiko's tale is tragically beautiful and hard to recite because I usually start to ugly cry like Kim Kardashian.
As the story goes, Hachiko would greet his beloved guardian, Professor Ueno, at Shibuya station every day after work so the pair could walk home together. One day while teaching, Professor Ueno suffered a cerebral hemorrhage and passed away without ever returning to the train station. For the next 9 years, Hachiko waited faithfully at Shibuya station hoping for his master to return, until his own death. If you're not already sobbing uncontrollably, you can watch Hachiko's life unfold on film and get the Hollywood treatment.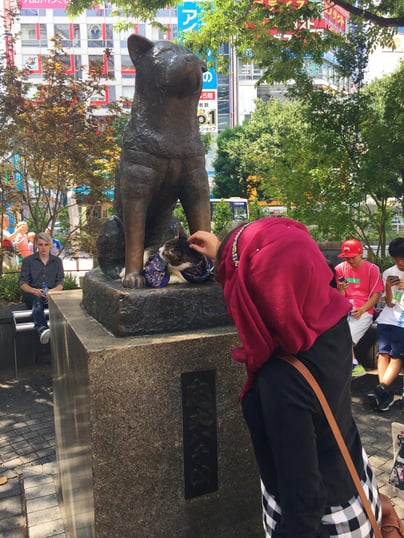 Till this day, Hachiko remains a national symbol of loyalty and devotion
A bronze statue was erected in his honor outside Shibuya station where he used to wait. You can check it out at the Hachiko entrance and if you go in the mornings, there's usually a cat hanging out at his feet. Don't worry, I'm pretty sure the cat has an owner and is well-cared for!
2. Takeshita Street
About a 20 minute walk from Shibuya Station is Takeshita Street located in Harajuku, which is a narrow, pedestrian-only shopping street lined with cafes and (trendy, if you ask teenagers, or kitschy, if you ask me) fashion boutiques. You'll find all sorts of quirky clothing, knick knacks and street food here, and you might even catch a glimpse of Japan's lolita fashion.
This is also where you can try Japan's giant, fluffy, jiggly pancakes (they're delicious)! I recommend going to Cafe Gram - get there when it opens and grab a ticket because they only make a limited amount of these pancakes each day. And if you're still hungry for something sweet afterwards, eat a crepe from Santa Monica crepes (I know, I know, it's not exactly authentic Japanese cuisine, but it's incredible how many crepe combinations you can choose from).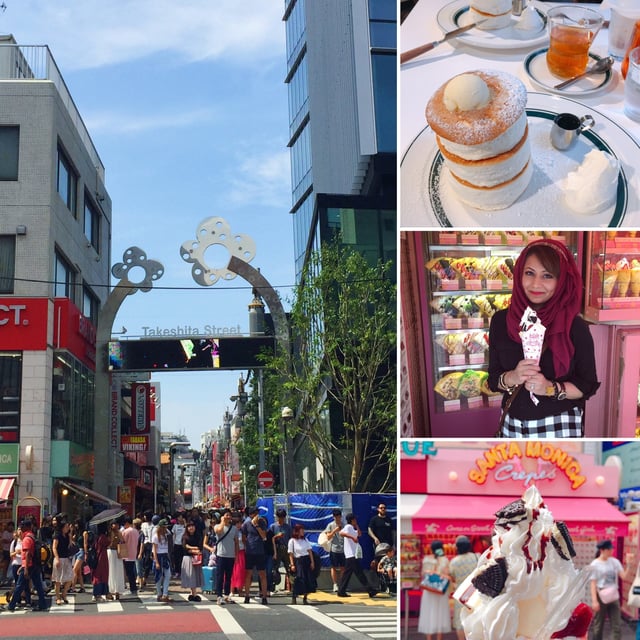 My favorite food on Takeshita Street
Cat cafes are popular in Japan and Takeshita has a Bengal Cat Forest. You're allowed to pet the cats and play with them... but they do get feisty with each other.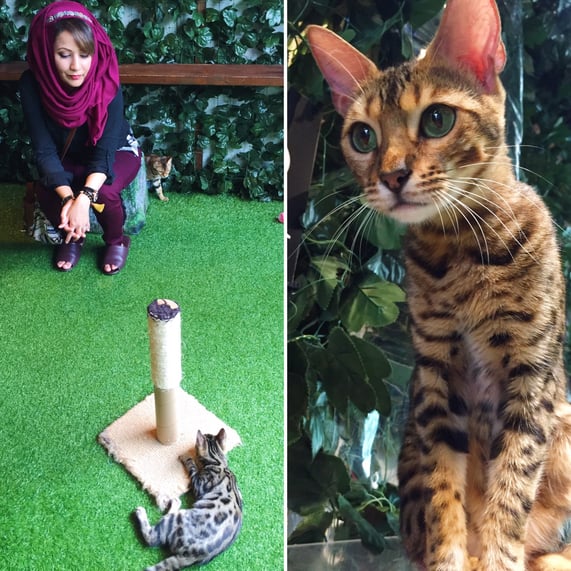 Bengal Cat Forest, where you can get up close to this exotic-looking breed, but don't expect high-quality drinks
There's also an owl cafe downstairs, which I'm saddened to admit Saad and I went to. We regretted it immediately, so I strongly urge you NOT to visit any owl cafes in Japan because they're not ethical. Owls are majestic birds of prey who shouldn't be padlocked to fake trees or forced to stay awake during the day so strangers can pet them.
3. Ura-Harajuku
While Takeshita street is a newer, more touristy part of Harajuku, you can also stroll through Ura-Harajuku nearby. Ura-Harajuku consists of smaller, less trafficked backstreets that are more eclectic and artsy. Cat Street is the main route through this area.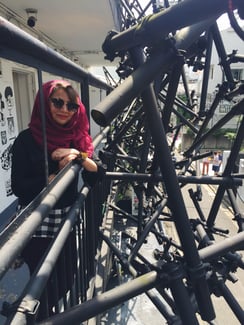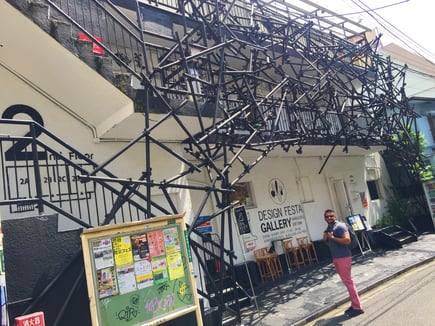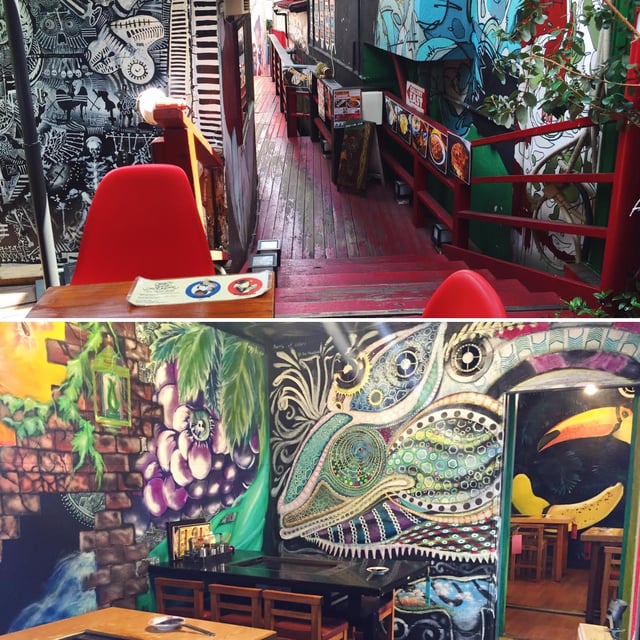 The backstreets of Ura-Harajuku are full of eye-catching graffiti and art
4. Tokyo Tower
Tokyo Tower is that orange lattice tower that looks like the Eiffel tower in the top image in this post. Inspired by the famous Parisian landmark, Tokyo Tower is a communications and observation tower that generates revenue by leasing antennas and through tourism. At the base, there's a building called FootTown (I have no idea why it's called that, maybe because it's at the foot of the tower?). The first two floors of this building are primarily for shopping, dining, and buying souvenirs. The third and fourth floors house the Guinness World Records museum, a wax museum, and a "trick art gallery" which displays interactive optical illusions.
We didn't spend much time in the FootTown building. Instead, we took an elevator from the first floor to the main observatory to check out panoramic views of Tokyo. Although Tokyo Tower gets all lit up at night, I'd recommend going to the observatory during the day so you have better visibility.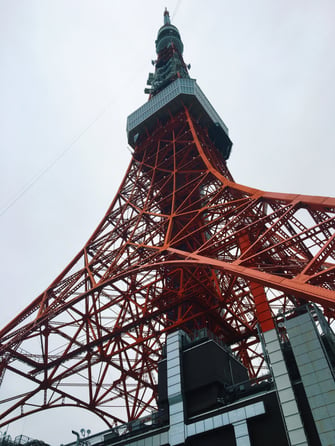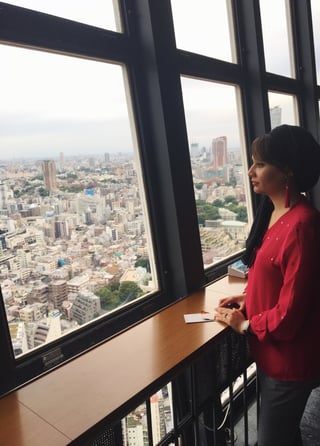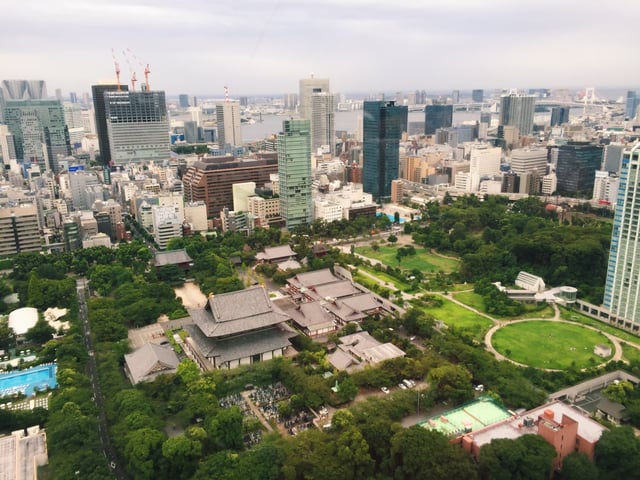 As you look down from Tokyo Tower, notice the gardens and temples nestled between the skyscrapers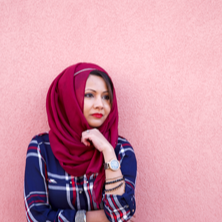 I'm a marketer by skill and an artist at heart. Sed ut perspiciatis unde omnis iste natus error sit voluptatem accusantium doloremque laudantium, totam rem aperiam, eaque ipsa quae ab illo inventore veritatis et quasi architecto beatae vitae dicta sunt explicabo.