Ramadan 2020 is not going to be like any Ramadan in my memory. The global spread of coronavirus (COVID-19) has ushered in the era of social distancing, which means places of worship are closed and large gatherings are forbidden. This Ramadan, nights of taraweeh in congregation at the mosque will be replaced with solitary prayers at home. Weekends when I would have dressed up in glamorous Pakistani shalwar kurtas like Princess Jasmine to attend iftar parties will instead be spent in mismatched pajamas cooking and cleaning like Cinderella (before she became royalty). And plans to stick to a strictly healthy diet are probably going out the window because deep fried food like samosas and egg rolls will be a much-needed comfort during this uncertain climate.
At first, the prospect of a shelter-in-place Ramadan during which Saad and I won't be able to see our friends, family, or community members seemed quite saddening, albeit necessary to flatten the curve of infection. This reality, coupled with the acute awareness of the suffering this pandemic has brought to people (and animals) around the world including my brothers and sisters in faith, put me in no mood to be festive or decorate for Ramadan.
Then after a few days of ugly-disheveled-crying, I had a shift in perspective.
Yes, this year Ramadan will be a less social, simpler, and more solemn affair.
But maybe that's not a bad thing. Maybe this is our chance to remember the true spirit of this month. Ramadan, the holiest month of the Islamic calendar during which the Quran was revealed, brings more than just celebration; it also brings mercy, forgiveness, refuge, and hope.
During a time like this, we are in greater need of these blessings.
So, I willed myself to decorate our condo as one way to bring the warmth, magic, and light of Ramadan into our little home. May these simple decorations, inshAllah, serve as a reminder that Ramadan is not cancelled - it is here with its promise of mercy and peace for those who believe.
Nurturing creativity in chaos
In previous years, my Ramadan decor has been a mix of handmade pieces paired with unique items I've purchased from Muslim-owned small businesses. This year, I didn't buy anything to add to my Ramadan decor collection. Instead, I dug through my stash of art supplies and got crafty.
From a young age, I've loved making things by hand, letting my imagination guide me to see ordinary things in innovative ways. For me, crafting is a contemplative, comforting activity that distracts the body and calms the mind in a chaotic world. Crafting is also how I nurture my creativity when other life adventures are on hold (temporarily).
There's no shortage of digital screens and content streams in quarantine, but I want to use this time to create - to add, to build, to invent - not just passively consume, so that's why I made 100% of my Ramadan decor this year. Keep on reading to see what I created and learn how you can get crafty too.
Do-it-yourself (DIY) Ramadan decor
1. Whimsical 'happy Ramadan' banner
The first section of our home I normally decorate is our dining nook, the place where we start and break our fasts. The wall above our dining table is bare, making it the perfect blank canvas for some seasonal decorations. When Modern Eid gifted me this happy Ramadan printable banner, I knew it would be the star of this space. I love the cute, cheerful print of the banner with its subtle Islamic silhouettes; it's unique and 'Ramadan-y' without being too 'raging party.'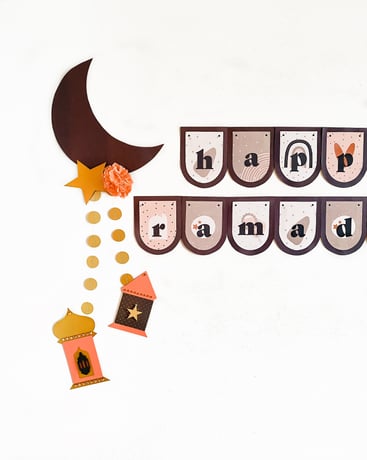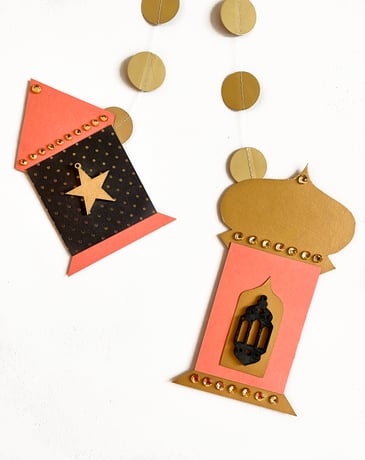 This banner can be strung together and hung up, but that's not what I did. I glued the pieces onto black construction paper to create a dark border so the letters would pop against our light gray wall. I also cut out some celestial shapes (a moon and stars) to flank each side of the banner. Then, I added dangling lanterns using this gold dot garland to increase the visual impact and add more whimsy to the wall. I stuck everything up with painter's tape.
This Ramadan backdrop has distinct fairytale / storybook vibes, which makes me very happy.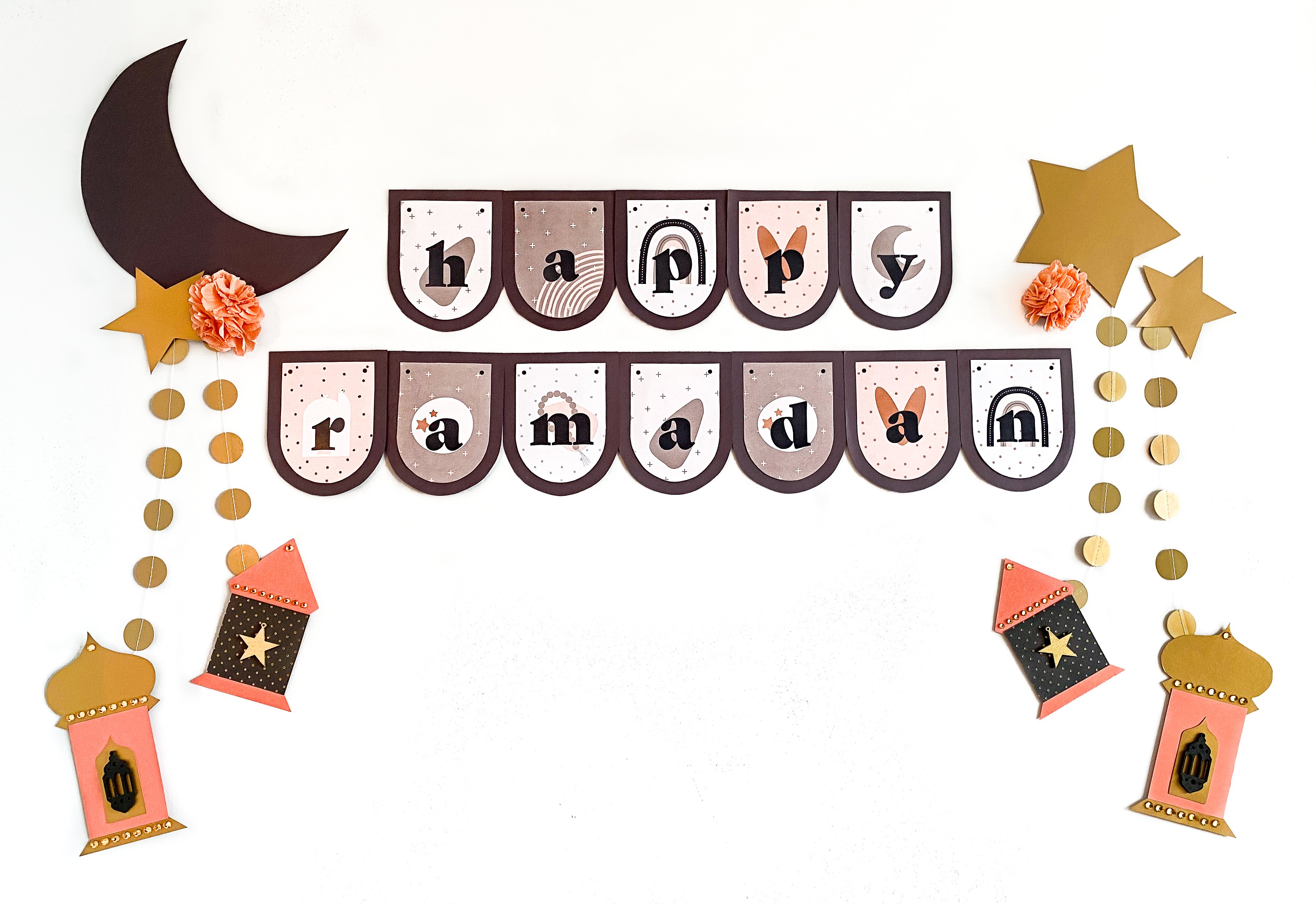 Decorating tip: I was initially hesitant to use printables in my Ramadan decor because I don't have a printer. However, office retail companies like Staples are still open and many locations offer curbside pick-up of your printing projects. I recommend using their online printing service and printing this banner on 80 or 100 lb cardstock paper so it's sturdy.
2. Glittering Ramadan lanterns
Lanterns are one of my favorite Ramadan decor items and I incorporate them into my setup every year. In keeping with my "Let's get crafty" theme for Ramadan 2020, I made gold-domed lanterns by hand, using pink and coral craft paper to tie them to the color scheme of the happy Ramadan banner above.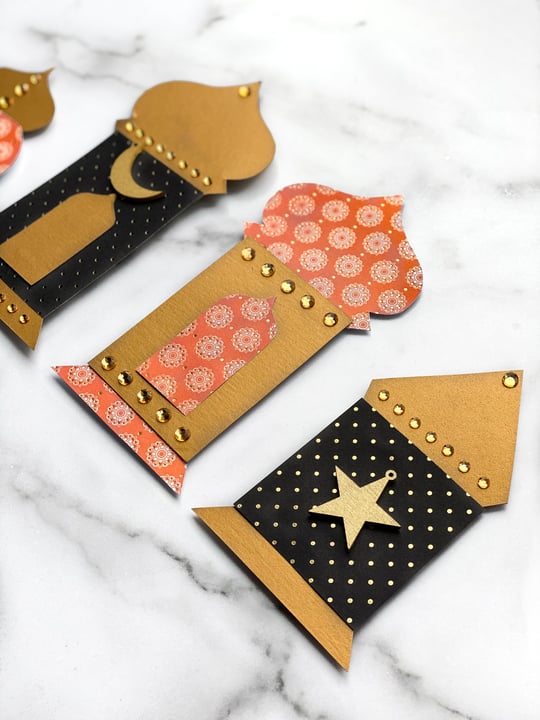 These lanterns may look intricate, but they're not hard to make! Here's the stuff I used:
A paper pad with patterned sheets
Gemstone stickers
Scissors
Ruler
Pencil
Glue
To create these Ramadan lanterns, I used a ruler and pencil to draw out the shapes with the measurements below (in inches). Then, I cut out the shapes with scissors and assembled my lanterns by gluing the pieces together. As a final touch, I embellished the lanterns with gemstones that sparkle in the sunlight, and gleam in the moonlight.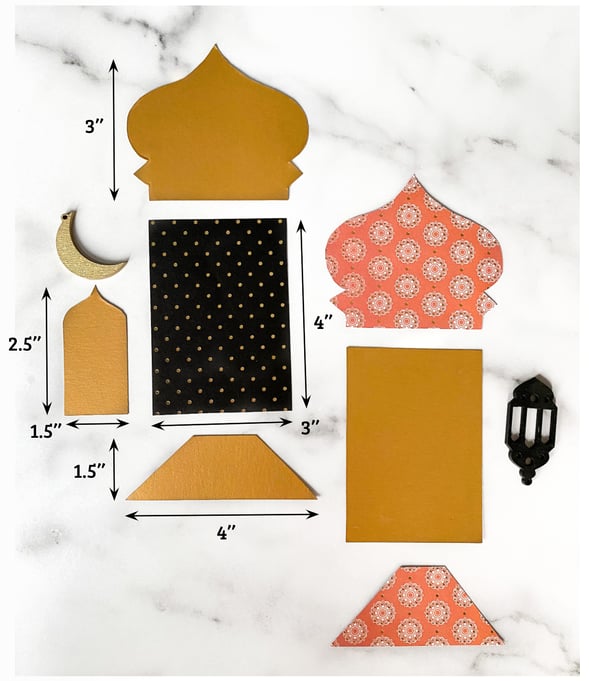 Decorating tip: If you're looking for a simpler lantern tutorial that is more kid-friendly, try making these hanging paper lanterns.
3. Chalkboard Ramadan advent calendar
Advent calendars are such a fun way to build excitement throughout Ramadan and countdown to Eid. Muslim parents usually use them to encourage their children to fast (by placing small rewards in them) and to do good deeds (by writing out acts of kindness from the sunnah). But who says advent calendars can only be for kids?
I combined my childlike adoration for advent calendars with my technically-a-grown-up status to turn my entryway chalkboard into an adult-friendly Ramadan advent calendar. I like to complicate things challenge myself and have my Ramadan decor serve the dual purpose of being both eye candy and soul food. By that I mean I try to weave in religious (not just symbolic) elements into my decorations so they're pretty and informative. That's why, in addition to suhoor and iftar timings, I also wrote one of the 99 names of Allah for each day to help us learn about the beautiful qualities and attributes of our Lord.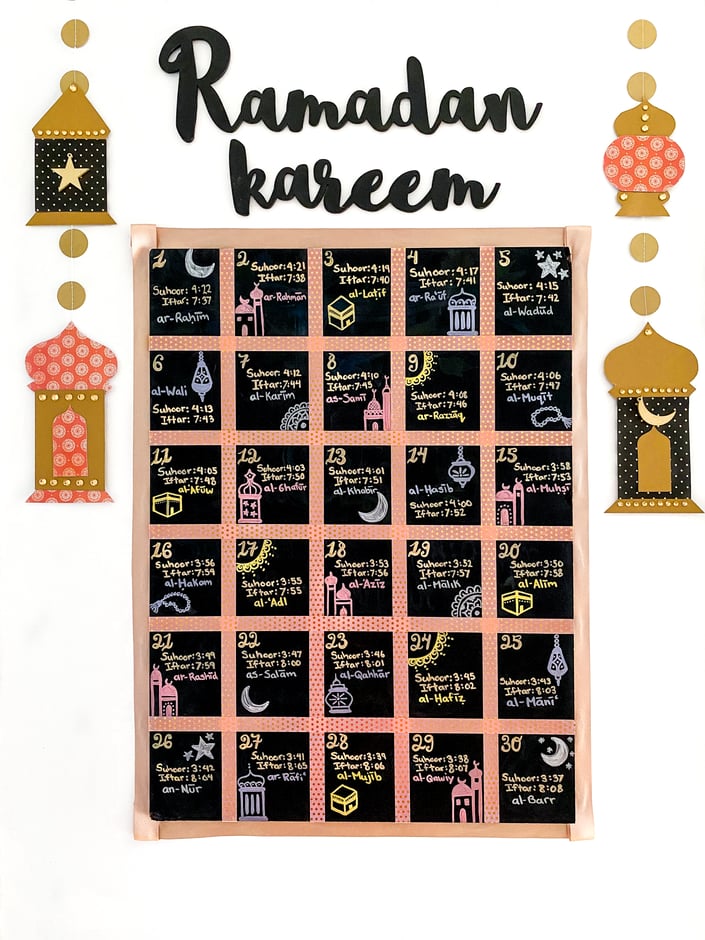 Here's a step-by-step overview of how I created this Ramadan advent calendar.

1. First, I divided my rectangular chalkboard into 30 equal squares (using math and a ruler!). Then, I used washi tape to add gridlines because this tape doesn't damage the chalkboard, peels off easily, and has some polka-dot personality.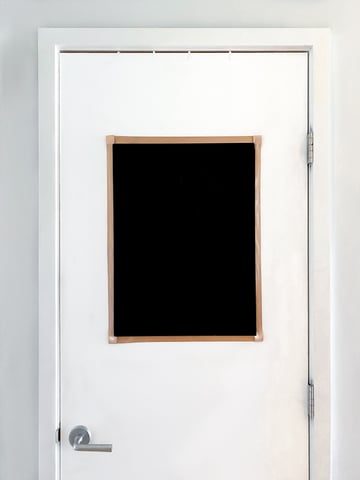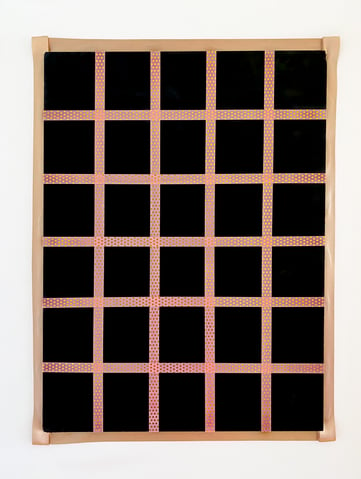 Step one: Turn the chalkboard into a grid
2. Second, I used metallic Chalk Ink markers to add a number to each square, in fancy cursive writing. To jazz up the board, I drew in Islamic shapes (masjids / mosques, moons, stars, lanterns, random designs) into the corners of the black boxes.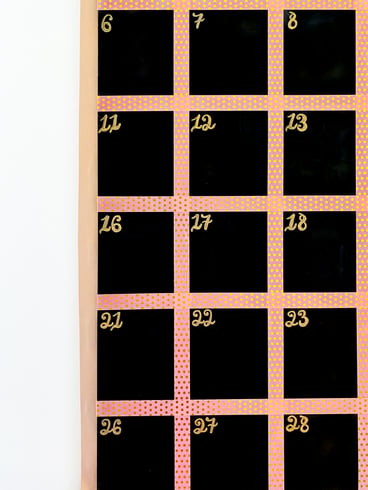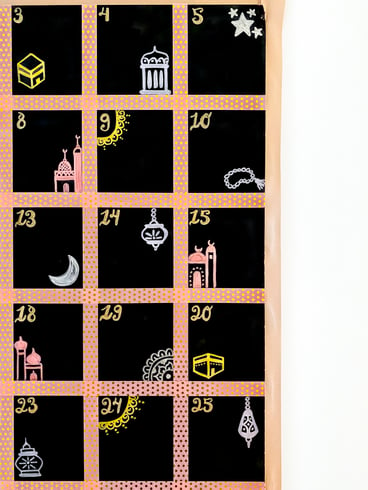 Step two: Add numbers and Islamic designs to each square
3. Third, I wrote the timings of suhoor and iftar for each day, followed by one of the 99 names of Allah. The first 10 boxes contain names pertaining to mercy, the next 10 contain names related to forgiveness, and the last 10 are names tied to salvation. The goal is to learn these names and use them in our prayers.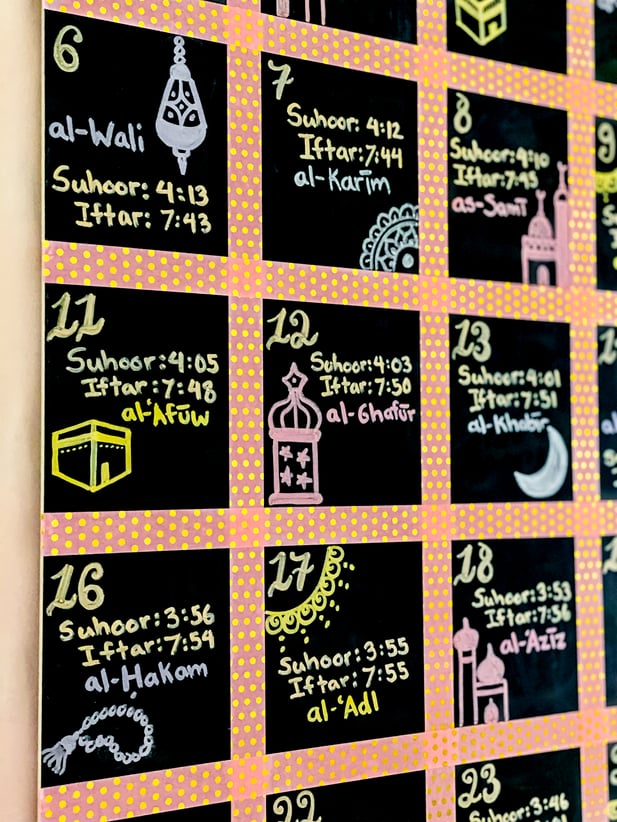 Step three: Write the names of Allah
4. I finished off my Ramadan chalkboard calendar by hanging (i.e. taping) the lanterns I made next to it and adding a 'Ramadan Kareem' sign that I bought from Etsy last year.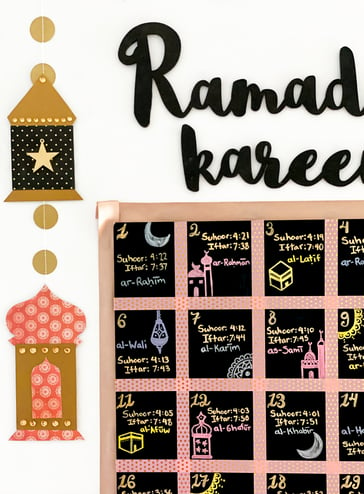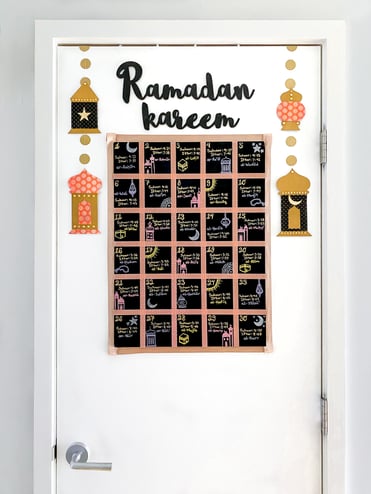 Step four: Hang lanterns
Decorating tip: As you can probably tell by the pictures, our Ramadan advent calendar hangs on our entryway closet right next to our kitchen. I placed this chalkboard here, in a highly trafficked area, on purpose so we can repeatedly glance at it as we walk by and memorize the names. If you want fasting people in your family to learn something while hangry hungry, write it next to iftar timings because I guarantee they'll check it multiple times #subtlereinforcement.
Kindling the Ramadan spirit
Ramadan decorations are one way I kindle the Ramadan spirit and welcome the holy month into my home - and into my heart. The world can seem a bit scary right now, but whenever I see these decorations up around our condo, I'm reminded that we're lucky to experience another Ramadan, the month of mercy, salvation, and hope.
Allhamdulillah.
*Affiliate links used.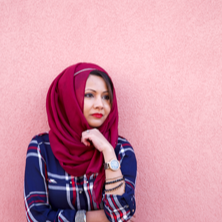 I'm a twenty-something Muslim blogger who's guilty of falling in love with every place I visit. I'm always planning the next trip in my head and missing the last one in my heart. When I'm not off discovering new parts of our beautiful planet, you can find me happily immersed in an art project.