Paris has been called many things; the city of lights, the capital of love, the city of romance, and the city of fashion. This idyllic French capital is a regular staple on lists of top honeymoon destinations, anniversary getaways, places to visit before you die, etc., and I'd bet (if betting was halal) that you couldn't find anyone in your network who'd pass up a trip to Paris. Desi aunties and uncles don't count because we all know Pakistan > Paris > anywhere.
This brings me to a confession: for a while, I didn't really want to go to Paris. What?! What kind of travel blogger doesn't want to go to a dream destination like Paris? Well frankly, the hijab-wearing Muslim woman kind.
France, fears, and fireworks
Although France has always had a reputation for being a secular country, a wave of recent terror attacks have (understandably), wrapped it in a blanket of extra security. These attacks have also correlated with a rise in islamophobic policies like the hijab ban, the niqab ban, and the burkini ban, which have caused tension and division to rise.
Being a veiled Muslim woman isn't easy in any non-Muslim majority country, but I was extra mortified at the thought of being denied access to a public place, refused service, berated with racist insults, or forced to remove my hijab by policemen in a foreign country. These fears go through my mind on a daily basis in Trump's America, so I wasn't keen on having them amplified while trying to vacation.
Woah. That was really serious. Don't worry, this is still a fun travel post, but I did want to start off with some straight-up honesty.
Now, let's get on to the trip itself. How did we end up in Paris despite my trepidations? Long story short: I wanted to take my husband, Saad, on a surprise trip as a graduation gift for finishing his MBA (he's so lucky to have me mashAllah). I was planning the trip for December and lo and behold, Paris popped up on a list of "Best places to spend New Year's Eve." A few Google searches later I had booked our flights because after all, Paris is a dream destination and I was excited to see fireworks at the Eiffel Tower!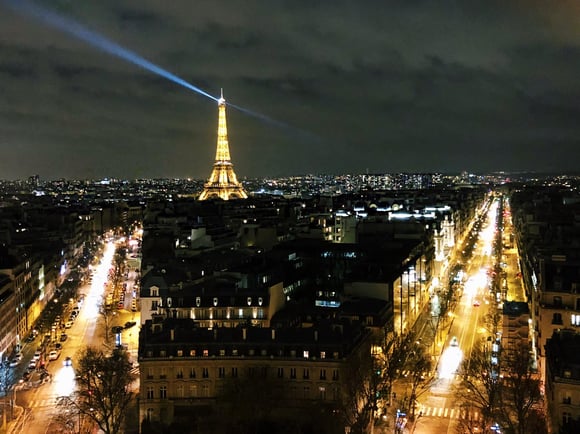 I wanted this, but MORE, MOOORE
Travel tip / spoiler alert: As I learned later, there are usually no fireworks at the Eiffel Tower for New Year's Eve (only for St. Bastille Day in July). Womp womp. And these YouTube videos are a lie! (#FakeNews) But New Year's Eve in Paris was still incredible. I'll tell you why below, in dramatic fashion for extra entertainment 😉.
New Year's Eve in Paris
Part 1: Bitter disappointment
The only expectation I had of New Year's Eve in Paris was that there'd be breathtaking fireworks at the Eiffel Tower. I only wanted to be wowed. That's not too much to ask, right? When that expectation was shattered, I didn't know what else to expect in terms of celebrations. The manager at our hotel told us there would be "illuminations" at the Arc de Triomphe and most people would gather on Champs-Elysées, a world-famous street.
Cool. Illuminations. That sounded exciting and definitely worth the premium price I had paid for holiday airfare to France. (In case it's hard to read between the lines, I'm totally being sarcastic).
I was crushed. No fireworks? No Eiffel Tower? Then why the heck was Paris one of the best places to celebrate New Year's Eve? Was my surprise trip for Saad turning into a big fat fail?
These new fears flooded my mind and panic set in. If New Year's Eve was disappointing, I better make the rest of this trip bloody fantastic… which it was, but more on that later.
Part 2: A new hope
On December 31st, Saad and I hopped around Paris. We ate a delicious breakfast and checked out the Eiffel Tower (of course) and the Louvre Museum. Even if the evening activities were disappointing, at least we had had a good day.
Although I didn't know how the night would unfold, I did know that the crowd would be huge, the weather would be cold, and driving would be impossible so we'd need to walk over early to grab a decent viewing spot.
The light show was set to begin at 11:30 pm, but we headed over to Champs-Elysées around 8:30 pm. By then, the crowd had already begun to form, car traffic was completely blocked, camera crews were up in cranes, tons of shops were being boarded up, and policemen were patrolling the perimeter of the Arc de Triomphe with dogs in tow.
What was going on? All this preparation for a light show? That's when Saad told me that he'd read online that there might be a "surprise" at the end of the typical light show. Maybe, just maybe, it'd be something wonderful.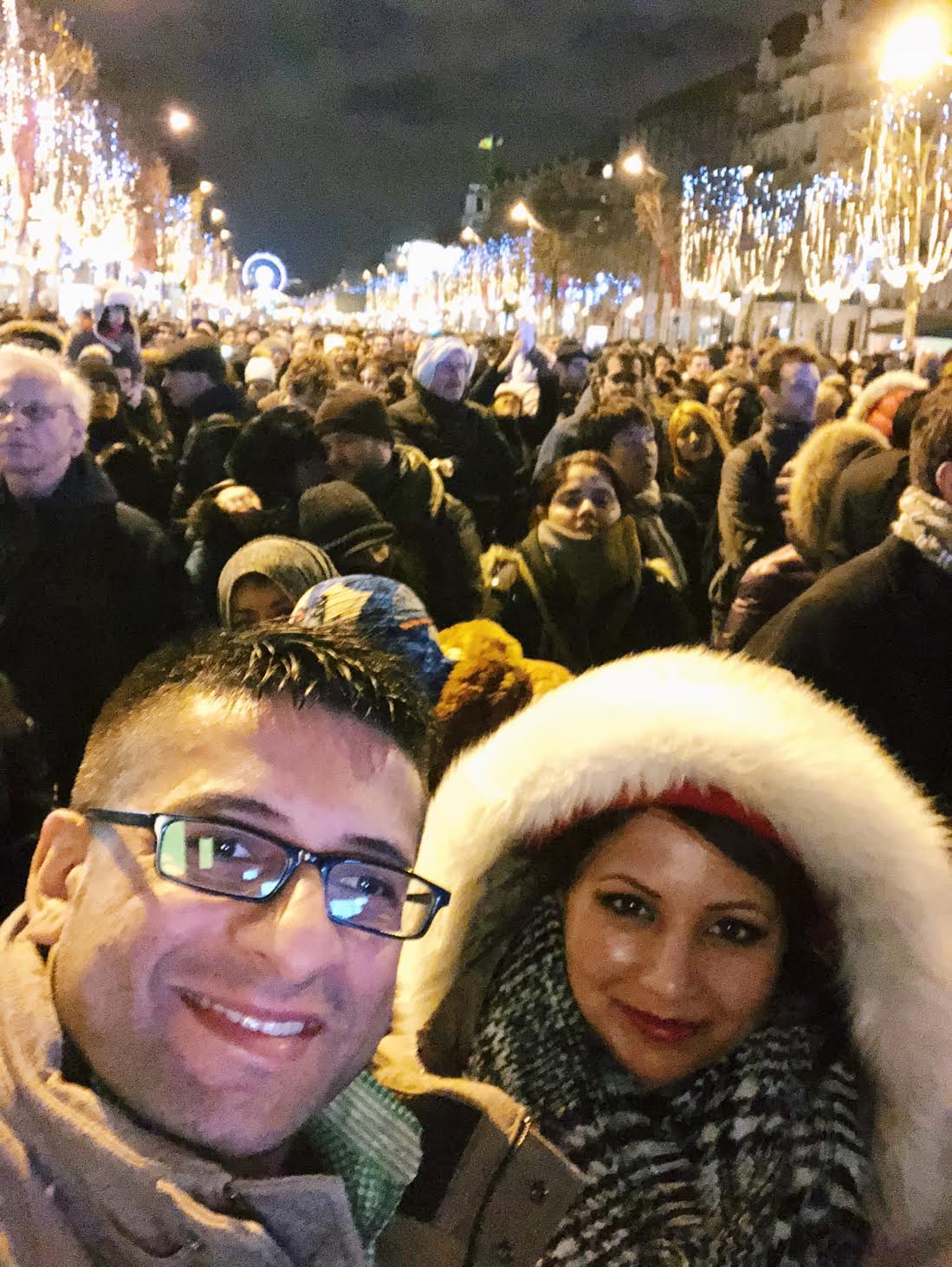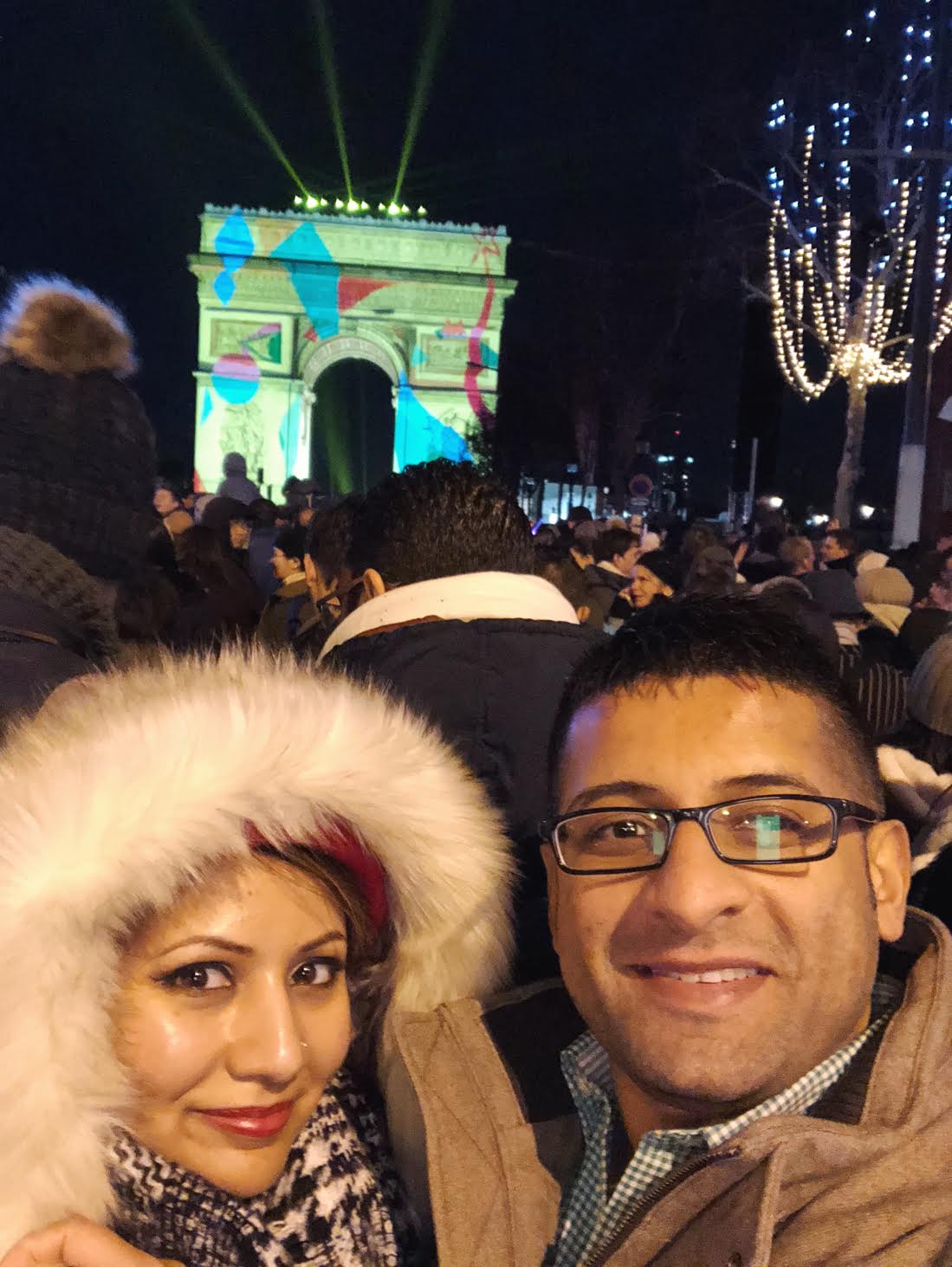 Waiting for the New Year's Eve celebrations to begin and hoping for something magical
Part 3: A slow start
The light show began sharply at 11:30 pm with a series of projections that counted down the minutes to midnight. This was interesting at first, but not worth standing shoulder to shoulder with thousands of revelers (both locals and tourists) encroaching on my personal space.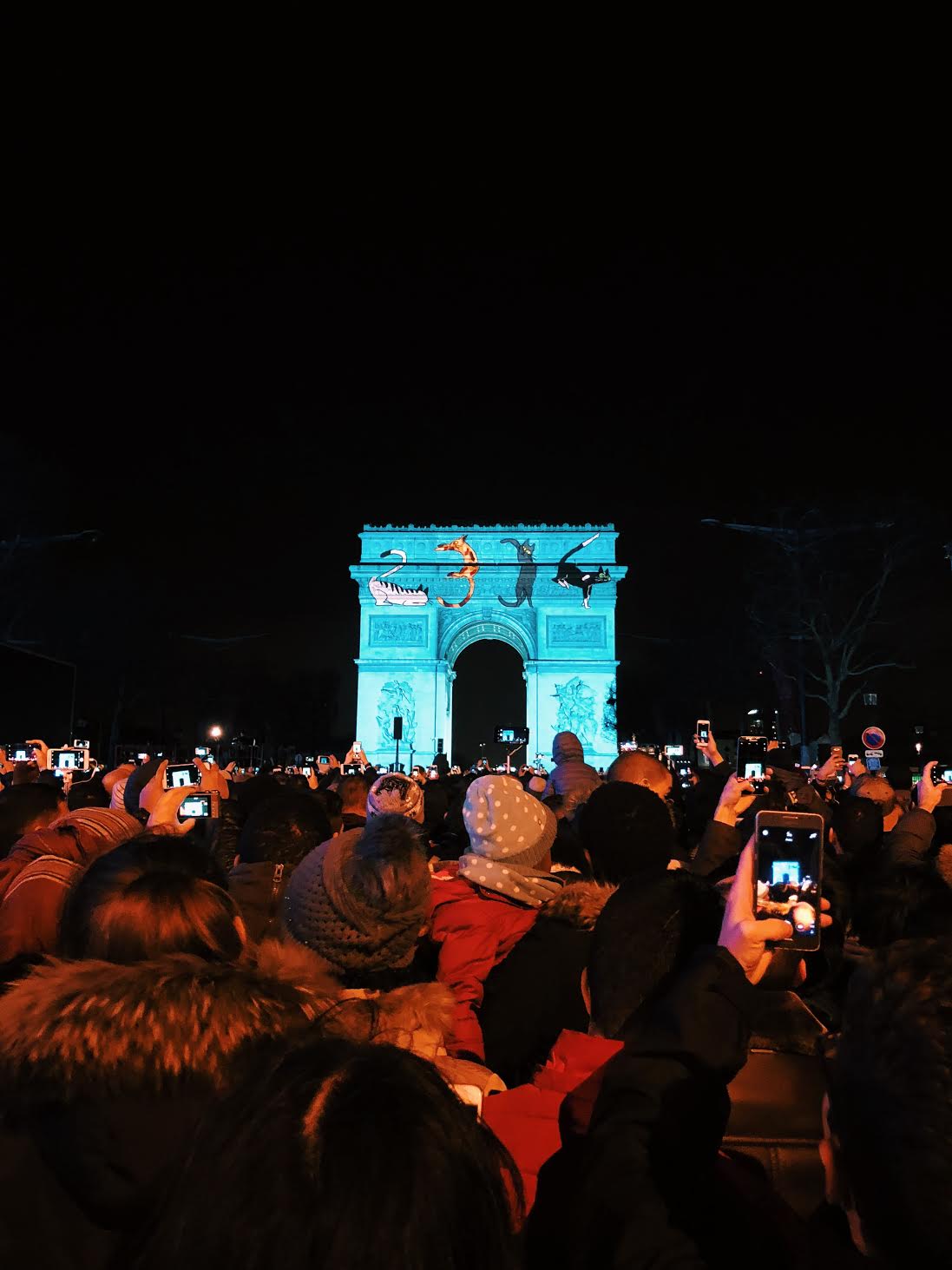 The quirky illumination marks the time, 11:34 pm
About 10 minutes before the clock struck 12, an animated short film began to play on the Arc. This year, the movie was about a cat that got separated from its owner and followed the feline's quest around Paris to find its way back. As a cat owner and lover, I found the film to be cute. Internally, I prayed that this wasn't what all the fuss was about.
Then the numbers on the Arc began to countdown the seconds until midnight and the crowd swelled with anticipation. Here goes something, or nothing.
Part 4: Mind blown
At midnight on January 1st, 2018, to my heart's giddy delight, fireworks exploded out from the Arc de Triomphe and lit up the black sky. These fireworks were accompanied by an exhilarating song that roused the frozen crowd and turned the crammed street into an outdoor party. Each sparkler was perfectly timed to a beat in the song. The energy was infectious and connected me to the strangers I was standing beside.
I turned to Saad and smiled. He was grinning from ear to ear.
And that made everything worth it. Gratitude and elation took the place of my fear. It's hard to describe how happy I suddenly felt, welcoming a New Year in a new place in a new way. 2018, it was nice to meet you in Paris, truly the city of lights.
By the way, I know this is corny, but I warned you in advance.
You can catch a glimpse of the festivities over on my Instagram:
After the fireworks ended, people broke into groups to start singing and dancing on the street. For some, this was only the beginning of the festivities. We didn't do anything after the show, but walking the two blocks to our hotel took us until 3:00 am because of how dense the crowd was. Once inside our room, cheers of merriment continued to float into our room till dawn.
Part 5: Introspection
So, despite no Eiffel Tower fireworks, how was New Year's Eve in Paris? Was it worth the hype?
Yes! Yes yes yes! Although I was initially bummed that the famous Parisian tower wouldn't take center stage, the celebrations at Champs-Elysées were nothing short of epic. It was the best New Year's Eve Saad and I have ever had, alhamdulillah. I can say that with certainty because I asked him. Yay! Can I go in the wife hall of fame now?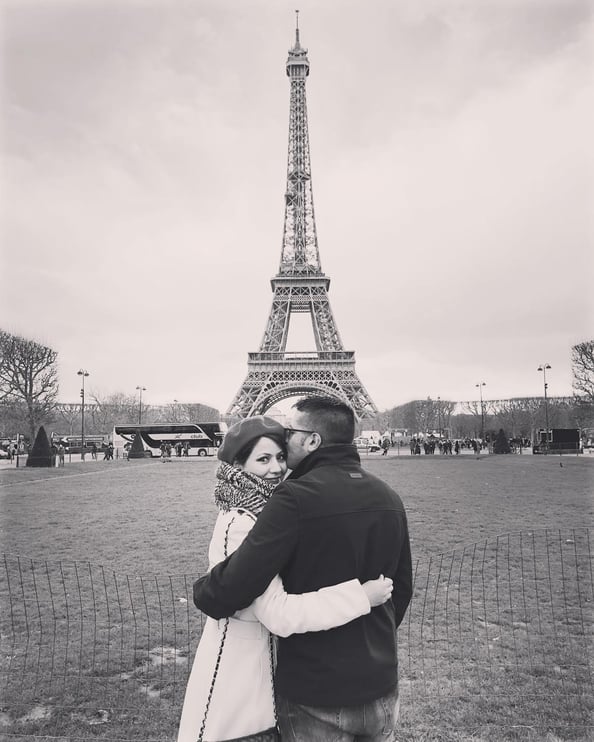 Recommendations
Celebrating the holidays in Paris was an awesome experience - I'd highly recommend it. If you do find yourself headed to Paris to ring in the New Year, here are some tips to make planning easier:
Stay near Champs-Elysées, it's where all the action happens!
The majority of restaurants will offer a pre-fixed New Year's Eve menu, so do your research beforehand and make a reservation (I wouldn't recommend this option for Muslim travelers, because these menus will likely include non-halal meat)
Shops on Champs-Elysées will close early and be boarded up, but don't be alarmed by this
Bring your own snacks, since cafes will close early, have long lines, or run out of food quickly
Due to the size of the crowd on New Year's Eve, the normally pristine Champs-Elysées gets quite dirty (you'll see trash overflowing out of garbage bins, etc.) so don't wear your fancy shoes
Show up early (like hours before the show starts) and be prepared to wait
Once you find your spot on Champs-Elysées, don't leave because the crowd will overflow into the side streets and you won't be able to go back
While the atmosphere on Champs-Elysées on New Year's Eve wasn't crazy, it's probably not suitable for young kids
If you're not keen on standing on the street to watch the light show, book a hotel (like Hotel Splendid Etoile) on Champs-Elysées with a balcony overlooking the Arc de Triomphe for the night so you can watch everything in your PJs in the comfort of your room
Be patient and calm, how often will you get to spend New Year's Eve in Paris?
First sign of love
As I mentioned at the beginning of this post, I wasn't keen on visiting Paris. And I certainly didn't think it'd come to hold a special place in my heart.
But I was wrong, which never happens (just ask Saad 😎).
My New Year's Eve experience was the first thing that tugged at my full-sized aortic pump (Friends fans will get this reference). Throughout the rest of our trip, I continued to, slowly but surely, fall in love with Paris.
Find out how that happened in part II of my Paris blog series.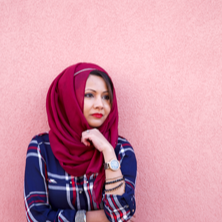 I'm a twenty-something Muslim blogger who's guilty of falling in love with every place I visit. I'm always planning the next trip in my head and missing the last one in my heart. When I'm not off discovering new parts of our beautiful planet, you can find me happily immersed in an art project.