With pristine white buildings gleaming along a turquoise shore, it's easy to mistake the seaside city of Cádiz for one of Andalusia's famous White Towns, also known as the "Pueblos Blancos." But technically, Cádiz is not considered one of the 19 Pueblos Blancos even though it shares many of their characteristics, such as whitewashed houses that stand out against the scenery, narrow streets that lead to cute town squares, and a relaxed vibe that conceals a complex history.
We visited Cádiz for a few reasons. First, it's a picturesque city surrounded on three sides by water (the Gulf of Cádiz which flows into the Atlantic ocean), meaning it has beaches! Second, it's less touristy so it's a great place to experience the local culture and cuisine. And third, it was easy to get to from where we were staying in Seville (you can do a day trip there!).
Now, as calm and quaint as Cádiz is today, it was once a major stronghold that launched explorers, lured traders, and fought invaders.
Section overview
A brief history: A port of prosperity and pillage
Cádiz is the oldest city in Spain. It was first settled by the Phoenicians in the 8th century BC and it has been continuously inhabited since then. From 711 to 1262, Cádiz was ruled by the Moors (Muslim Berbers and Arabs from North Africa and the Middle East) who called the city "Qādis," which means "the fortified compound" in Arabic.
During their 500 years in power, the Moors developed the city's maritime trade by building shipyards and establishing trading routes that stretched across the Mediterranean Sea. They also constructed whitewashed houses that reflected heat and stayed cool in the searing summers. To improve agriculture, the Moors introduced new crops and water management techniques, including the use of aqueducts, canals, and reservoirs.
After Cádiz was conquered by Christians, it became a hub for Spanish exploration and military activity. Christopher Columbus set sail from Cádiz on two of his voyages. As a result, Cádiz became a target of Spain's enemies. It was raided, looted, and almost burned completely to the ground. That's why Cádiz has over 100 watchtowers!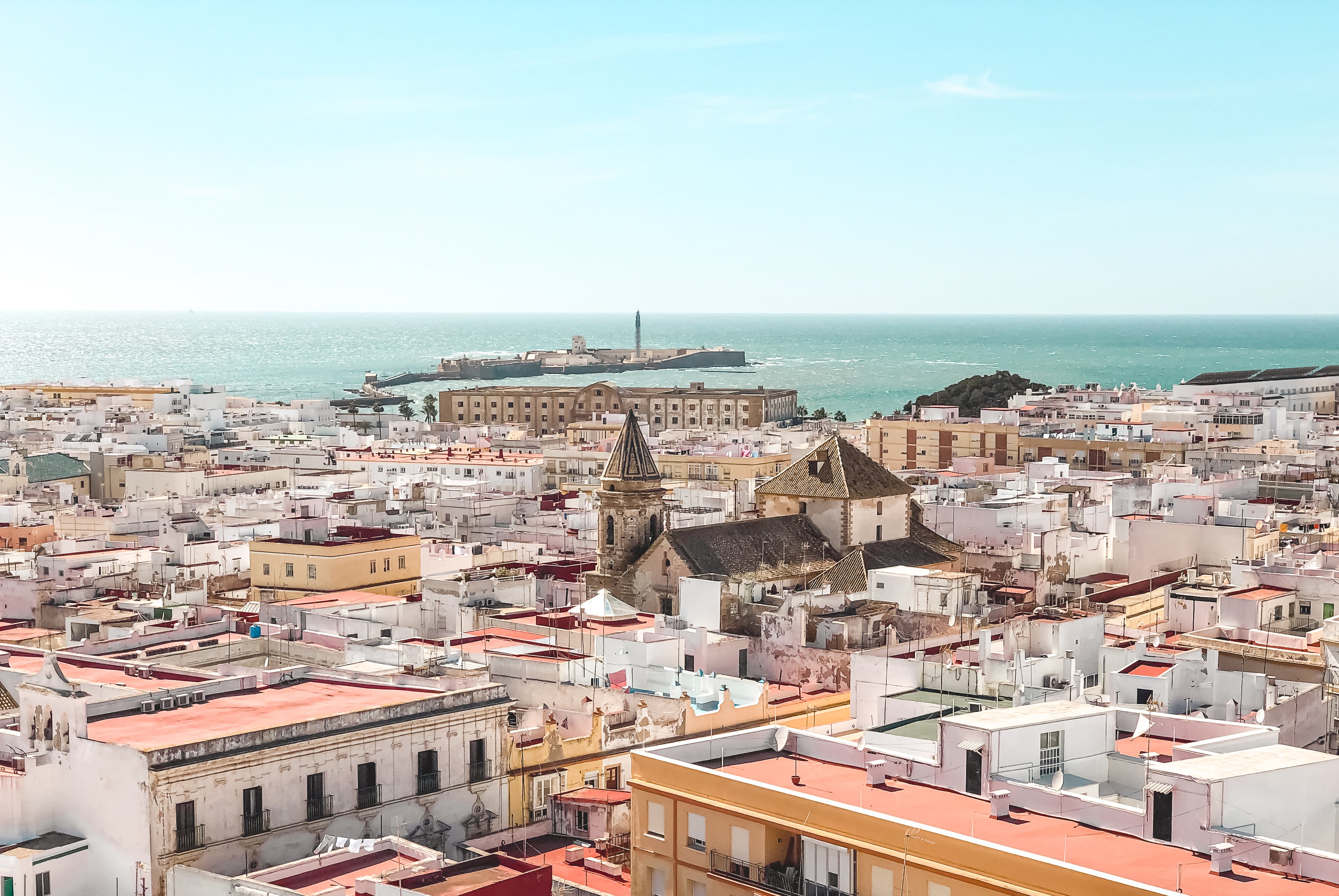 One of Cádiz's watchtowers… as seen from another watchtower
This coastal city's history was marked by periods of both prosperity and pillage. The Moors, who helped the city flourish, were eventually expelled but they had a lasting impact on its architecture, economy, and gastronomy. You can still see whitewashed homes, it remains a key trading port, and Cádiz's most popular dishes are infused with flavors and spices from Moorish cuisine. Even its current Spanish name "Cádiz" is derived from its Arabic name "Qādis."
How to get to Cádiz from Seville
Cádiz is located 75 miles (121 kilometers) south from Seville. Saad and I rented a car and drove there and back. The drive is not hard or long - it took us just under an hour and half each way on the AP-4 highway, which is a toll road. If you don't want to drive, the next best option is to take the Alvia high-speed train from Seville's Santa Justa station to Cádiz Central station. The Alvia will get you to Cádiz comfortably (it has free Wi-Fi and power outlets at every seat) in about the same time.
Travel tip: As I mentioned at the beginning of this post, the city of Cádiz is not one of Spain's White Towns (even though it looked pretty white to us 🤷🏽‍♀️). However, the city of Cádiz is located in the province of Cádiz (Cádiz, Cádiz is not confusing at all, right?) and this province is home to tons of Pueblos Blancos that are worth checking out. If you leave early from Seville, I recommend stopping at Olvera or Setenil de las Bodegas because these White Towns are stunning and nestled in unique locations. You can drive to both in 1.5 hours from Seville, spend time wandering around, and then drive another hour to eat at Cádiz. Olvera is special because it's a white village perched atop a hill with a towering cathedral, while Setenil de las Bodegas has historic houses that are literally built into the side of overhanging cliffs. We didn't have time to stop at these villages, but I wish we did.
What to expect
When we arrived in Cádiz, the first thing we did was find a parking spot where we could leave our car for the day because Cádiz is best explored on foot. The fun part of visiting a charming place like this, which is off the beaten path, is to get lost in its maze of streets and stumble upon local shops, cozy cafes, and charming little plazas. The most memorable adventures don't follow a strict schedule; they allow time for curiosity to lead the way.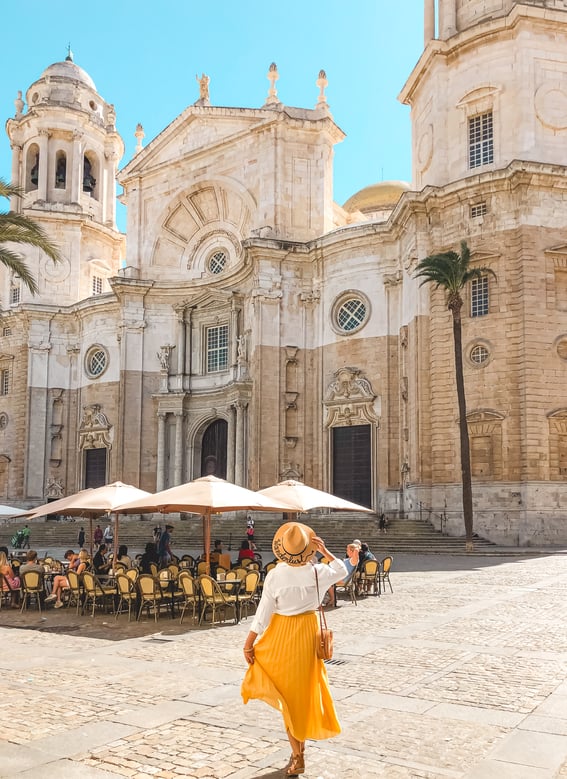 Strolling around sunny Cádiz in my sunny skirt
Saad and I spent an afternoon doing just that and here's what we discovered about Cádiz:
It's a city of locals, not tourists. Cádiz is a commercial seaport, not a tourist destination. There are no big name hotels or global restaurant chains. This is the home of fishermen and small family-run businesses. If we ever saw a crowd on the corner, it was usually a group of friendly neighbors chatting away.
English is not widely spoken, but people are welcoming. Since Cádiz is not a tourist hot spot, many people do not speak English, but don't let that deter you from visiting. The locals are not hostile towards tourists. Everyone we encountered was warm and we always found a way to communicate with them, whether that was through

wild and wacky

hand gestures, translation apps, or English menus. We actually liked hearing so much beautiful Spanish spoken around us - it adds to the city's authenticity.
When the weather is nice, everyone goes to the beach. We visited Cádiz on a hot day. The city seemed emptier than expected, until we went to the beach where we found its entire population sunbathing on the sand.
The atmosphere is laid-back and mellow. Similar to the rest of Andalusia, life moves slower here and revolves around simple pleasures, but that doesn't mean Cádiz isn't lively. There are plenty of markets and plazas lined with stalls - like Plaza Topete.
Afternoon siestas are part of the culture. Most shops (and some restaurants too) will shut down between 2 - 4 p.m. for the traditional Spanish custom of siesta so people can take a break, nap, or have a leisurely lunch with their families. Oh what a wonderful way of life!
There's a nightlife scene. Things may be slower during the day, but the locals like to drink (Cádiz is known for its sherry, which is one of its top exports) and dance at night. My advice to Muslim travelers is to get on the halal train out of here before the sun sets because the Old Town turns into party town.
Lunch and dinner are served late. Lunch is usually served around 3 p.m. and dinner is served around 9 p.m. It's not uncommon for restaurants to be closed between lunch and dinner hours, so plan your day trip to Cádiz accordingly because you don't want to

be bumbling around hungry

miss out on eating in this city!
Where to eat
No matter where you stop on the way, save your appetite for Cádiz. Saad and I skipped all the detours to ensure we made it to Cádiz during lunch hours. Sometimes instead of our curiosity, we let our stomachs lead the way. I have regrets about missing the White Towns, but not the food because it was delectable.
Cádiz's culinary landscape is a vibrant mix of Spanish and Mediterranean dishes that are rooted in history while also tasting refreshingly modern. Given the city's coastal location and focus on fishing, the best thing to eat in Cádiz are seafood tapas. Tapas are small plates with small portions of food. They're the perfect size for sampling a variety of dishes. We dined at Sopranis. It was a tiny, family-run restaurant tucked away on one of the side streets, so it wasn't buzzing with patrons, but the food was fresh and delicious. Try their patatas bravas, seafood cannelloni, and prawn croquettes. If you're feeling adventurous and want to try funkier more inventive tapas, I recommend La Candela.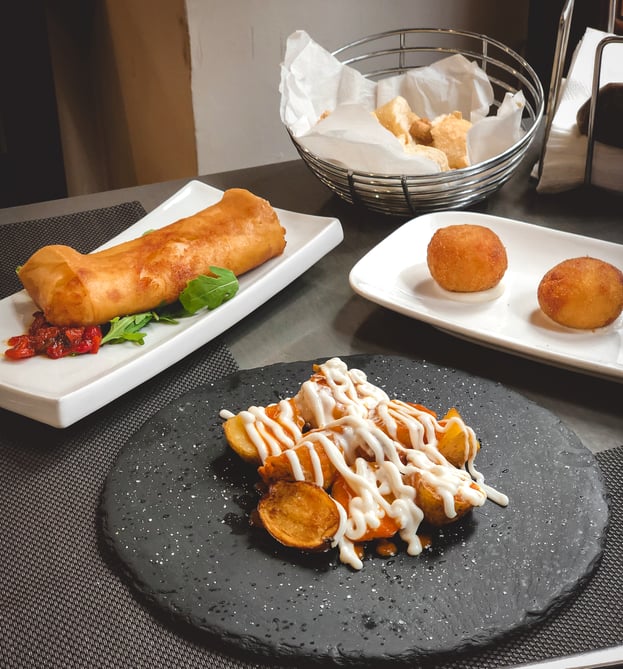 Patatas bravas and seafood tapas at Sopranis
If you know me, you know I rarely skip dessert. So, what do I recommend for my fellow sweet-toothed travelers in this beachy Spanish city? Gelato of course! It's creamy, cold, and easy to hold as you stroll through the streets or on the sand. The two best gelaterias in Cádiz are Heladeria El Limonero and Narigoni Gelato. Narigoni's Kinder Bueno and cookie caramel flavors were our favorite.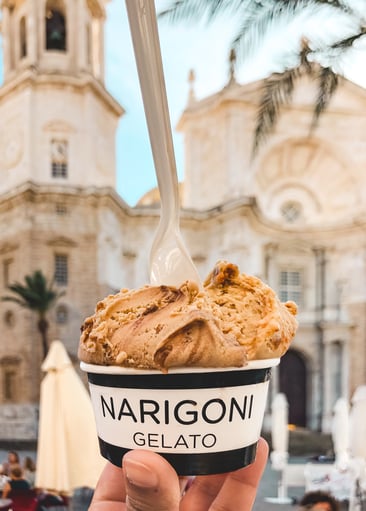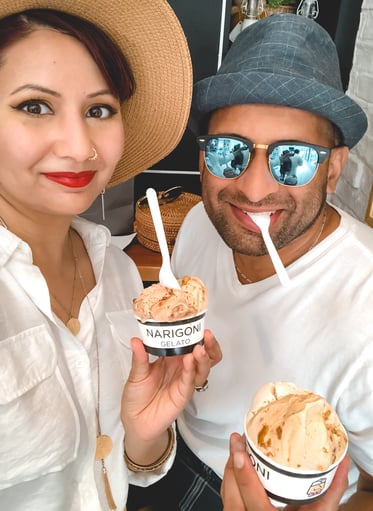 Narigoni Gelato was so good, Saad didn't even take his spoon out of his mouth for this picture #classyguy
Travel tip: If you peel your eyes away from my cup of gelato in the picture on the left, and look at the background instead, you'll notice a cathedral. That's Cádiz Cathedral, one of the main sites of the city. Conveniently, Narigoni Gelato is located right next to it so that's why, of the two gelato parlors, I recommend going to Narigoni. You can grab scoops of sumptuous gelato, sit down at an outdoor table, and enjoy the chill Cádiz life under the shade of the imposing cathedral.
What to see
Cádiz Cathedral
Speaking of chill life, we didn't come to Cádiz with a structured itinerary, but we did have a rough idea of what we wanted to see. With our gelato in hand, we started with the cathedral of Cádiz. This Roman Catholic cathedral was built with the new money that poured in during Cádiz's golden age of trade in the 18th century. While it didn't take as long as Gaudi's Sagrada Família to be completed, construction of Cádiz Cathedral still took 116 years. The cathedral's architecture is a mix of styles because construction began in the baroque style but ended in the neoclassical style.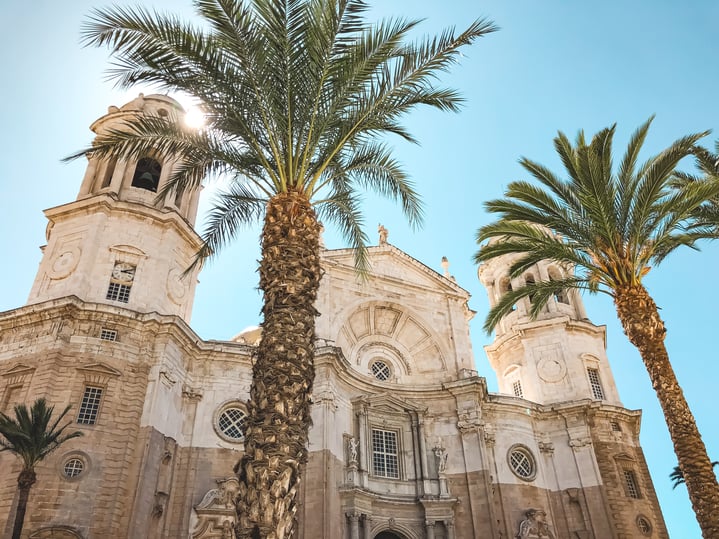 Cádiz Cathedral pictured with the surrounding palm trees to show you the vibe…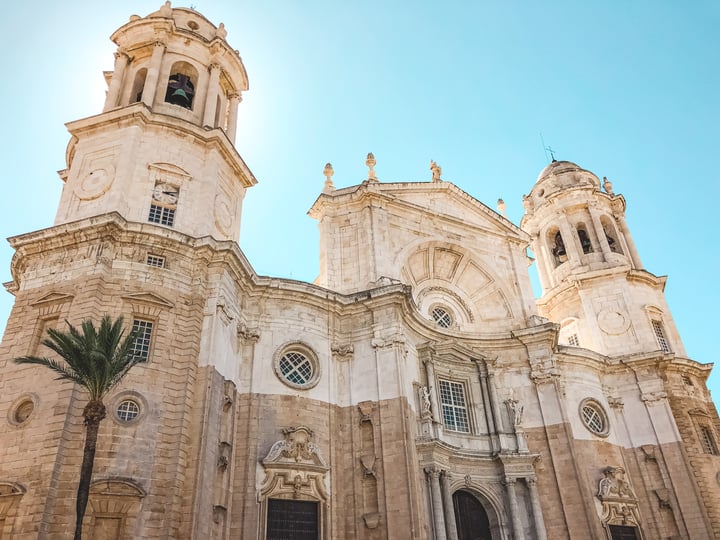 …and a picture without palm trees for a better look at the architecture and towers
Travel tip: Cádiz Cathedral has two bell towers, one of which (Levante Tower) is open to the public. For a few bucks, you can walk up the helix ramp to get to the top of the tower to see panoramic views of the city and take a closer look at the rooftop statues. However, I recommend saving your climbing energy for another, even more famous tower (coming up next).
Torre Tavira
Cádiz's booming trade also led to the construction of its watchtowers. Wealthy merchants built watchtowers on their roofs so they could monitor the arrival and departure of their ships, and protect them from maritime threats like pirates. There are 134 watchtowers still standing in Cádiz. The most famous one is Torre Tavira (named after its first watchman), located in the center of the Old Town with a height of 45 meters above sea level (the highest point in the city).
Like other watchtowers, Torre Tavira (a.k.a. Tavira Tower) was originally part of a well-to-do lord's residence that has since been converted into rooms of exhibits. There's an exhibit on Cádiz's golden age of trade and Spain's first Constitution, which was signed in Cádiz. There's another exhibit dedicated to the tower's camera obscura. If you have no idea what a "camera obscura" is (me) or think that it sounds like a Harry Potter spell (me again), let me demystify it. It's basically an old-fashioned optical device that was used by artists like Leonardo da Vinci to project real-time moving images of what's happening outside. Although outdated, Torre Tavira's camera obscura is a unique way to see the city's monuments.
You can stop at these exhibits on the way up to Torre Tavira's viewpoint. Now THIS viewpoint is worth the climb because look at that fantastic skyline of Cádiz! You can see the cathedral's gold-tiled dome and bell towers standing out amongst the flat roofs. How many other watchtowers can you spot?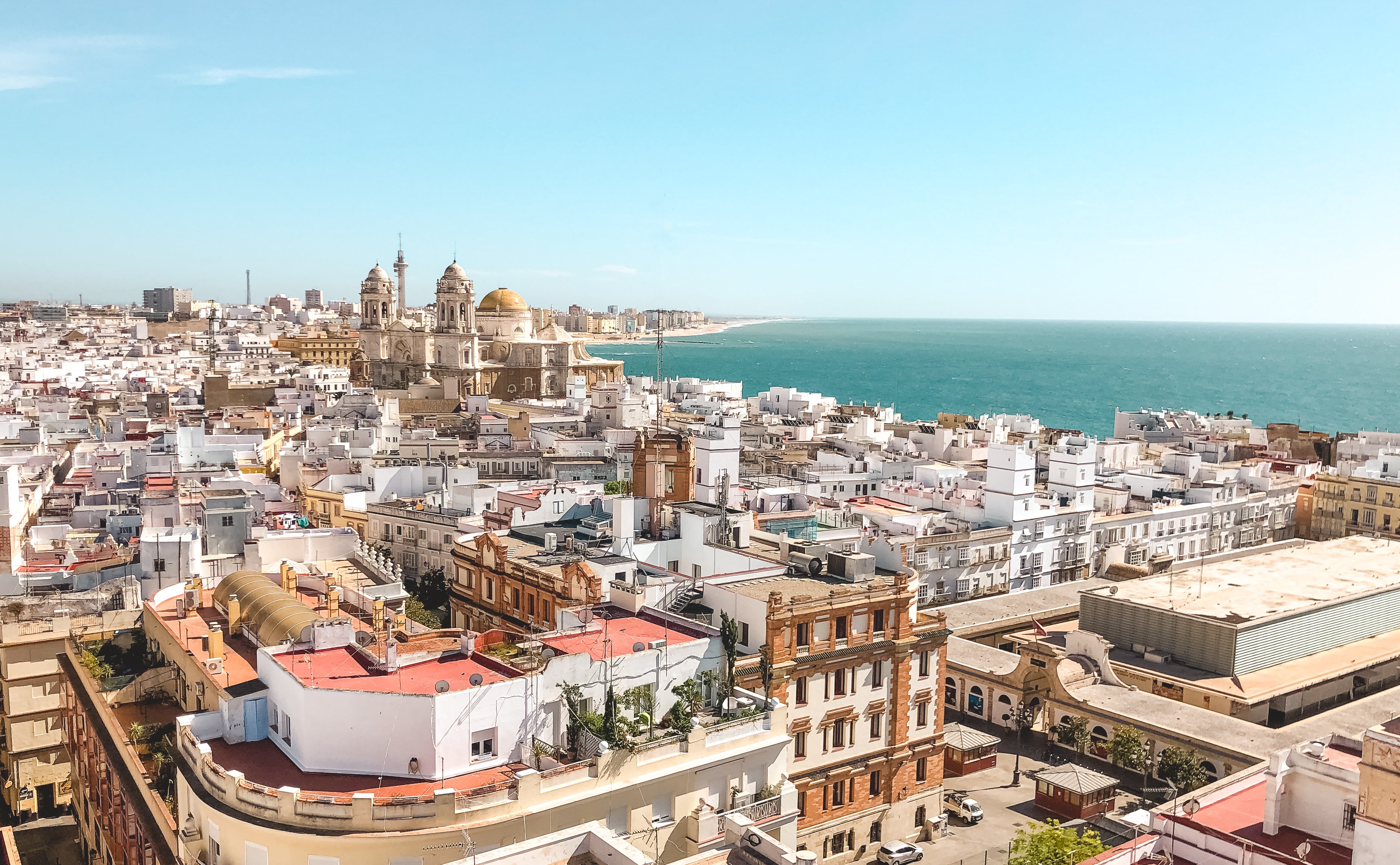 The view from Torre Tavira
Travel tip: There is no lift (or wheelchair access unfortunately) in Torre Tavira. If you are able to climb, Torre Tavira is 9 stories tall and there are about 173 stairs to get to the viewpoint. It's not a difficult climb, especially if you stop at the exhibits, but I must warn you, it's windy up there!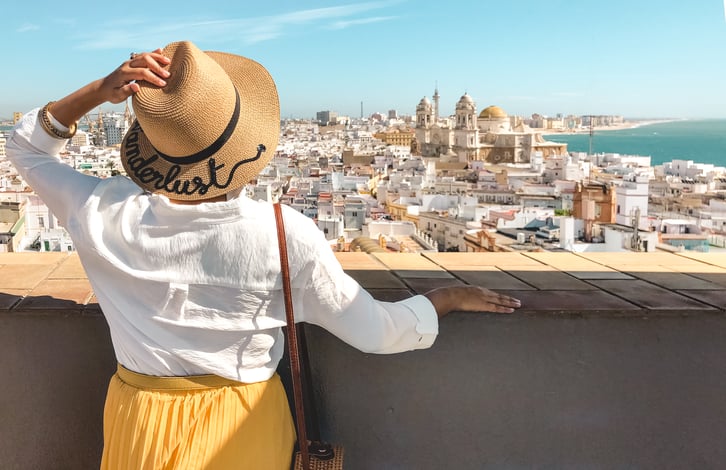 This picture was brought to you by…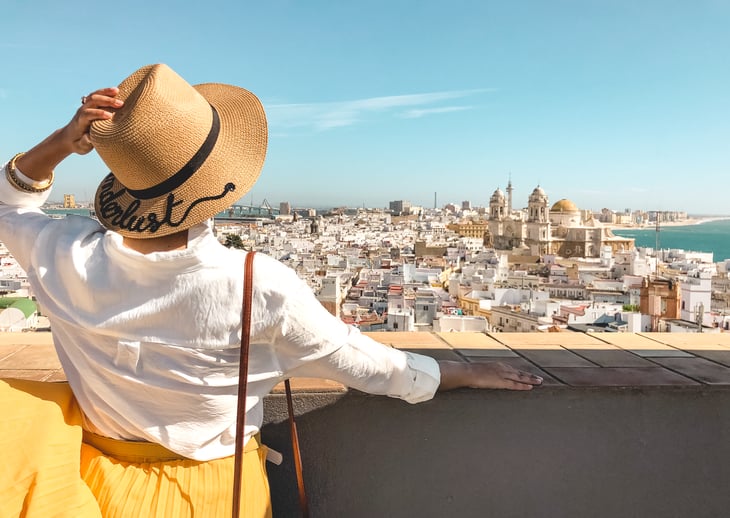 …my airborne hat and flying skirt wardrobe malfunctions 🤣
The beach & coast
On our way back to the car, we decided to take the scenic route by walking along the beach and coast. La Caleta is the closest beach to the historic center. It's a local favorite because it's sandwiched between two castles on the coast, so even if you don't swim, it's a nice walk.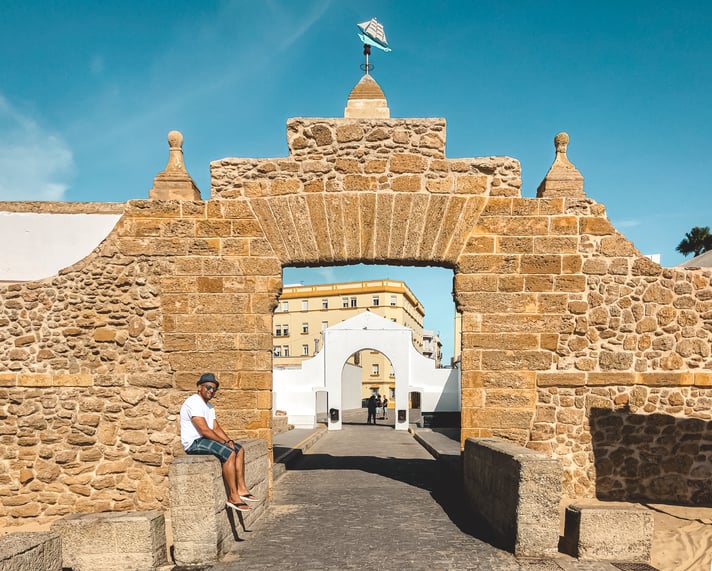 One of the entrances to La Caleta (I didn't take a picture of the beach because it was crowded)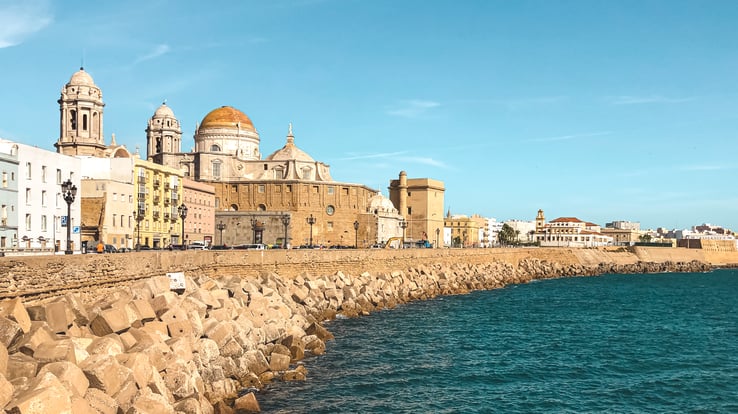 Views during our walk by the shore
Travel tip: La Caleta is small, but it's a clean beach with plenty of shade and access to public restrooms. You'll need to bring your own towels though. If you stay long enough, we heard this is a good spot to watch the sunset.
Continuing our Moorish tour of Spain
The main reason we came to southern Spain was to see the legacy of our Muslim ancestors, most beautifully preserved in the landmarks of Andalusia. Our Moorish tour started in Seville, then we came to Cádiz to eat, and afterwards we continued on to Córdoba and Granada, home to more jewels of Islamic architecture.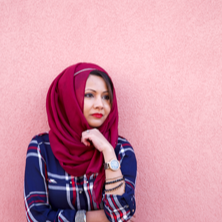 I'm a twenty-something Muslim blogger who's guilty of falling in love with every place I visit. I'm always planning the next trip in my head and missing the last one in my heart. When I'm not off discovering new parts of our beautiful planet, you can find me happily immersed in an art project.