It's that special time of year again. The time of year when we Muslims empty our stomachs to feed our soul. The time of year when the devil is locked away and the gates of heaven are flung wide open. The time of year when the smell of deep fried desi goodness, like samosas and egg rolls, wafts through my clothes my condo around sunset everyday.
Salam, Ramadan! How blessed am I to meet you again.
Ramadan is a month of mercy, forgiveness, and heightened worship for Muslims around the world. It is the holiest month of the Islamic calendar. Why? Because it was during this month, centuries ago, when Prophet Muhammad (peace be upon him) received the first revelation of the noble Quran through the archangel Jibril (Gabriel). To commemorate this revelation, rekindle our connection with Allah (God), and distance ourselves from worldly pleasures, Muslims - like me and my family - fast from dawn to sunset for about 30 days.
Despite its significance, Ramadan can also be a trying month because (shockingly to no one) it's not easy to abstain from food, water, and sin while maintaining regular levels of productivity and higher levels of prayer. But no matter how many times Saad and I face-plant into our morning suhoor cereal bowls or have to awkwardly smile through spontaneous belly rumblings during work, I want us to love and cherish this month.
So, I've been decorating our condo for Ramadan as an act of celebration. Decorating is a way for me to welcome Ramadan into our home, distinguish this month from others, and remind us of our religious goals. Last year, my Ramadan decor was modern and minimalist. This year, I opted to go with an elegant black and gold theme.
Let's start with an overview of what I bought.
New favorite Ramadan decorations
Just ignore the fact that this post is going up halfway through Ramadan 2019 and believe me when I say I did my decor shopping early🙈. A few new things I added to my collection are pictured (not styled) below.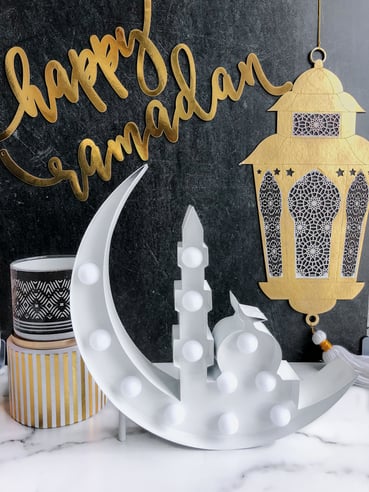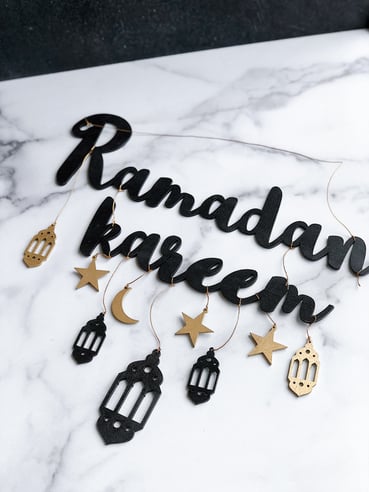 The mosque, moon, and minaret marquee silhouette on the left is from Days of Eid. I featured the green version in my blog post from last year, but ended up buying the white one because it looks more modern. The hanging gold lantern and wooden 'Ramadan Kareem' sign I found on Etsy.
When I was initially shopping around, I didn't commit myself to a particular theme. Instead, I wanted to purchase pieces that fit four criteria.
Muslim-owned business. As Ramadan and Eid become more mainstream, it's great to see stores like Party City introduce Ramadan and Eid decorations into their product lines. While this is a win for diversity and convenience, these giant retailers often cannibalize Muslim-run small businesses who were the first to market with Islamic decor, which is no bueno (no good). Plus, when you buy mass-produced decor, your iftar party looks the same as everybody else's. Following the crowd is not my style.
Investment piece. Our beautiful planet is being overrun with plastic and trash that pollute our oceans, endanger wildlife, and exacerbate climate change. My heart aches for Earth, but I also know that I've got the power to help save it. In an effort to reduce my environmental footprint, I hunted for long-lasting investment pieces that I could use for many Ramadans instead of one-time use items like balloons.
Elegant, not

space themed

tacky. I'm not a fan of Ramadan decorations that look like western birthday party decorations plastered with a thousand moons and stars from a galaxy far far away. I prefer Ramadan decor that incorporates more eastern elements and elegant Islamic designs reminiscent of Muslim countries and mosques. I wanted our Ramadan decor to remind us of our faith, not feel like a month long social shindig.
Matches our condo. Ramadan decorations, or any type of decorations for that matter, should complement the aesthetic of your home. The main floor of our condo is grounded by modern black furniture with red, gold, and purple accents. That's why I gravitated towards sophisticated (but also fun!) Ramadan decorations that also followed this color scheme.
Decorating tip: Buy your Ramadan decor a month before Ramadan starts to snag the best stuff before it sells out and to leave plenty of time for shipping.
Now that you have a sense of what I bought, let's go on a house tour so you can see how I styled everything and inshAllah get some ideas for your own home too.
Suhoor and iftar table setup
In any household, the kitchen and dining room are gathering places that bring a family together. The blessing (and irony) of Ramadan is that these two food-focused areas get more foot traffic and buzz with more action during the month of fasting. The kitchen now opens before the crack of dawn for suhoor (the pre-fast meal) when I make omelettes with eyes half-shut. And the dining room is where Saad and I get food comas eat iftar (the post-fast meal) at sunset. Basically, the kitchen and dining room take center stage during Ramadan because of the increased amount of time we spend here - up from one meal a day to two - which is why it's nice to decorate these areas.
Creating a Ramadan tablescape isn't hard, but it can make a big difference in setting the celebratory mood for suhoor and iftar. After all, successfully completing a fast without passing out for the sake of Allah deserves a fancy plated feast. For my tablespace, I used this faceted lantern from West Elm (it's so versatile that I move it around my condo all the time), fresh flowers to add texture and a pop of color (a tabletop staple), gold plates, and other gold knick knacks I had lying around. Remember, the goal was to repurpose.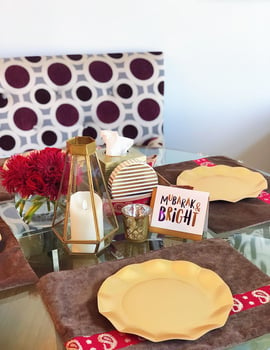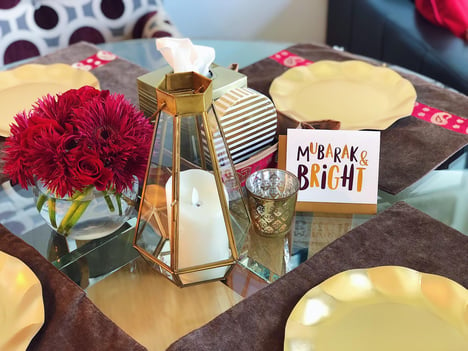 Ramadan tablescape
Decorating tip: Cheerful prints always brighten up a table setup. If you don't have Ramadan prints, you can use a Ramadan greeting card instead like I did. I added one of the gold foil cards I bought from Hello Holy Days! to my Ramadan tablescape because I adore its whimsical typography. By the way, Hello Holy Days! is a Muslim-owned business with the cutest stock of Ramadan and Eid greeting cards and gift wrap. Their website also features several craft tutorials you can do with your kids to get them into the Ramadan spirit.
Most of our walls are covered with art we've collected from our travels, except the wall behind our dining table, which made it the perfect blank canvas for a Ramadan backdrop to go with my tablescape. This is where I hung up the 'Ramadan Kareem' sign I showed you earlier in this post, paired with two Moroccan lanterns.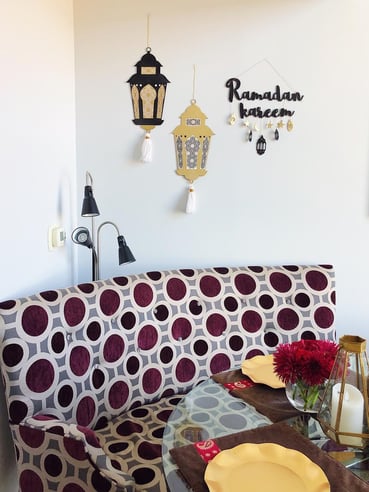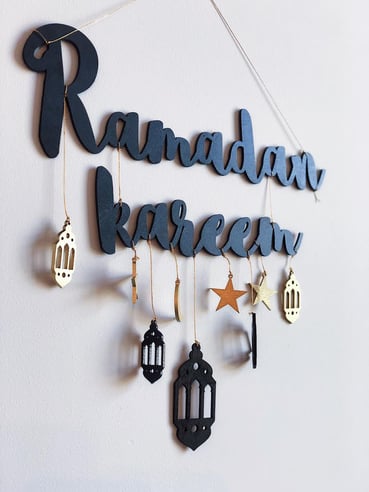 Our suhoor and iftar corner
This little nook makes me smile no matter how sleepy or hungry I am during my fasts.
Here's a close-up of the lanterns. You'll never guess what they're made of: cardboard! Yes, really! These lanterns are lightweight (you can hang them up using only tape), intricate, and they were handmade by a woman in Poland.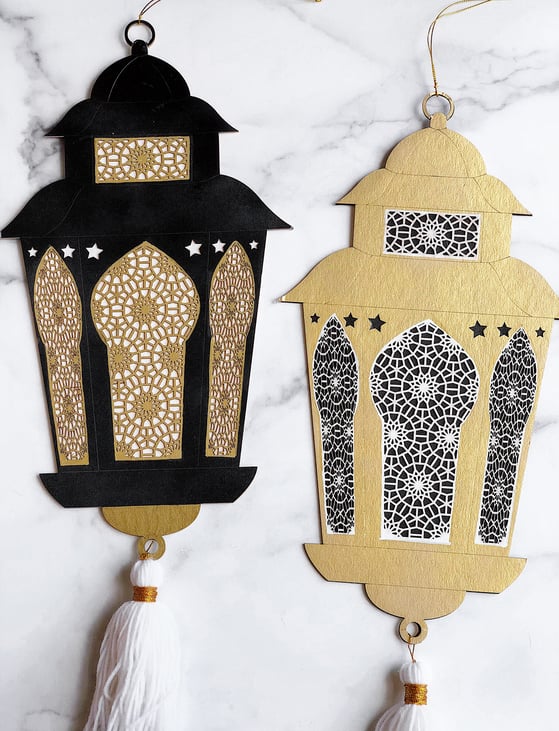 Just look at those gorgeous details and patterns!
Decorating tip: To give your Ramadan decor a unified look, buy pieces that share the same color scheme. Even though all of the items on my Ramadan table and backdrop are from different vendors, the consistent hues of gold and black that emanate from them make them feel like a set.
Happy Ramadan display
Right next to our iftar and suhoor nook is our kitchen island. Above it, hangs a white baroque frame that you've probably seen in my other art blog posts. I try to update the display inside the frame every season… but to be honest, the display has been autumn themed for the last six months because sometimes I 'fall' behind (see what I did there? #punning).
Well, decorating for Ramadan was the best excuse to finally refresh it. I bought this reflective 'happy Ramadan' banner from Modern Eid because I loved the calligraphic font. However, instead of stringing it up, I taped it down onto the purple backing of the frame. Then, I added gemstones and a moon to give this display an understated celestial look because sometimes simplicity is the ultimate sophistication.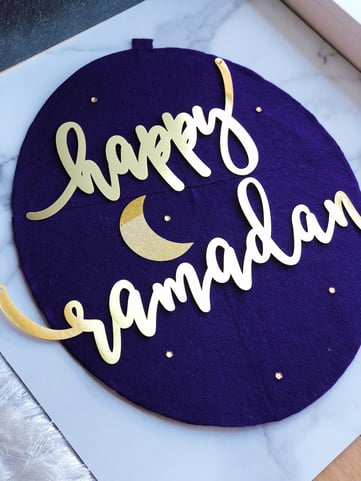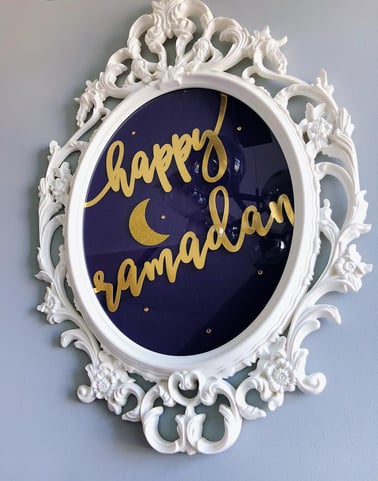 Happy Ramadan display
Decorating tip: Another lovely way to use this 'happy Ramadan' banner is by making a classy Ramadan wreath. Check out this DIY tutorial for step-by-step instructions.
Ramadan chalkboard
Because I can only put up a finite number of happy Ramadan / Ramadan kareem / Ramadan mubarak / welcome Ramadan / merry Ramadan signs in our condo, I designed my entryway chalkboard around Eid to change things up. Using chalk ink markers, I created an Eid countdown, combining suhoor and iftar timings with one of my favorite hadiths (hadith qudsi - i.e. words of Allah expressed through Prophet Muhammad, peace be upon him) as a reminder that our merciful Lord loves to forgive, and Ramadan is about seeking his forgiveness.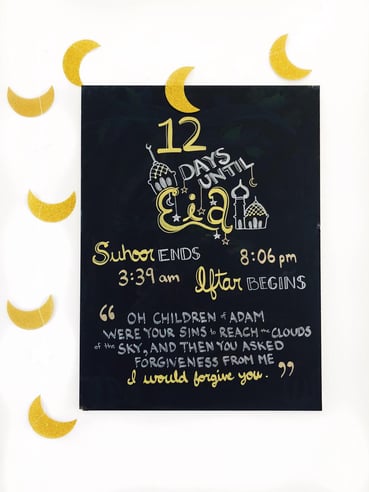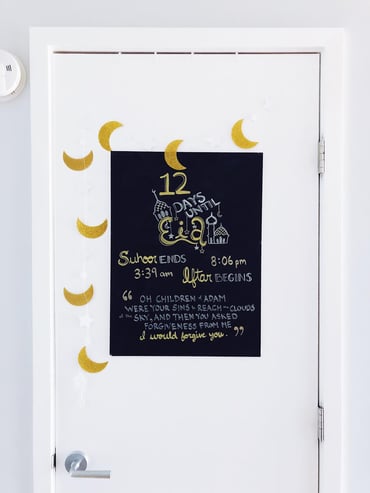 Voila! My Eid countdown chalkboard
Decorating tip: Chalkboard art is super fun to create! The key to making your design pop is using contrasting colors, fonts, and character sizes. Notice how all of the gold writing on my board is lowercase and cursive, while the silver letters are blocky and capitalized.
Mantle of lights
String lights are a holiday essential because of how they twinkle and illuminate a room. To decorate our mantle, I purchased these Moroccan-inspired orb lights and strung them up around our TV… since we live in a condo and don't have a proper fireplace. This is also where I placed the mosque marquee silhouette I showed you in the beginning of this post. I kept this section of our home pretty basic because the contrast of the white / light Ramadan decor against the black mantle created a high visual impact without too much accessorizing.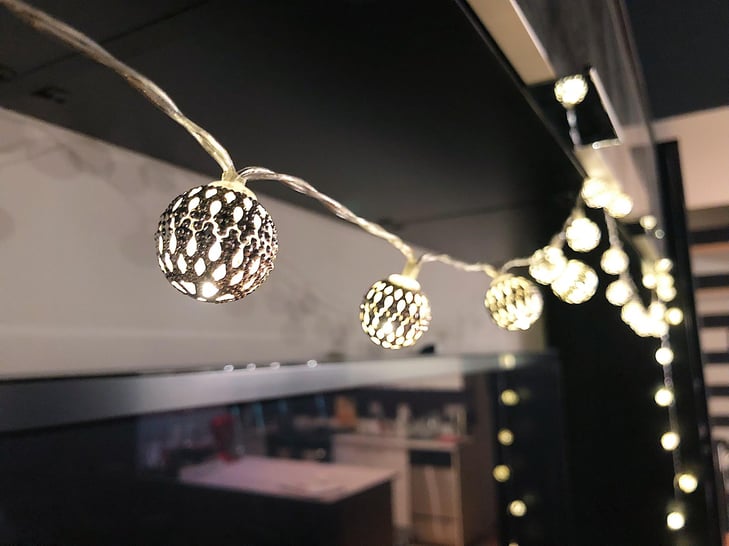 The Moroccan orb lights at night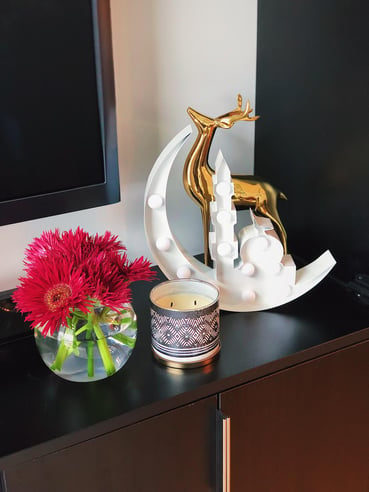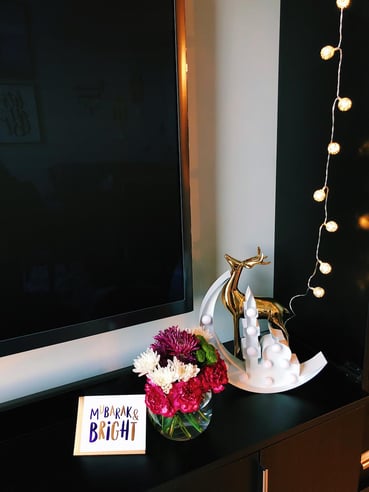 Decorating tip: Add a votive candle (or two or three) next to your other light-up decor to enhance the 'cozy Ramadan nights' vibe.
Creating Ramadan traditions
Decorating for Ramadan has become a tradition in our home and a chance for me to flex my creative muscle. One day inshAllah, I hope to share this tradition with our future kids as a way of exciting them for the holy month. Traditions like these build positive associations to Ramadan, which can be a physically draining month of fasting. By dressing up your home for Ramadan, you distinguish this month from all others as special - a month full of happiness, joy, and blessing.
It's a month worth celebrating.
*Affiliate links used. This means that if you purchase the products I share, I will earn a small commission. This does not cost you anything extra nor change the price for any items.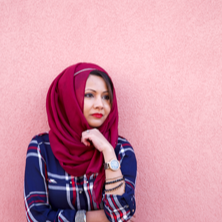 I'm a twenty-something Muslim blogger who's guilty of falling in love with every place I visit. I'm always planning the next trip in my head and missing the last one in my heart. When I'm not off discovering new parts of our beautiful planet, you can find me happily immersed in an art project.