Mount Fuji is the tallest mountain in Japan and one of the most famous mountains in the whole world. It is also an active volcano. You can hike to the summit in about six hours and there are multiple service huts along the route to make the climb slightly less daunting. If you're really crazy brave, you can hike at night and then watch the sunrise at the top. For a variety of reasons (some rational - like not having enough time, some irrational - like fear of tumbling down to my doom), Saad and I did not attempt to hike it (this time).
However, we did want to see this majestic mountain with our own eyes so we searched for the best on-the-ground viewing spot. That led us to Hakone.
The road to Hakone
Hakone is a small town located in a mountainous region not far from Tokyo. Despite this closeness to Tokyo, Hakone is a pain-in-the-butt to get to. We had to alternate between a million different modes of transportation like a taxi, bullet train, regular train, bus, then another bus, a tram, a rocket ship, a blimp, and then the Batmobile... ok so maybe the last three are not true.
The big redeeming quality about this vehicle hopping was the views we got on the journey - mountains, forests, lakes, rolling hills, and farmland. We only spent a day in Hakone, but that was enough to check out the main parts of the town. Below, is our day trip itinerary to help you plan your visit here.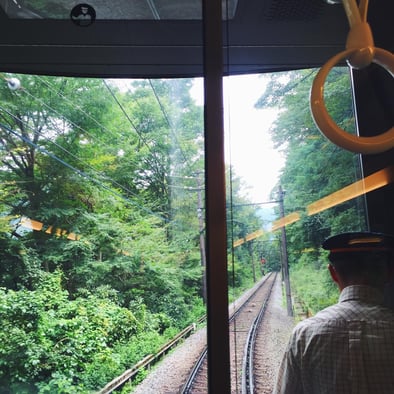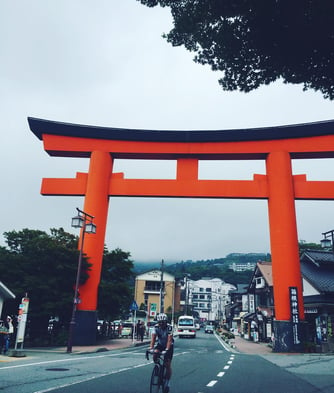 Views along the way to Hakone
1. Odawara castle
In my last post about Japan, I recommended visiting the Imperial Palace in Tokyo. But I also mentioned that we skipped it in favor of a castle, namely Odawara Castle. Odawara Castle was a stronghold of a powerful warrior clan that once used it as a base from which to control Tokyo. Today, this white fortress houses a museum with exhibits on the samurai, the history of the castle, etc. Odawara Castle is located in the same prefecture as Hakone so you can easily stop here on the way because it's a 10-15 minute walk from Odawara station.
Travel tip: Odawara Castle is also a great spot to see the cherry blossoms when they are in bloom (usually in March or April).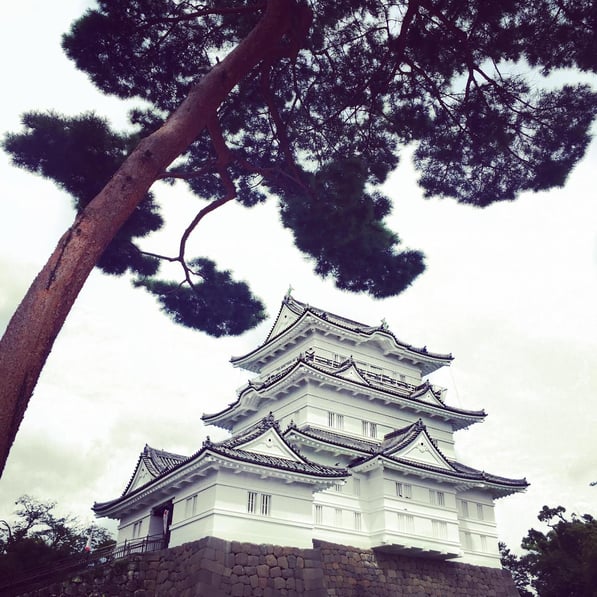 Odawara Castle is the closest castle to Tokyo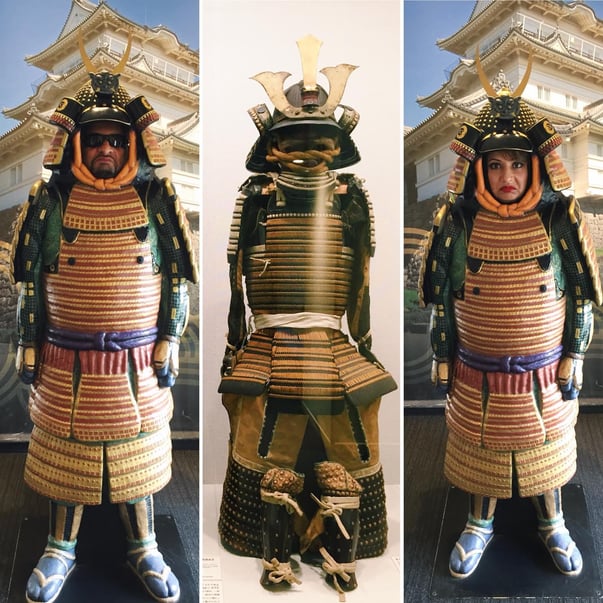 Who wore it better? 😂 (samurai armor on display inside the castle)
Travel tip: Follow the pathway through the exhibits all the way to the top to see panoramic views of Odawara from the castle's balcony.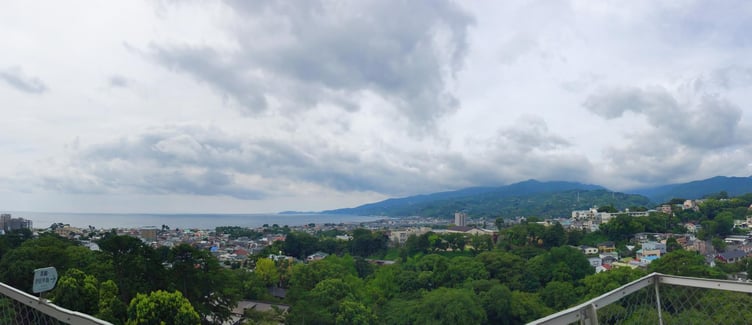 Views from the castle
Travel tip: There's also a samurai exhibition called "Spirit of the Samurai" in a building at the base of the castle. Inside, you can see more elaborate samurai armor on display.
2. Lake Ashinoko
Once we got to Hakone, we first attempted to see Mt. Fuji from Lake Ashinoko, commonly referred to as Lake Ashi. Formed in a volcanic crater after an eruption, Lake Ashi is famous for providing stunning views of Mt. Fuji from its glistening waters. You can either hike to a good viewing spot (like Moto-Hakone, which is located near the pier), or board a sightseeing cruise. We chose option B (B for boat).
Now, there are regular boats... and then there are cool boats that sail across Lake Ashi. In the cool boat category we have a pirate ship... replica. I'd recommend the pirate ship cruise because how often do you get to sail on a pirate ship? The sightseeing boats take you from one end of Lake Ashi to another in about 30 minutes.
Travel tip: If you swashbuckling readers go for the pirate ship option, upgrade to first-class. It only costs a few extra bucks and you get access to a nicer lounge, a deck at the front of the ship, and it's much less crowded!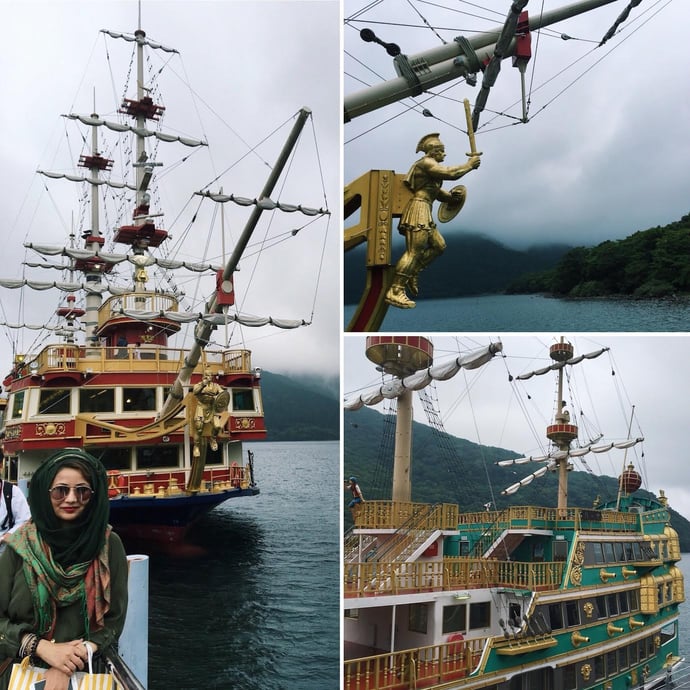 About to set sail on Lake Ashi's Pirate Ship cruise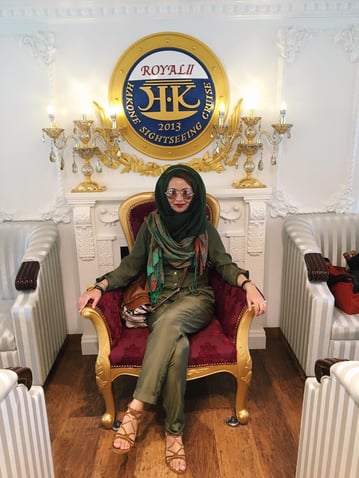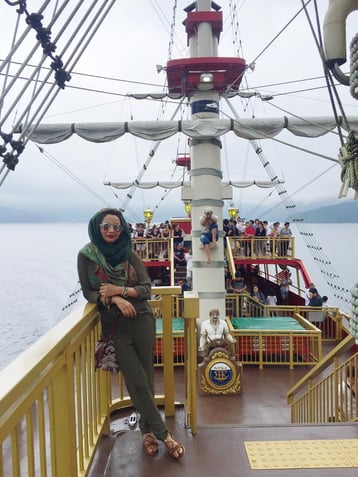 That bougie first-class life
The pirate ship cruise was fun and although we got to see the lush green mountains that surround Lake Ashi, we didn't actually see THE mountain - meaning Mt. Fuji. This is because clouds and bad weather can block the view and on this day, it was raining and foggy.
Travel tip: Visibility of Mt. Fuji from Lake Ashi tends to be better in the early morning or late afternoon.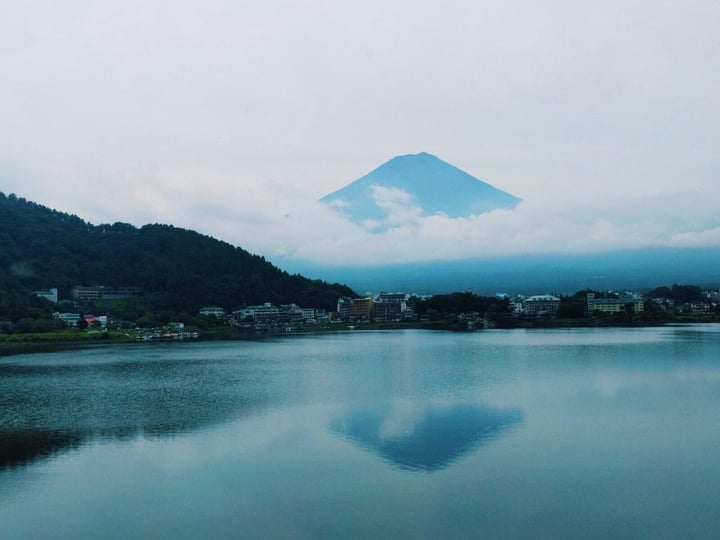 Expectation: Breathtaking view of Mt. Fuji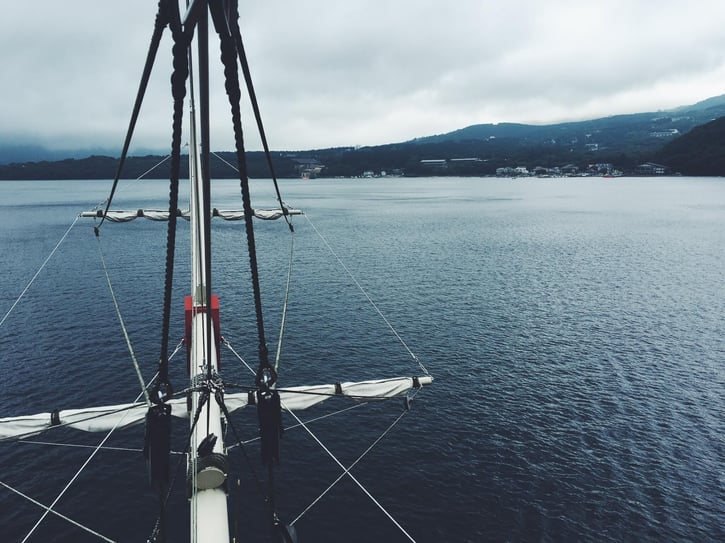 Reality: Dafuq is Mt. Fuji?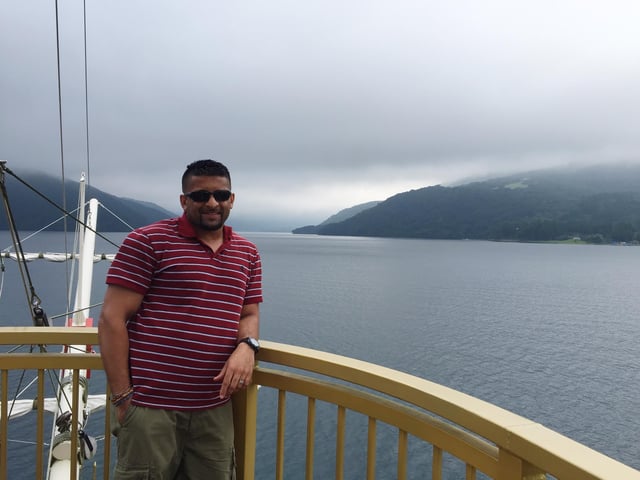 Trying to take a picture with Mt. Fuji in the back LOL #fail
3. Hakone Ropeway
After our lake expedition didn't result in views of Mt. Fuji, we took to the sky in Hakone Ropeway's gondolas. The gondolas depart every minute from Togendai Station (at the shore of Lake Ashi) and fit about 10 people in each one. It takes about 30 minutes to travel the whole course of the ropeway. Along the way, you'll get to see Lake Ashi from above, Mt. Fuji if you're lucky (spoiler alert: we weren't), and the fuming sulfuric hot springs of Owakudani Valley.
Travel tip: You don't have to traverse the entire ropeway in one ride - you can get off at the restaurants, viewing stations, and shops along the way and continue later.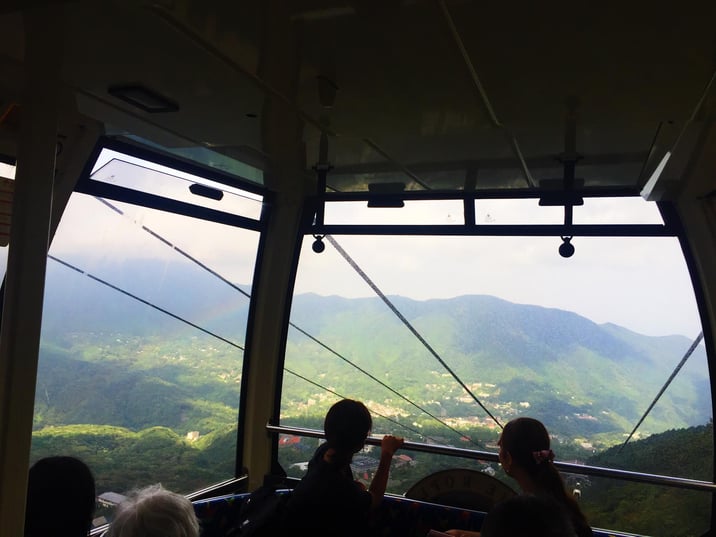 Riding the Hakone Ropeway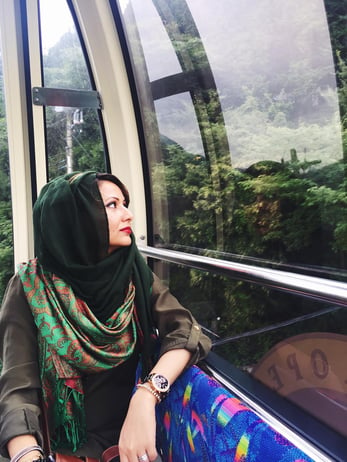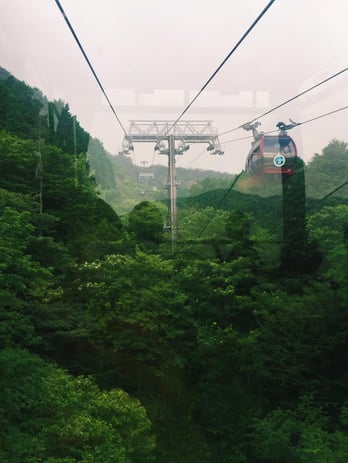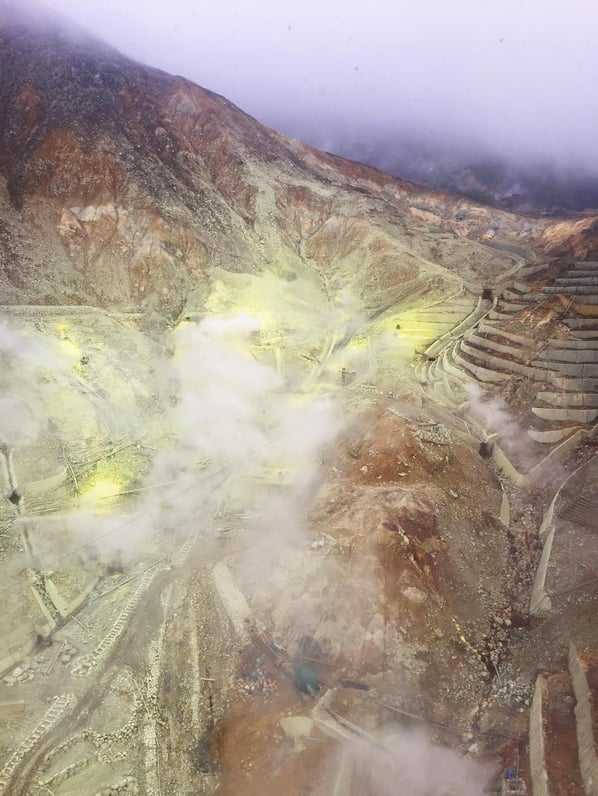 Owakudani Valley, which is an active volcanic valley with hot springs, rivers, vents, and sulfur fumes, as seen from above
4. Hakone Shrine
The Hakone Shrine is hidden inside a forest near the shore of Lake Ashi. One of its most prominent structures is the lakefront torii gate, which is usually visible on the sightseeing cruises. We didn't have a chance to visit this shrine because of our limited time in Hakone so we were hoping to see it from the ship, but alas, fog. If you have time, I'd strongly urge you to check out this shrine because of its scenic location.
Travel tip: Make sure you take an epic picture in front of the torii gate in the water. Tag me (@annummunir) in your Instagram photos so I can live vicariously through you.
The back-up plan
Sadly, our hunt for Mt. Fuji in Hakone ended disappointingly, but hey, at least we got to ride 10 different modes of transportation.
We also came up with two back-up plans (not equally awesome). I wanted to stay at a gorgeous, luxiourious hotel in the mountain with cliffside guestrooms. Saad wanted to see Mt. Fuji from the bullet train. This difference in ideas can probably tell you a lot about our personalities and relationship 🙈. We usually meet in the middle (i.e. I search the interwebs for deals on fancy hotels #budgetluxury), but we had to catch our train to Kyoto.
P.S. For what it's worth, you can see Mt. Fuji on the bullet train from Kyoto to Tokyo if you sit on the left-hand side.
Clouds can still be an issue though. Good luck with your own Mt. Fuji hunt! Here's hoping that inshAllah (God willing) it's more fruitful than mine.

Mt. Fuji, is that you behind the clouds?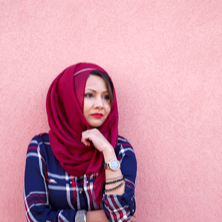 I'm a twenty-something Muslim blogger who's guilty of falling in love with every place I visit. I'm always planning the next trip in my head and missing the last one in my heart. When I'm not off discovering new parts of our beautiful planet, you can find me happily immersed in an art project.