At first glance, Tokyo is as urban and ultramodern as it gets. From bullet trains to robot restaurants to Japanese toilets, everything is on the cutting edge of tech. But if you look beyond the surface, you'll find that this global city is rooted in tradition. In part I of my Japan post, I explored modern-day Tokyo. Now, I want to take you on a tour of its places of history, worship, and old-school charm - starting with a look at the samurai.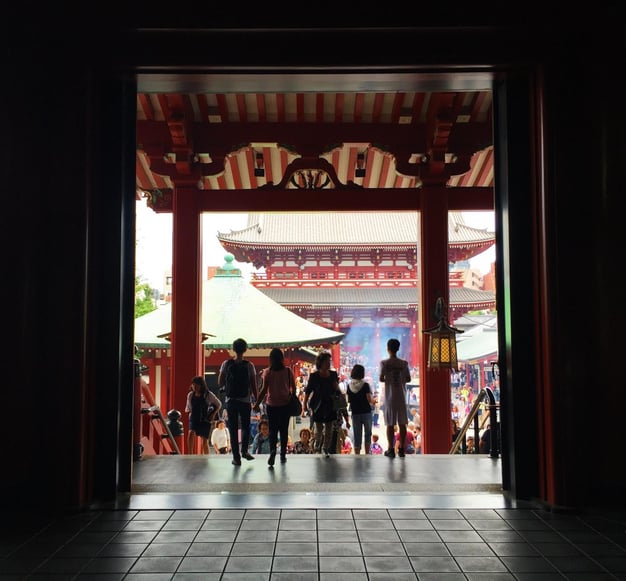 There are more than 2,500 temples in Tokyo
Spirit of the samurai
Centuries ago, Japan was run by shogun (feudal lords) whose authority was propped up by aristocratic Japanese warriors called samurai. Samurai adhered to bushido, meaning "way of the warrior," which was a code of conduct that stressed loyalty, humility, courage, honor, politeness, self-control, etc. Today, these teachings and values have manifested themselves in Japan's culture of mindfulness. If you're not familiar with the concept of mindfulness, it means having heightened awareness of yourself and your surroundings from moment-to-moment. Put simply, it means being completely present in each moment.
Mindfulness helps people focus and better understand their thoughts, emotions, and current situation. When people are fully attuned to what's happening around them and how they're impacting others, they act more carefully, have better control over their urges, and can find inner peace even in chaos.
Mindfulness in action
In Tokyo, I noticed mindfulness being practiced in many ways. For example, whenever we took public transportation, people would always enter in an orderly line and limit the amount of noise they made as a courtesy to other passengers. When we'd leave a restaurant after a meal, the owner / chef often bowed to us as a thank you for coming. And most people would stop and sit if they were drinking or eating to savor the meal and avoid littering. In these ways, the ancient samurai values of respect and self-control are still strong in present-day Tokyo.
Touring Tokyo (part II)
Now that I've covered a little bit of the history and culture of Tokyo, let's talk about where you can go to soak it all in. Even though Kyoto is more famous for its temples, you can check out some beautiful ones in Tokyo too. Here's part II of my Muslim-friendly travel guide to help you discover the traditional side of Tokyo.
1. Edo Museum
If you want to learn more about Tokyo's fascinating past and my well-intentioned-but-probably-shoddy history lesson didn't quite cut it, stop by the Edo Museum. Through interactive exhibits, figurines, city models, and towering reconstructions of buildings, you'll be able to see what life was like during Tokyo's Edo Period when Japan was ruled by the shogunate (military government). I was particularly fascinated by the models of the imperial palaces and the replicas of houses and marketplaces on the lower level.
Travel tip: The museum offers English-speaking tour guides who can help you navigate the exhibits between 10:00 am - 3:00 pm.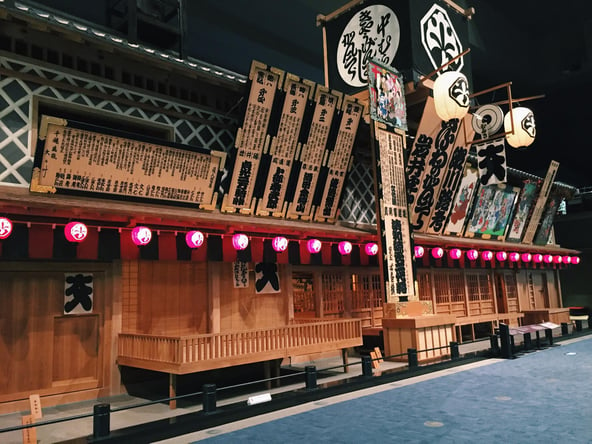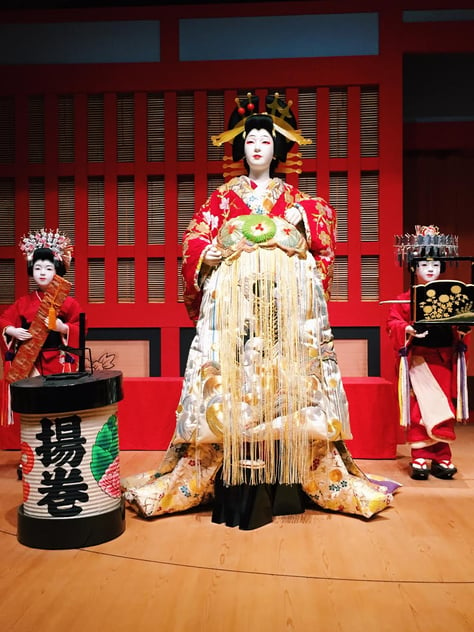 A theatre with statues of geisha inside the Edo Museum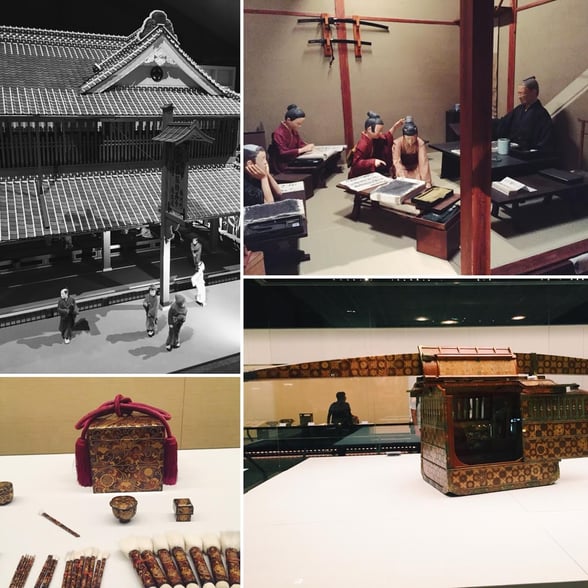 Clockwise from top left: miniature model of old Tokyo, reconstruction of a school, basically a Japanese version of a doli, and an Empress' make-up brushes #fancy
2. Meiji Shrine
Located in Shibuya right next to Yoyogi Park, is the Meiji Shrine, which is dedicated to the deified spirits of Emperor Meiji and his wife, Empress Shoken. Emperor Meiji was the first emperor of modern Japan. He presided over major events like the Japanese industrial revolution, the end of the isolationist feudal system, a return to an imperial government (run by the Emperor), and the country's transformation into a world power #nobigdeal.
The Meiji Shrine is located within a forest, with its entrance marked by torii gates (traditional Japanese gates that signify you are entering a sacred area). The shrine consists of a complex of buildings, a treasure house, and a garden.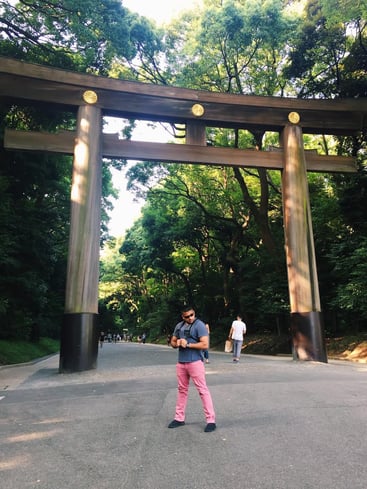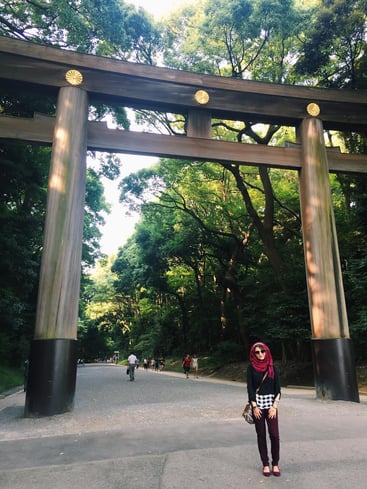 Torii gate at the entrance to the Meiji Shrine (yes, I know Saad's poser game is better than mine)
Travel tip: Visiting the main shrine is free, but you'll need to pay to see the Emperor's artefacts in the treasure house or stroll through the garden. On your way out of the complex, look out for the huge collection of sake barrels, which are offerings to the deities at the shrine.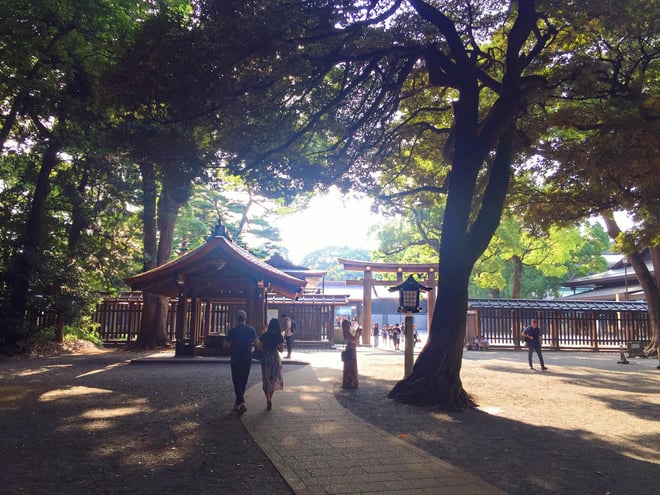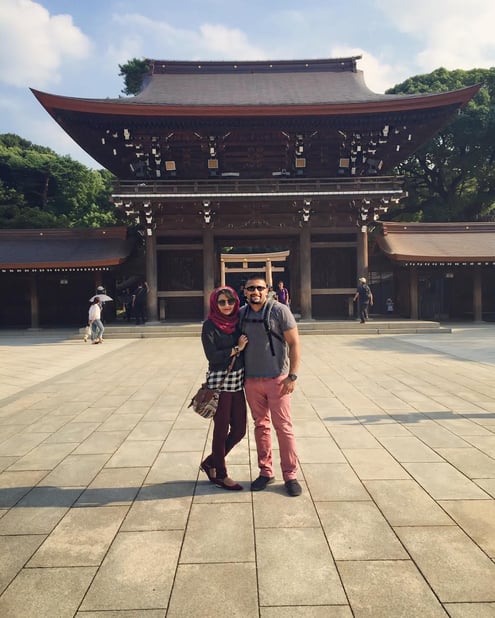 3. Sensoji Temple
Sensoji Temple is one of Tokyo's oldest and most popular Buddhist temples, dedicated to Kannon, the Goddess of Mercy. When you enter, you'll pass through the Kaminarimon (Thunder Gate). A great red lantern hangs underneath the gate flanked by two statues.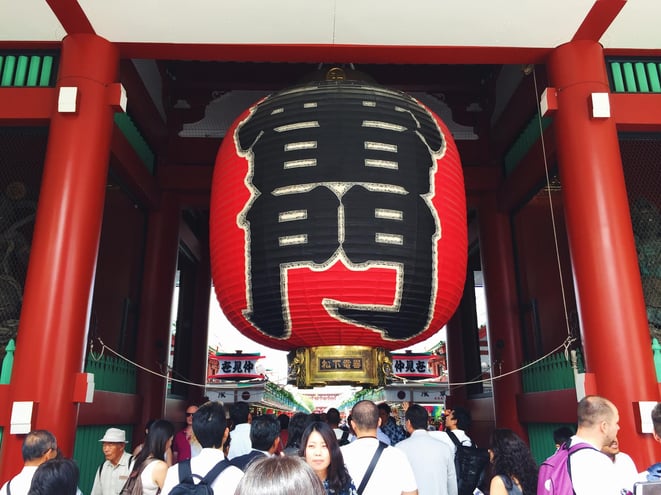 Sensoji Temple's Thunder Gate (Kaminarimon)
Once inside the temple's grounds, you'll walk by a street lined with stalls that sell local snacks, folding fans, yukatas (a casual kimono), and other Japanese knick-knacks. Although we didn't have time to stop and try some treats, if I get a chance to go back, I'd try ningyo-yaki, fun moulded cakes filled with a red bean paste filling (sounds intriguing, right?).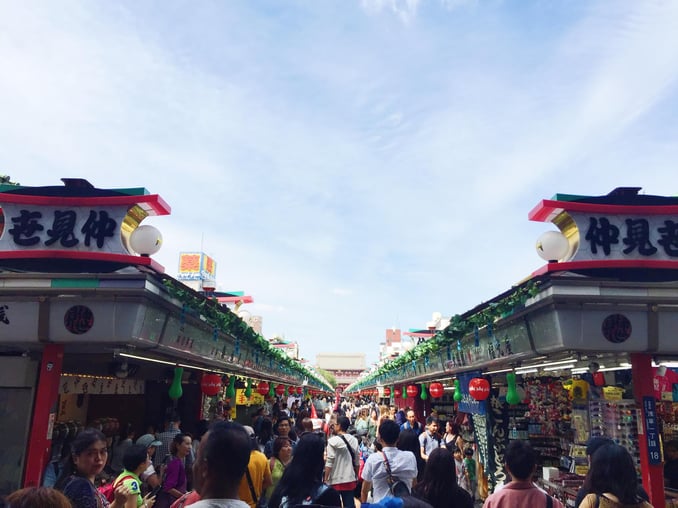 This shopping street leads visitors from the outer to the inner temple gate
The temple's inner gate, Hozomon (Treasure House Gate) is located at the end of this shopping street, through which lies the main hall.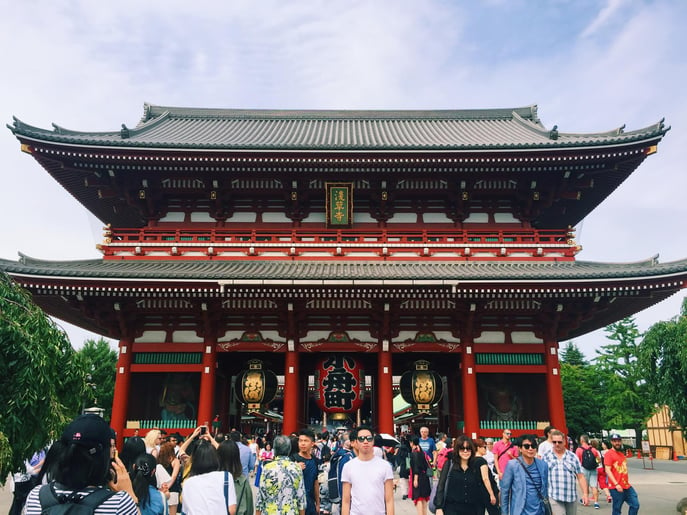 The Treasure House Gate (Hozomon)
Inside the main hall there are gold statues of Kannon. I watched as people offered coins, bowed, and clasped their hands together in prayer here.
Travel tip: As you enter or exit the main hall, look out for the five-storey pagoda (tiered tower) and a water ablution pavilion where worshippers purify their mouth, hands, and face.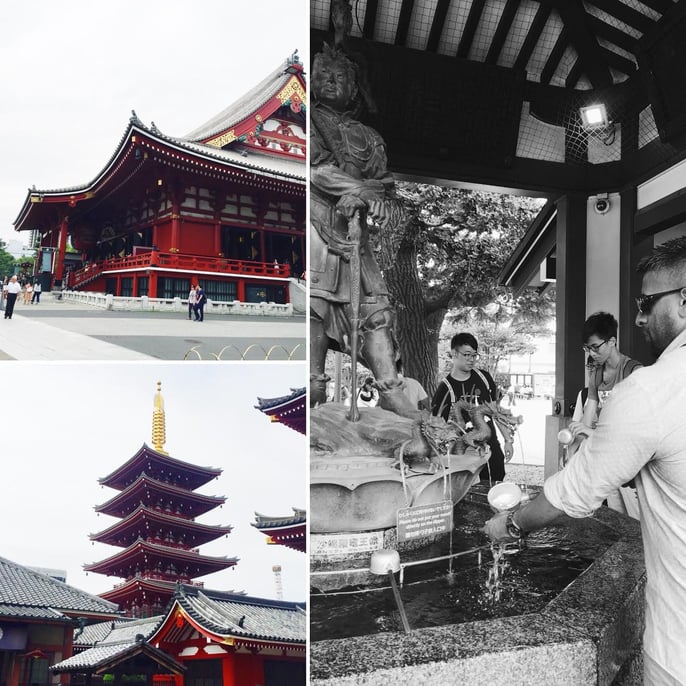 Clockwise from top left: the main hall, water ablution fountain (hi Saad - you doing wudu?), and the pagoda
4. Tokyo Mosque
Tokyo Mosque, also known as Tokyo Camii, is Japan's largest mosque. Its minaret, checkered arches, and dome eclipse the rectangular buildings that surround it. One of my favorite experiences in Tokyo was attending Eid al-Adha prayer here.
I've never celebrated Eid in a foreign place, without any family or friends, so I was extra excited (and also a little bit nervous - would things be different?). When we got to the mosque, I noticed that the line to get in stretched down blocks! And the people bustling in and out resembled a vibrant, Muslim mosaic of sorts - I saw desi aunties wearing traditional South Asian shalwar kameez speaking fluent Japanese (whaaat), Japanese students wearing hijabs (headscarves), families decked out in colorful African garments, etc. It was amazing to see Muslims from so many different backgrounds come together outside this Turkish mosque in Tokyo.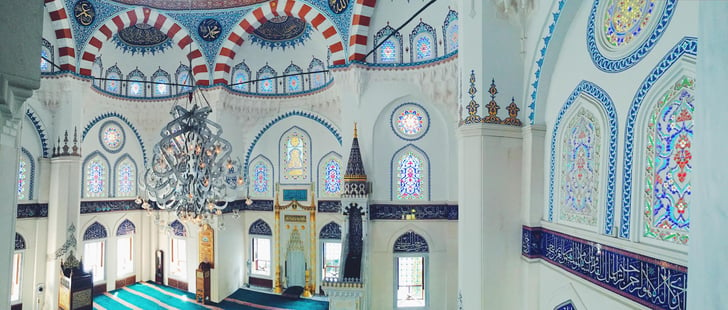 The main prayer hall at Tokyo Mosque
Once I stepped inside, I was awestruck by how beautiful it is. From the stained glass windows, to the blue and gold calligraphy that adorned the ceiling, to the intricate white mouldings, if I didn't know better, I would have guessed this mosque was located in Turkey.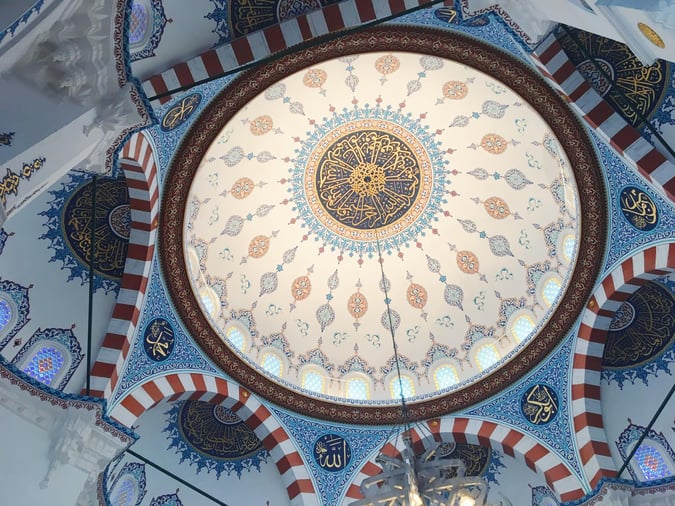 After I prayed, I wasn't sure what to do (typically in North America, you hug your loved ones and wish them "Eid Mubarak" with two or three pecks on the cheek). But was this the right etiquette in Japan? Would I weird people out if I tried to hug them? Would I weird people out if I didn't hug them and come across as a loner? Ahh so many burning questions.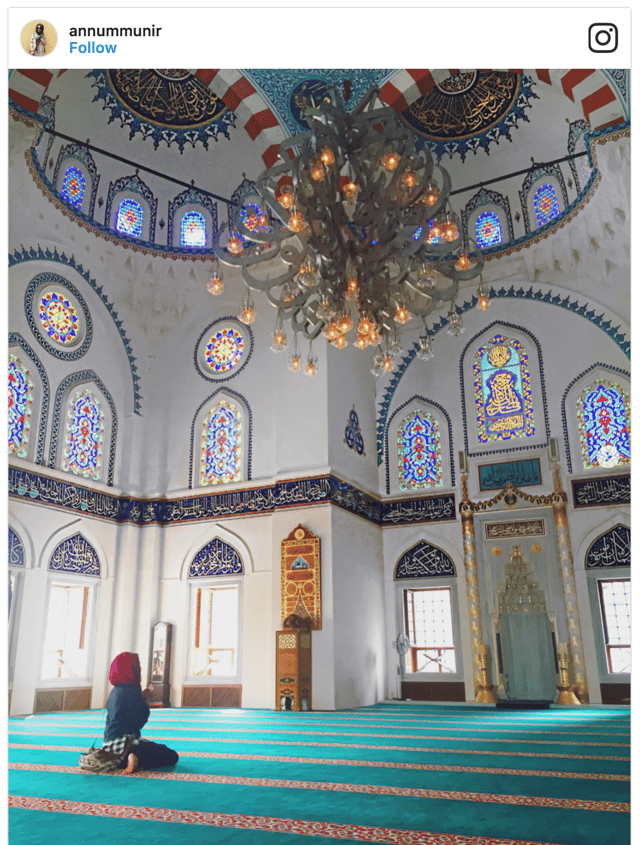 As I sat stressing about my next move, a young girl turned to me and smiled. She didn't recognize me, but that didn't stop her from giving me a warm handshake, hug, and bow. And in that moment, I didn't feel like a stranger anymore, I felt at home among my brothers and sisters in faith. That moment reminded me that no matter where I go, Allah (swt) will be there and I felt Him welcoming me to His house in Japan through this sweet student. We talked for awhile and I learned that she's from Indonesia, studying Japanese in Tokyo, and… then we followed each other on Instagram because this is the 21st century and that's how people stay in touch 🙈. I hope I can return the same warm, welcoming gesture to another traveller one day.
Another fun gem from Saad's Snapchat: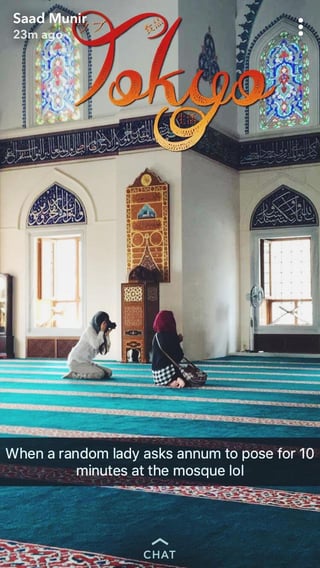 Travel tip: The mosque is open to the public and people of all faiths, but please remove your shoes and cover your head as you walk in whether you're Muslim or not. The ladies prayer area is located on the second floor, which can be accessed by the stairs on your right. If you can, donate a few yen in the box near the entrance to help preserve this mosque.
5. Ooedo Onsen Monogatari Theme Park
Alright, let's talk about kimonos (traditional Japanese robes) and where you can wear them in Tokyo (without spending too much $$$)! Before we even got to Japan, I knew I wanted to try a kimono but these days, kimonos are usually reserved for special occasions, festivals, etc. Yukatas, which are casual kimonos, are more common. To drape yourself in a yukata and get a taste of old Japan, head to Ooedo Onsen Monogatari about 30 - 40 minutes outside of Tokyo. This is a "summer festival" theme indoor amusement park where you change into yukatas, play traditional festival games, snack on Japanese street food, and - if you're feeling wild - take a dip in the onsen. The Ooedo Onsen Monogatari is a great place to spend a few hours in the evening - it's like a Japanese Dave & Buster's.
Travel tip: Onsen is a Japanese hot spring or bath that you can experience if you're comfortable following these guidelines (disclaimer: you gotta strip down). The more halal option is trying the onsen foot bath.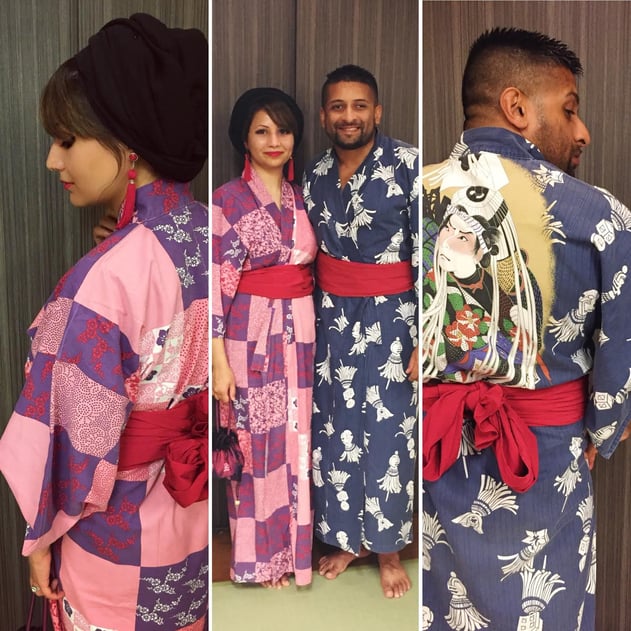 Saad & I rocking our yukatas (they are SO comfortable)
The games area of the Ooedo Onsen Monogatari Theme Park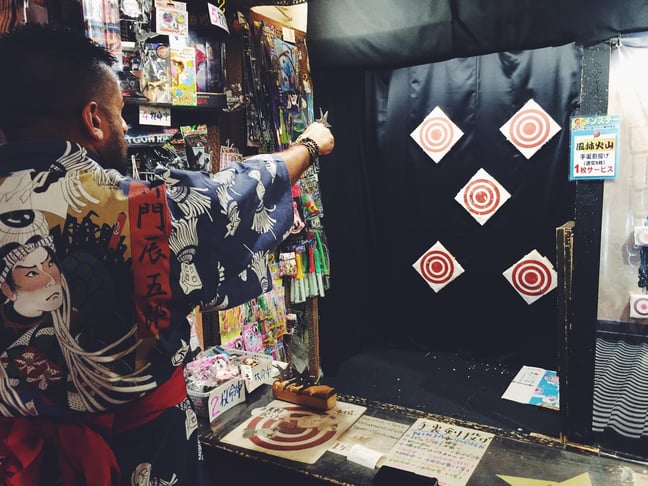 Definitely try the ninja star throwing game
6. Tokyo Imperial Palace
The Tokyo Imperial Palace is the official residence of the Emperor of Japan (yes, Japan still has Emperors, although today, it is largely a symbolic and ceremonial role). The palace is located in the heart of Tokyo and is surrounded by a large park and moats. We chose to skip the palace because we were already going to see a castle outside of Tokyo, but if you're not venturing outside the city, check it out to see traditional Japanese architecture.
Travel tip: The palace is closed on weekends.
On to Hakone
Speaking of palaces and castles, do you know the main difference between them? I sure didn't, but after some googling, here it is: a palace is primarily a place of residence for a royal family while a castle is both a residence and a fortress against battle. Japan has some incredible castles from the feudal era, which are now national heritage sites or museums. We stopped at one on our way to Hakone. In part III of my Japan series, I set out to hunt for Mr. Fuji *dun dun dunnnn.*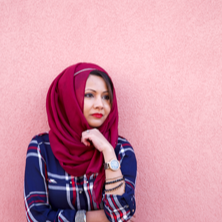 I'm a twenty-something Muslim blogger who's guilty of falling in love with every place I visit. I'm always planning the next trip in my head and missing the last one in my heart. When I'm not off discovering new parts of our beautiful planet, you can find me happily immersed in an art project.