When you think of Portugal, chances are, you think of trams, colorful buildings, Cristiano Ronaldo soccer, piri piri chicken, painted tiles, and pastel de nata. Beautiful sandy beaches surrounded by turquoise waters probably don't come to mind. But what if I told you that some of Europe's best beaches are located here? Yes, really - in the Algarve region!
After spending a few days discovering the city of Lisbon and the town of Sintra, we were ready to relax so instead of heading north to Porto (Portugal's second largest city and another popular urban destination), we headed south to Algarve for some fun in the sun.
Section overview
A brief history: Arabs & agriculture
During the Muslim (Moorish) reign of Portugal, the Algarve region was called "Gharb Al-Andalus," which roughly meant "The west of the Iberian peninsula." The most significant and lasting contribution the Moors made to Algarve was to expand and modernize the area's agriculture by building irrigation systems. These irrigation systems, consisting of watermills and windmills, better cultivated the groves and plantations of olives, figs, lemons, oranges, rice, spices, and numerous other vegetables.
To this day, agriculture remains a major part of the economy and many products from the Algarve orchards carry modified Arabic names, such as açúcar (sugar), which is derived from the Arabic word as-sukar. I share this brief history of the Algarve region because it's fascinating to learn about the impact our Muslim ancestors had on different parts of the world - and hey, it's also a great reminder to eat tons of fresh fruit and veggies while you are here!
Travel tip: If you want to see some artefacts from the Arab past, there is a small Islamic museum in the town of Tavira. We didn't have a chance to check it out, but the reviews say it's worth a visit!
Getting from Lisbon to Algarve
There are three main ways to get from Lisbon to Algarve: by plane (a 45-minute flight from Lisbon to Faro), by high-speed train (the best is the Alfa Pendular), and by car. Whether you take the train or drive, the travel time is about the same - just under three hours. There are other cheaper options, like buses and slower trains, however I wouldn't recommend them because they take twice as long and are not as nice.
Our vehicle of choice to make the journey from Lisbon to Algarve was a humongous, 9-seater rental van. We wanted the flexibility to leave on our own time, choose our stops, and gupchup (chit-chat) along the way. Although it looked much more like a delivery van compared to the Hondas sleek sports cars we drive in North America, this van was perfect for our gang of 6 + all of our baggage. We had a lot of baggage (not me, Saad of course 💁🏽‍♀️).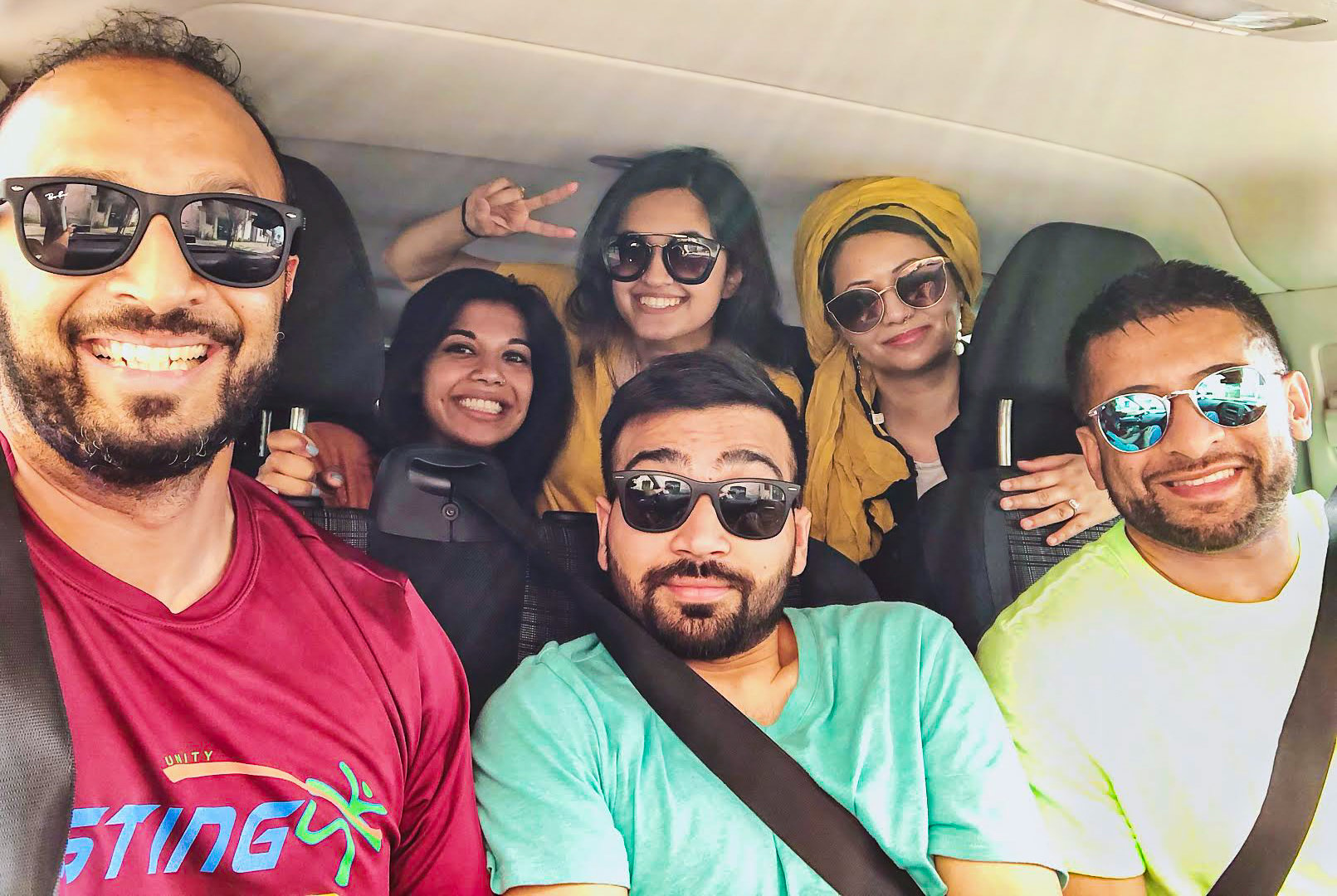 Road tripping
The drive from Lisbon to Algarve offers scenic views and isn't hard. To start your journey south, you'll need to cross the Vasco da Gama Bridge or the 25 de Abril Bridge. Vasco da Gama Bridge is cool because it's the second longest bridge in Europe. The 25 de Abril Bridge is cool because it'll allow you to see the Christ the King statue, located in Almada. Choose your own adventure.
Travel tip: The A2 motorway is the direct highway from Lisbon to Algarve, but it is a toll road so get the transponder from your rental car agency, or keep cash on hand.
Where to stay
The Algarve region spans several picturesque cities and towns, which begs the question, where is the best place to stay? We wanted to check out Faro, Albufeira, and Lagos so we decided to stay in Vilamoura, which was nestled between them. Vilamoura is a modern resort town with close proximity to beaches, restaurants, and the Vilamoura Marina. It's also a top destination for golf.
We stayed at the Anantara, a luxurious golf and spa resort. After rooming together in a cost-effective Lisbon Airbnb that was nice, but not without its space issues, we were ready to shed our budget-friendly personas and step into the 5-star life. To be honest though, the Anantara in the Algarve was not insanely expensive. Plus, the rooms were very spacious with natural wood finishes, the breakfast buffet was delicious (and included pastel de nata!), the rooftop spa was huge (with a fancy vitality pool), and the expansive grounds were surrounded by lush greenery. I'd highly recommend this hotel if you want a relaxing retreat after long, toasty days on the beach.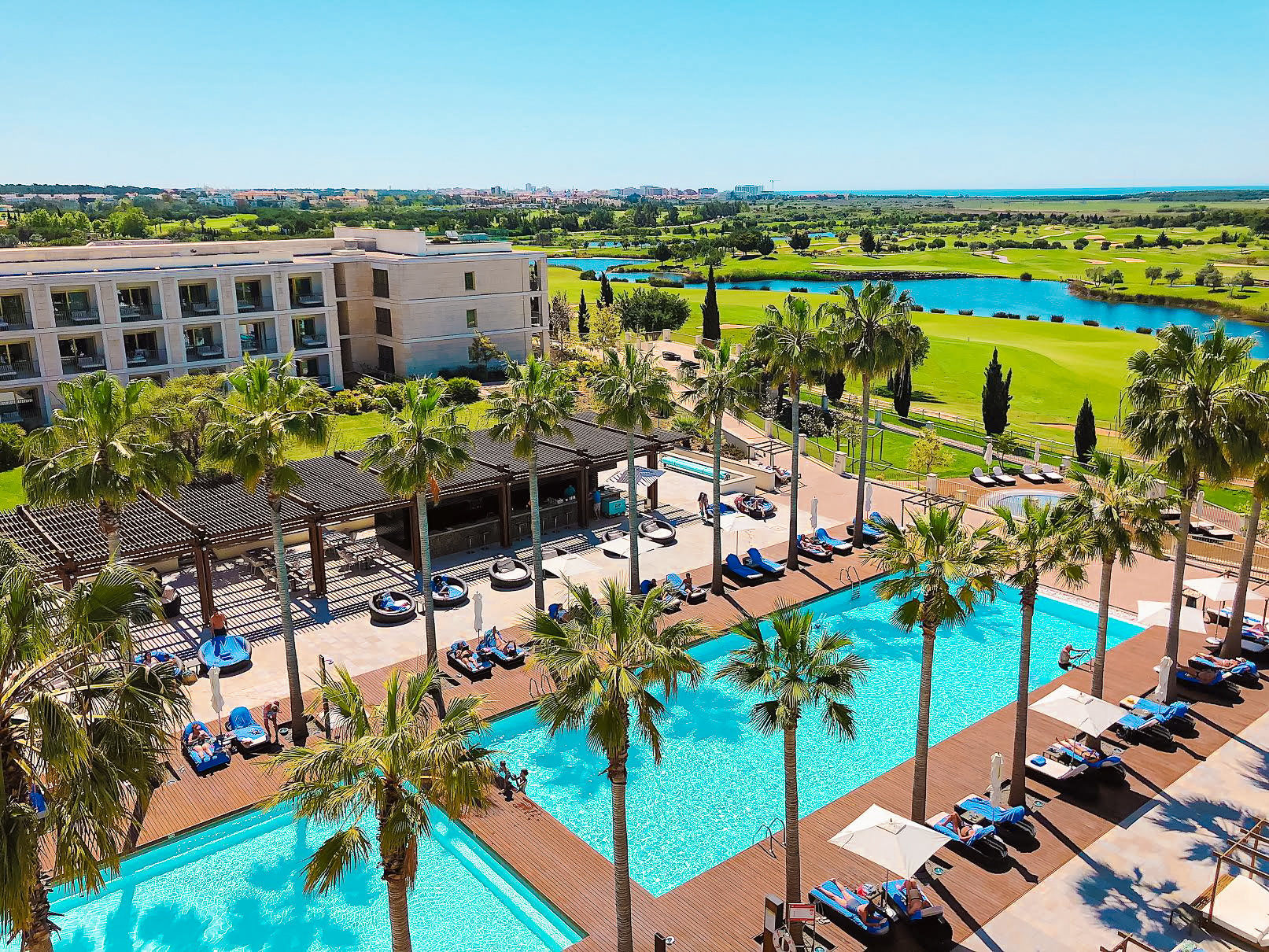 View of the grounds from the rooftop spa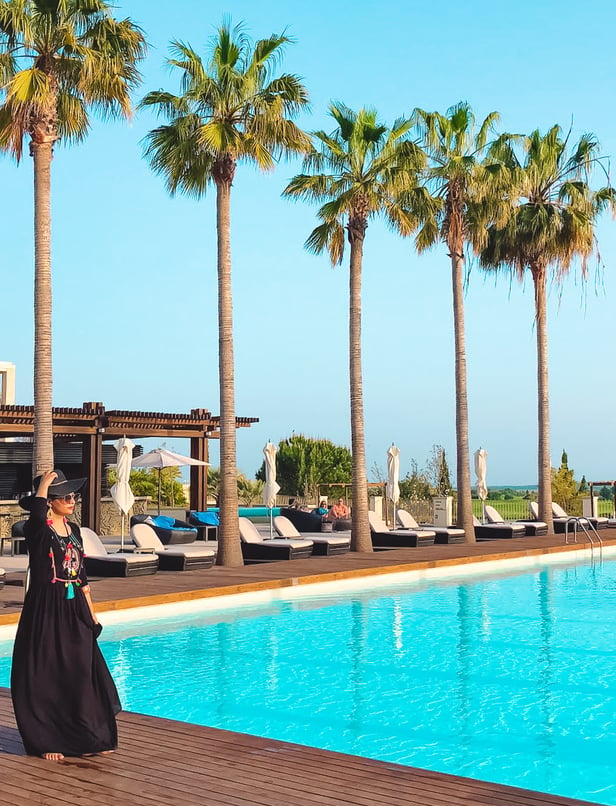 Hello, meet 5-star me 😎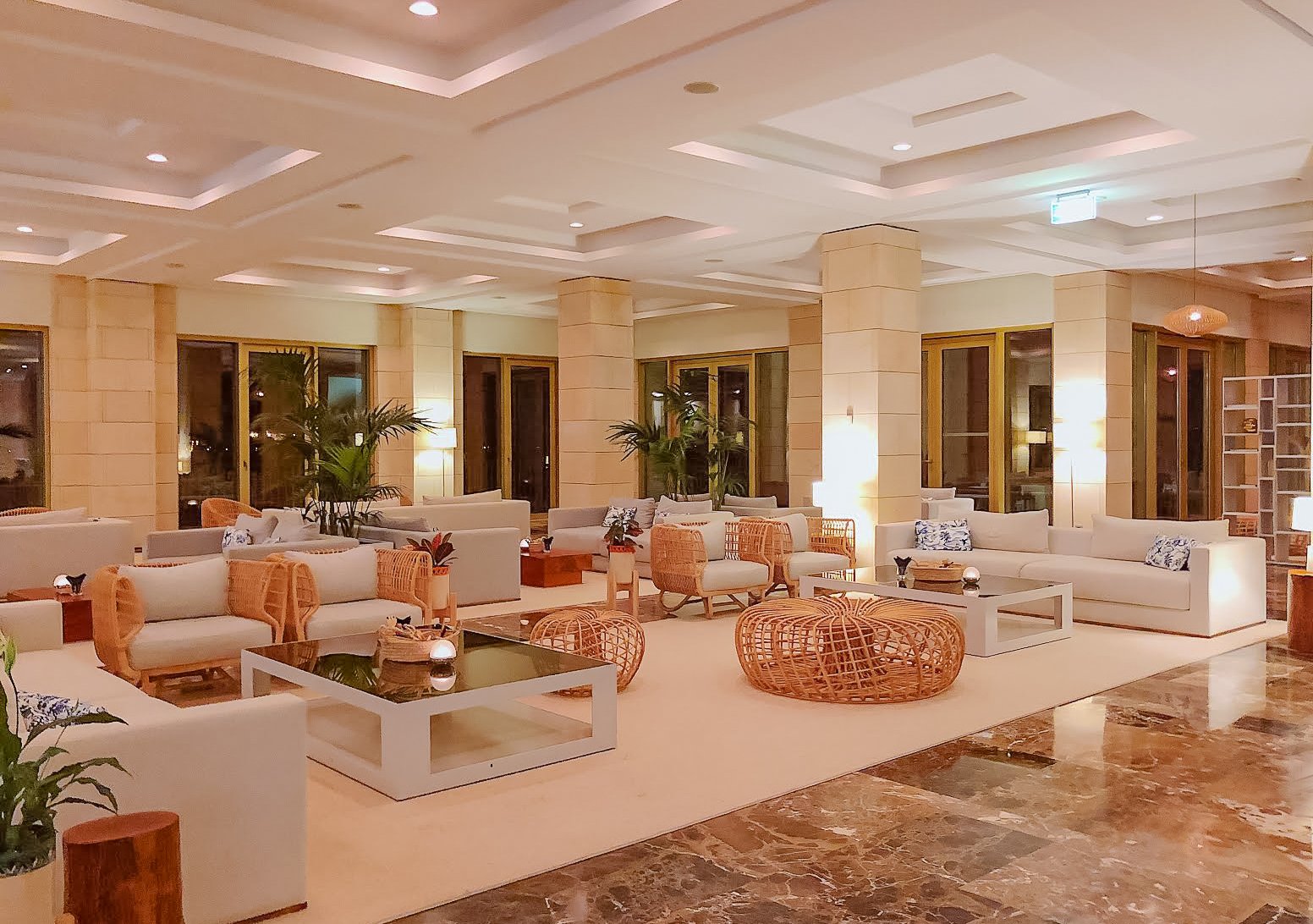 The lobby at night
Travel tip: Victoria restaurant inside the hotel has halal lamb (imported from New Zealand), so we tried the lamb stew. But double check this when you go in case they change their suppliers. Also take advantage of the free tuk-tuk tour offered by Anantara. This 30-60 minute tour will show you around the neighborhood and take you to nearby beaches - it's a good way to scout the area. Our Anantara tuk-tuk driver was the sweetest; she took pictures of us, let us walk around the beaches, and also saved a turtle on the road!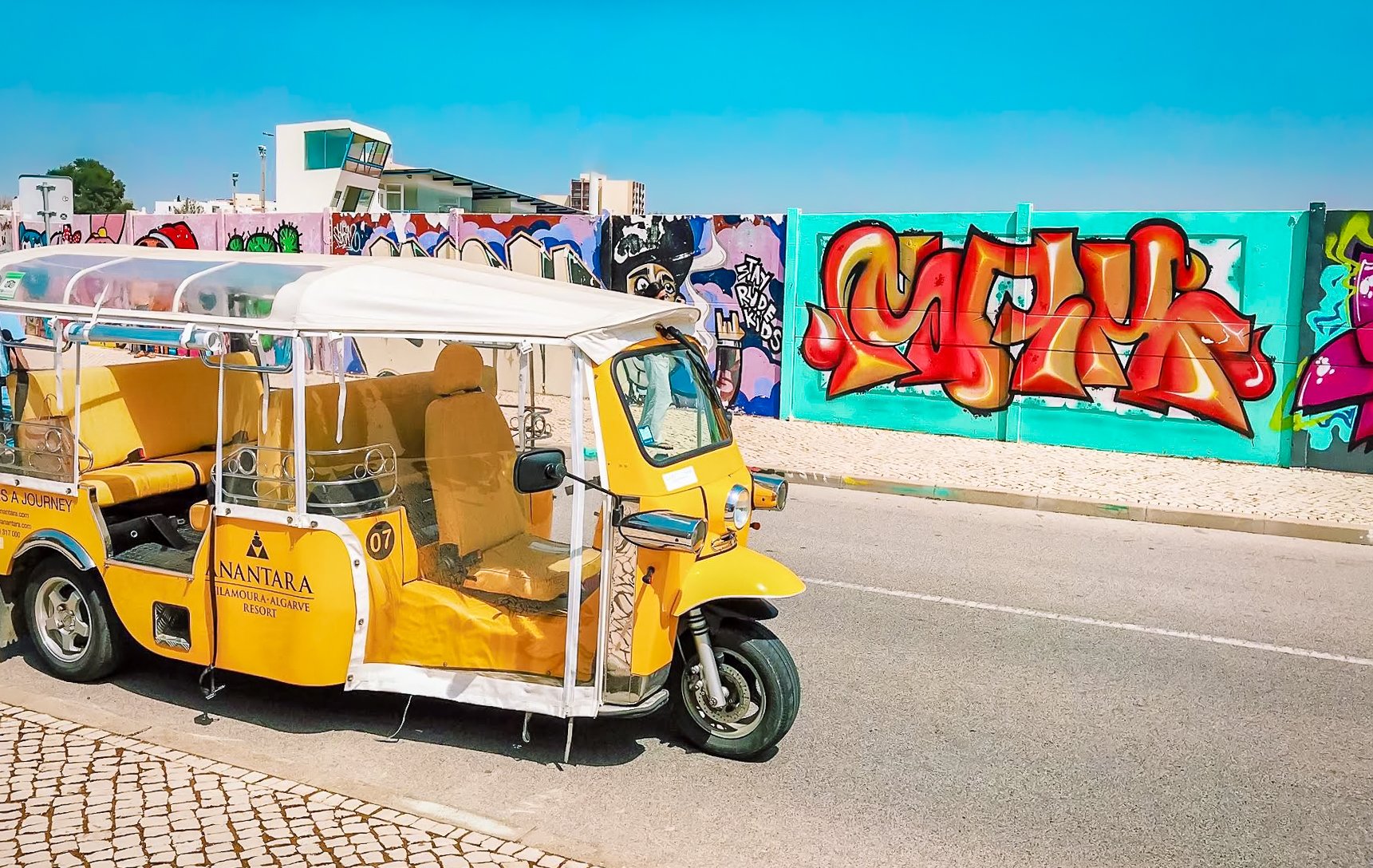 Anantara's tuk-tuk (seats 6)
Cool kids on the block
Places to eat
Time for a slightly embarrassing / slightly amusing confession: for two out of the three nights we spent in Algarve, we ate dinner at desi (Indian-Pakistani) restaurants. When you need that biryani / korma fix, you find that biryani / korma mix wherever you are - even in freaking Portugal.
Miraculously (allhamdulillah), we found a halal desi restaurant called Shalimar. Is it just me, or is there a desi restaurant named Shalimar in every country? Anyways, Shalimar is located in the town of Quarteira, which is a 15 minute drive from the Anantara resort. Try their mango lassi, chicken samosas and butter chicken. As a connoisseur of butter chicken, I can tell you that Shalimar's butter chicken was one of the tastiest I've ever had because the sauce was rich, creamy, and a heavenly blend of sweet and spicy. Another, albeit questionably halal, desi restaurant option is Delhi Darbar in Lagos. Try their coconut lassi… and ask about their halal status.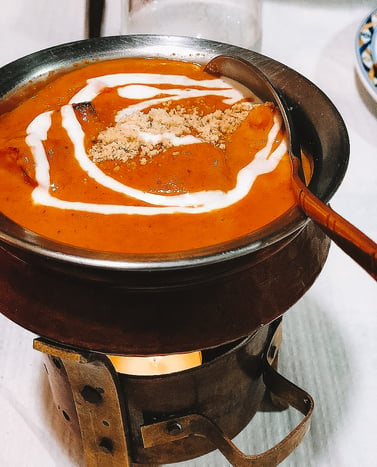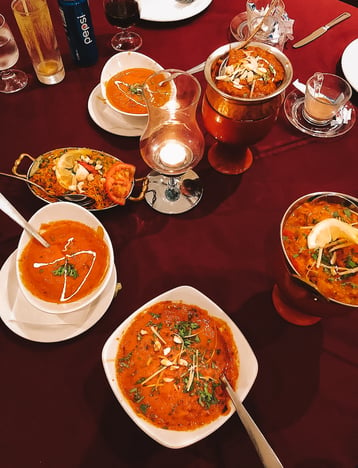 Addicted to curries, chai, and chaat
For those of you who aren't addicted to the flavors of your South Asian motherland, here are some more authentic Portuguese options:
Ocean - Boasting two Michelin stars, Ocean offers spectacular views of the Atlantic ocean while serving visually pleasing dishes that aren't too unfamiliar (try their kaffir leaf dessert with pine needles)
Rei das Praias - Less formal than Ocean but still chic, this idyllic beachside restaurant is the perfect place to watch the sunset while eating barbecued fish
Travel tip: While you probably don't need to make reservations for the two desi restaurants I listed above, you should definitely book tables at Ocean and Rei das Praias in advance. These restaurants are among the top dining destinations in the area meaning they can book up weeks in advance. By the way, the priciest restaurant on this list is Ocean, so be prepared to pay a handsome price for your gastronomic experience here.
The best beaches (and what to do at each)
Now, as much as we loved the Anantara resort and the butter chicken, that's not why we came to this region of Portugal. Like I mentioned in the beginning of this post, Algarve is home to dozens of breathtaking beaches. The only dilemma is, which are the best, most beautiful ones? Below are the beaches I'd recommend you stop by for an unforgettable swim, boat ride, or kayaking excursion.
Praia da Rocha Baixinha
Located within Albufeira, Praia da Rocha Baixinha is the closest beach to Anantara / Vilamoura. It's a long, wide beach with fine golden sand that is equipped with family-friendly facilities, like showers, toilets, sunbeds, and shoreline restaurants. What's more, Praia da Rocha Baixinha is accredited with the Blue Flag label, meaning it meets high environmental and quality standards so you can be sure that the water is safe and the beach is operated in a sustainable way.
Travel tip: Praia da Rocha Baixinha's relatively calm waters make it well-suited for a variety of water activities - and there's no shortage of vendors. If you enjoy things like surfing, windsurfing, parasailing, jet skiing, and riding inflatable rafts, this is your beach!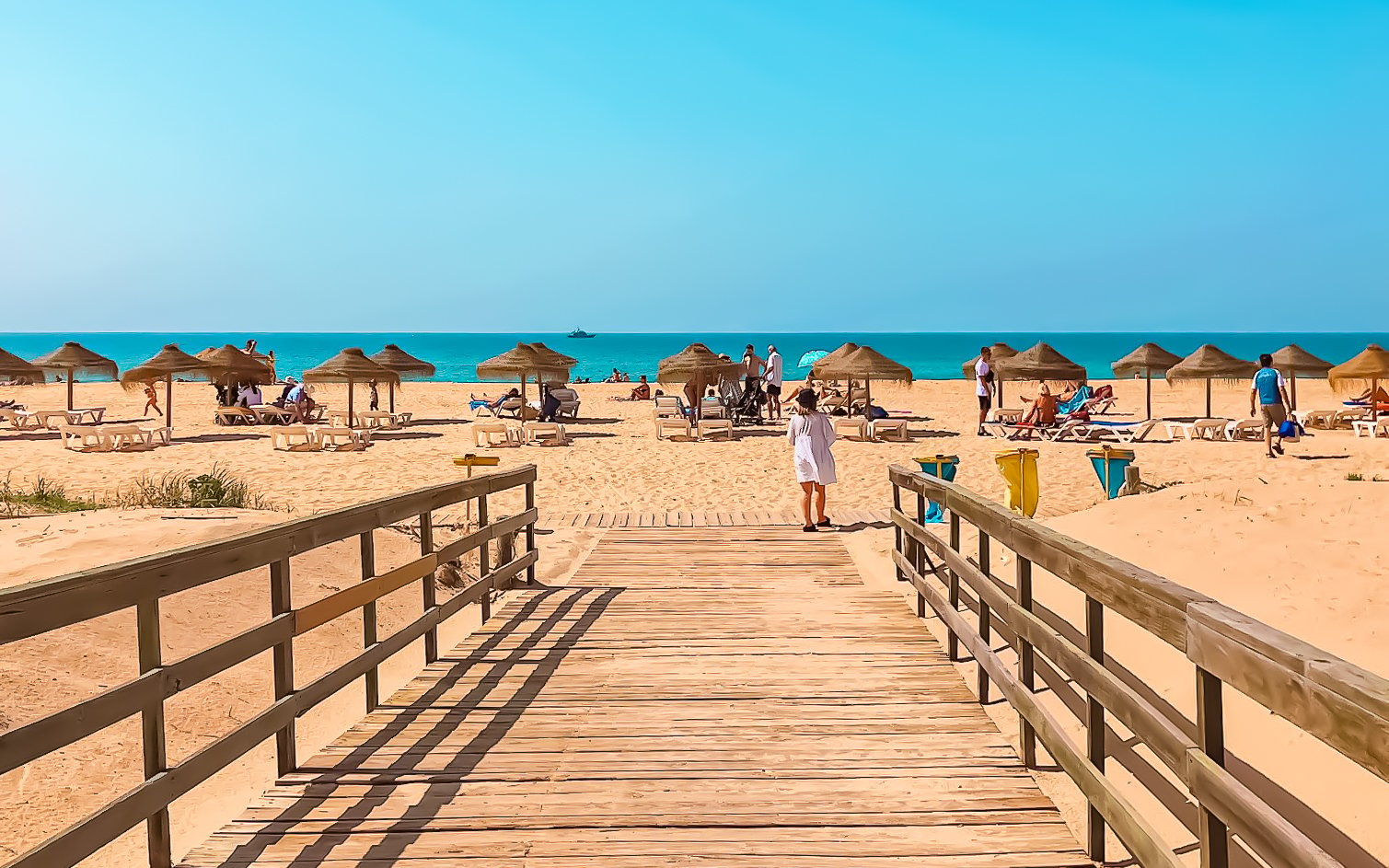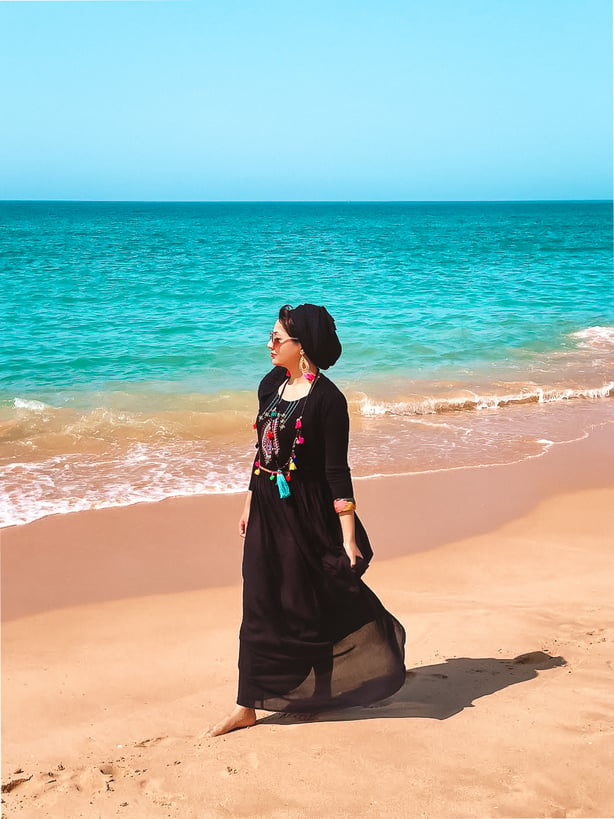 I enjoy long walks on the beach
Praia da Falésia
Praia da Rocha Baixinha stretches all the way to Praia da Falésia, which was named the #1 beach in Portugal and the #12 best beach in the world by TripAdvisor in 2018. Wondering why? There's a pretty big clue in its translated name: Beach of Cliffs. Praia da Falésia's blue waters are flanked by striking orange-red cliffs topped with green pine trees. Spanning more than 3 miles, beachgoers flock to Praia da Falésia for its beauty, diversity, and shallow waters, but the beach does get crowded during the day. As an added bonus, this beloved beach is also Blue Flag certified.
Travel tip: Praia da Falésia has hiking trails on top of the cliffs, so take a romantic walk and catch the sunset from the vantage points above (after enjoying some time in the water).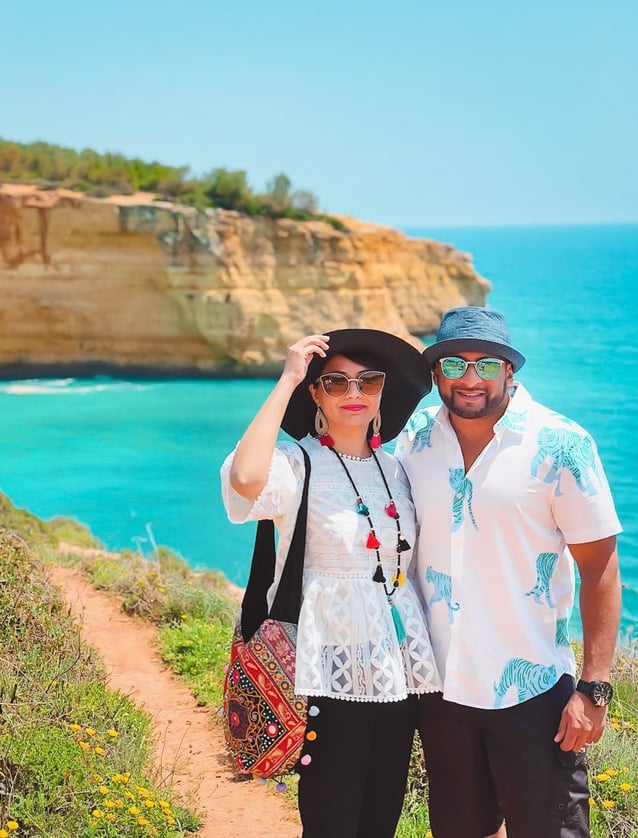 We enjoy matching
Praia da Marinha
Praia da Marinha is perhaps the most emblematic beach in the Algarve - it's the beach that you see in all of the Portugal tourism brochures and websites. Known for its amazing cliffs and rock formations, including the 'M rock' on the right side, Praia da Marinha's beauty will leave you speechless. Needless to say, this is a must-see beach.
Praia da Marinha is located in Caramujeira and is only reachable by car. Before you descend the stairs to the beach, follow the walking trails from the parking area to check out the view over the rocks. The small knock I have on this otherwise gorgeous beach is that, despite its fame, it's lacking in facilities. There is only one restaurant (i.e. toilet) nearby, which is overpriced so bring your own snacks.
Travel tip: Praia da Marinha has calm, clear waters making it a popular destination for snorkeling. If you want to catch a glimpse of the local marine life, bring your snorkelling gear, because as I said above, there are no rental shops here.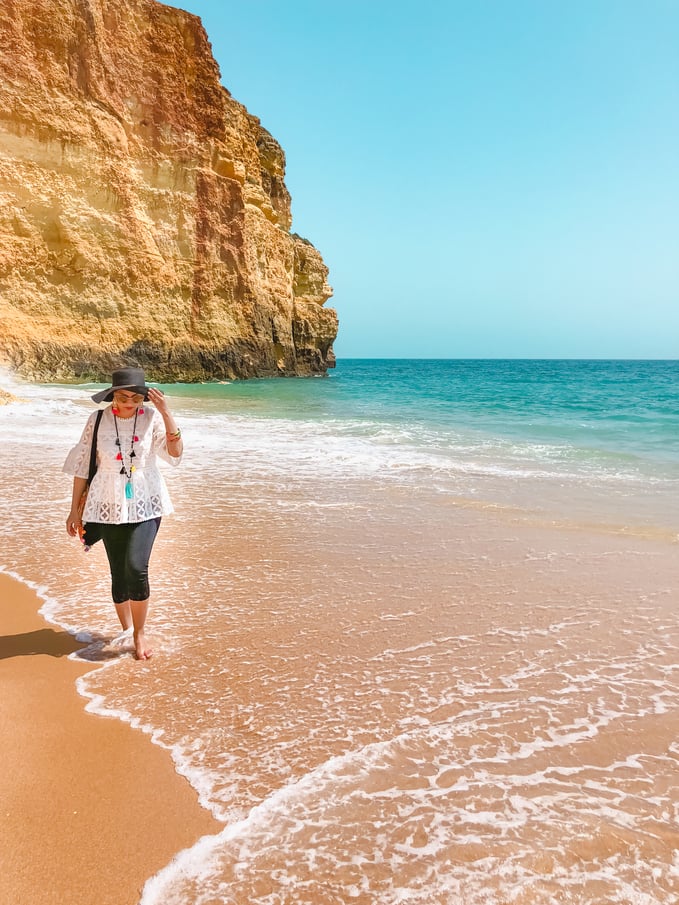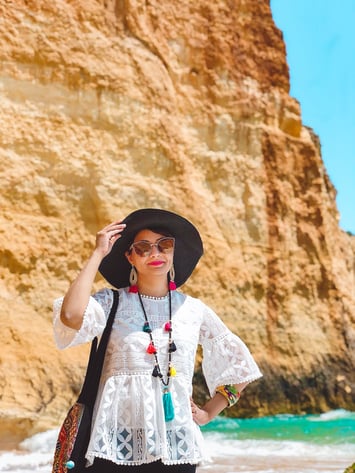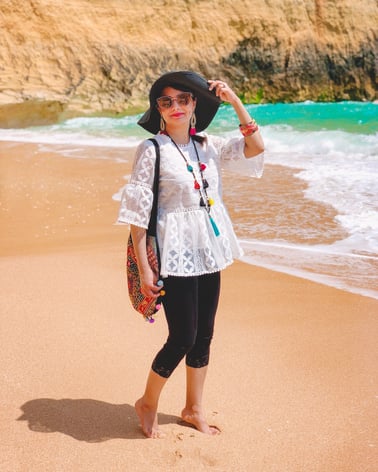 Praia de Benagil
The next inclusion on my list is Praia de Benagil, located near Praia da Marinha in Lagoa. Although small and unassuming, what makes this beach special is the stunning Benagil sea cave (Algar de Benagil) that's right around the corner. The Benagil sea cave is a large, airy cave with a circular hole in the ceiling, sometimes called "the eye," which acts like a skylight. Through this hole, you can see the blue sky above and the sun peeking in to illuminate the colorful rocks. Rainwater, pounding waves, and the ocean wind have carved the vaults of the cave into a natural cathedral giving it a magical quality. Of all the caves and grottos in the Algarve, this is the most spectacular one so don't miss it! Fun fact: people have had wedding ceremonies and photoshoots inside this cave… not sure if nikkahs have happened yet (idea💡?).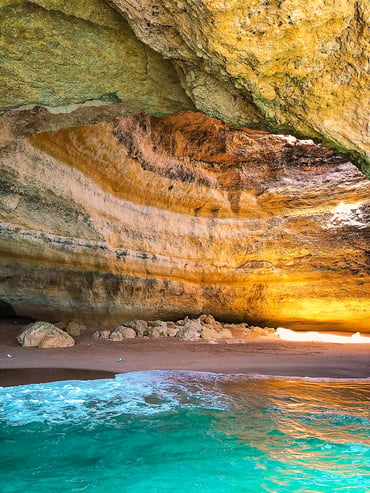 The otherworldly Benagil cave
Travel tip: There are four ways to get to the Benagil cave:
By paddle boarding (if you've got the fitness💪🏽and balance)

By kayaking (if you're ok with the risk of flipping over)
By swimming (don't be cray cray)
By boat (recommended for the tame, risk-averse souls)
You can rent paddle boards and kayaks from local vendors on Praia de Benagil, but be careful because the waves can be rough. Technically, it's crazy possible to swim from Praia de Benagil to the cave's secluded beach (Saad really wanted to until I reeled his testosterone back in), but I wouldn't recommend it because of the sharp rocks, unpredictable current, and the boat traffic.
The path to Benagil cave I would recommend, is by small boat. We explored the Benagil cave with Taruga Benagil Tours. Our captain was energetic and got us close to many different caves on the Benagil coastline. The advantage of paddle boarding or kayaking or swimming is that you'll be able to spend time on the hidden beach inside the Benagil cave. If you go by boat, you can't get off onto the beach. In all scenarios, you will get wet.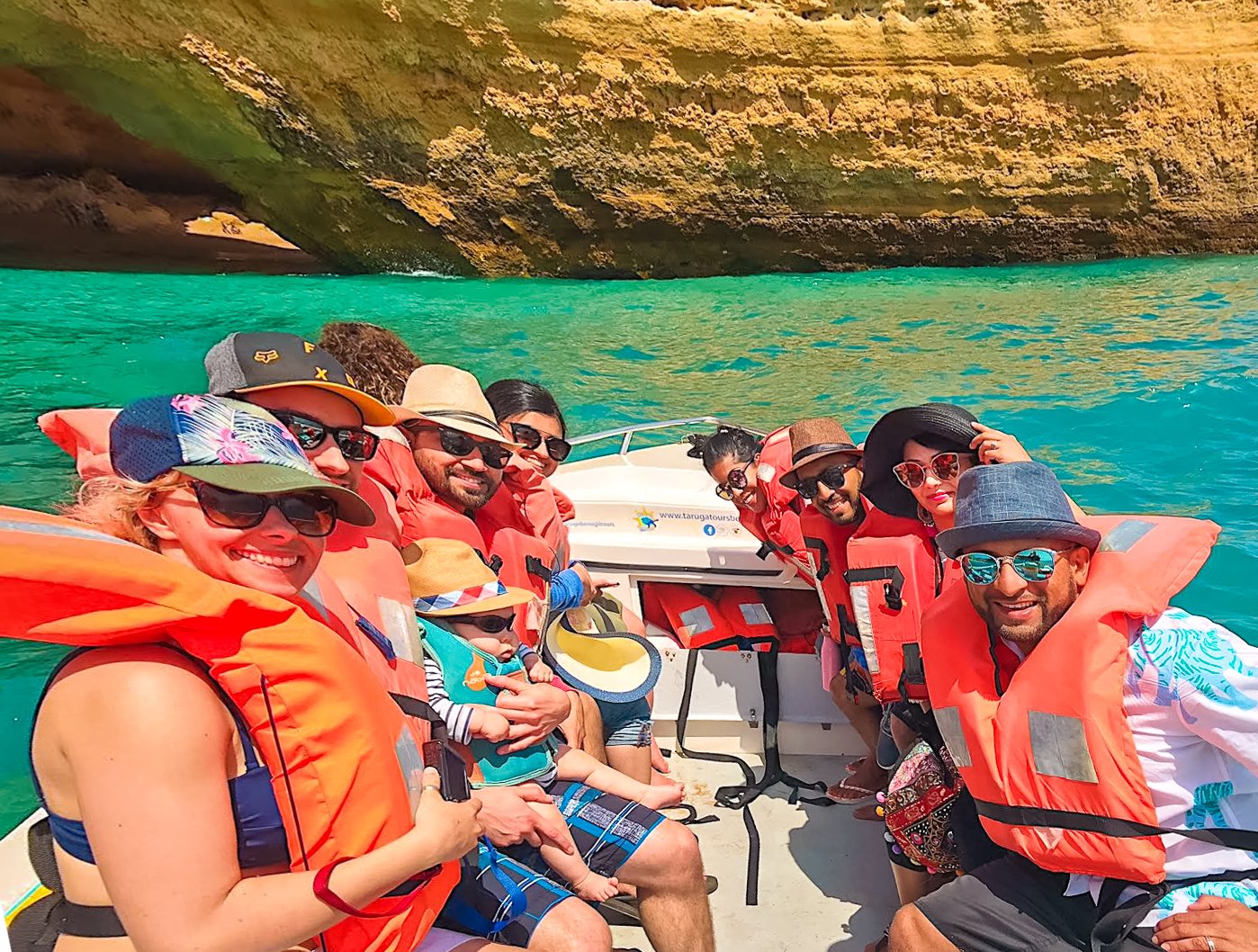 Boat tour of Benagil caves (that stranger's baby is #futurebabygoals)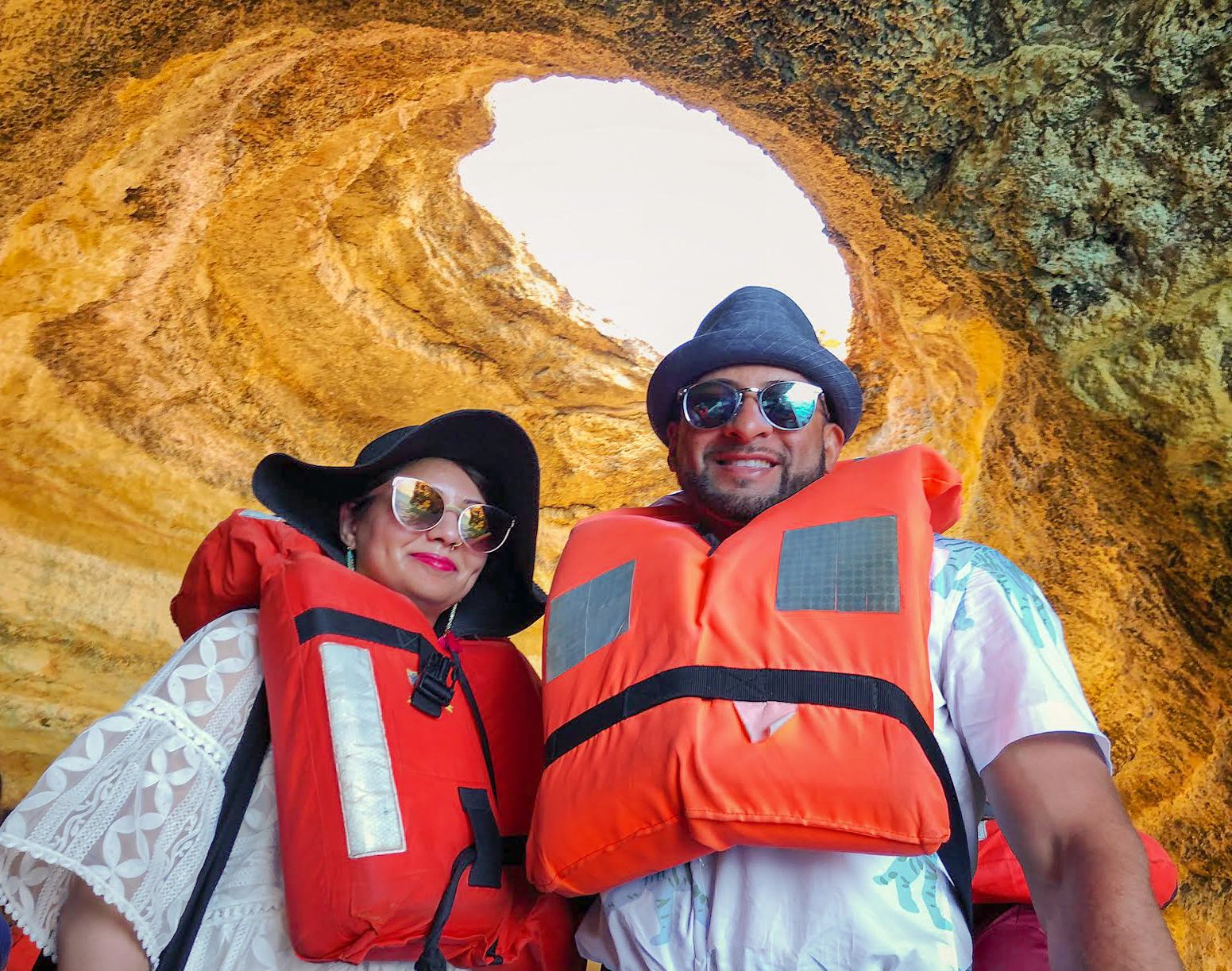 Important question: How do you look good in lifejackets?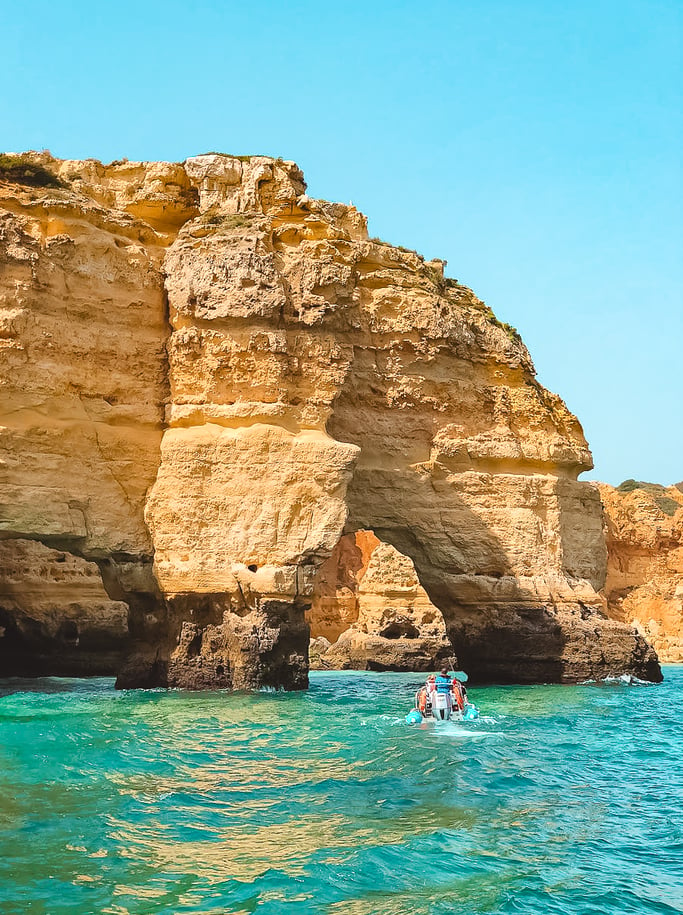 The 'elephant rock' on the Benagil coast
Praia Dona Ana, Praia do Camilo, Ponta de Piedade
All of the beaches I've covered so far have been in the Faro / Albufeira / Lagoa areas of the Algarve and they are all within a 30 minute car ride from Vilamoura. However, if you keep driving along the A22 highway for 30-40 more minutes, you'll get to Lagos. Lagos is a another well-known city in the south of Portugal that is full of history and even more beaches. What makes Lagos unique is that the beaches on its impressive coastline are located fairly close to each other, with many sea caves, grottos, and smaller hidden beaches punctuating the distance between them.
Three notable beaches in Lagos are:
Praia Dona Ana - The best all-around beach with calm (but cold) water surrounded by orange-gold strata cliffs and a range of good services (restaurants, parasols, refreshments)
Praia do Camilo - Small, but exceptionally clean beach with good snorkeling and a view of the bay of Lagos
Ponta de Piedade - This is not so much a beach as it is a remarkable group of sandstone cliffs that include natural sea arches and tunnels
Travel tip: The main reason we drove all the way to Lagos was because it is arguably the best place in Algarve to go kayaking. Not only is the coastline dotted with beautiful rock formations, caves, grottoes and beaches, it's also not crowded with boats. Some of the kayak operators might try to hustle you, so I'd recommend you go with our guide, Jorge de Costa from Kayak Explorers.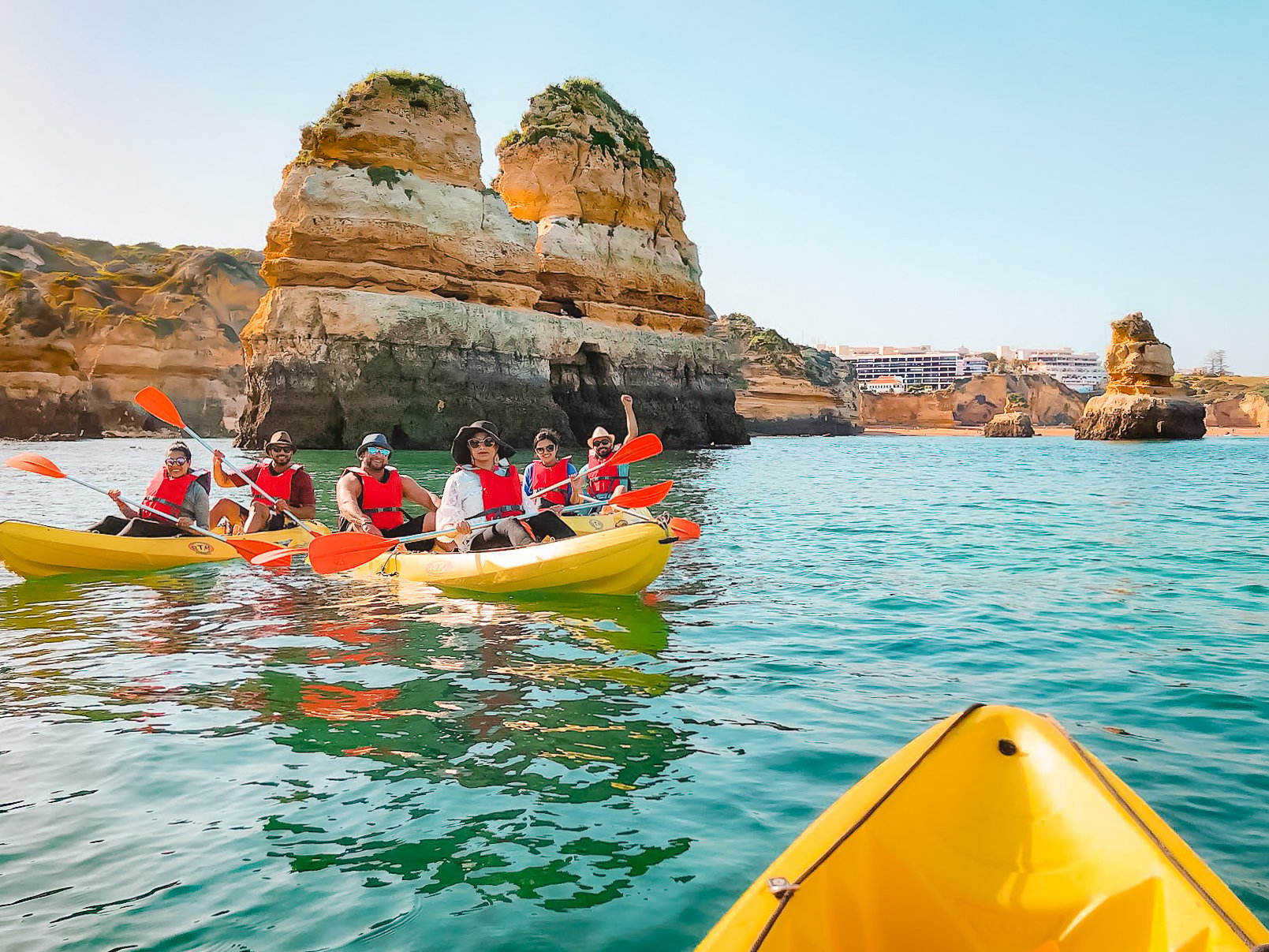 A-team explorers
We spent 2.5 hours kayaking with Jorge, who safely guided us into tunnels and helped us weave through the towering rock formations. He even brought beach balls, snorkeling gear, and frisbees so we could stop and catch our breath chill at a beach. This is how we saw Praia Dona Ana, Praia do Camilo, and Ponta de Piedade... at least I think we did. By now, all the beaches kind of started to blend together 🙈. And when we were done, Jorge had a boat tow us back and we literally lived our best life. Kayaking in Lagos may be my favorite memory from this trip.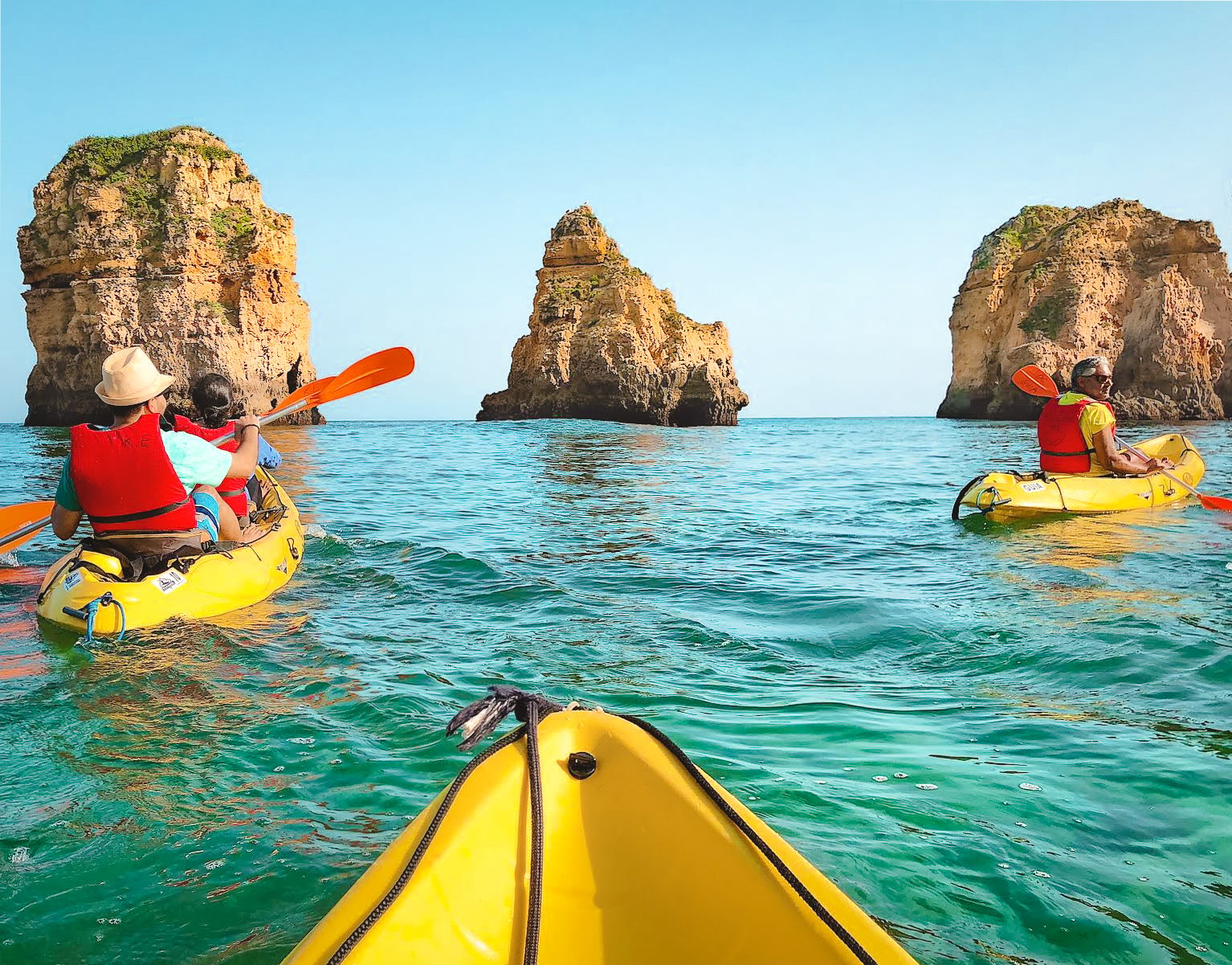 Hey, it's Jorge de Costa on the right!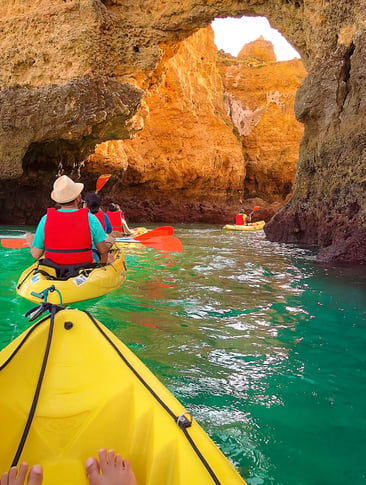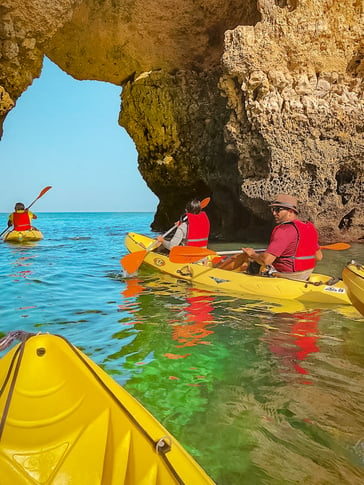 SubhanAllah 😍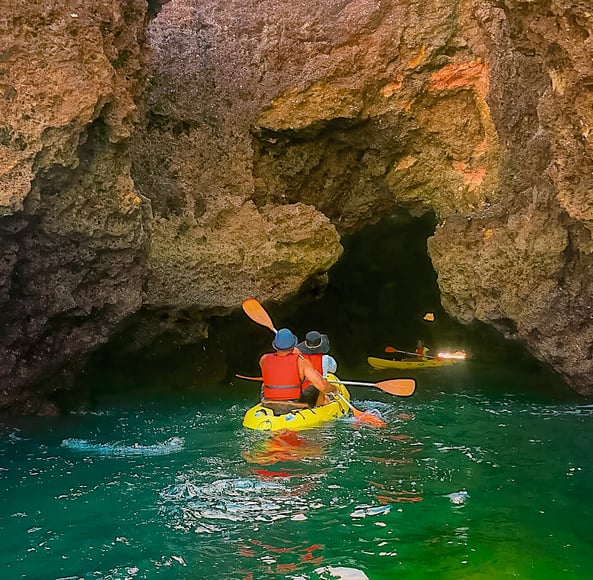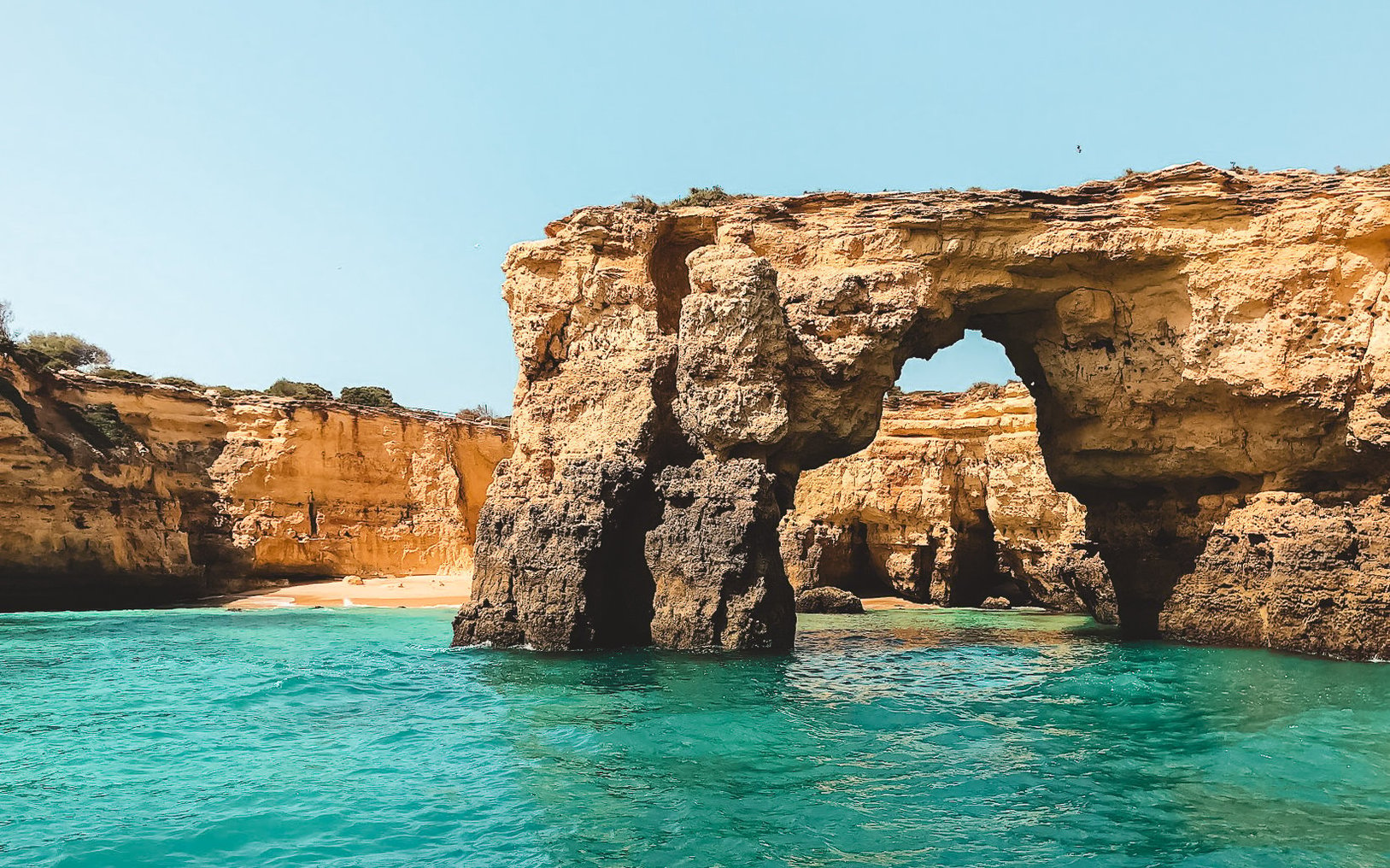 By the way, this is a sea arch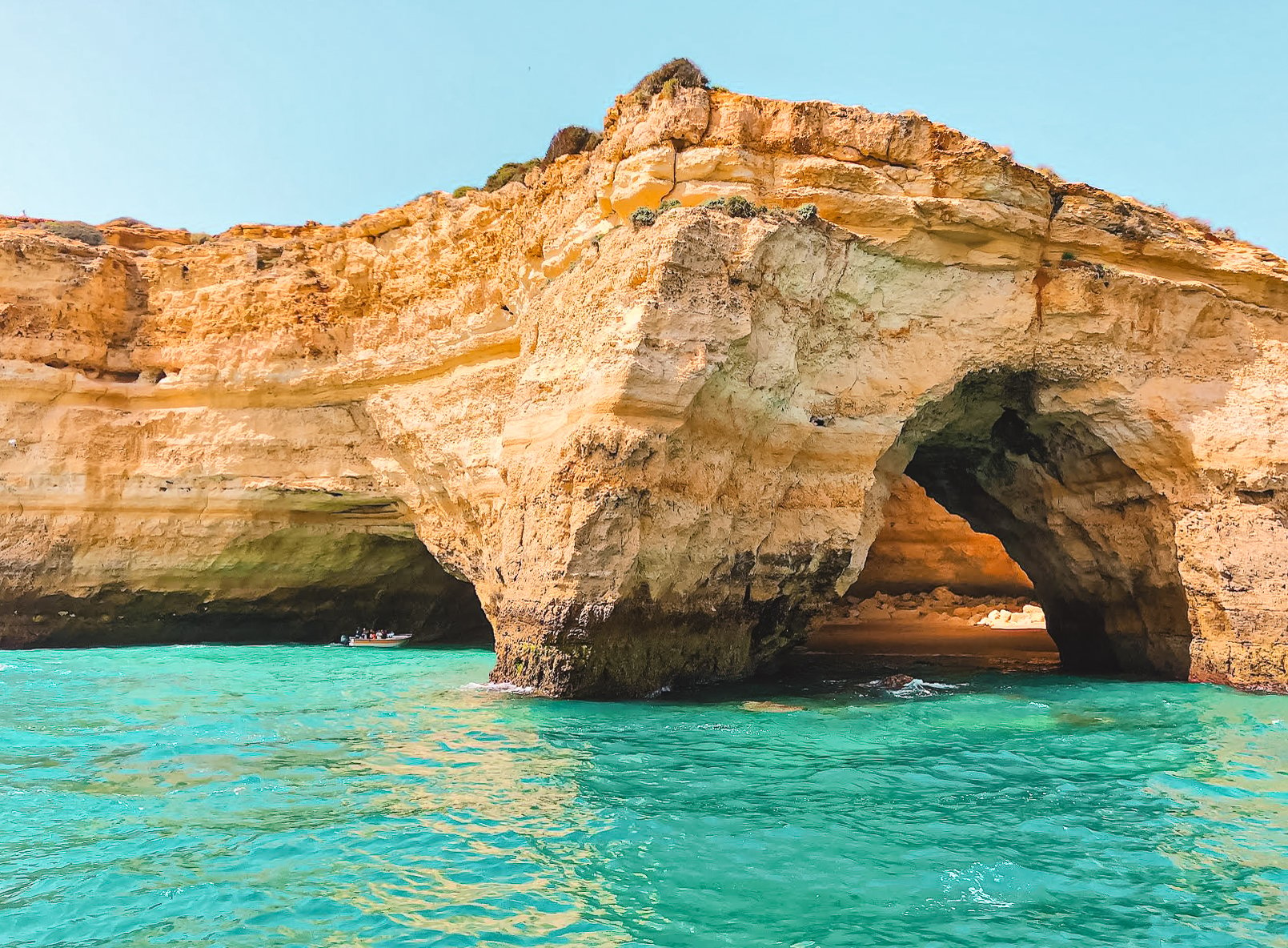 And that's a hidden beach
Non-beachy things to do
Believe it or not, there is more to see in Algarve than just cliffs, water, and ocean. If you're looking for alternatives to the beach scene, here are some other things you can do:
Bonus tip: The Azores
I didn't expect there to be so much natural beauty in Portugal. Learning new things about different countries is one of the reasons I love traveling.
In addition to the Algarve region, Portugal's islands of Azores also contain a wealth of natural wonders (including volcanoes and thermal pools), dramatically green landscapes, and tropical flora and fauna. The next time I visit Portugal, this is where I plan to go, inshAllah.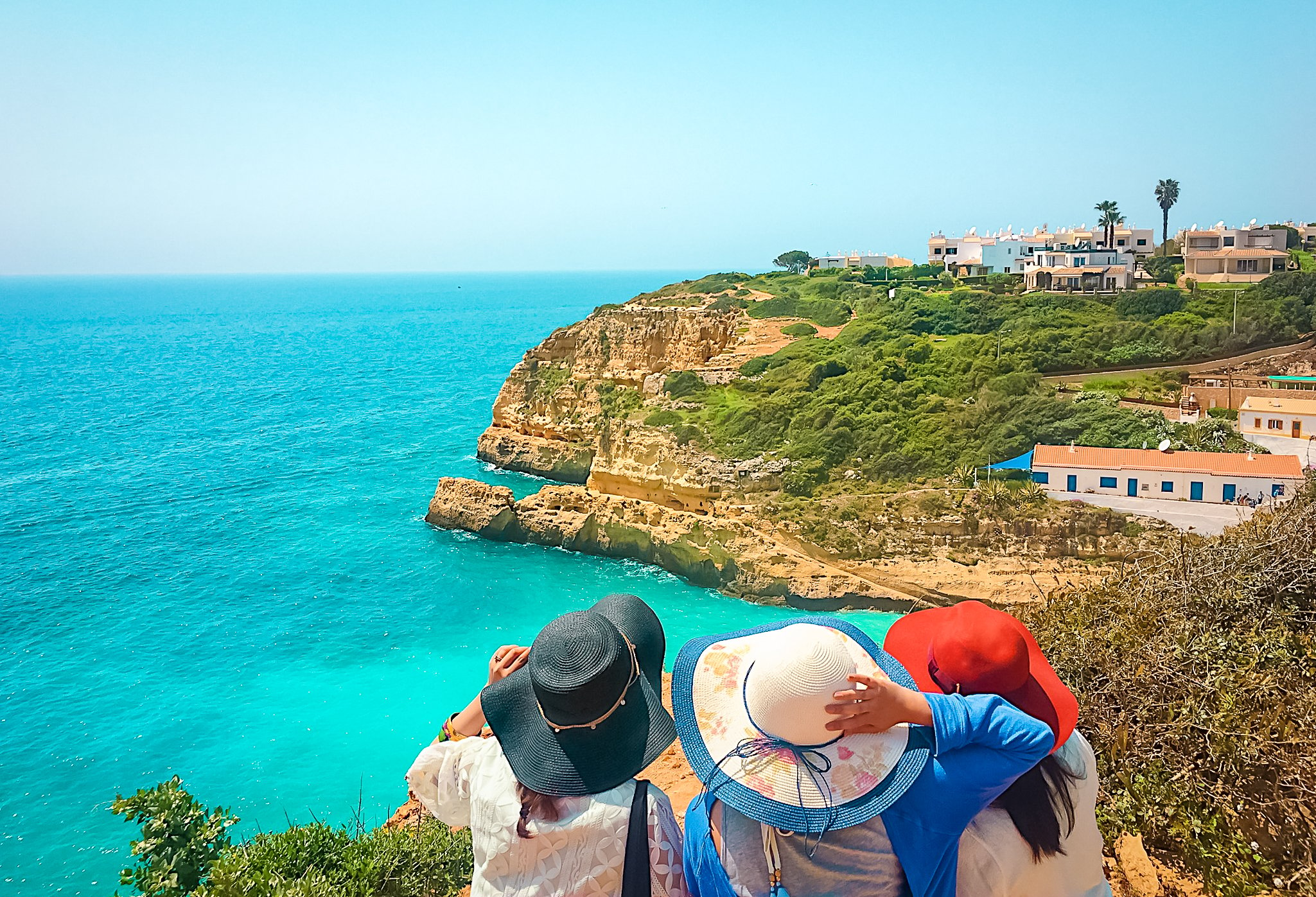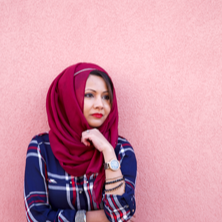 I'm a twenty-something Muslim blogger who's guilty of falling in love with every place I visit. I'm always planning the next trip in my head and missing the last one in my heart. When I'm not off discovering new parts of our beautiful planet, you can find me happily immersed in an art project.