Like many Muslims around the world, a typical Eid for Saad and I consists of morning prayers at the masjid, brunch at our parents' place (my mama's speciality is halwa puri), followed by an afternoon of house-hopping to visit friends and family. However, when there's a raging virus in the air, all of these indoor activities in confined spaces are health hazards. So what is one to do? The default option is to resort to Zoom. The creative option is to think outside of the screen.
When the Covid-19 pandemic cancelled my normal plans, I thought about what a virtual Eid would look like. I imagined getting dressed up just to stare at relatives through a computer, all talking over each other in loud voices about different topics (raise your hand if you're also over Zoom parties). Then I asked myself, "Is there a less dysfunctional better way to celebrate Eid with loved ones in a safe and socially distanced manner?" Here's what I came up with *drum roll please*: a Moroccan-inspired Eid picnic! An Eid picnic is an opportunity to get outside and have some fun in the glorious sunshine. In the age of corona, an Eid picnic (#CovEid) is also a way to get together with your local Muslim community, while minimizing the risk of infection.
But planning a perfect Eid picnic is, ironically, no picnic. There are a ton of factors to consider, from decorations, to seating, to food. In this blog post, I'm going to share how Saad and I hosted a wonderful little Eid picnic that helped us remember and spread the joy of this most special Islamic holiday.
Importance of Eid
Now, there are actually two Eids in Islam. And both of them are a big deal because they each coincide with a pillar of our faith. Eid al-Fitr marks the end of Ramadan, the month of mercy, forgiveness, and fasting, during which the Holy Quran was revealed. Eid al-Adha commemorates Prophet Ibrahim's willingness to sacrifice his son as a testament to his devotion to Allah, and it occurs in the days of the hajj pilgrimage.
In a hadith recorded in Sahih al-Bukhari, Prophet Muhammad (peace be upon him), said:
"Verily, every community has a celebration and this day [Eid] is our celebration."
So as Christians celebrate Easter and Christmas, and Jews celebrate Rosh Hashanah and Yom Kippur, Muslims celebrate Eid al-Fitr and Eid al-Adha.
Planning a Moroccan-inspired Eid picnic
1. Developing a vision
When I started planning our Eid celebration, the first thing I thought about was the decor because it sets the mood of the entire event. For this particular Eid picnic, I drew inspiration from the Moorish art and architecture I saw during my travels through the cities of Seville, Cordoba, and Granada in southern Spain. Moorish design blends vibrant colors, intricate mosaics, adorned lanterns, decorative tilework, patterned furniture, and mismatched accessories together to create a unique and dramatic look.
This style was actually developed by the Muslim North African berbers who ruled the Iberian Peninsula during the 11th century, so it has both roots in, and influence over, other capitals of the Muslim empire in this region, like Fez and Marrakesh. Since Spain was eventually reconquered by Christians, this style flourished beyond the Middle Ages in Morocco. This is a long-winded way of saying that today, most people would simply call this "Moroccan decor" - but I wanted to share the Moorish origin of this style because it's interesting and important in preserving its cultural heritage.
To bring this style to life in our Eid picnic, I curated furniture and accents with lush fabrics, elaborate designs, and rich hues of yellow, red, pink, and turquoise that would pop against the greenery of the park.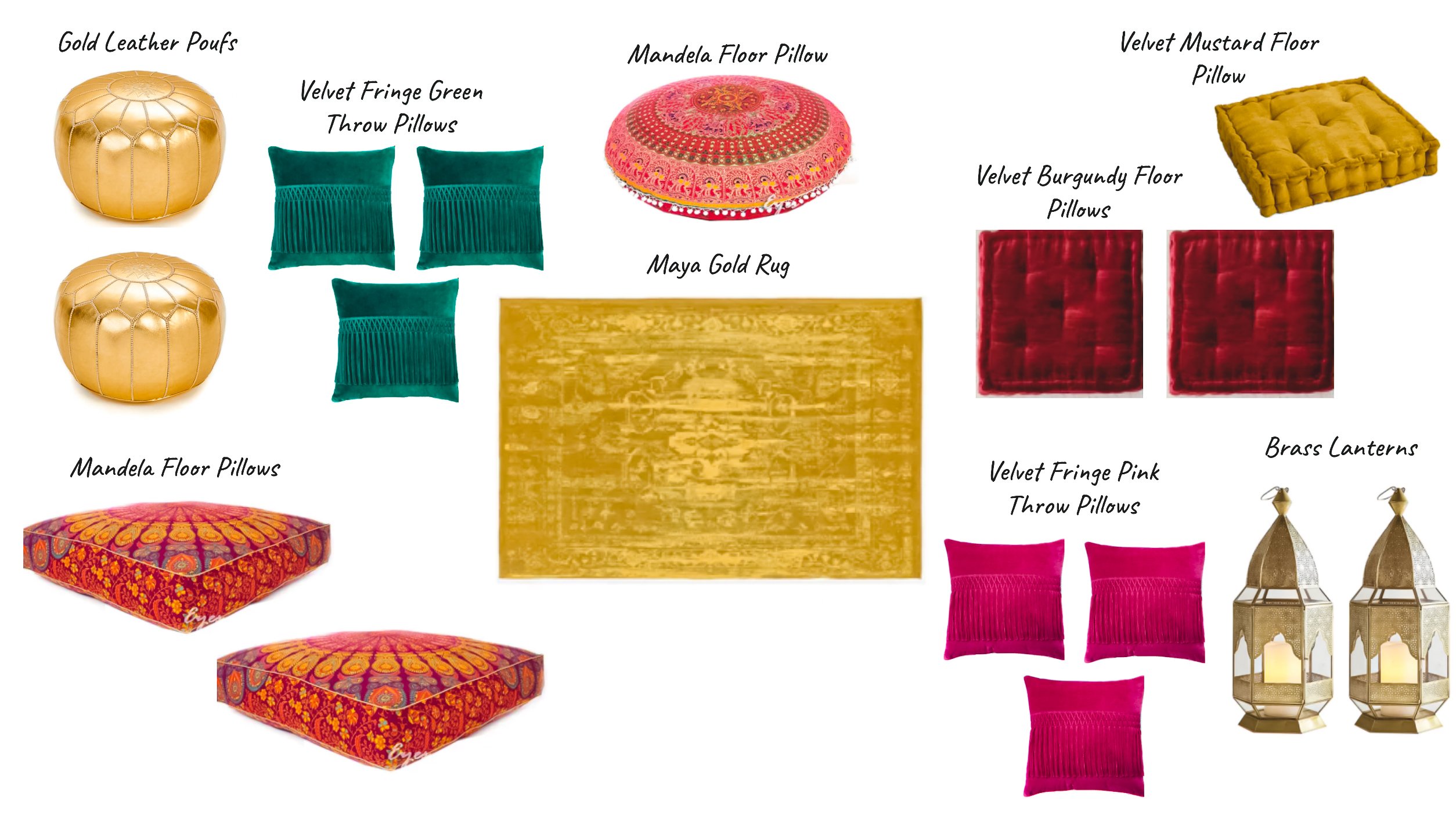 The mood board of our Eid picnic
Decorating tip: Instead of buying furniture and accessories, find a design studio that will let you rent the items you need for your Eid party or picnic. This will be more cost effective and you won't need to worry about where to store these pieces later. For our Eid picnic, I worked with Kadeema Rentals because I loved their extensive catalogue of boho-chic items.
2. Creating a focal point
Every great event needs a focal point - something to draw the eye and anchor the decor. The park we chose as the location of our Eid picnic is situated right next to the water and is dotted with trees. My favorite spot to picnic here is underneath two magnificent weeping willows because their branches create a beautiful canopy, which provides shade from the sun. This is where I set up a welcome table.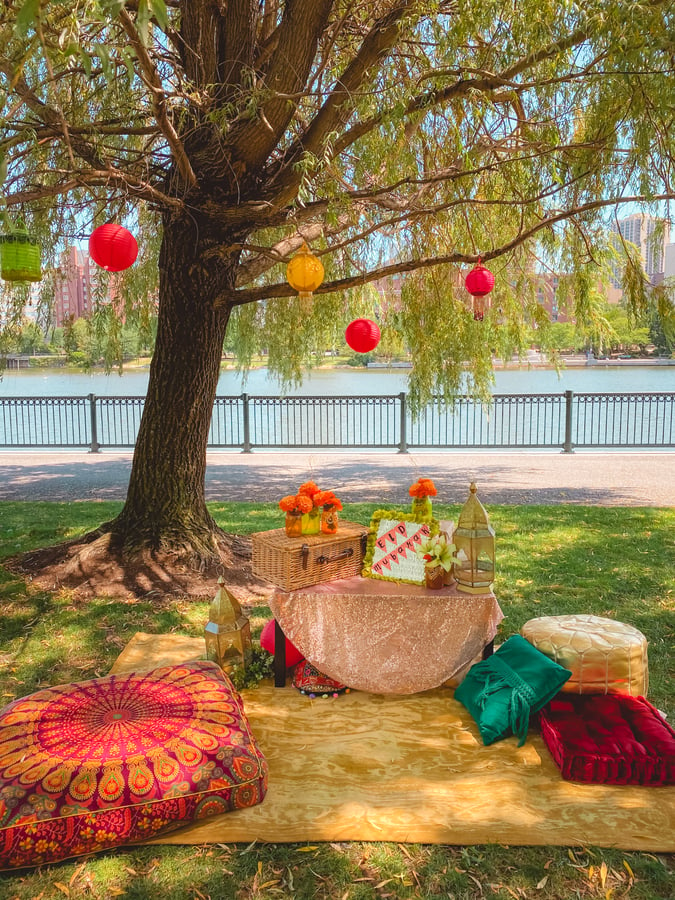 First, I laid out the gold rug and tossed a few contrasting cushions on each side. Then, I placed a small table in the middle, covered it with a sequin tablecloth, and added brass lanterns next to it. To infuse a burst of freshness and color, I topped the table with flowers arranged inside mason jars that I had hand-painted.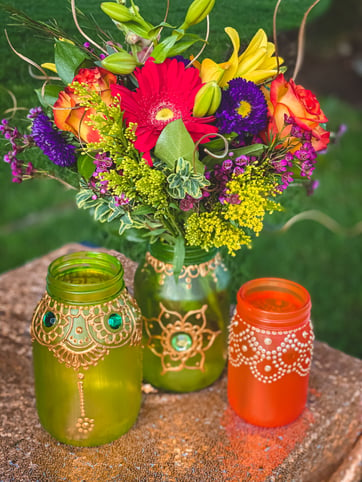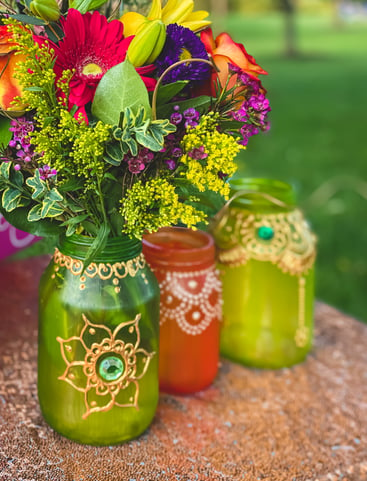 Elegant DIY Eid centerpieces
And since this is an Eid picnic, I used my wicker picnic basket as a stand to boost the height and impact of the flower arrangements.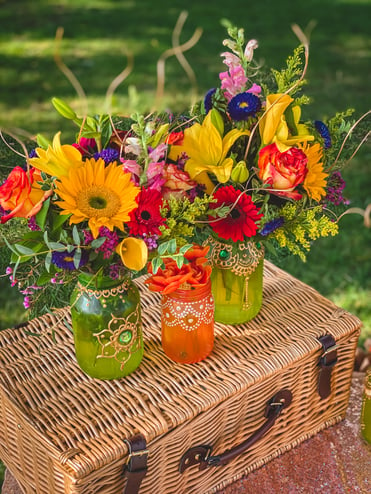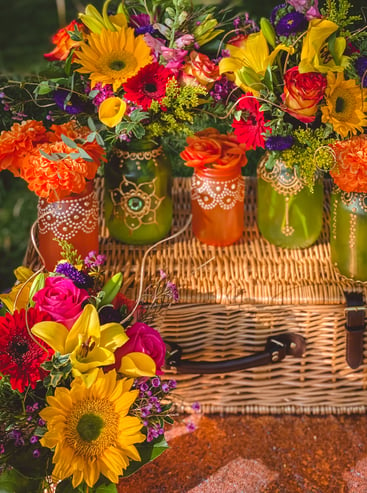 Another key element of a focal point is signage, so I used some construction paper, faux flower petals, and a sharpie to create an "Eid Mubarak" sign in bright orange and green tones to match my mason jars.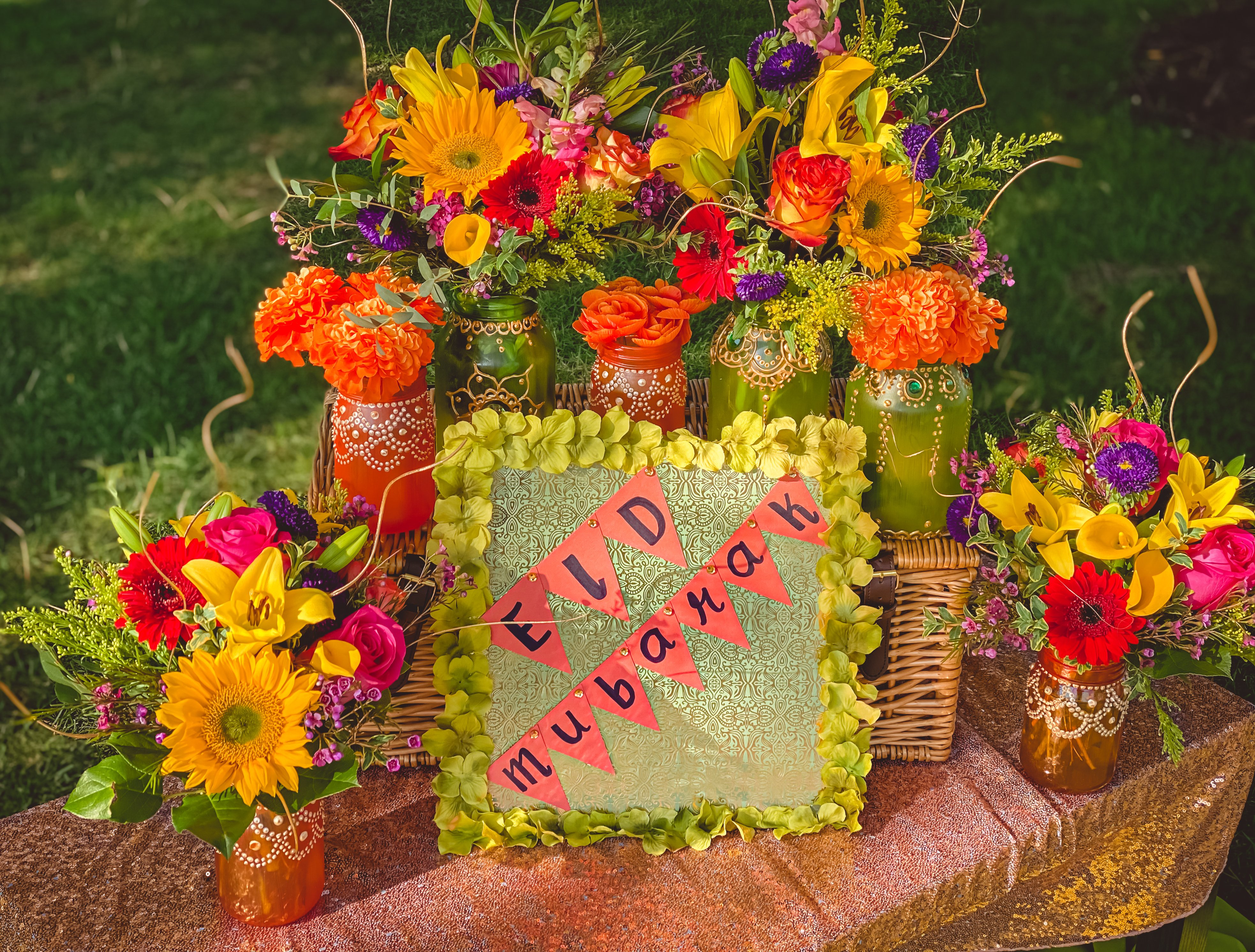 A bright, floral Eid picnic tablescape
Once the ground set up was complete, I turned my attention upwards. Weeping willows have droopy branches, which are perfect for hanging lightweight objects (don't hang anything too heavy otherwise you'll hurt the tree and being respectful of the environment is part of the sunnah / example of Prophet Muhammad!). When Saad and I were getting married, I spent many evenings embellishing paper lanterns with intricate bead designs for our mehndi event, and I've held onto these lanterns ever since.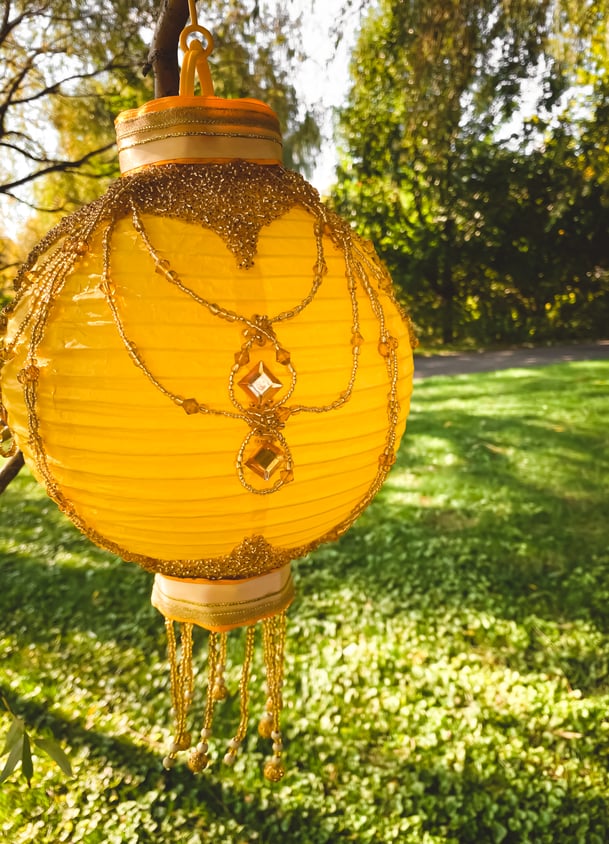 To complete the look of the welcome area, I hung up my paper lanterns from our wedding with twine. It felt so good to take these beauties out of their storage bins and let them shimmer in the sunlight - a sight that let me tenderly indulge in nostalgia for a moment before our guests arrived.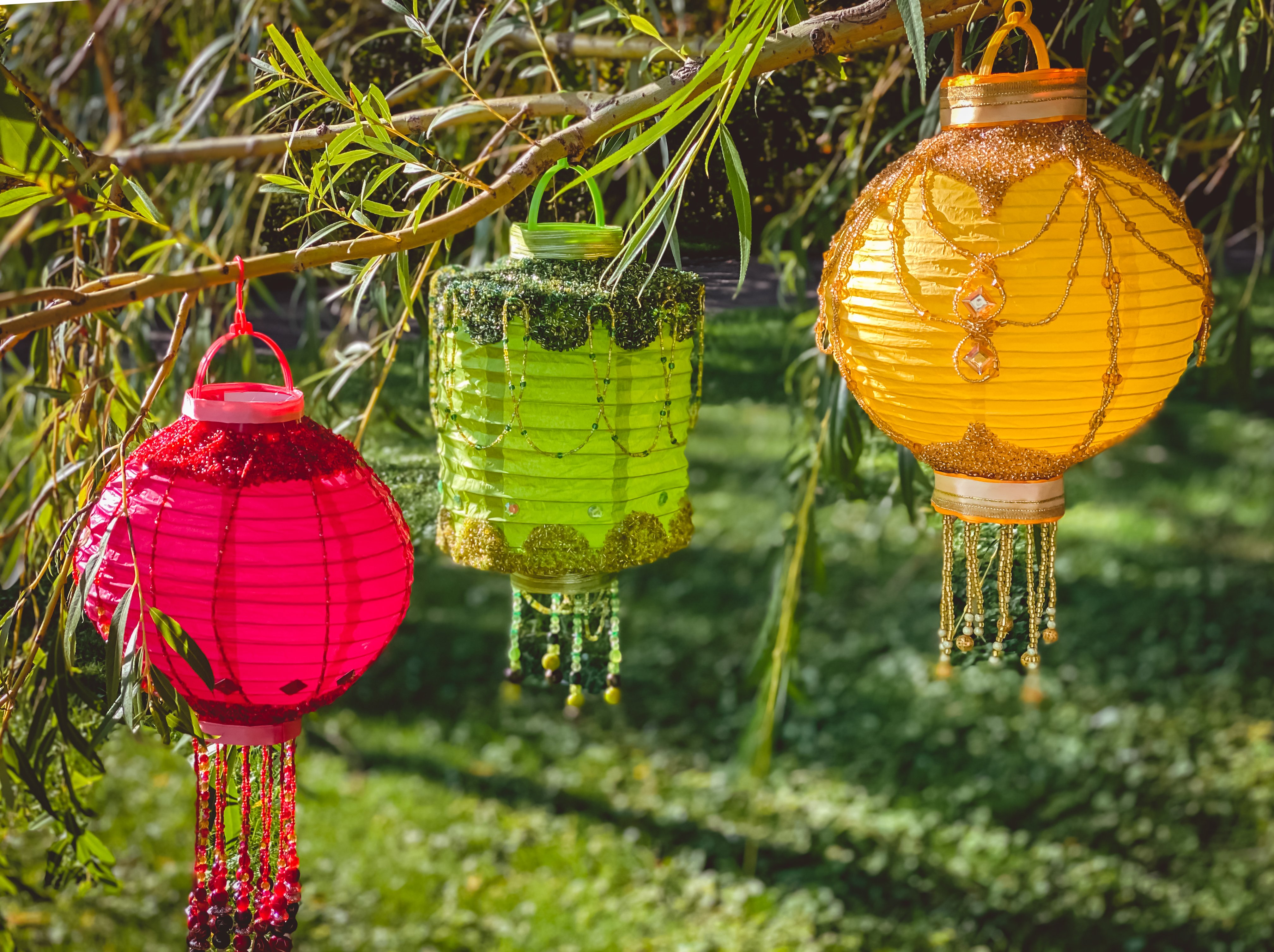 My precious handmade paper lanterns from our wedding, now doubling as Eid decor
Decorating tip: If you don't have the patience or artistic skills to make the henna-patterned mason jars, Eid Mubarak sign, or the paper lanterns, you can get all of these things on Etsy. This small business sells gem-colored jars with henna detailing in lots of different sizes, and here is a lovely, floral Eid Mubarak sign for your picnic. Or you can get a big wooden Eid sign too. For Moroccan paper lanterns, I'd recommend honeycomb lanterns because they add a nice texture.
3. Arranging seating & setting the ambiance
The park we hosted our Eid party in didn't have picnic benches, so we had to figure out how to seat our guests. I wanted our Eid picnic to have a touch of the dreamy, romantic vibes that are characteristic of Moroccan Riads and promote comfort and repose. That's why in addition to folding chairs, I scattered the park with poufs, floor pillows, cushions, and ottomans in luxurious, velvety fabrics and busy patterns.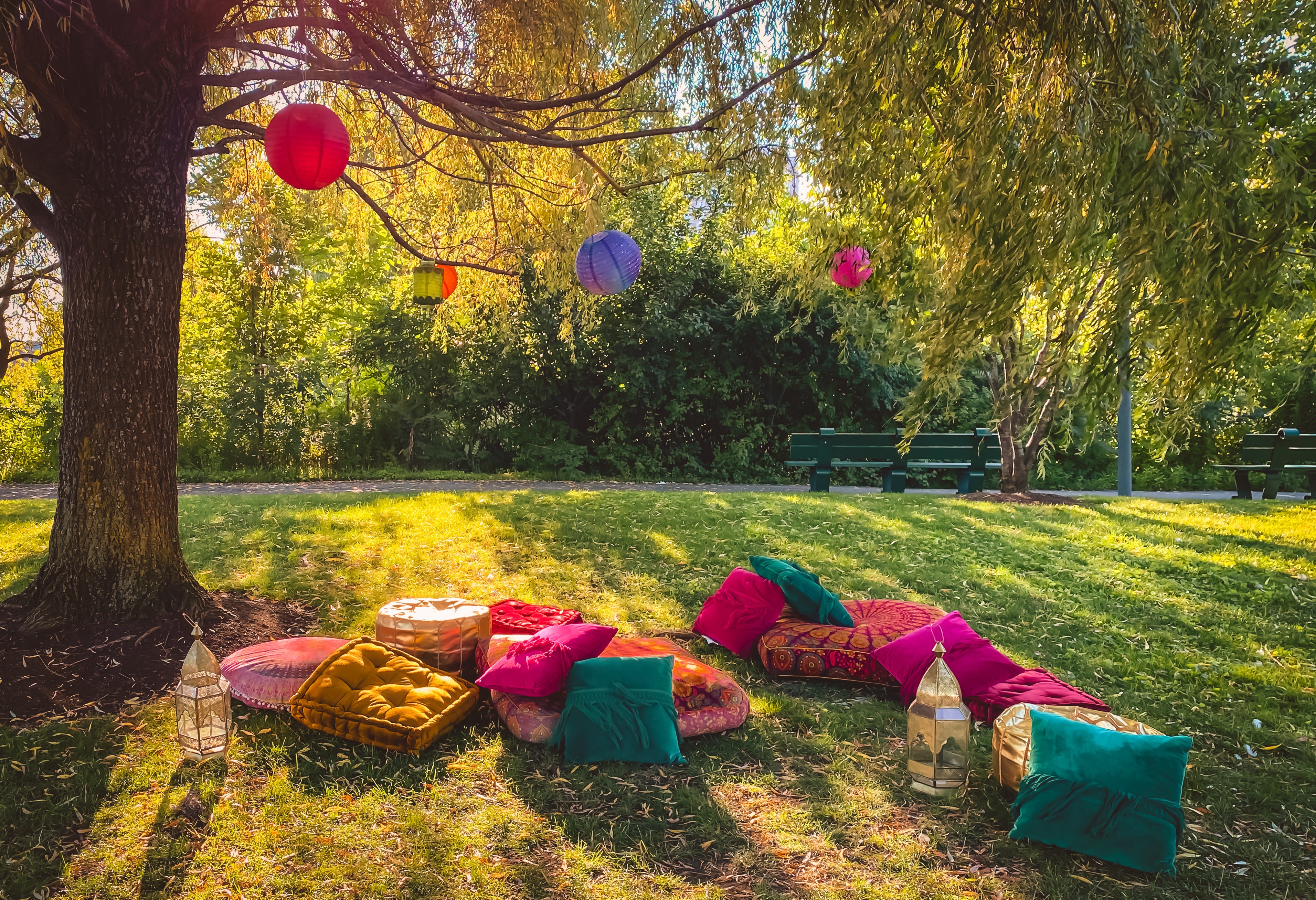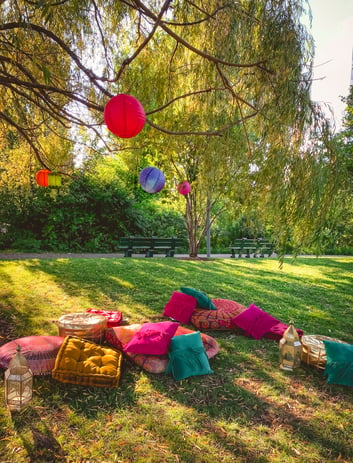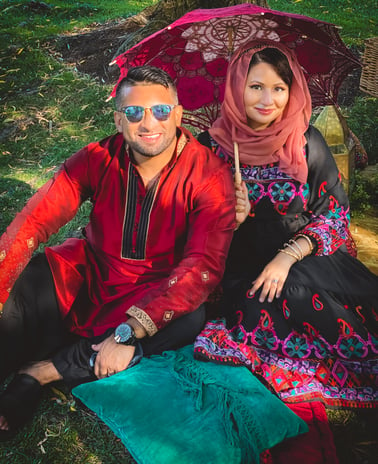 Dreamy Eid picnic vibes and equally dreamy hosts 😎
Decorating tip: Lay out your chairs, furniture, and / or poufs under shaded parts of the park in semi-circles. This open seating formation will allow guests to move around freely and converse with multiple groups of people. You can also add lanterns, low-rise tables, and carpets to each seating cluster.
4. Selecting the menu
Eid al-Fitr and Eid al-Adha are also known as the "Festival of Breaking the Fast" and the "Festival of Sacrifice," respectively. After fasting from dawn to sunset for 30 days in Ramadan, and after performing the rigorous rites of hajj, on each Eid, we feast. So as much as I loved setting up a little Moroccan oasis in the city, I made sure not to neglect the menu.
Like most picnics, we decided to do a potluck. But even a potluck requires coordination. We linked a spreadsheet in our Evite and each family added an item that they would bring (side dish, main entrée, dessert, drinks, compostable tableware). Our suggestion to our guests was to bring "finger food" like sandwiches, samosas, lollipop chicken, rolls, pakoras, etc., which would be easy to plate and eat in an outdoor setting (no spillable curries please!). By keeping our Eid picnic menu casual and collaborative, we were able to serve up a truly Eid-worthy feast brimming with options.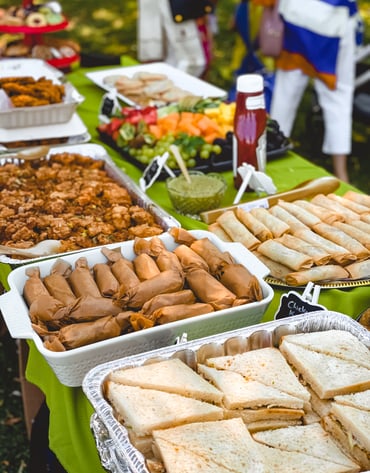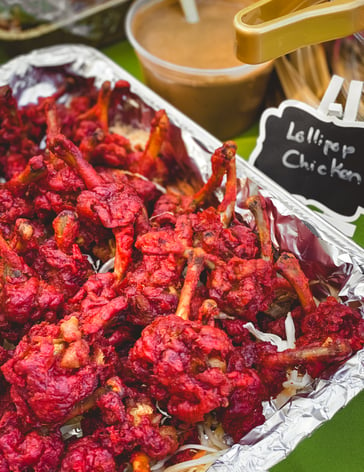 Decorating tip: When you have an expansive Eid menu, it's helpful to label the food so guests know what they're eating. I used mini chalkboards to write the names of each dish, but if you want to stick to the theme, I like these downloadable Arabian Nights place cards.
Other things to consider
It might be hard to tell, but Saad and I actually organized this Eid picnic in a week. If I had more time, some other things I would have included would be:
Favors - cookies, macarons, and stuffed dates in

flower top favor boxes

Games - like cornhole, for the adults and kids
Portable speakers - to play Eid nasheeds (in a respectful volume)
An act of charity - like a food drive or gift station for needy families (it is also part of Prophet Muhammad's sunnah / example to include those less privileged in every special occasion)
Eid Mubarak!
Eid brings ease after the hard work and discipline of fasting and hajj. It is a day to celebrate our renewed spirits, rejoice, and come together with loved ones to enjoy food and sweets. Although a global pandemic altered our plans of flying to visit family in Canada, I'm so happy we found a creative and safe way to honor the traditions of Eid with our local community.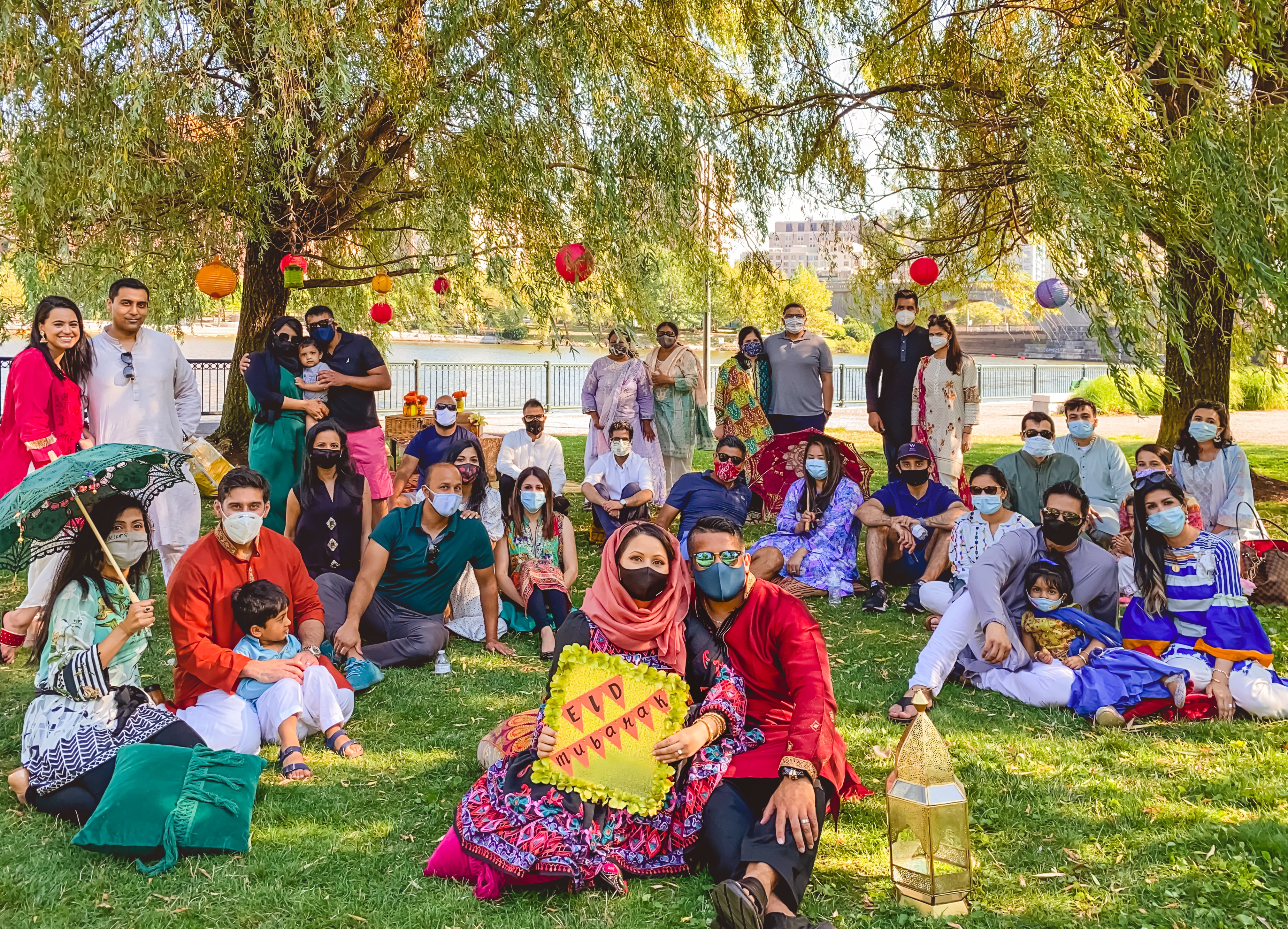 Cov-Eid mubarak from us and our loved ones to you and yours!
*Affiliate links used. This means that if you purchase the products I share, I will earn a small commission. This does not cost you anything extra nor change the price for any items.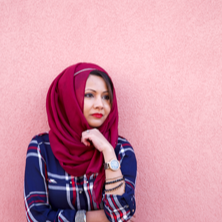 I'm a twenty-something Muslim blogger who's guilty of falling in love with every place I visit. I'm always planning the next trip in my head and missing the last one in my heart. When I'm not off discovering new parts of our beautiful planet, you can find me happily immersed in an art project.