Situated between the Mediterranean Sea and the Serra de Collserola mountain range, lies Barcelona, a bustling beachside city with a bohemian vibe that contrasts the more classic Madrid. Barcelona is famous for its fantastical architecture. It's a place where avant-garde artists of the 19th and 20th centuries brought eccentric ideas to life in the form of whimsical buildings, homes, and parks.
I've often marveled at beautiful European landmarks like the Eiffel tower because of their size, symmetry, and aesthetically pleasing structure, but what makes Barcelona's architecture iconic is that it's wonderfully weird. It challenges conventional wisdom of what our dwellings should look like.
In Barcelona, architecture is an expressive, symbolic, and visual art - inspired by nature, not textbook formulas. So in this blog post, I'm going to take you through Barcelona with a focus on the city's most interesting characteristic: its architectural heritage.
Section overview
Barcelona vs. Madrid
Barcelona was the second city Saad and I visited in Spain, after I had a solo adventure in Madrid. Barcelona is Madrid's quirky cousin - like the rebel in a desi family who got an art degree even though the parents really wanted them to become a doctor or engineer.
Madrid is the metropolitan (i.e. urban), economic hub of Spain, known for its nightlife, historic plazas, and art museums. Barcelona, on the other hand, is more cosmopolitan (i.e. diverse) and touristy, known for its beaches and architecture. Madrid is authentically Spanish, while Barcelona leans European.
Travel tip: Both cities have unique things to offer and are worth a visit, but if you can only go to one, prioritize Barcelona over Madrid. We initially contemplated skipping Barcelona and heading straight south to Seville. Fortunately, everyone we knew who had been there convinced us to keep Barcelona on our itinerary by heaping praise on the city's food, culture, ambiance, and architecture. Having been there myself, I now offer the same advice: if you're traveling to Spain, don't miss Barcelona!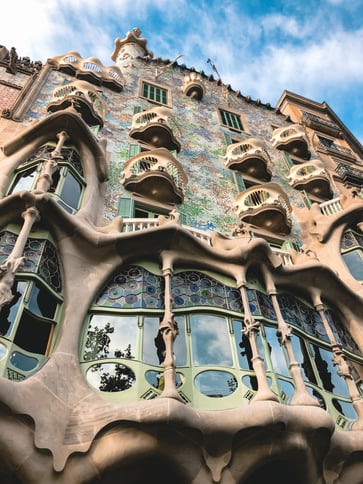 A preview of Barcelona's striking architecture
Getting from Madrid to Barcelona
The main reason we almost skipped Barcelona was logistics. We started our trip in Madrid, which is located in the middle of Spain. We really wanted to check out the southern regions to see the grandest traces of Spain's Islamic legacy, but Barcelona is way up in the northeast part of the country. So our challenge was to figure out how to zigzag through seven(!) Spanish cities, all spread apart from each other during a ~10-day vacation. We did it by saying adiós to sleep amigos hustling through a jam-packed schedule to avoid getting FOMO (fear of missing out).
We decided to go to Barcelona from Madrid, then venture south. The best way to travel from Madrid to Barcelona is by taking the train from Atocha station in Madrid to Barcelona Sants station, which is what we did. Spain's national railway system, Renfe, operates two types of trains between Madrid and Barcelona. The AVE is the modern and luxurious train with a dining car, while the Avlo is the low-cost alternative. Both trains will get you to Barcelona in under 3 hours, the only differences are the amenities and the price. We obviously😎 took the AVE train and booked our tickets through Rail Europe. Tickets will be cheaper the more in advance you buy them.
Travel tip: If you're flying directly into Barcelona from another country, choose a flight that lands in Barcelona International Airport as that is the closest airport to the city center.
When to go
We visited Barcelona at the end of September. By then, the crowds and heat of the summer peak tourist season had started to die down, which was great for my introverted, hijab-wearing self. Since we worked around my job commitments, we didn't think too much about the timing of our trip, but in case you're wondering, the best time to go to Barcelona is June or September. That's when temperatures are pleasant (in the mid-70s Fahrenheit) and hotel prices are reasonable.
Travel tip: Avoid visiting Barcelona in July and August because these months bring the summertime rush and the sticky, high humidity. Winters in Barcelona are mild (40s to 50s Fahrenheit), but it'll be too cold to enjoy the city's beaches or take a dip in the Mediterranean water off its coast.
What to expect
When we arrived in Barcelona, a few things stood out to me about the day-to-day life in this city that are worth sharing:
There are two official languages, but Catalan is favored. Barcelona is the capital of the autonomous community of Catalonia, and this region has two official languages: Spanish and Catalan (Catalan being the dominant language). You might assume that Catalan is a dialect of Spanish, but it's actually more similar to French. Most people in the tourism industry speak English too, so there's no language barrier. However, you'll get more smiles (and possibly better service) if you show respect for the preferred local language by learning a few words of Catalan. For example, "bon dia" is good morning and "gràcies" is thank you.
Catalan culture is different from Spanish culture. As an autonomous community, Catalonia is self-governing, with its own regional parliament, language, customs and norms. Although Catalonia is still technically part of Spain and bound to the Spanish constitution, social and political movements have tried to gain full independence. A few of the clearest differences between Catalonia and the rest of Spain is that this region banned bullfighting and flamenco is underappreciated here, which are two hallmarks of traditional Spanish society. Instead of flamenco, Catalans cherish their own native dance called the sardana, which is danced in a group circle. Needless to say, separation is a sensitive topic and you should be careful not to conflate Catalan culture with Spanish culture at the risk of offending people. Oh, and don't watch a flamenco performance in Barcelona - do that where flamenco is more renowned, like in Madrid or Seville.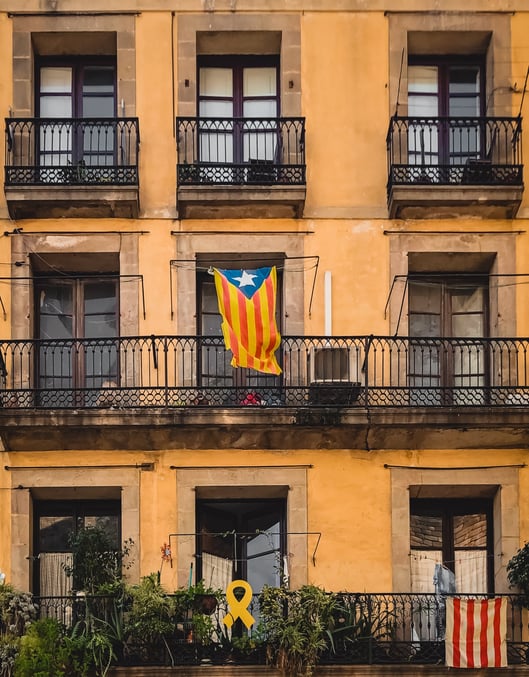 The Catalan flag proudly adorns many balconies in Barcelona
Shops and markets are closed on Sundays. One of the things Catalonia does have in common with Spain is that Sundays are a day of rest. This means that most commercial establishments, such as shops, markets, luxury boutiques, etc. (with the exception of restaurants) are closed on Sundays. Beaches and museums are open though.
Pickpocketing is prevalent. Barcelona is notorious for its rampant pickpocketing, earning it the reputation as "the pickpocketing capital of the world." Pickpockets often work in pairs; one will distract tourists with friendly conversation while the other steals something. Some may try to hug you or shake your hand, then snatch something out of your back pocket. To protect your stuff, wear bags across your body, zip up purses, keep your valuables in front pockets, and don't let strangers touch you, no matter how nice they seem. Despite the prevalence of pickpocketing, Barcelona is a safe city to visit - just

don't be stupid

stay vigilant!
There's little to no trace of the Muslim era. Legend says that Barcelona was discovered by the demigod Hercules, but the earliest verified origins of the city go back 2,000 years to when it was an Iberian village named Barkeno. Then it was conquered by Romans under the leadership of Caesar, followed by the Christians, Visigoths, Jews, and then the Moorish Muslims in the 8th century. During the Muslim era, the city was called Medina Barshaluna and it was part of the kingdom of Al-Andalus, like Madrid. However, the Moors were focused on military matters - not construction - and they only remained in power for about 80 years before the area was overtaken by the Frankish Empire, so there are no artefacts left from their reign. Roman ruins and Gothic structures still exist today.
Where to stay
Barcelona has distinct neighborhoods. Each neighborhood contains architecture from a different period of the city's history and possesses its own charm. Our favorite was the elegant and upscale Eixample district. A newer part of Barcelona, the Eixample district is full of bright, tree-lined avenues, including the glitzy Passeig de Gràcia. Passeig de Gràcia is the Spanish equivalent of Paris' Champs-Élysées. This avenue is the center of designer shopping, fine dining, lavish hotels, and it contains several of the city's most celebrated pieces of architecture. From a location, atmosphere, food, and sightseeing perspective, there's no better place to stay than on Passeig de Gràcia. From a cost perspective… err not so much, because this is also the most expensive street in Spain.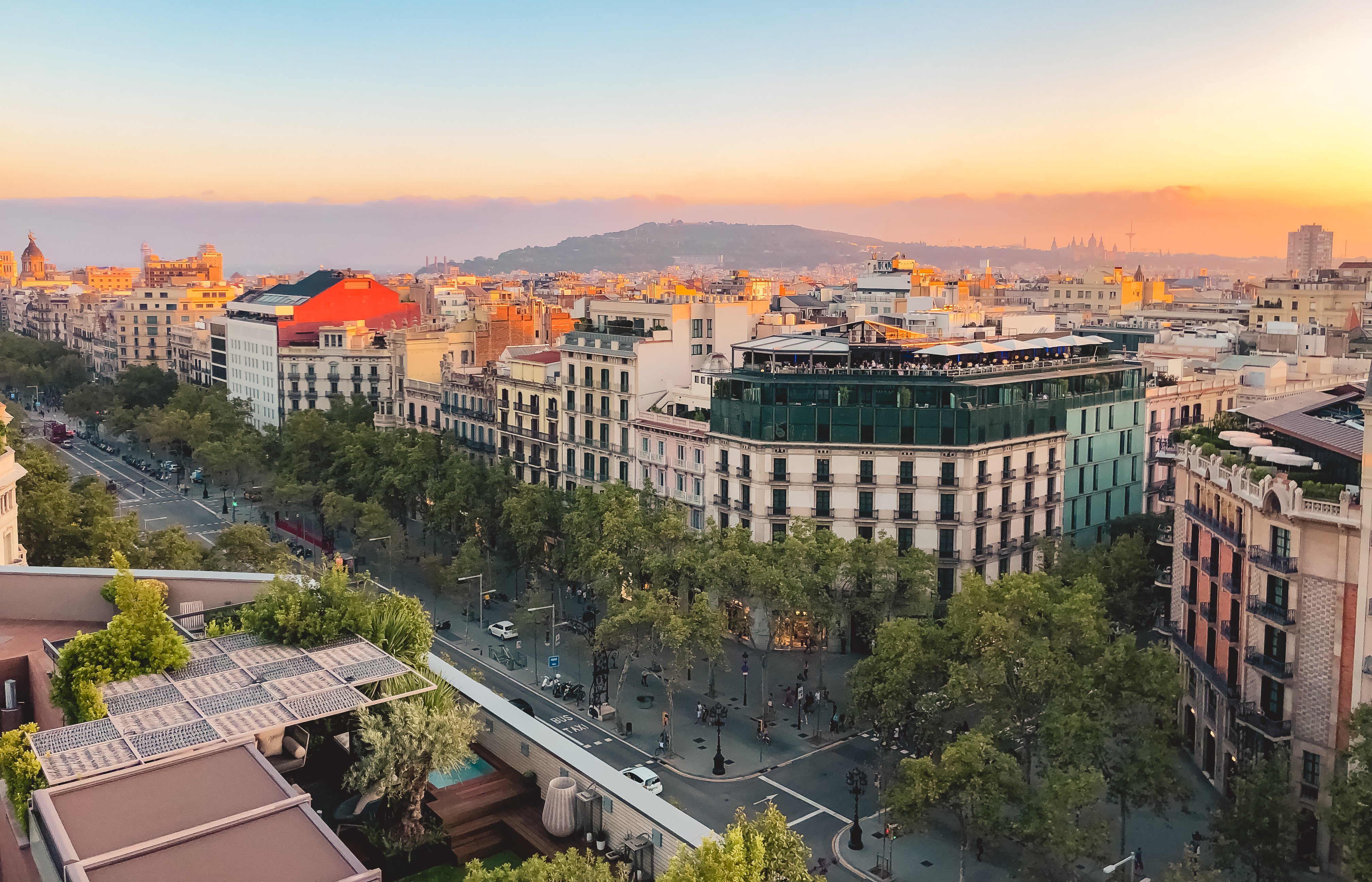 The glitzy, tree-lined Passeig de Gràcia at sunset
We stayed at the Royal Passeig de Gràcia hotel. It was a modern, clean 4-star hotel and relatively cheaper than the other hotels on the street, but it was nothing fancy. My heart was set on one of the luxury hotels below, but there were no rooms available for our dates.
Travel tip: Most other bloggers will recommend staying on La Rambla (a.k.a. Las Ramblas) claiming it's the most happening street in the city. IT'S ALL LIES EMBELLISHMENT. When someone calls La Rambla "happening," they mean "touristy" which really means it's crowded, dirty, full of tacky souvenir kiosks, kitschy street performers, and mediocre food served at a steep price on pavement cafes. And, if Barcelona is the pickpocketing capital of the world, La Rambla is the epicenter of all the thieving action. La Rambla is unfortunately a victim of its own fame; it's too loud, too crammed, too inauthentic. I'm not being a hater, I'm just keeping it real because Saad and I were utterly disappointed by this overhyped pedestrian street. Stop by to check out the madness if you must, but don't stay or eat on La Rambla. Your stomach, wallet, and sense of hygiene will thank me.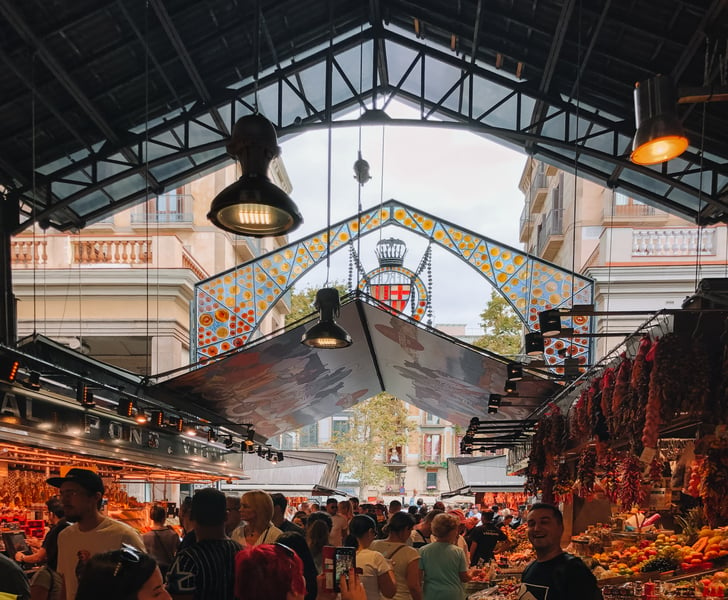 The madness of La Rambla
Where to eat
Catalan cuisine, like Spanish cuisine, is centered on tapas (small plates). Unlike Spanish cuisine though, Catalan cuisine is not heavily grounded in meat and pork. Instead, Barcelona's coastal location and proximity to the Mediterranean allow its chefs to incorporate a variety of fresh seafood and vegetables into their culinary creations. We loooove seafood and adhere to a halal diet so we figuratively went ham sampled a lot of delicious dishes in Barcelona. In a city defined by artistry and originality, the food is as exciting as the architecture - if you know where to go.
Avoiding lousy restaurants
If you don't know where to go, it's quite easy to be lured into a tourist trap and be served a downright disappointing pan of paella. So how do you differentiate the good restaurants from the lousy ones? Well, here are a few things to watch out for:
The restaurant is on La Rambla or La Barceloneta. Restaurants along these touristy areas pander to travelers looking for a quick bite who prefer convenience over taste. The best restaurants that locals favor are tucked away on side streets.
There are tons of pictures of the food outside. Avoid restaurants that station waiters outside to hand out brochures or have a storefront plastered with pictures of food. The best restaurants have unassuming exteriors and don't need to hard sell.
The menu is available in many languages. If the restaurant has a version of its menu in 10 different languages, it's catering to tourists. Authentic restaurants only have menus available in English, Spanish, and Catalan.
Travel tip: In Barcelona, high prices don't necessarily translate to high quality when it comes to food. The bad restaurants tend to overcharge tourists for mediocre grub, while the best restaurants let you eat incredibly well for a very reasonable amount of money.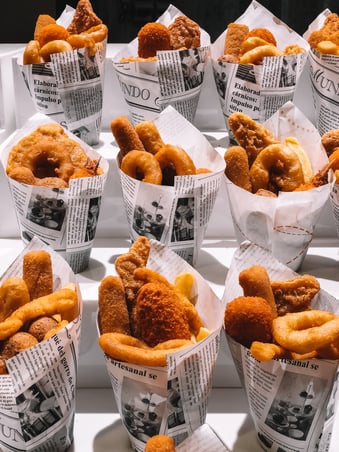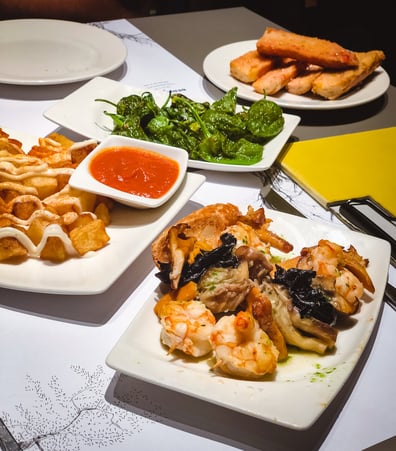 Food at bad restaurants (deep fried fish you can grab and go) vs. food at good restaurants (local dishes made to order in small batches)
The best restaurants
We ate some of the best meals of our Spain trip in Barcelona at these restaurants.
Breakfast / brunch
Lunch / dinner
Travel tip: Spaniards eat dinner late, like really late according to Western standards. By 8:00 p.m. in Boston, Saad and I are usually sipping tea on the couch like an old a cool married couple. In Spain, most restaurants don't open for dinner until 8:30 p.m. because dinner is eaten at 9 or 10 at night. It's not a cultural thing; it's because Spain is oddly in the wrong timezone. And speaking of cultural norms, tipping is not common in Barcelona, but you can tip 5% for good service or 10% for excellent service if you want.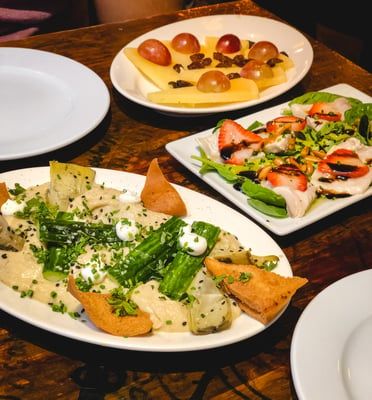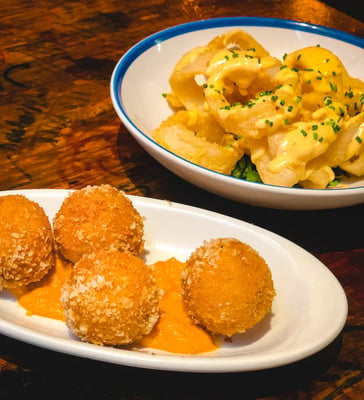 Tapas at one of our favorite restaurants in Barcelona, La Pepita (get their hummus, calamari, fish croquettes, and patatas bravas!)
What to see
There is so much to see in Barcelona. 90% of it is architecture. The remaining 10% is beaches. Let's talk about the architecture first. Barcelona is home to a whopping nine UNESCO-protected monuments designed by Modernista architects and it is the only city in the world to be awarded the Royal Gold Medal for Architecture. If you're wondering what the heck "Modernista" or "Modernisme" architecture is, it's architecture that rejects the use of straight lines in favor of the curve and other organic shapes found in nature. In proper terms, Modernista architecture uses symbolism, bold colors, botanical motifs, and rich ornamentation to convey myths and beliefs that are better expressed with art than language. In simpler terms, it's like something out of a Dr. Suess book - strange yet fascinating.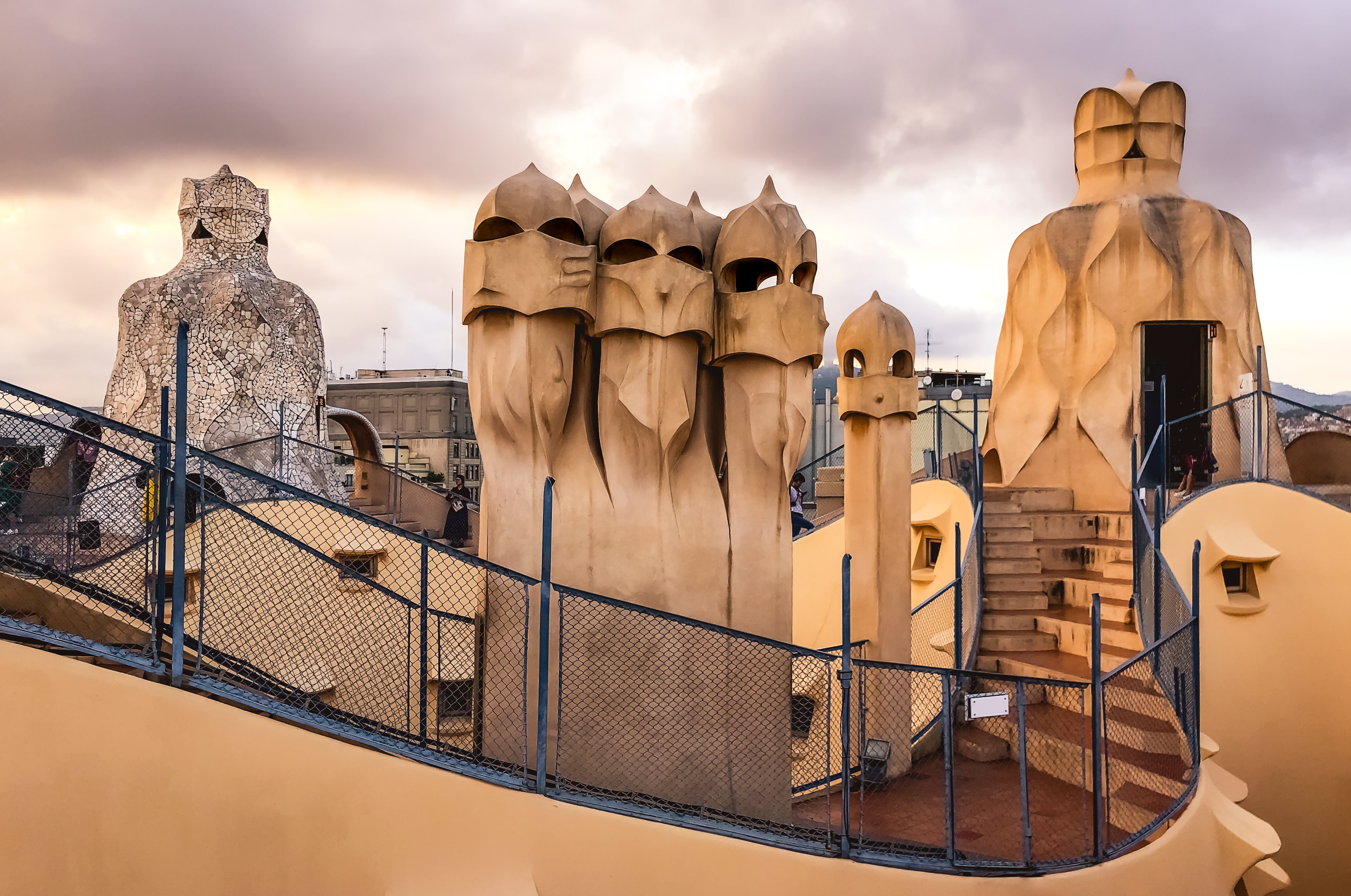 Antoni Gaudí's works
The greatest Modernista architect, and Barcelona's most beloved son, is Antoni Gaudí.
Born and raised in Catalonia, Gaudí moved to Barcelona during his teenage years to study architecture and remained here for the rest of his life. Many of his acclaimed works are located in this city. Gaudí was a deeply religious man. His Catholic faith influenced his designs and steered him to nature, where he spent time analyzing God's creations for inspiration. He examined plants, animals, geothermal formations, and even orbiting stars, to develop architectural techniques, which earned him the nickname "God's architect." Gaudí believed that man does not create, he discovers what is first written in nature by the Hand of God. In his own words:
"Those who look for the laws of nature as a support for their new works collaborate with the creator"
Gaudí's works are so surreal and imaginative that it's impossible to compare them to any other pieces of architecture I've seen - they're in a class of their own and therefore not to be missed. We toured four of Gaudí's buildings. The individuality and thought poured into each blew my mind. I'll take you through them below, in roughly the same order they were designed by Gaudí so you can see the evolution of his style.
1. Park Güell
Perched on a hill at the edge of the city is Gaudí's Park Güell, built between 1900 to 1914. It was commissioned by Spanish entrepreneur and Gaudí's longtime patron, Eusebi Güell, for whom the park is named. Originally, Gaudí envisioned this area as a modern housing development away from the noise and smog of the city, but the plan failed to woo investors so it was abandoned and the plot was opened as a public park in 1926. However, Gaudí purchased the model home (built by a different Catalan architect) and lived there for 20 years until his death.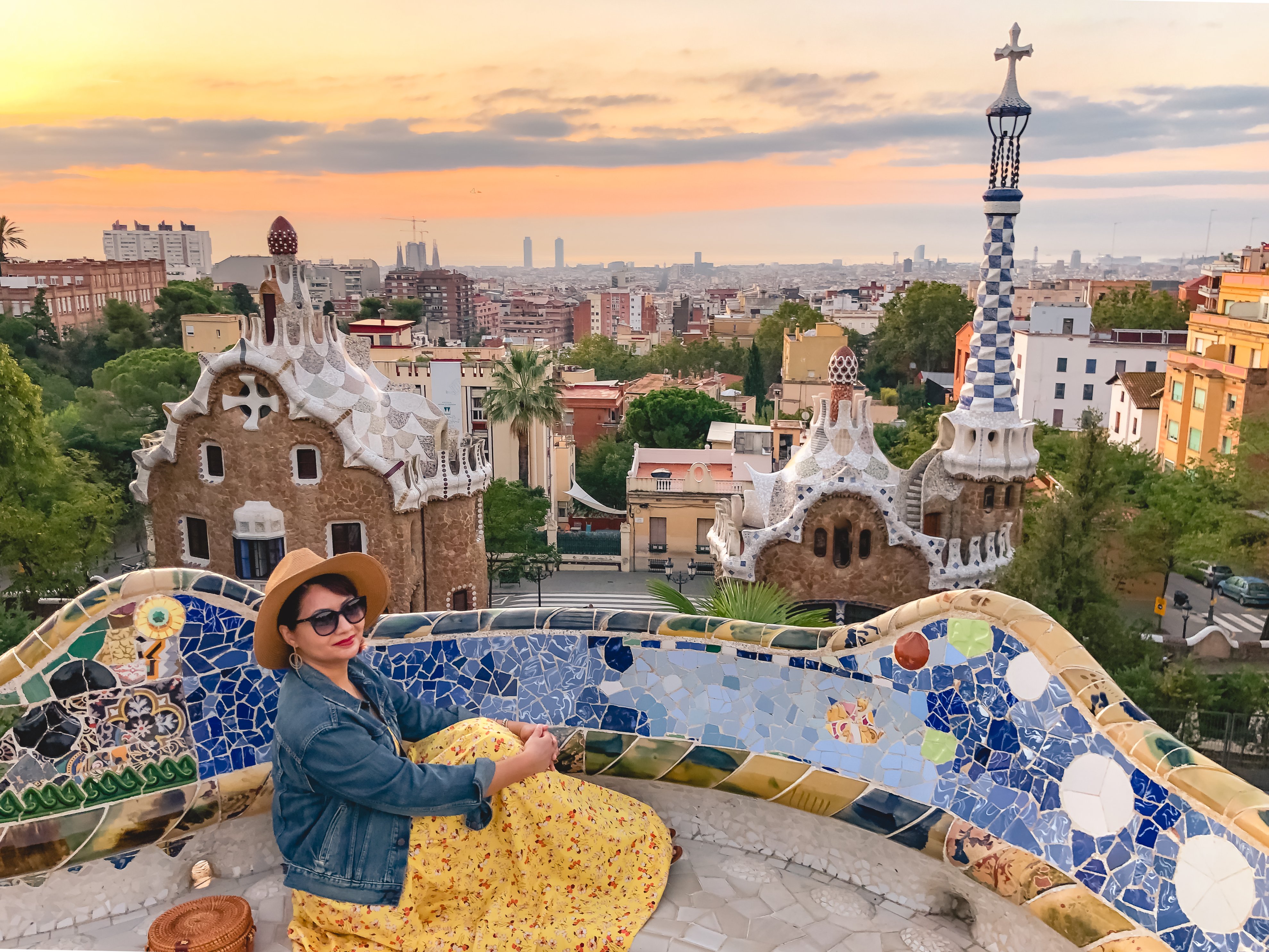 View of Barcelona from Park Güell's monumental area
Park Güell consists of gardens and architectural elements blended into the mountain's topography. There are three main sections: the monumental area (where most of Gaudí's work is located), the surrounding gardens (where you can see beautiful flowers and birds), and the Gaudí House Museum (where Gaudí lived).
The park's patterns and mosaics resemble organisms such as plants, animals, and fungi, emblematic of Gaudí's fascination with nature. Even the columns and structures mimic the formations of trees.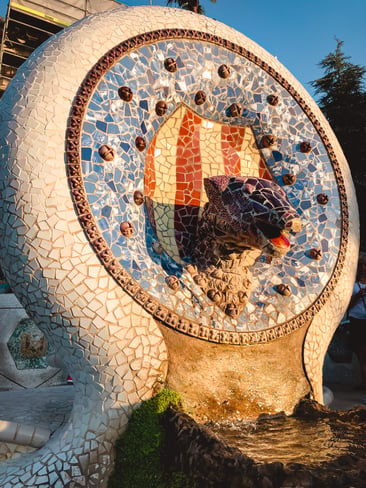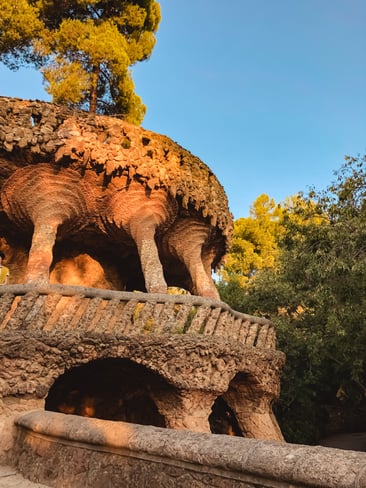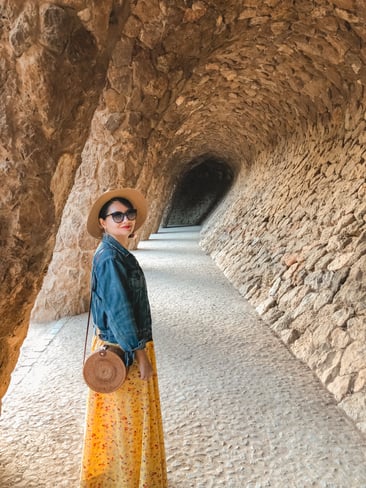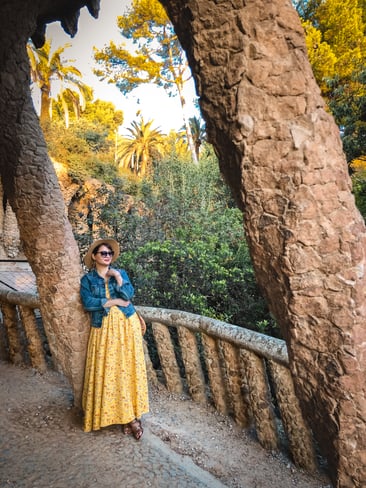 While designing Park Güell, Gaudí pioneered a technique called trencadís, meaning "chopped" in Catalan, which involves using small, chopped pieces of ceramics and cementing them together to create a unique type of mosaic. The best example of this technique is the colorful salamander in the middle of the park's staircase.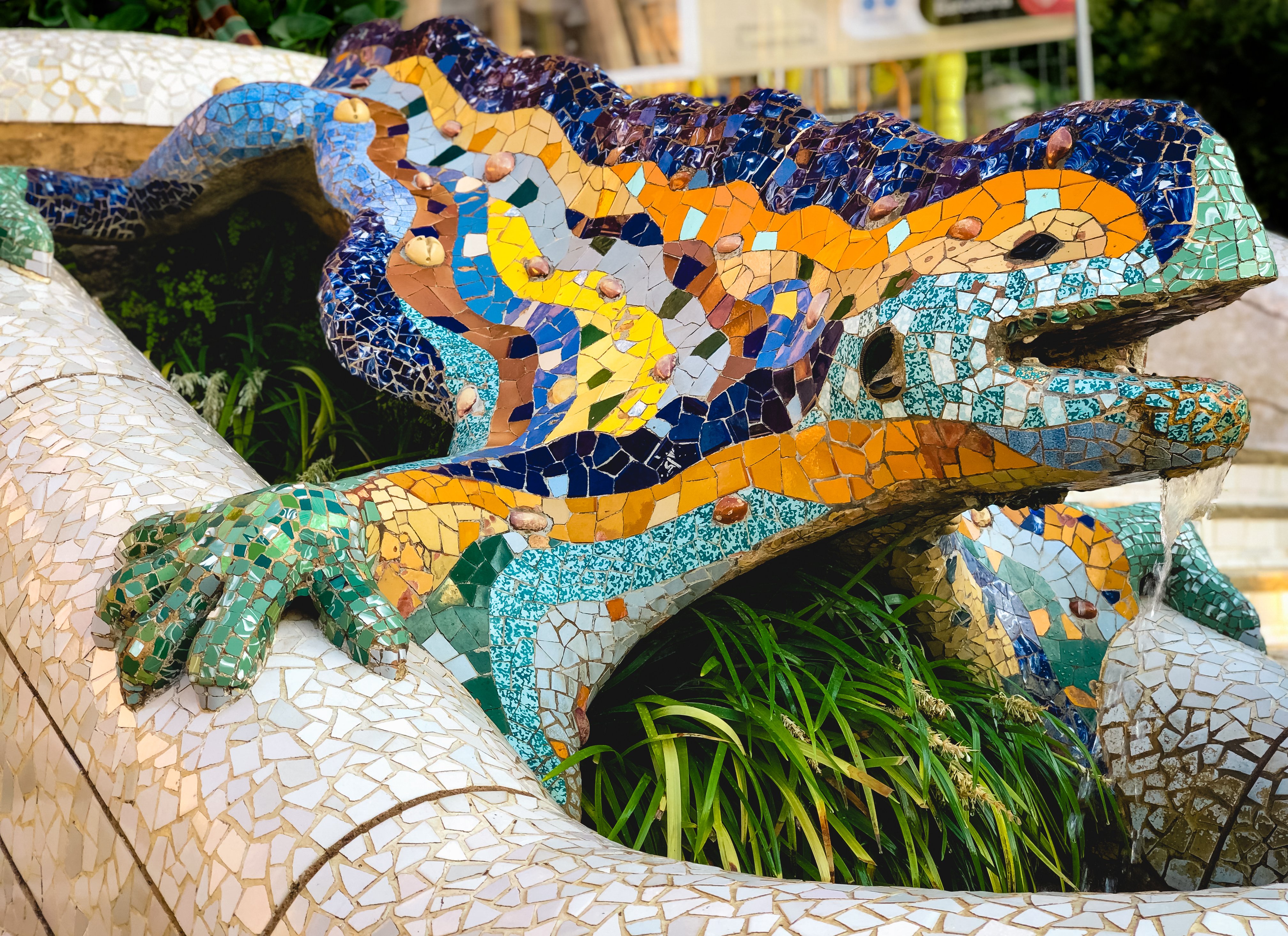 Park Güell's eye-catching salamander showcasing Gaudi's trencadís technique
Travel tip: You need to purchase tickets to explore Park Güell's monumental area (worth it!) and the Gaudí House Museum (eh, skippable), but you can roam the flower gardens for free. During normal hours of operation, the park is overrun with tourists, which kind of robs it of the seclusion and tranquility Gaudí wanted the park to embody. That's why we visited the park early in the morning (like before dawn) and I would highly recommend you do too! Entrance is free before 8:00 am and the park's upper terrace is a wonderful place to watch the sunrise. One of my favorite moments from our trip to Barcelona was basking in the warm purple-pink glow of the morning sun at Park Güell with the soft chirping of birds in the background. The quiet peace at this hour is much better than the sounds of hundreds of tourists scuttling to get that Insta-worthy shot from the balcony… which we got without much tussle below.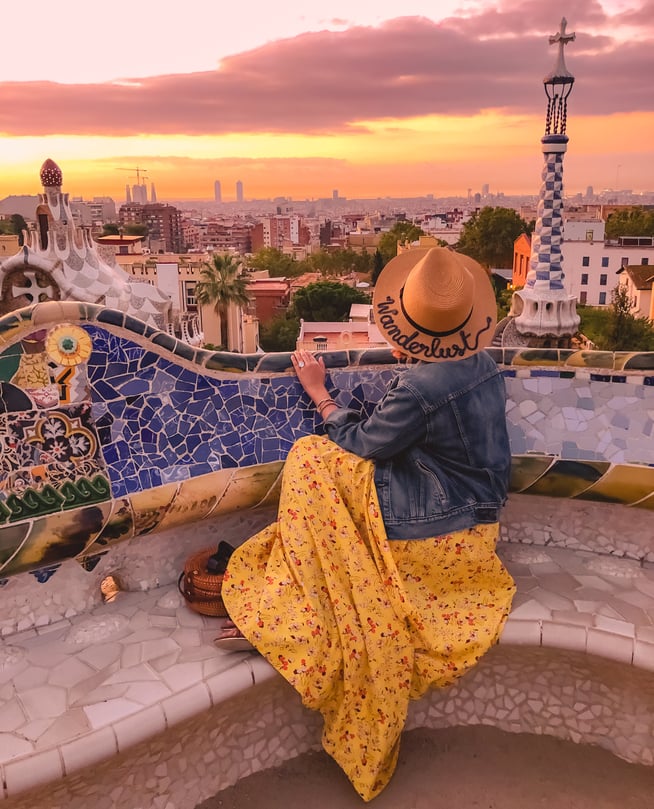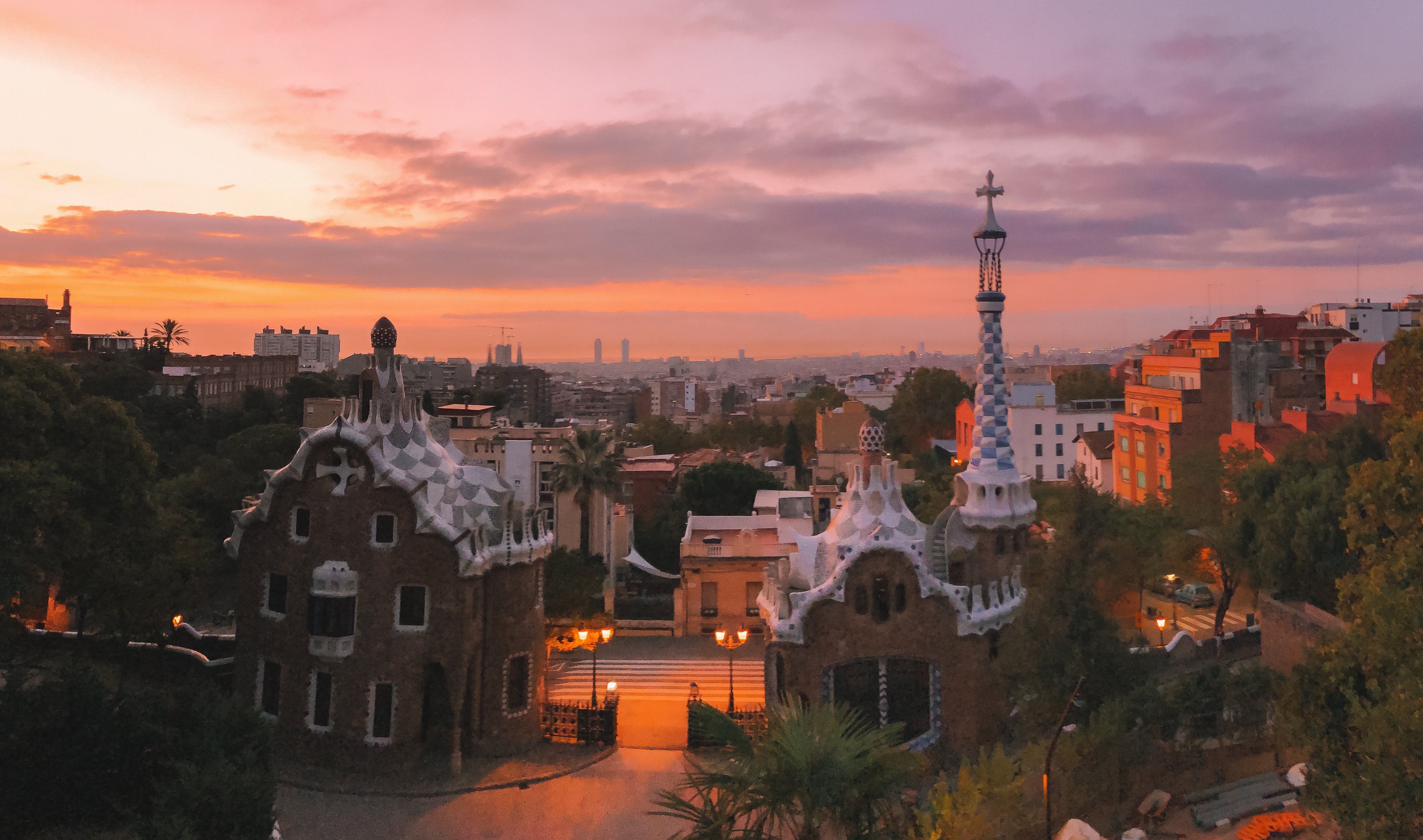 Sunrise hues at Park Güell
2. Casa Batlló
In 1904, textile industrialist Josep Batlló hired Gaudí to remodel his home, hoping for an audacious design that would stand out on the street. Boy, did Gaudí deliver. Casa Batlló is a house decorated with symbols that tell a mysterious story and make imaginations run wild. Some locals call Casa Batlló the "House of Bones," focusing on the visceral, skeletal quality of the façade. Others hone in on the blue-green tones of the fragments of glass and ceramic tiles that cover the façade (another example of Gaudí's trencadís technique!) and liken it to an aquatic landscape, evoking Monet's Water Lilies. What do you see? The bones stand out to me.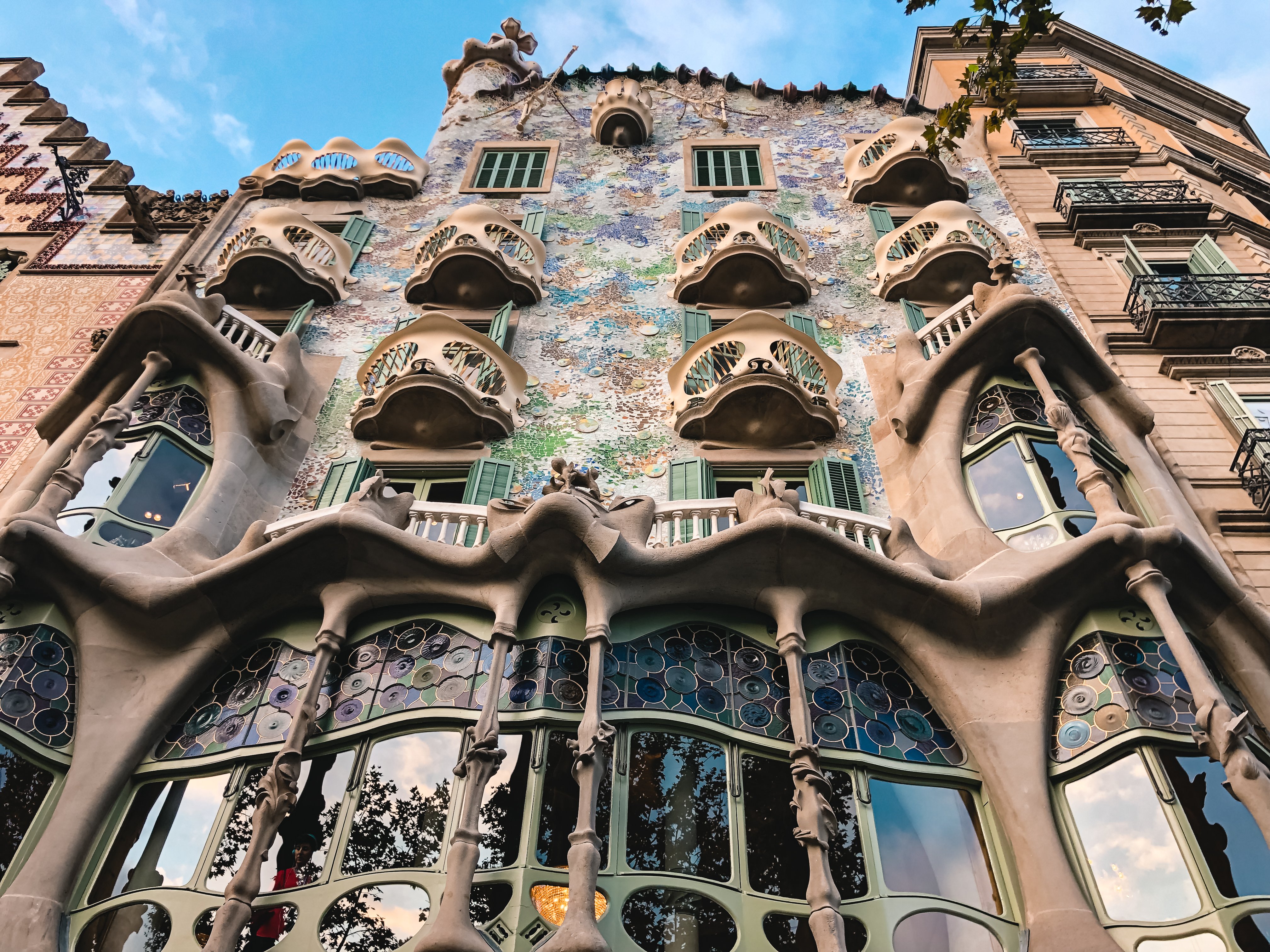 Casa Batlló, Gaudí's House of Bones
Inside, Casa Batlló's noble floor (where the Batlló family lived) has vaulted walls, curved features, and stained glass windows.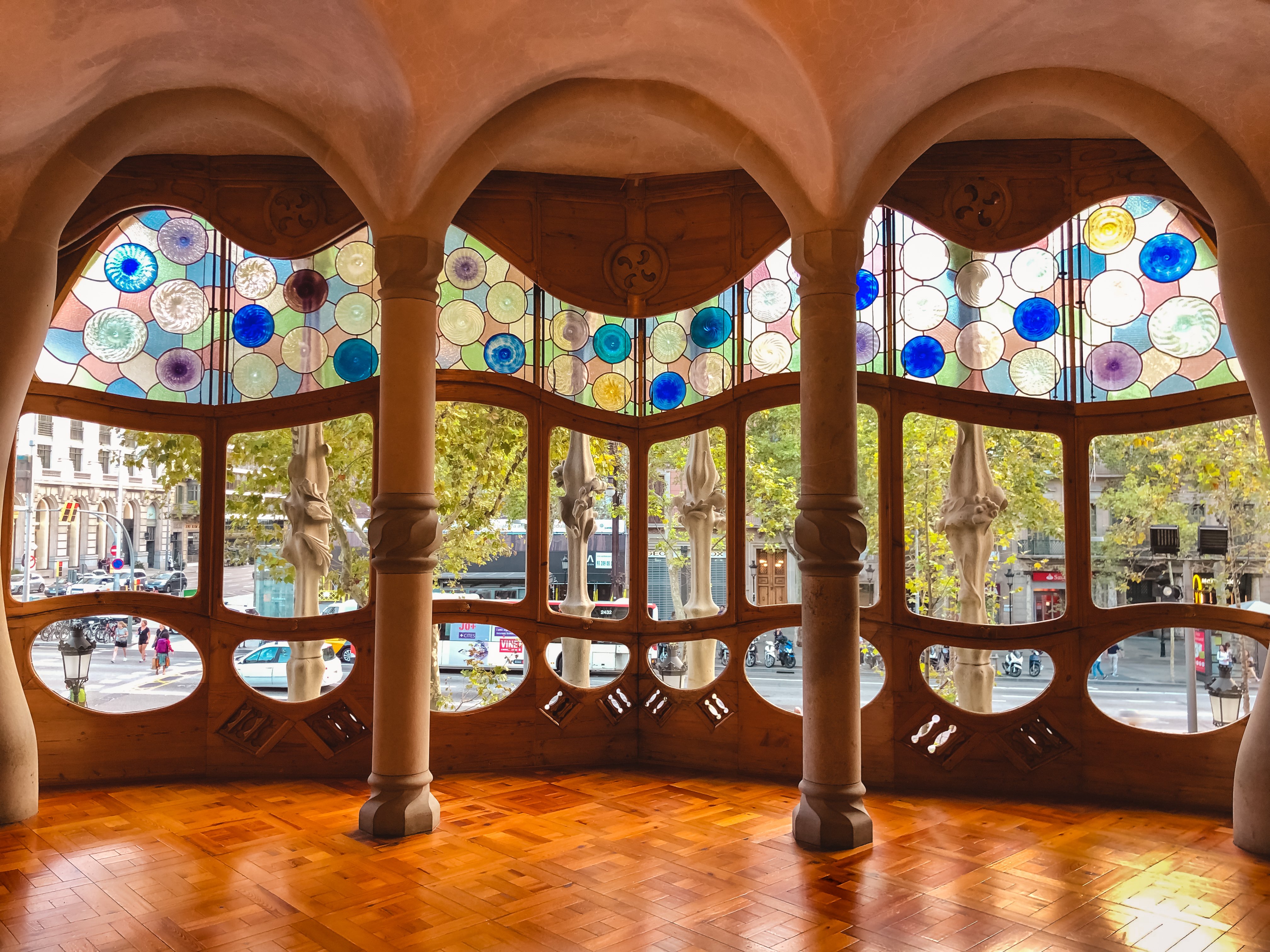 These are my fun pants
The dining room leads to a Mediterranean-inspired courtyard.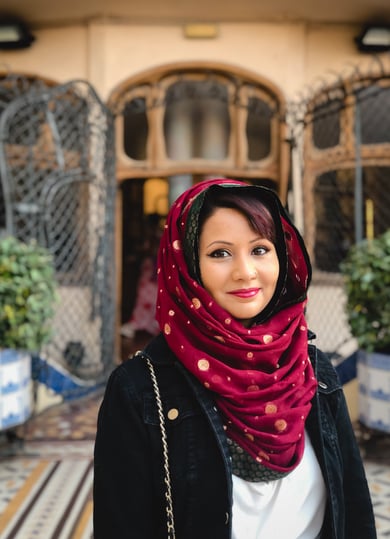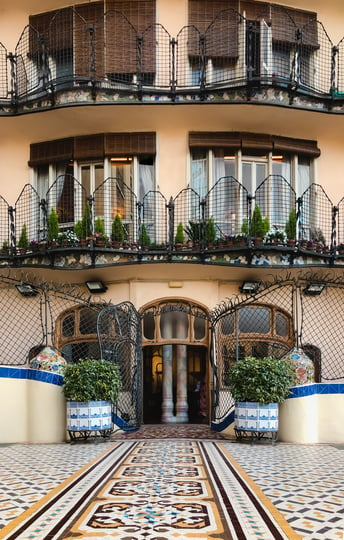 To diffuse natural light throughout the house, Gaudí designed a blue lightwell. Sun pours into an atrium from a skylight and then reflects off the blue tiles into the windows.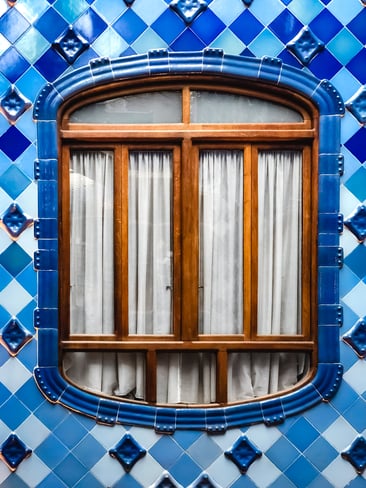 .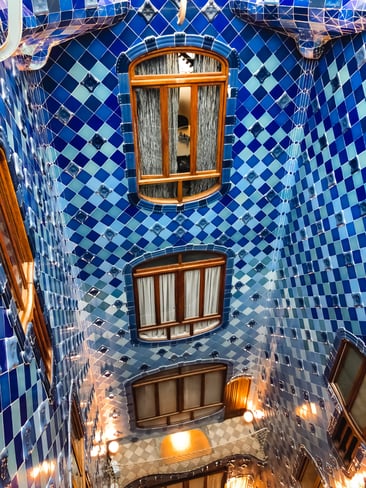 My favorite part of Casa Batlló was the dragon roof terrace. Yes, you read that correctly - I said dragon roof terrace! Gaudí modeled the crown of Casa Batlló after the arched, scaly spine of a dragon. Many people believe that the bulb-shaped cross represents a sword handle plunged into the dragon's back by Saint George of Catalonia, who (according to legend) slayed the dragon to save the people and the princess from its wrath. All of Gaudí's works tell stories and contain symbolism like this.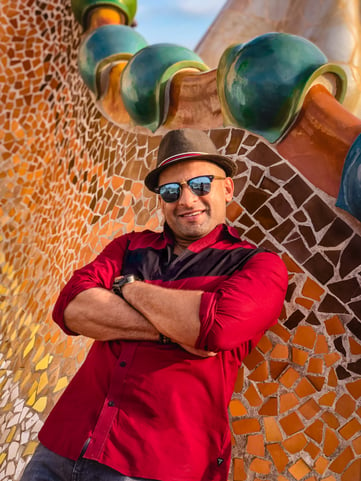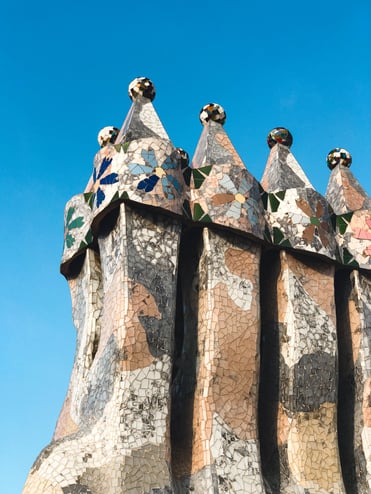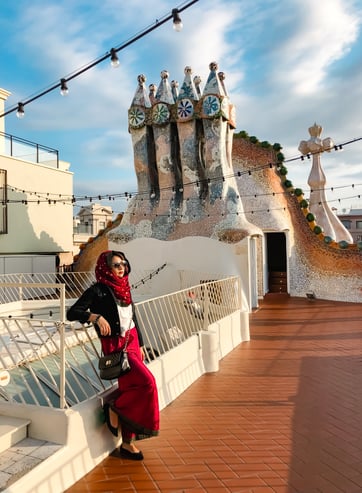 Casa Batlló's dragon roof terrace
Travel tip: There's always a long line to go inside Casa Batlló so make sure you buy tickets online that include the Fastpass. We actually purchased the "Be the first" pass, which allowed us to tour Casa Batlló half an hour before it opened to the general public. Oh and by the way, Casa Batlló is one of the five houses that form the Illa de la Discòrdia (a.k.a. Manzana de la Discordia in Spanish or "Block of Discord" in English). On this block, five different Modernista architects designed five very different buildings... right next to each other. These buildings clash with each other, and this disharmony is what makes the block notable. To get the best view of the beautifully mismatched buildings, cross over to the other side of the street.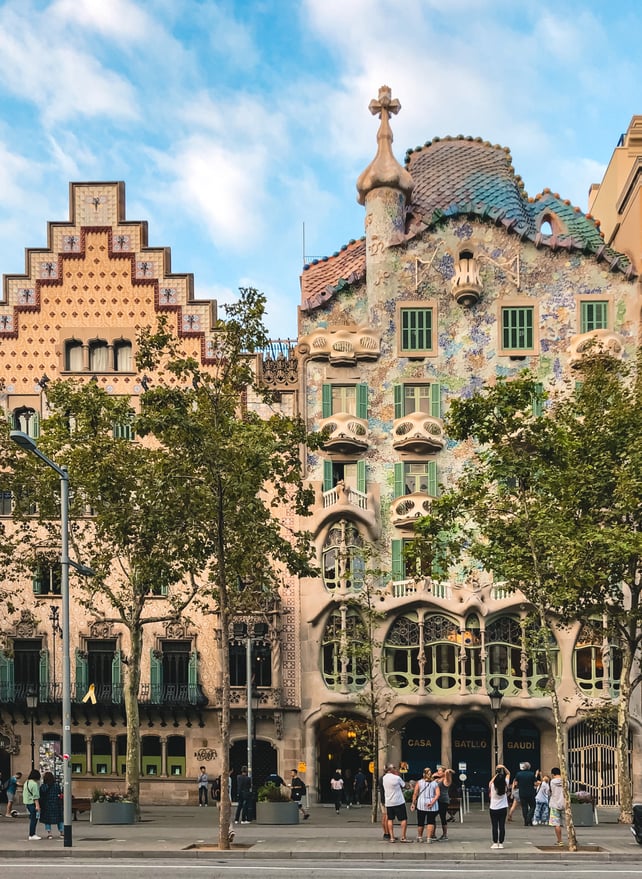 The Block of Discord on Passeig de Gràcia
3. Casa Milà
Casa Milà was the last private residence Gaudí designed at the request of another wealthy couple, Pere Milà and his wife Roser. For this building, Gaudí found inspiration in the mountains. Casa Milà has a rough, undulating stone facade with contorted wrought iron balconies. Nicknamed La Pedrera ("The stone quarry" in English), Casa Milà consists of two buildings curved around two airy courtyards. When it was first constructed, Casa Milà was both criticized for its appearance, and also praised for its structural innovations, such as a self-supporting facade, open floor plan, underground garage, and a warrior roof terrace.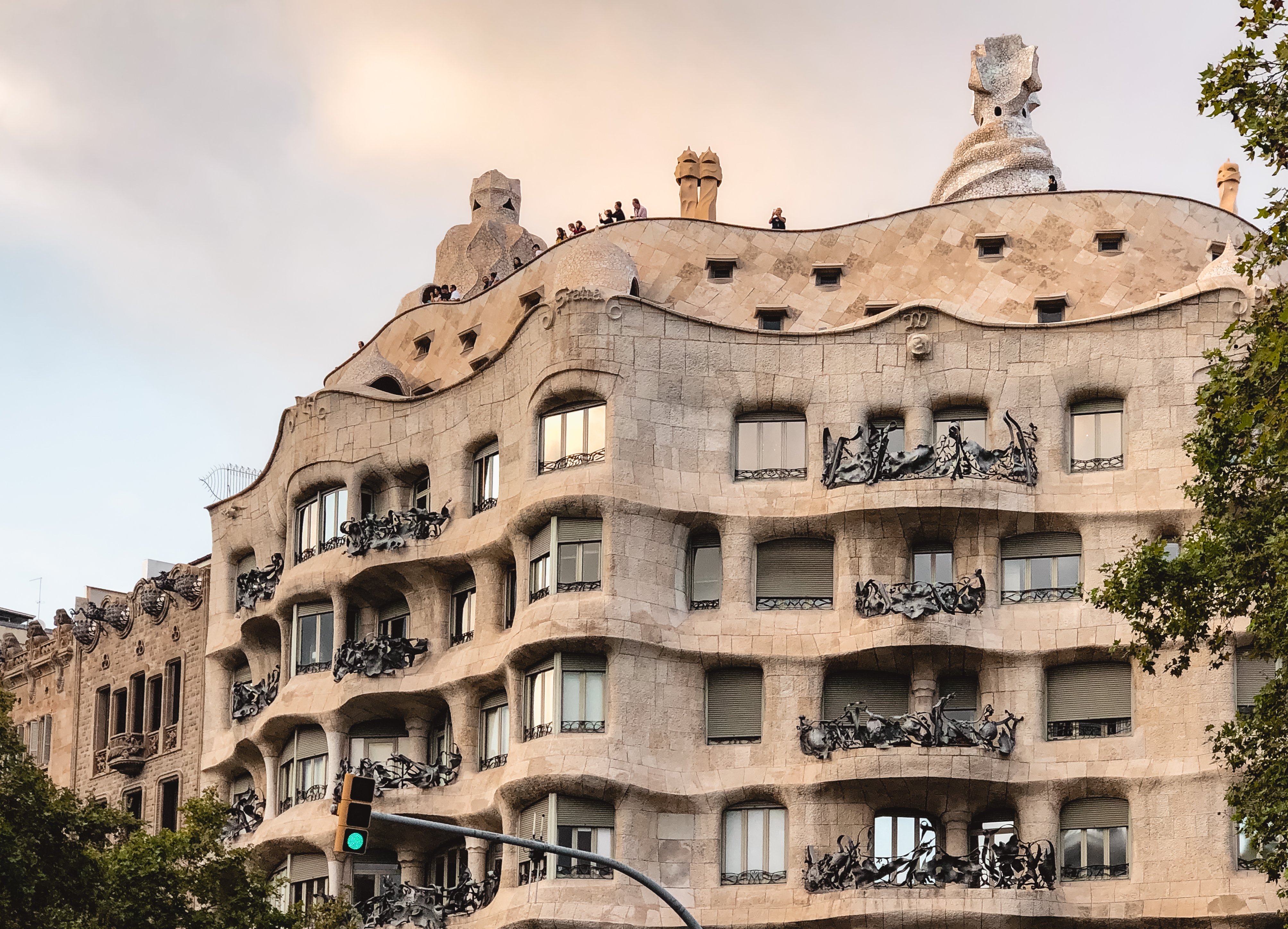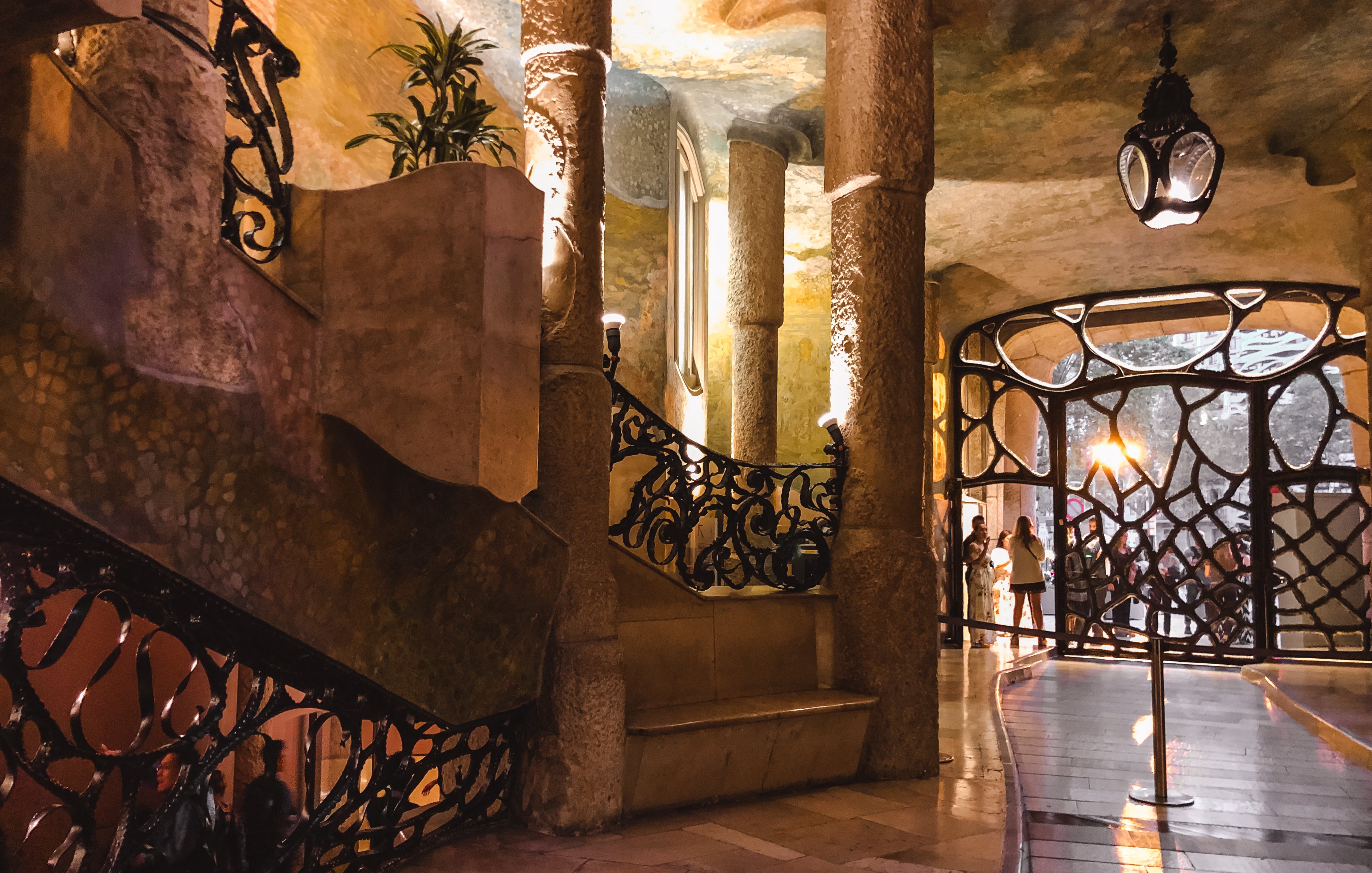 Gaudí's Casa Milà / La Pedrera
The warrior roof terrace is another clever Gaudí creation. The concept behind it is that typically ugly components of a building (like air ducts, chimneys, vents, and staircase exits) can be masked by turning them into something more intriguing. Gaudí never overlooked any detail so he disguised these elements by sculpting them like helmeted "warriors."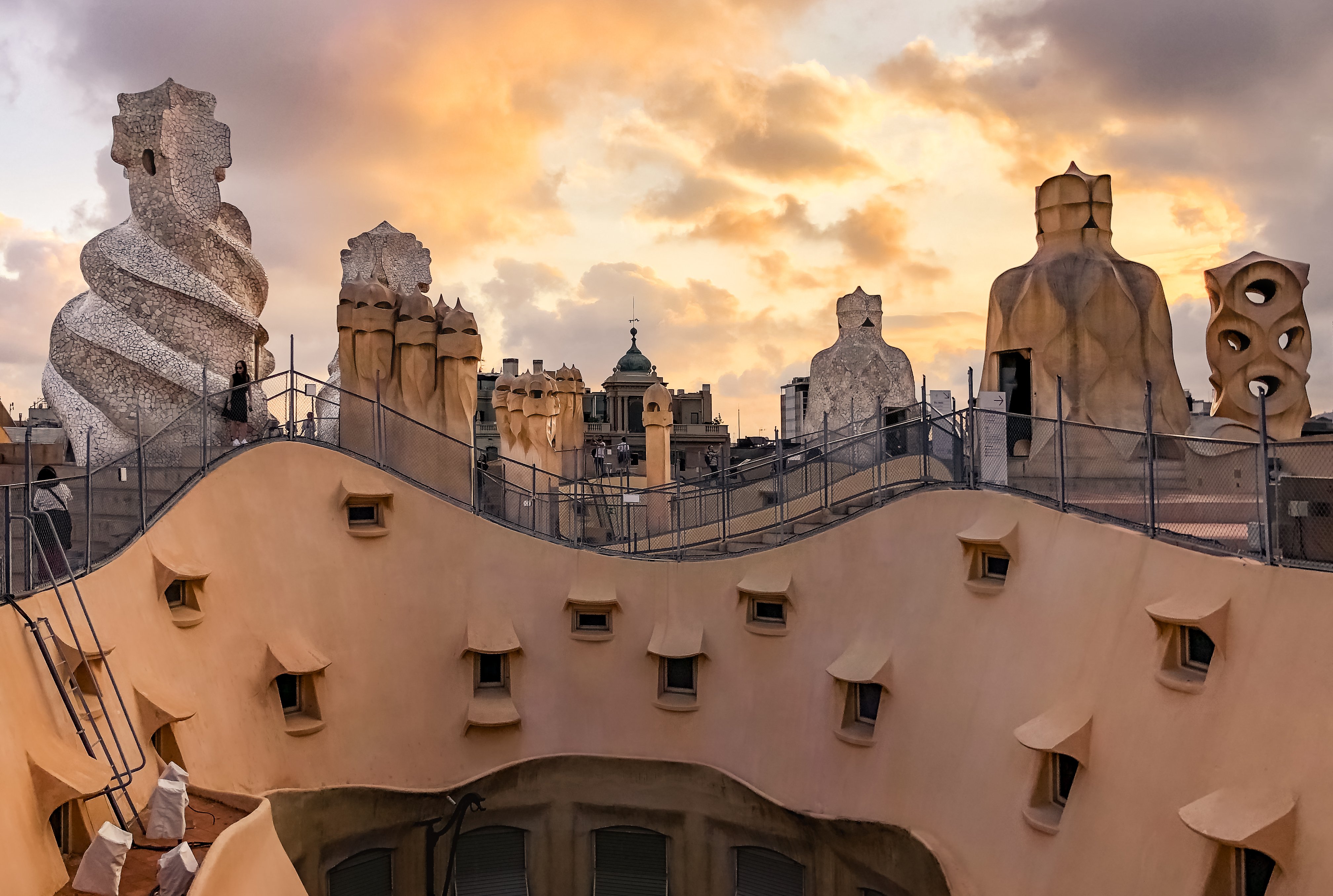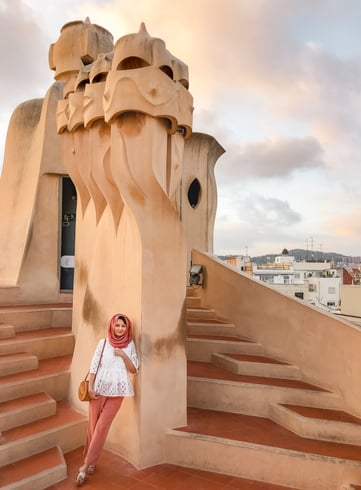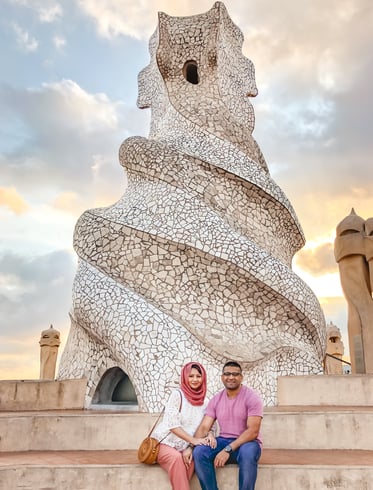 Casa Milà's warrior roof terrace
Tours of Casa Milà usually begin at the top on the warrior roof terrace and then go downwards. After walking around the terrace, we descended into the whale attic. Here, Gaudí used catenary arches that resemble the ribcage of a large mammal, which made me feel like I had just been swallowed by a whale.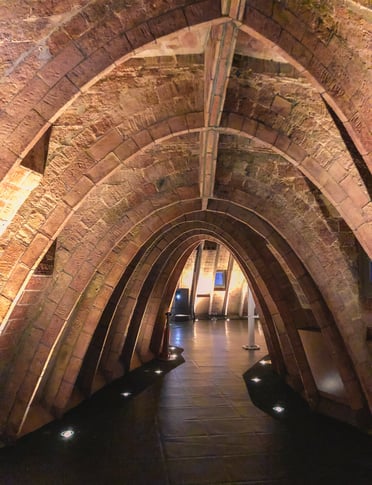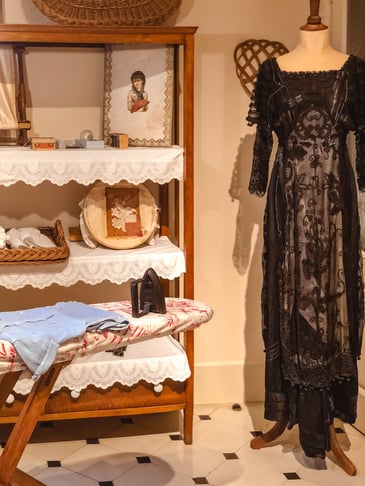 The attic was once a laundry room and the floors below all used to be apartments. Some of them are preserved as time capsules you can walk through, while the audio guide narrates what life was like for the tenants of Casa Milà a hundred years ago.
Travel tip: As you can probably tell by the pictures, we visited Casa Milà at sunset because the terrace provides panoramic views of Barcelona and the sculpted warriors look even more enthralling against the backdrop of a setting sun. Again, make sure you buy tickets in advance. Casa Milà and Casa Batlló are both located on Passeig de Gràcia within walking distance of each other, so it's easy to explore both residences back-to-back.
4. Sagrada Família
Gaudí devoted the last few years of his life to his masterpiece, the still-unfinished Basílica de la Sagrada Familia (or just Sagrada Familia for short). Sagrada Familia is a Roman Catholic basilica dedicated to the Holy Family, famous for its incredible Gothic architecture and infamous for the amount of time it's been under construction - over a century!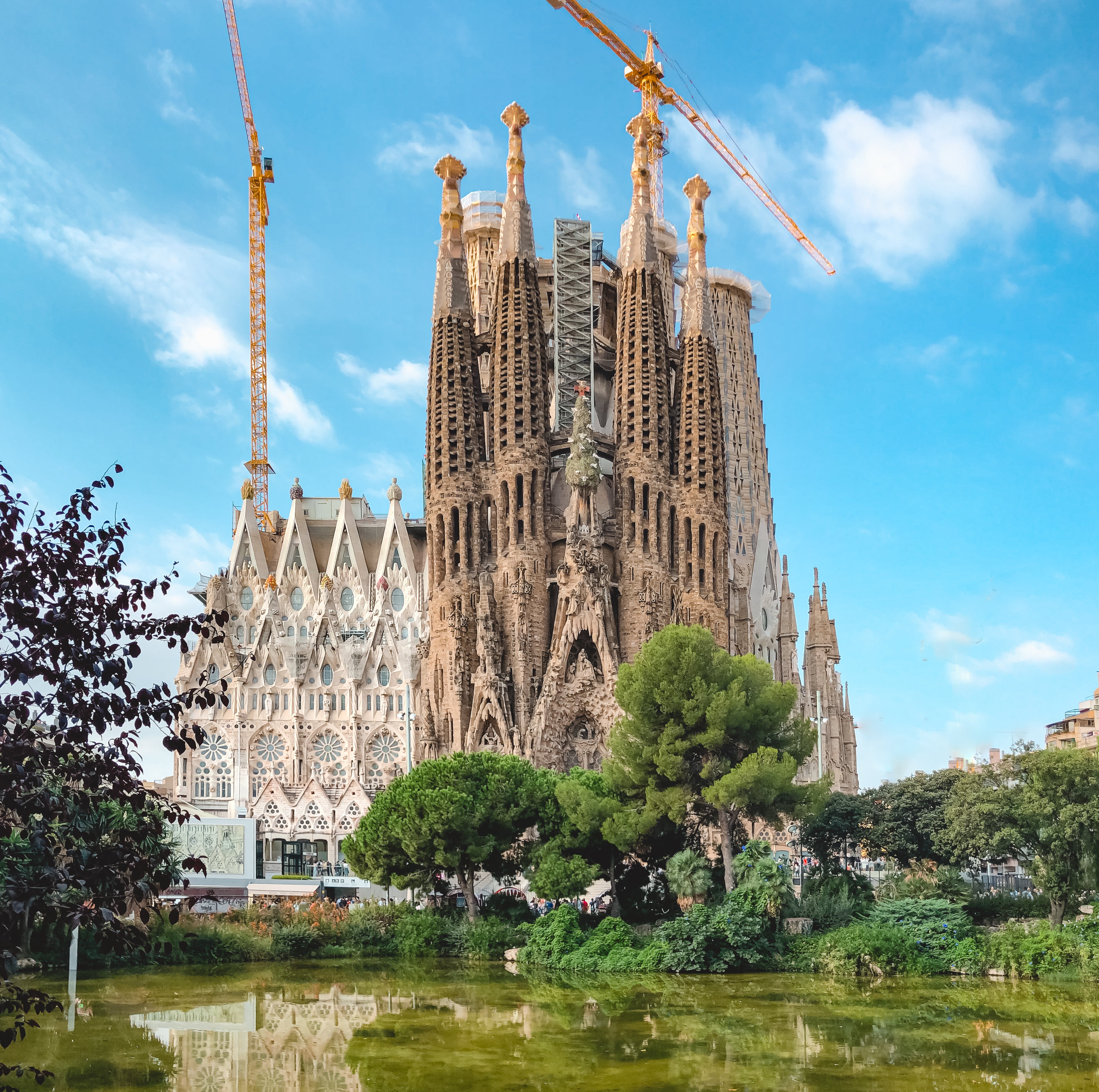 Construction began in 1882 and is slated to be completed by 2026 to coincide with the centenary (100 year anniversary) of Gaudi's death, who is buried in the bascilica's crypt. To put that into perspective, that's longer than it took to build the pyramids of Egypt! So, why is construction moving at a glacial pace? Well Gaudí, its chief architect, died when the basilica was less than 25% complete, then revolutionaries tried to burn it down during the Spanish civil war, and then Gaudí's designs were lost so other architects had to step in. There's also the whole money thing. Sagrada Familia is privately funded by donors, sponsors, and tourists so when cash runs out each year, construction stops too. Will it ever be finished? Who knows, but the parts of the church that have been completed are pretty impressive.
Sagrada Familia has three façades inspired by biblical stories. The nativity façade is ornately decorated with scenes from the birth of Jesus (peace be upon him).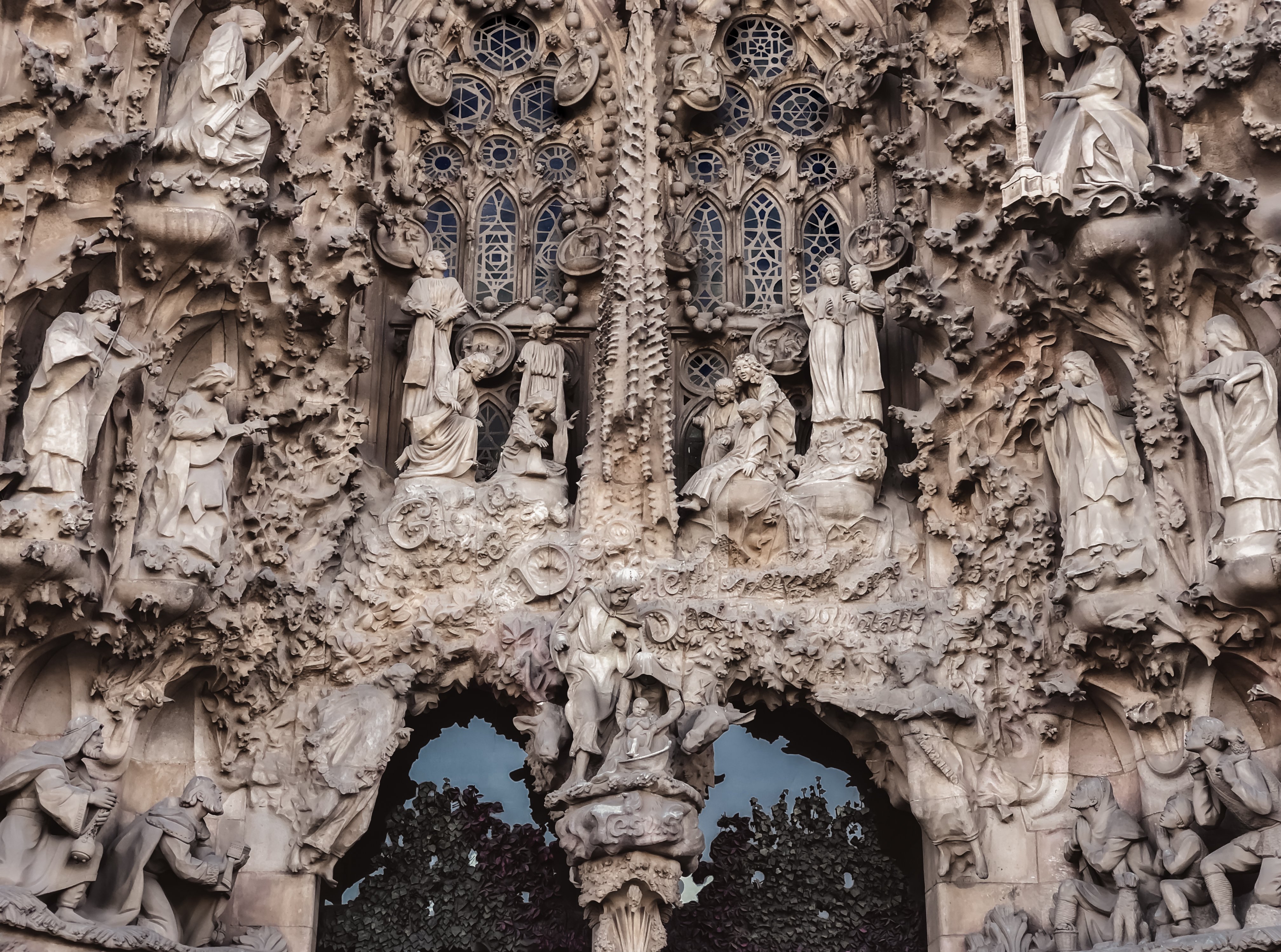 The nativity façade
The passion façade is much simpler with columns that look like bones to represent the crucifixion.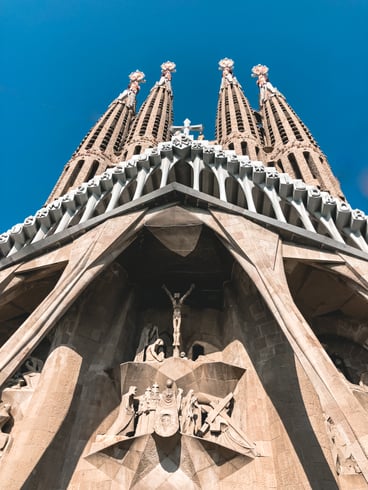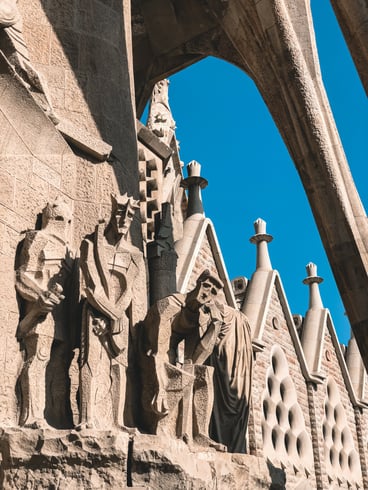 The passion façade
The glory façade, which is under construction, will be the grandest and serve as the main entrance to the basilica. Now as spectacular as the exterior is, it was Sagrada Familia's interior that took my breath away. Inside, there are no sculptures, paintings, statues, or murals that are common in other churches. Gaudí wanted God's (sun)light to paint the walls of his beloved basilica, so he adorned the windows with stained glass. Throughout the day, a dazzling symphony of light and color spills in between tree-like pillars giving Sagrada Familia the aura of an enchanted forest.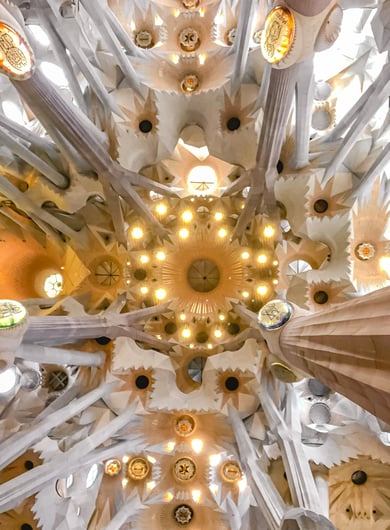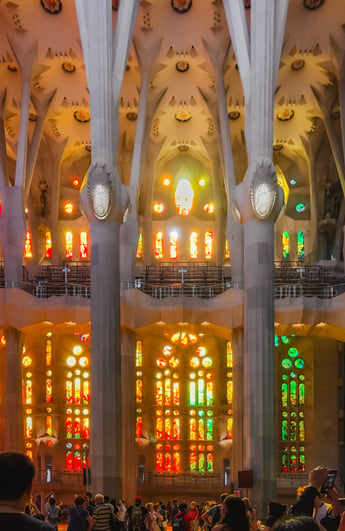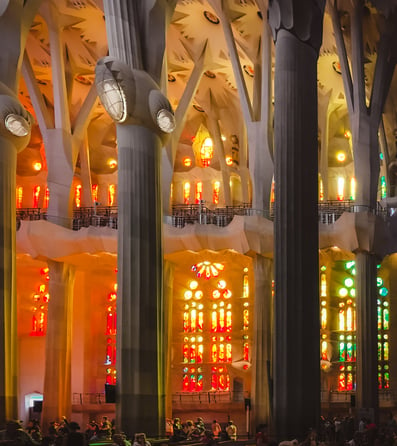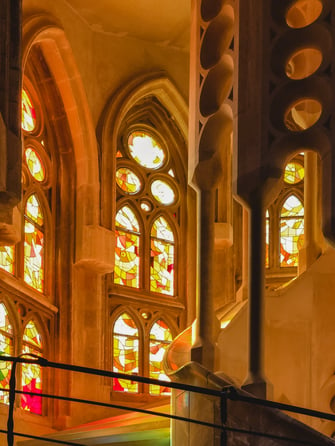 Sagrada Familia painted with all the colors of the light
Travel tip: Sagrada Familia is the most-visited monument in Spain, which means you need to BUY TICKETS DAYS IN ADVANCE. We tried to buy tickets in line, but they always sell out early. Luckily, we found a tour operator walking around the perimeter who had some tickets left. I recommend doing a guided tour of Sagrada Familia with a local because they will tell you stories about the history of the church and the symbolism contained in its architecture with genuine adoration for Gaudí's magnum opus. Go in the late afternoon for the best light.
Other Modernista architects & buildings
Park Güell, Casa Batlló, Casa Milà, and Sagrada Familia are the most well-known of Gaudí's works and should be on your must-see list. All four of these buildings are UNESCO-protected world heritage sites. The monuments below are also UNESCO-protected and worth seeing too:
Casa Vicens

- The first house Gaudí designed, now restored as a museum

Palau de la Música Catalana

- A stunning concert hall, not designed by Gaudí but by Lluís Domènech i Montaner
Hospital de Sant Pau

- Another Montaner creation, this once fully functioning hospital redefines what comes to mind when you think of "hospital"
Even more architecture to see
After touring Gaudí's architectural gems, we stopped by the Arc de Triomf on our way to Parc de la Ciutadella, and explored a couple of neighborhoods.
Travel tip: If you're only spending a few days in Barcelona, these are all "nice-but-not-necessary" things to see; the architecture is imposing, but there's not much to do at these places.
Arc de Triomf
In 1888, Barcelona hosted the World's Fair (or World Expo) and constructed a massive triumphal arch as the main entrance called Arc de Triomf. This reddish brick arch was designed to welcome people, not celebrate the country's military victories. Today, the Arc de Triomf leads to a lovely park.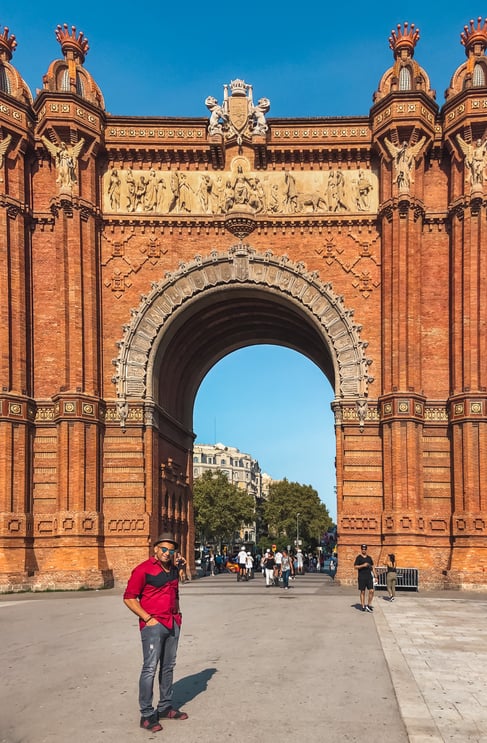 Parc de la Ciutadella
That park in question is the 70-acre Parc de la Ciutadella, the biggest park in Barcelona. The park's sprawling grounds include the Catalan Parliament building, a lake where you can rent row boats, museums, a zoo, and a cascading waterfall (referred to as the Cascada). We thought the waterfall section was the most picturesque because it's flanked by fountains and statues. In the middle, there is a statue of Venus, the Roman goddess of love, in an open clam. The Roman goddess of love, Aurora, is depicted on a golden chariot on top of the monument.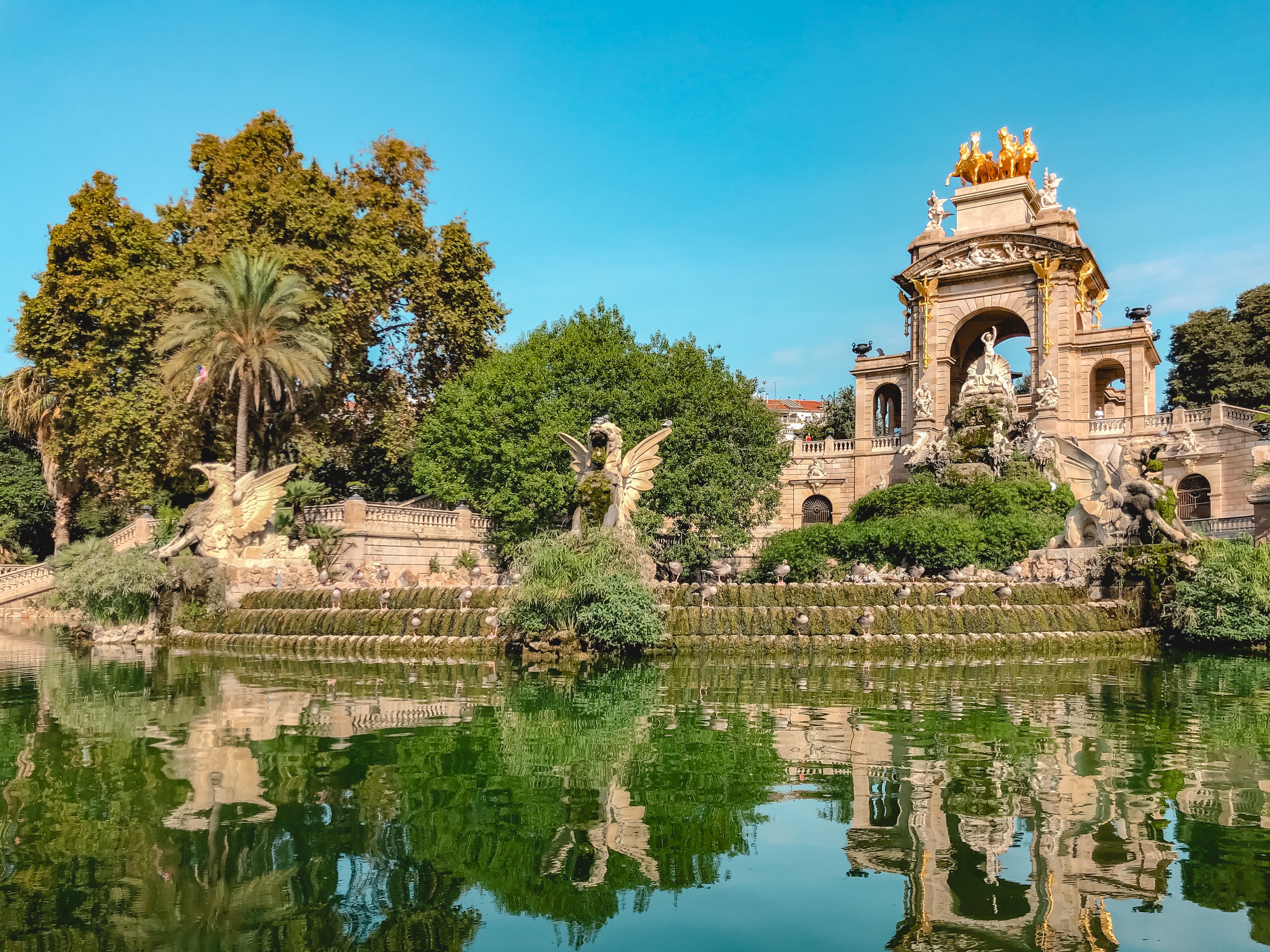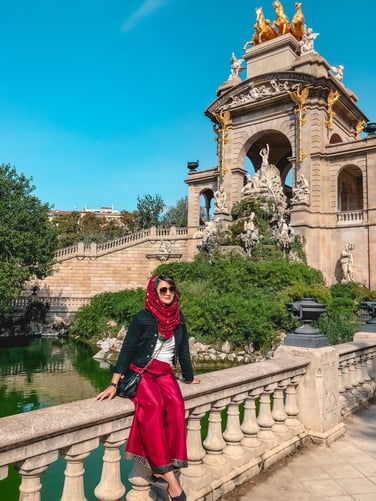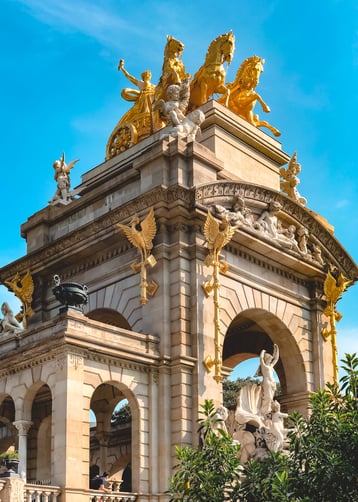 Gothic Quarter
The Gothic Quarter (a.k.a Barri Gòtic) is one of Barcelona's oldest neighborhoods containing a labyrinth of narrow streets, medieval buildings, and ancient Roman remnants. Saad and I came to this area to see Barcelona Cathedral (the interior is not as mind-blowing as Sagrada Familia's) and then we wandered through the streets spotting more examples of Gothic influence.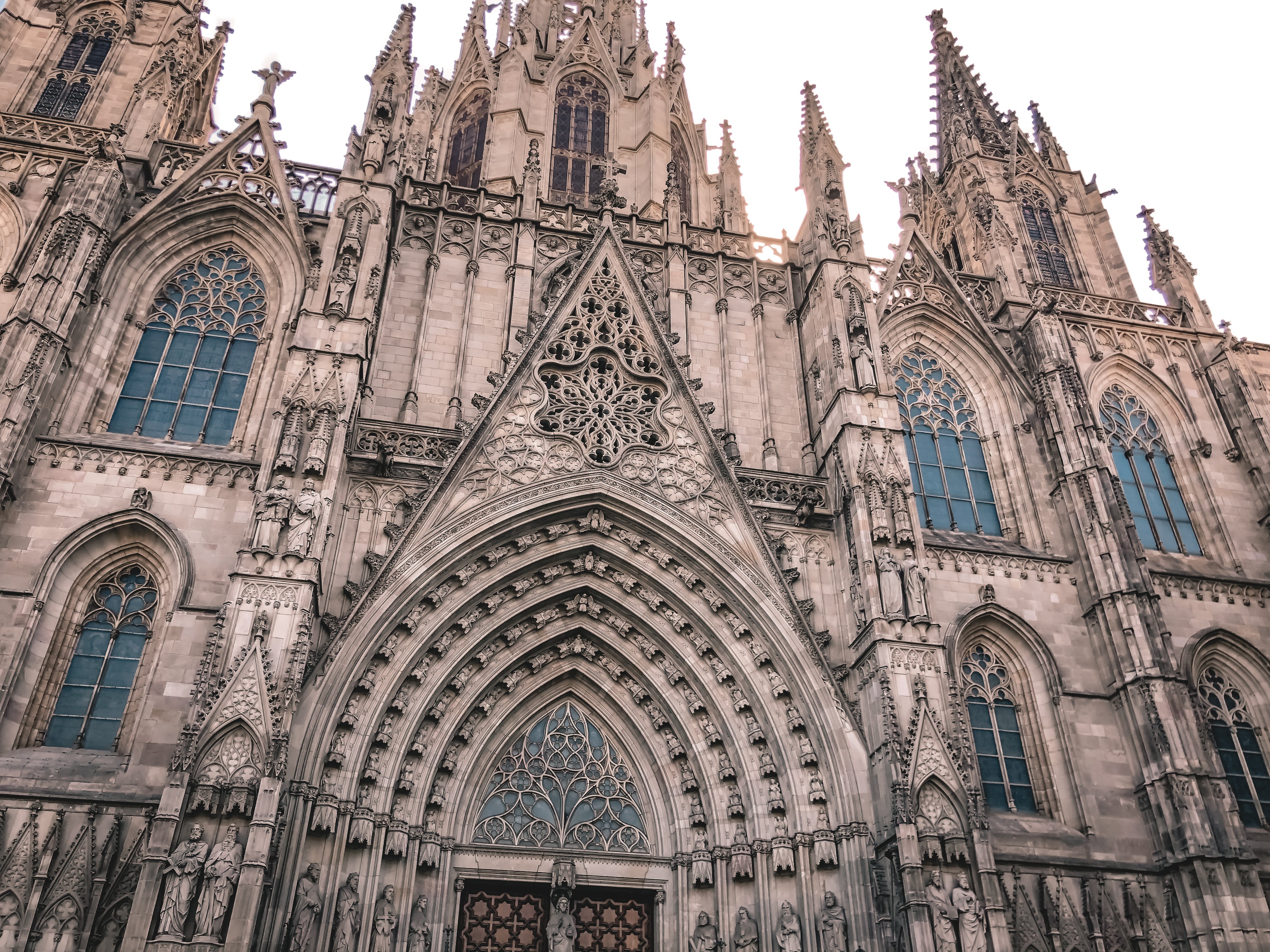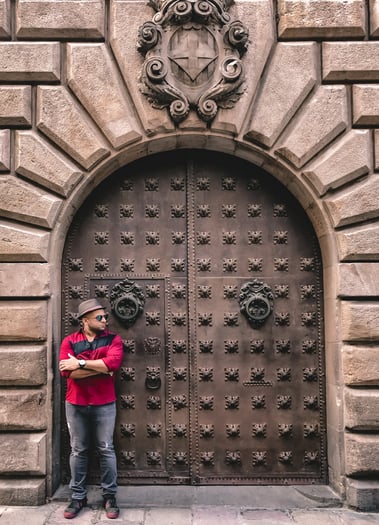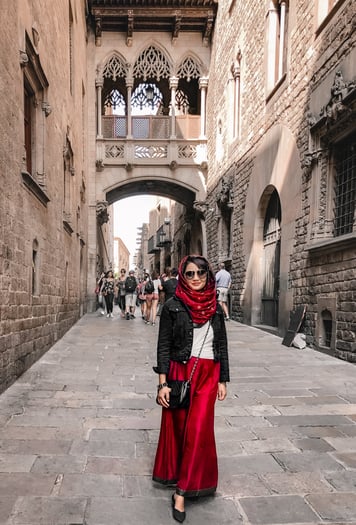 Barcelona Cathedral and the narrow streets of the Gothic Quarter
El Born
Right next to the Gothic Quarter is the hipster neighborhood of El Born. El Born is full of local flare - this is where we found trendy cafes, art galleries, and boutique shops. If you're an art buff, check out the Picasso Museum located nearby. It houses one of the largest collections of Picasso's works from paintings to drawings to ceramics.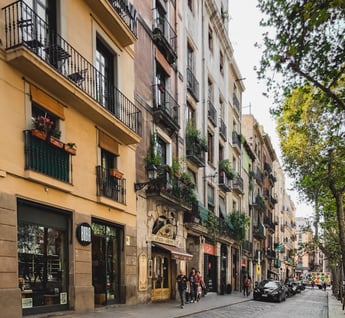 The artistic and edgy El Born neighborhood
Beaches to visit
I mentioned earlier in this post that 90% of the stuff to see in Barcelona is architecture. Now let's finally talk about the remaining 10% - beaches! The best beach (according to TripAdvisor reviews) is Bogatell Beach because it has a lot of outdoor sports facilities and it's not as touristy as Barcelona's most famous beach, Barceloneta. As you can probably tell, we spent the majority of our time gawking at architecture, so we only went to Barceloneta Beach. It was crowded and lively, and then we took a bicycle taxi from there on a heart-racing ride back to our hotel. THAT was super fun, but probably not super safe.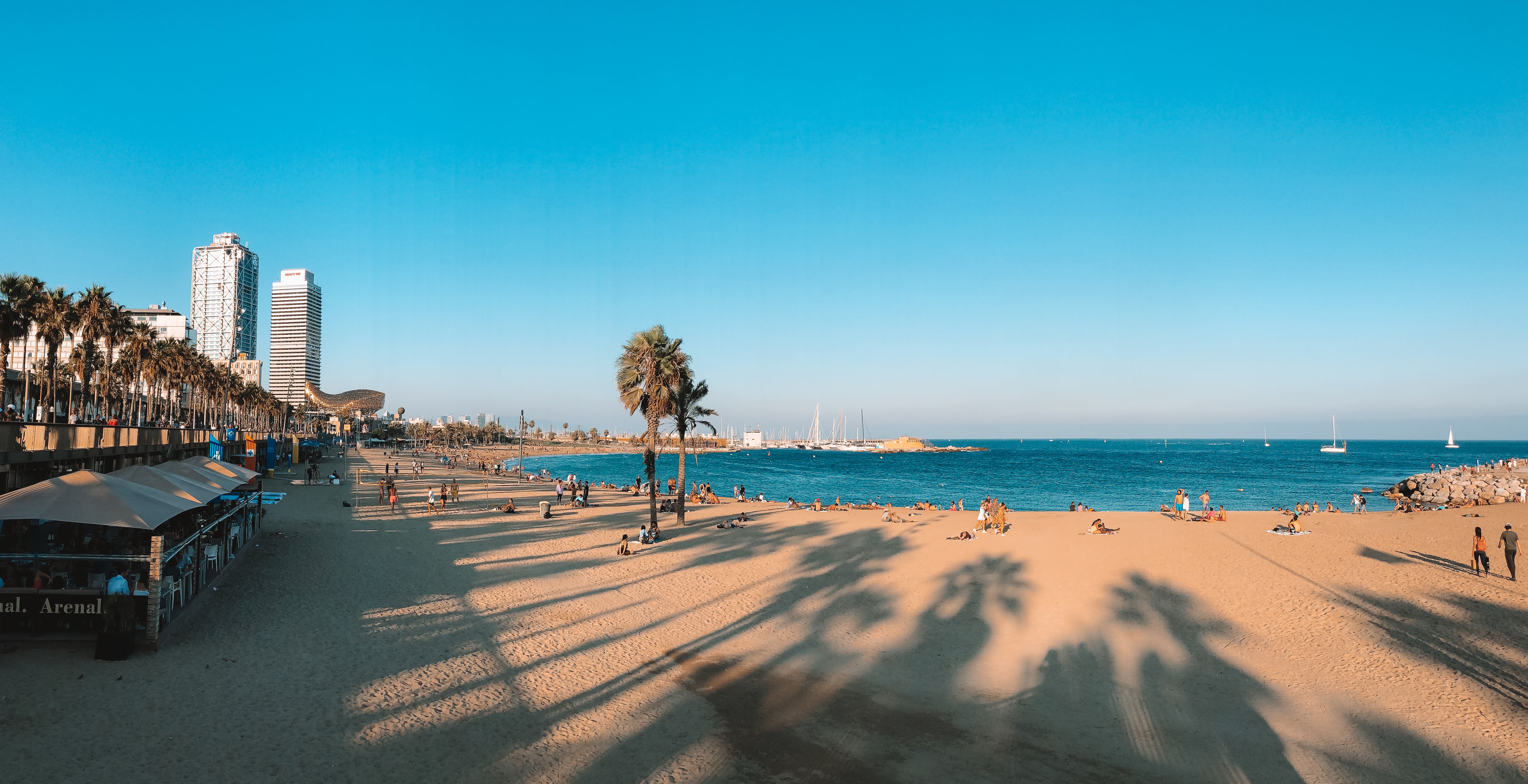 Barceloneta Beach
Architecture in the mountains
On our last day in Barcelona, we veered off the beaten path to take a day trip to Montserrat. This less-traveled road led us to a monastery high up in the mountains, a Black Madonna, and the most magnificent views.
That's the next chapter of our Spain trip.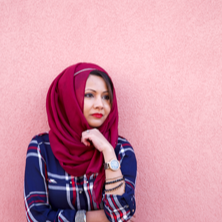 I'm a twenty-something Muslim blogger who's guilty of falling in love with every place I visit. I'm always planning the next trip in my head and missing the last one in my heart. When I'm not off discovering new parts of our beautiful planet, you can find me happily immersed in an art project.