Iceland holds a special place in my heart. It is the country that awakened my adventurous spirit and forever changed the way I travel. Before visiting this Nordic island nation, located just beneath the Arctic Circle, I thought "vacationing" meant going somewhere warm and tropical to rest and relax. I never envisioned myself on a trip that included treks to snow-capped mountains and volcanic valleys in the bitter cold. Never did I think that I'd enjoy a vacation that took me so far out of my element. But Iceland taught me that life and magic lie at the end of my comfort zone.
We booked flights to Iceland on a whim, after a few seemingly random coincidences:
Saad and I wanted to go on a trip to celebrate our five year anniversary. Up until that point in our marriage, we had only traveled together to beachy destinations in the Caribbean so we were looking to go somewhere different

to spice things up

.
We watched The Secret Life of Walter Mitty, a stirring movie about an average man with an average job who spends his time daydreaming to escape the tedium. The story, filmed mostly in Iceland, follows Walter Mitty as he seizes an opportunity to go on an exciting quest and develops courage along the way. This movie spurred us to get up

off of our butts

, go someplace noteworthy, and do something mentionable.
The now-defunct WOW Airlines introduced

business bankrupting

ultra-low fares from Boston to Reykjavík for as low as $300 roundtrip.
All signs, emotional and financial, pointed to Iceland as our next vacation destination. The rest is history recounted here. For me, this blog post is a collection of treasured memories from one of my favorite trips of all time. For you, it is a travel guide that I hope will inspire Muslim travelers to go on daring adventures.
To keep things digestible, I've split this blog post into two parts. The first part (below), focuses on the planning process and includes everything we learned and did to prepare for our adventure in Iceland. Part two is centered on what we ate and saw once we got there. Basically, part one is what to know before you go, and part two is what to do after you arrive.
Section overview
A misnomer for a geological masterpiece
Iceland and Greenland were settled by Norwegian Vikings in the 9th and 10th centuries, making them relatively "young" countries by settlement standards. The Vikings purposefully misnamed Iceland and Greenland to confuse their enemies, hoping their adversaries would go to ice-covered Greenland instead of pursuing them to the more inhabitable and greener Iceland.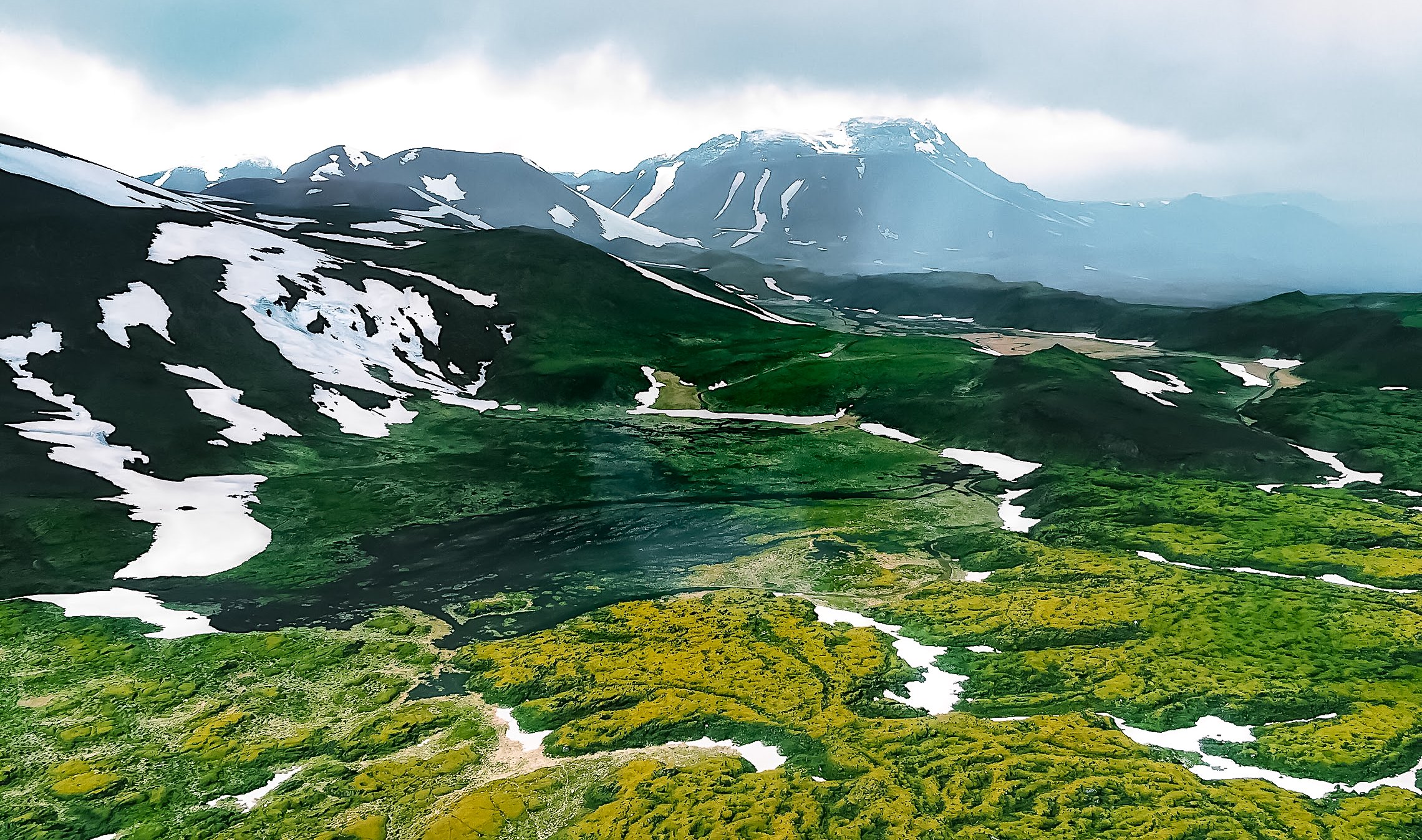 Iceland is a living geological masterpiece with exceptional natural beauty and extraordinarily varied scenery. Its landscape consists of rugged glaciers, thundering waterfalls, imposing mountains, thermal lagoons, rocky beaches, and intense volcanic activity set underneath vivid skies. It is a country of extremes; where hot bubbling earth lies next to fields of snow. This is why Iceland is called "The Land of Fire and Ice."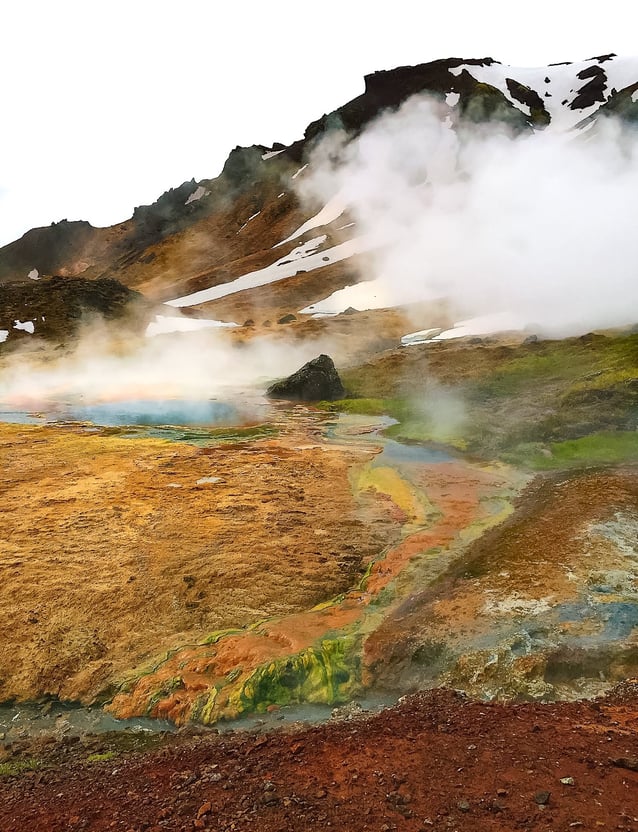 The Land of Fire & Ice
The majesty of Iceland has an ineffable quality. Nothing can describe the sense of awe and wonder you feel at every vista. No country in this world has seemed so otherworldly to me as Iceland, which has made it the perfect backdrop for epic fantasy movies such as Interstellar, Batman, Thor, Star Wars, and even the hit TV saga, Game of Thrones.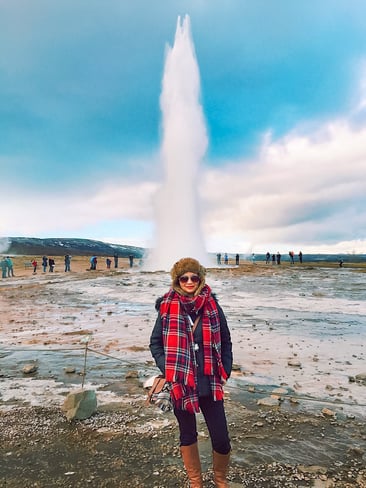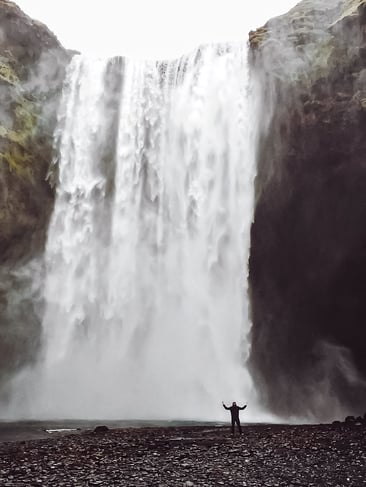 My deep love for Iceland is rooted in its unparalleled landscape that provides a glimpse into how our planet was sculpted by the hand of God. From the volcanic craters to the ice caves, Iceland is an example of the artistry, power, and the might of Allah, Al-Badī, the Unprecedented Originator, the Incomparable Inventor.
What to expect
Energy, air, and water
Iceland is home to some of the greatest forces of nature, including volcanoes. Iceland has a lot of volcanoes. More than 130. In fact, the entire island is "alive" with volcanic activity and experiences an eruption every 4 years. These volcanic eruptions can send plumes of smoke and ash into the air grounding flights, spew lava onto the land affecting farmland, and cause evacuations of local residents. But the same volcanic mountains that scorch the surface also generate the geothermal energy that heats up Icelandic homes. About 85% of the total energy supply is derived from domestically produced renewable resources. Instead of burning a ton of harmful fossil fuels, Iceland harnesses geothermal energy and hydropower making it one of the most eco-friendly, nature-loving, tree-hugging countries in the world. Hooray!
Travel tip: Despite the eruptions, the air quality in Iceland is quite good. Spend as much time as you can outside breathing in the fresh air. But if you see ash, wear a mask… and obviously run for cover. Icelandic water is also safe for both drinking and bathing. However, you may notice that the hot water in your shower and sink has a stinky sulphuric odor caused by its geothermal origins. Don't worry, once you step out of the shower you won't smell bad, because of the sulphur at least 😬. The cold water doesn't smell because it comes straight from natural springs. At the end of the day, even if the water smells a little, it's cleaner and purer than most other places on Earth.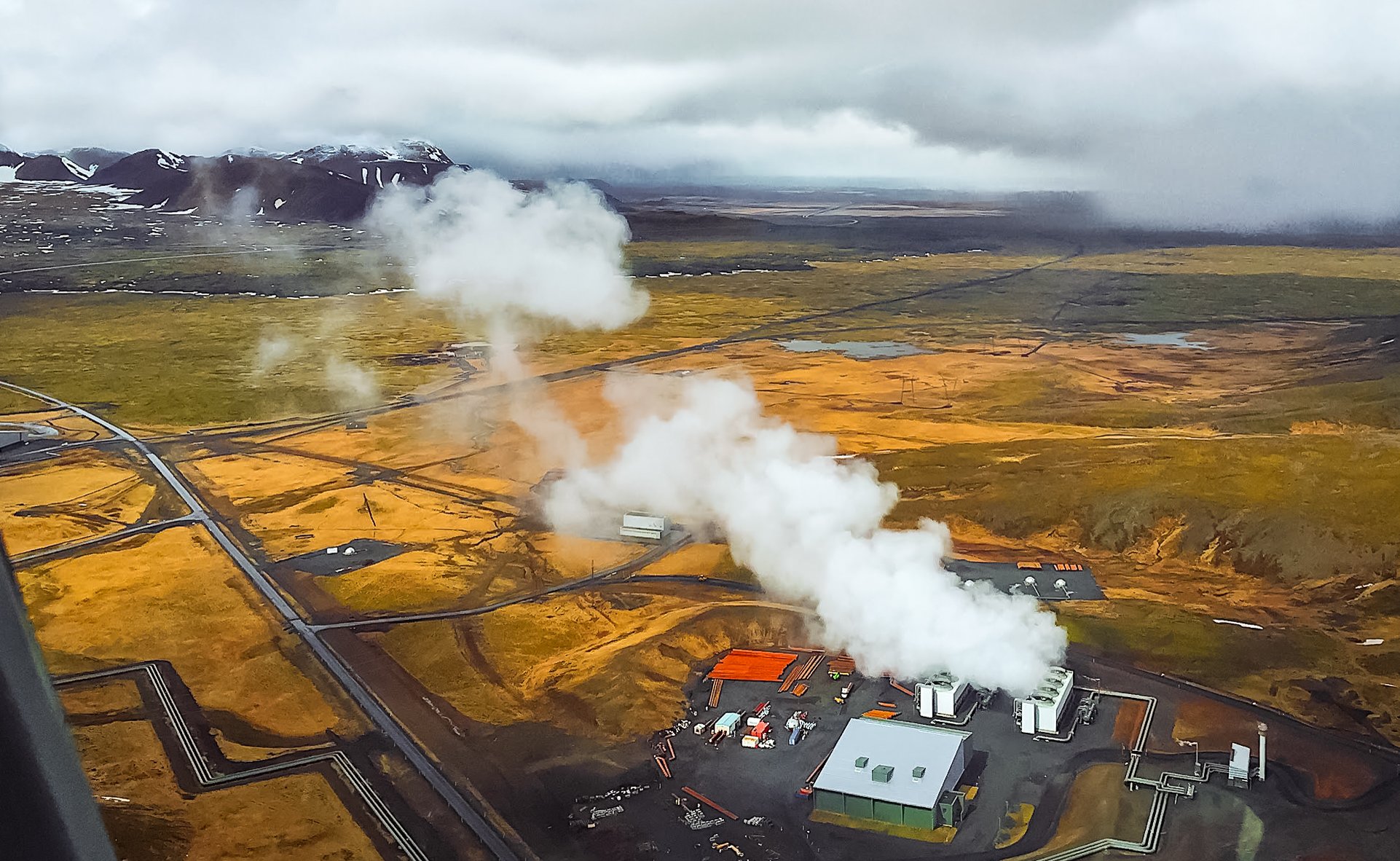 A geothermal power plant located at the base of an active volcano
Economy and environment
You're probably not surprised to learn that tourism is Iceland's biggest industry. In the early 2000s, Iceland popped up on everyone's radar because the country's banking system collapsed, a huge volcano erupted and no one could pronounce its name (Eyjafjallajökull), Icelandic budget airliner WOW Air launched, and a bunch of Hollywood hits were filmed there. Oh and mega Bollywood cinematic duo Shah Rukh Khan and Kajol reunited in a song, also filmed in Iceland, to once again give you unrealistic expectations of love and climate-appropriate dress code.
Travel tip: More people visit Iceland than actually live there. As a result, Iceland is a popular yet expensive travel destination. The cost of airfare, food, lodging, shopping, tours, etc. is higher than what you'd expect in other European countries. On the bright side, most of Iceland's main attractions are natural landmarks and national parks that are open to the public at no cost. Remember, Iceland's beauty and appeal lies in its wild and undisturbed nature, so be mindful of the environment, don't litter, don't off-road, don't harass the wildlife, and leave no trace of your visit.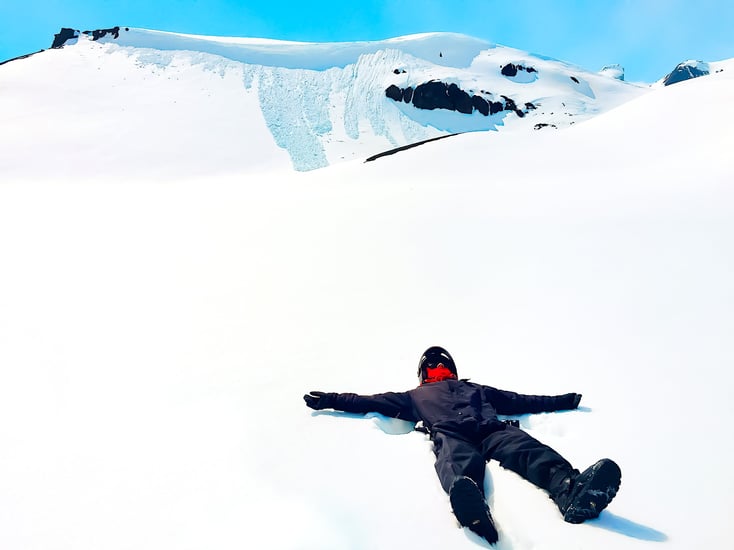 Only leave footprints and snow angels behind
Religion and culture
Even though Icelanders embraced Christianity long ago, their culture continues to be heavily influenced by the Nordic religion of their Viking ancestors. Specifically, Norse mythology plays a big part in the festivals, traditions, and celebrations of the country. If you don't know what Norse mythology is, it's what brought us the stories of Thor and his bulging biceps magical hammer, Odin Allfather and his throne in Asgard, and the nine mystical realms. Yeah, I'm a little nerdy 🤓.
Travel tip: Iceland has a small Muslim population. There is now a mosque in the capital and an Islamic Cultural Center too, where you can pray in congregation, meet your Icelandic brothers and sisters in faith, and ask them how they observe Ramadan in a land where the sun rarely sets.
Customs and currency
Icelanders are usually friendly and courteous, but they do do some things differently. In this section, I'm going to share a few local customs and facts about the population to make your day-to-day interactions in Iceland easier and reduce surprises:
Parents leave napping babies in prams outside stores and cafes. Don't freak out! The babies are wrapped up and it's safe because Iceland has virtually no crime.
Icelanders are well read, inquisitive, and educated because tuition is free all the way up through college. So, don't say anything ignorant or dumb.
You must wash yourself before getting into a pool or hot spring. In Iceland, they don't add many chemicals into their water. This pre-entry step is to prevent

your germs

unwanted bacteria from contaminating the water.
Tipping is not expected because nearly all bills already include gratuity. Tipping is not considered rude, but it is uncommon. No one will think less of you if you don't tip.
There is no language barrier because most Icelanders speak English fluently.
The emergency number is 112 (not 911) in case you need help, get lost, or find yourself in a precarious situation.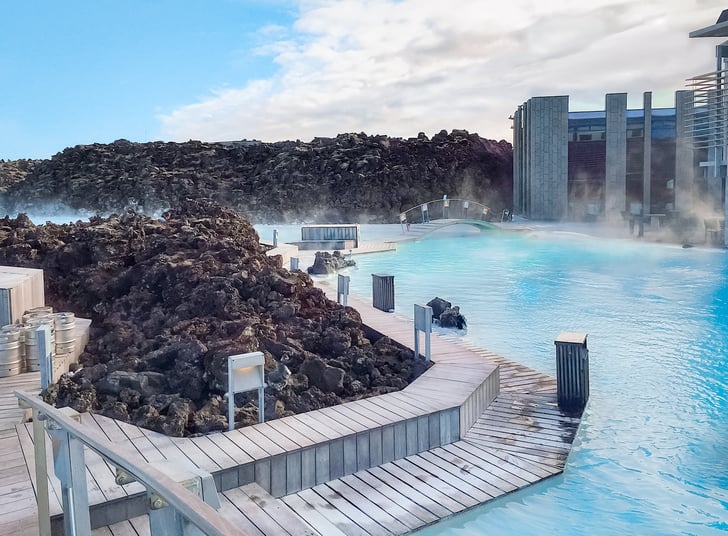 You must shower before jumping into a pool or hot spring in Iceland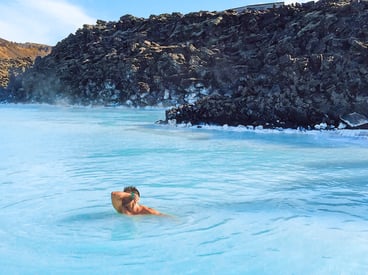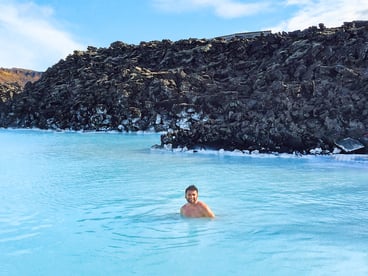 Everyone scattered because no one wants Saad's cooties LOL just kidding
Travel tip: The official currency of Iceland is the Icelandic króna (ISK), not the euro, even though Iceland is part of the European Union. You can use debit and credit cards almost anywhere, but the only coins and bills vendors will accept is the króna. I'd recommend keeping Icelandic currency on hand because some service centers, hot springs, city buses, and public bathrooms charge a fee that can only be paid in cash. To convert your currency into Icelandic króna, use the ATM at Keflavík Airport.
Weather
Iceland only has two seasons: summer and winter. The summer months of June, July, and August are characterized by long days with nearly 24 hours of daylight and temperatures ranging between 50°F - 55°F (10°C - 13°C). Winter begins in October and lasts until April, with temperatures hovering around 32°F (0°C). The winter months, particularly December, are characterized by long nights with almost 24 hours of darkness/twilight. To put this into perspective, the sun will rise around 11 am in December and set by 3 or 4 pm so you'll have a maximum of 5 hours of light. Comparatively in June, the sun will rise at 3 am and set after 11 pm for only 3 hours.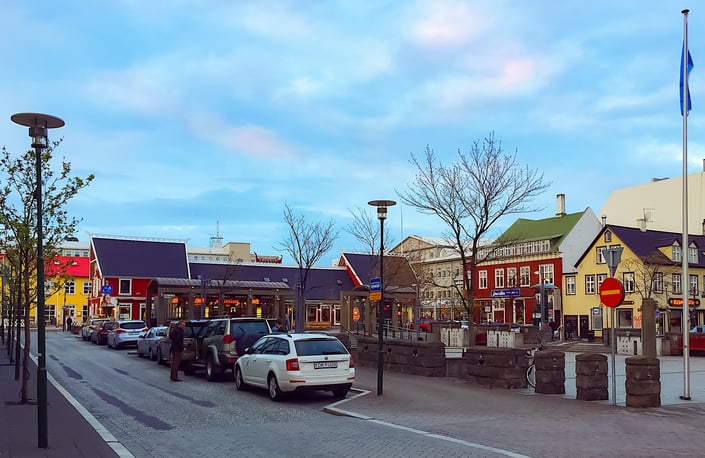 What 10:30 pm in Iceland looks like during the month of May
Travel tip: Ironically given its name, winters in Iceland are relatively mild for its latitude because of the island's proximity to the warm currents of the North Atlantic Gyre. However, Icelandic weather is notoriously unpredictable and can shift in abrupt and dramatic ways as you turn the corner, just as the landscape can. Wind is the biggest anomaly. Raging winds can sharply reduce visibility, affect precipitation, and drop temperatures in a heartbeat so make sure you're always bundled up and pack layers!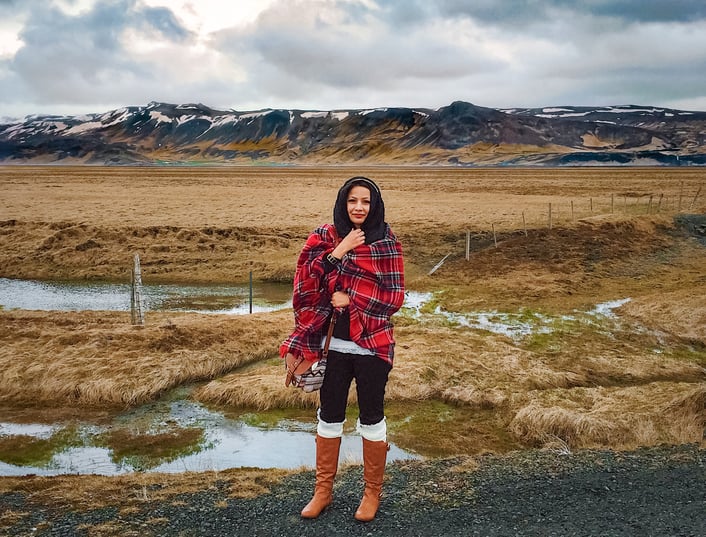 The best things I packed for our Iceland trip was this blanket scarf and knitted leg-warmers
When to go
The best time to visit Iceland varies based on what you're looking to do because different activities are available in the summer vs. winter. On a high level, the endless summer days are ideal for experiencing the Midnight Sun, hiking to volcanoes and waterfalls, and general sightseeing. The dark winter nights are the only time you can see the legendary Northern Lights and explore the ice caves. Things like the Golden Circle tours, Blue Lagoon, and other hot natural baths are open year-round, although they will be more expensive and crowded during the summer.
Here are more pros and cons of visiting Iceland in each season:
Visiting Iceland in the summer (June - August)
Pros
Cons

More daylight hours for sightseeing
Warmer and drier weather
Can experience Midnight Sun in June
Better road conditions
All hiking trails open, including glacier and volcano hikes
Stable weather for camping and helicopter tours
Only time you can visit highlands and remote fjords
Higher chance of seeing birds (like Puffins) and whales

Northern Lights will not be visible
Peak time so expect throngs of tourists and higher prices
Ice caves are closed because they're underwater / too dangerous to visit
Visiting Iceland in the winter (October - April)
Pros
Cons

Best time to see Northern Lights (check aurora forecast websites but don't make this the sole focus of your trip since they're never guaranteed to be visible)
Fewer tourists and lower prices
Good time to go ice fishing, snowmobiling, skiing, and check out ice caves
Glacier hiking trails are open, but other trails are closed
Lots of holiday and cultural events

Shorter, colder days means limited sightseeing and visibility
Highlands are not accessible
Road closures and rougher driving
Some waterfalls can only be seen from afar due to icy conditions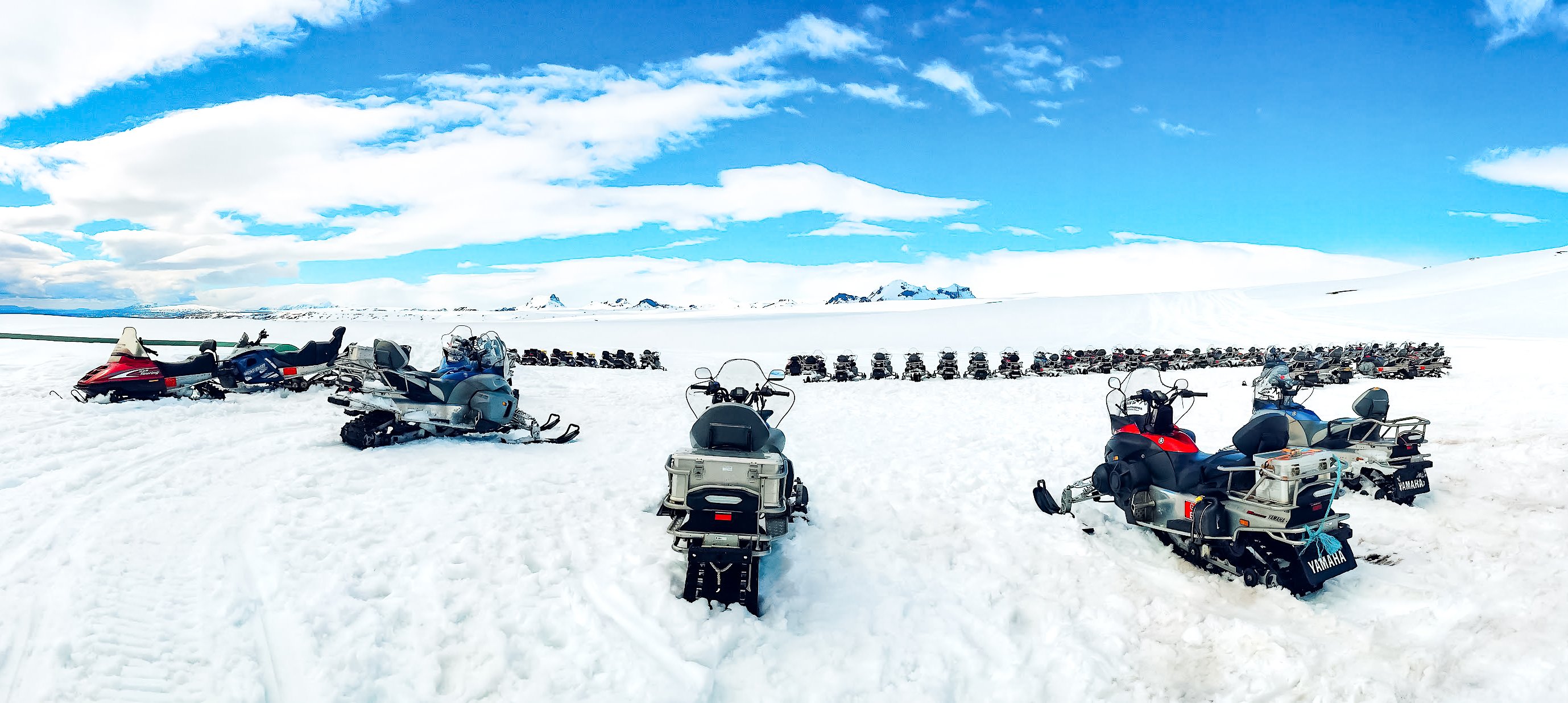 Snowmobiling conditions are best at the beginning and end of winter
Travel tip: We visited Iceland at the end of May as temperatures were warming up and nature was awakening from its winter slumber. Even in the springtime of May, we needed boots, winter jackets, scarves, and thermal underwear bottoms to stay warm. And the winds did rage. I'd recommend going to Iceland in late May or early June (just before peak season) if you prefer the warmer weather and summer activities, but also want to avoid swarms of people at every attraction. If you'd like to see the Northern Lights, but don't want to encounter the deepest freeze and darkest nights, go during September or early October. Keep in mind that May and September are transitional months so you'll experience a bit of both summer and winter weather.
How to get there
Since Iceland is an island nation, there are only two ways to get there: by plane or by a 55-hour ferry from Denmark.
Flying to Iceland by plane
Let's start with the more conventional option, which is to fly in. Iceland has two main airports, Keflavík International Airport (KEF) located in the south and Akureyri International Airport (AEY) located in the north. Most travelers who fly to Iceland will land at Keflavík because it is the country's main transportation hub and the headquarters of Icelandair. Compared to other airports, Keflavík is on the nicer and modern side of the spectrum, providing travelers with free WiFi, family rooms, phone charging stations, clean bathrooms, showers, and good food and refreshment options.
Travel tip: Keflavík International Airport is located roughly 40 minutes outside of the capital of Reykjavík, so you'll need to rent a car, hail a taxi, or hop on a shuttle to get to your hotel. There's no Uber or Lyft in Iceland. I'd strongly recommend renting a car (with a built-in GPS) for the duration of your trip because it will give you the freedom to discover Iceland's dispersed attractions on your own time. Conveniently, all major car rental agencies have a presence at Keflavík Airport, including Budget Car & Van Rental, Hertz Iceland, and Avis Car Rental. If you have a long layover in Iceland (Icelandair offers free stopovers), you can also take a 15 minute shuttle from Keflavík to Blue Lagoon to relax until your departure.
Taking the ferry from Denmark
If you prefer slow travel and want to take a truly unique journey to Iceland, Smyril Line operates a year-round ferry from Denmark to Iceland, called the M/S Norröna. The Norröna is a blend of freight ship, passenger ferry, and cruise ship. Although it lacks the fancy trimmings characteristic of luxury ocean liners, it still has decent cabins, restaurants, and amenities. Passengers can even load their cars and campervans onto it. What the Norröna lacks in bougieness fanciness, it makes up for in super scenic views. On your (approximately 2 day) voyage aboard the Norröna, you'll pass by mountain peaks dusted with snow, waterfalls running down green hills, exotic birds, migrating whales, artsy towns, and stop in the spectacular Faroe Islands along the way.
Travel tip: The Norröna is the only ferry that sails between mainland Europe and Iceland. Fares will vary by season, cabin choice, and meal plan, but overall it is cheaper than flying. Full disclosure: we flew to Iceland via WOW Air, landing in Keflavík and didn't take this ferry. While I've gone on cruises before (and sworn them off), I'm very intrigued by this one because the journey looks amazing.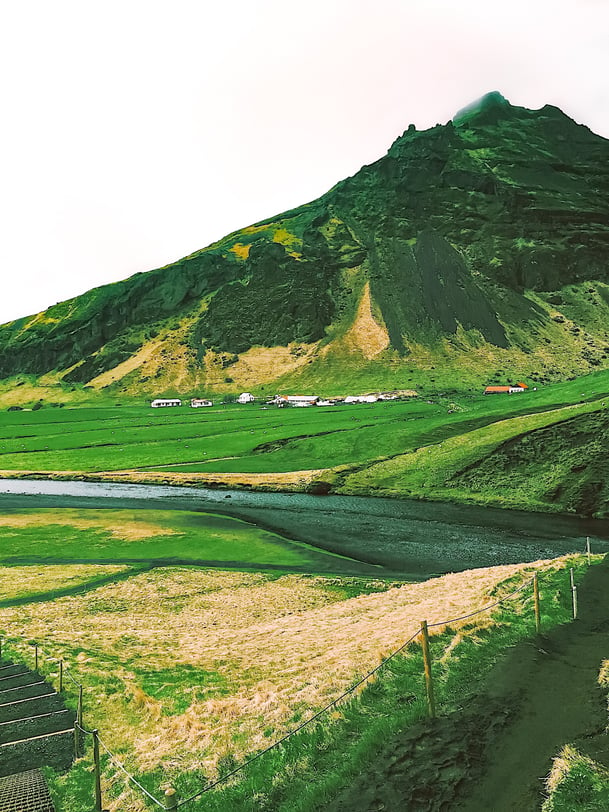 On the Norröna, you'll pass by green mountains and fjords
Where to stay
After you've figured out how you're going to get to Iceland, the next step is to choose your lodging. Your days in Iceland will be spent outside doing adventurous things, so some people may think, "Who cares what my hotel looks like, I'll barely be there. Let's go with the cheapest option." But trust me friend, you'll want to retreat to a nice hotel at night where you can comfortably rest your achy feet. The quality, service, and location of your hotel matter because outside of the cities, Iceland is mostly untouched, uninhabited land with small towns and villages spread across the country. Saad and I opted to make Reykjavík, the largest city, our home base so we could be walking distance to the highly rated restaurants, marina, and stores.
We stayed at the Black Pearl, a 5-star apartment hotel (not Jack Sparrow's pirate ship). Instead of rooms, an apartment hotel consists of fully furnished suites that include a kitchen, bedroom, living area, and bathroom. These suites are serviced like a hotel, meaning they are cleaned everyday, you can order room service, get your laundry done, speak to a concierge, etc. The Black Pearl suites are impeccably designed, spacious, and were the coziest haven to come back to after long days exploring the Icelandic hinterlands. Best of all, the Black Pearl is located steps from the city center and has free garage parking for your rental car. I'd highly recommend this hotel, especially if you're traveling with a family in tow.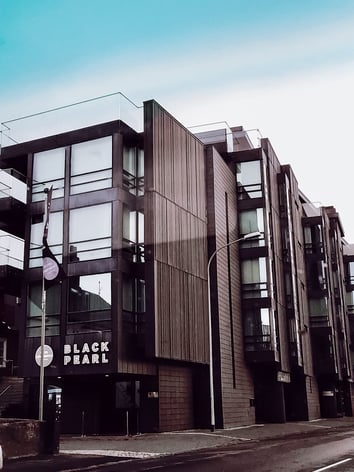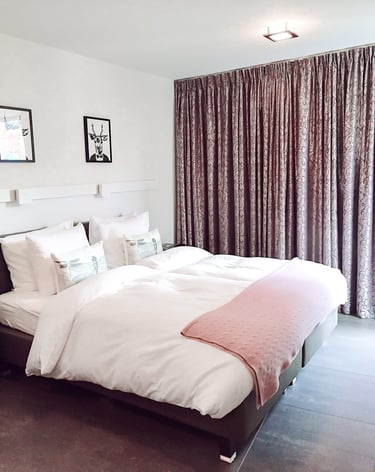 Exterior of the Black Pearl and the bedroom in our suite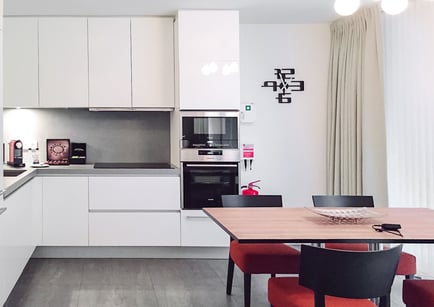 Kitchen and living area
Other hotels I'd recommend in Reykjavík are:
Travel tip: I bet you can sense a theme in the hotels I recommended, which is that they're all well designed with local flare in the heart of the city. In addition to hotel design and location, another important criteria to consider is parking. The best, most independent way to see Iceland is by renting a car vs. being tied to tour bus schedules, however, not all hotels have onsite parking. If you're planning on renting a car, pick a hotel with parking facilities to avoid the hassle of finding street parking in Reykjavík. Of the hotels I listed above, the Black Pearl, Tower Suites, and Canopy by Hilton have designated parking spaces.
Ready for an unforgettable adventure
As you can tell, Saad and I (read: just me) did a lot of research and planning before we headed to Iceland. Iceland isn't a regular country; it's a cool country (see what I did there?) full of natural wonders. If you don't plan out your trip in advance, you may end up landing in the dead of winter, get shunned for not following proper public etiquette, pick a hotel in the middle of nowhere, or worse, find yourself stuck because of a volcanic eruption.
By now, you should be well equipped to plan the details of your trip and hopefully, like we were, ready for an unforgettable adventure. In part II of my Iceland blog post, I'll take you through the southern part of the island highlighting what to eat and do when you get there. It's going to be epic, like the moment this picture was taken 😎.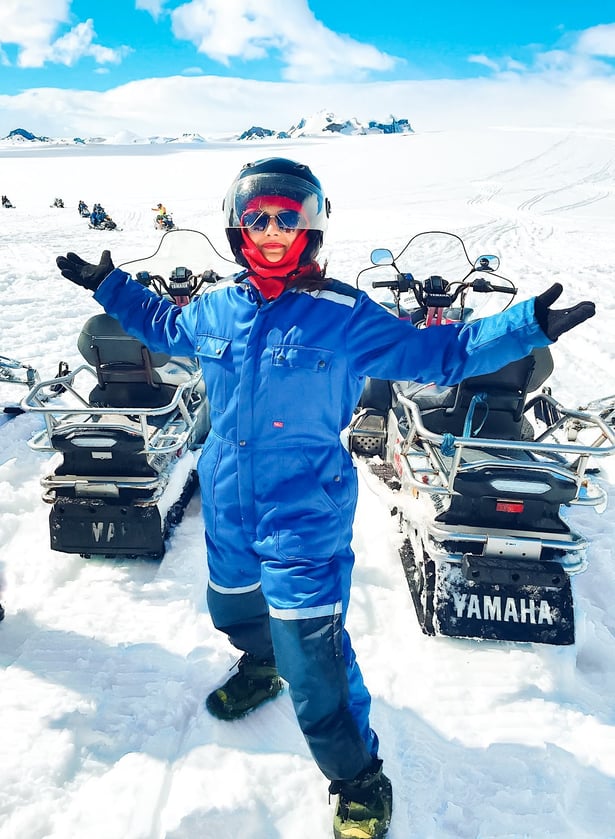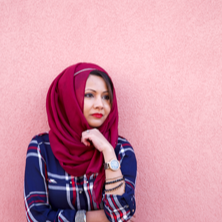 I'm a twenty-something Muslim blogger who's guilty of falling in love with every place I visit. I'm always planning the next trip in my head and missing the last one in my heart. When I'm not off discovering new parts of our beautiful planet, you can find me happily immersed in an art project.