Through time and experience, I have realized that there is a difference between going on a "vacation" and going on an "adventure." A vacation is a break from your routine, focused on changing your scenery and often spent lounging. An adventure, on the other hand, is about discovery, going into the unknown, and stepping outside of your comfort zone. While a vacation resuscitates you, an adventure transforms you. One slows you down so you can rest, the other makes your heart beat faster.
I wholeheartedly believe that to live a full life, human beings need both types of travel. If I were to lay out the trips I have taken to date on this spectrum, I'd pick the Maldives as my most relaxing vacation and Iceland as one of my greatest adventures.
This is the story of that adventure. Even though it's been a few years since we traveled to Iceland, the unforgettable memories still fill me with a rush of adrenaline. It is that feeling I hope to pass onto you by the end of this post, to ignite a hunger for adventure.
Planning for Iceland
This blog post is actually part II of my two-part series on Iceland. Here is part I, which details everything Muslim travelers need to know to prepare for a trip to Iceland (like what to expect, when to go, and where to stay). In part II, I'm going to talk about the sites and bites of Iceland (i.e. what to see and eat once you get there).
***I created this map marking all of my recommendations and road trips for southern Iceland, in case you don't have time to read the detailed itineraries below***
Section overview
A land of natural wonders
Unlike other European countries, where the appeal and activities are centered on architecture, culture, and history, the beauty of Iceland is that its landscape is unspoiled by man. From the majestic fjords to the magnificent volcanic mountains to the thundering waterfalls to a beach full of marooned icebergs that sparkle like diamonds, Iceland is a land of a thousand natural wonders. It is one of the best places to see, hear, and be moved by, the poetry of the Earth.
So… all of this is to say that in Iceland, everything worth seeing and doing is outside. In nature. In the cold.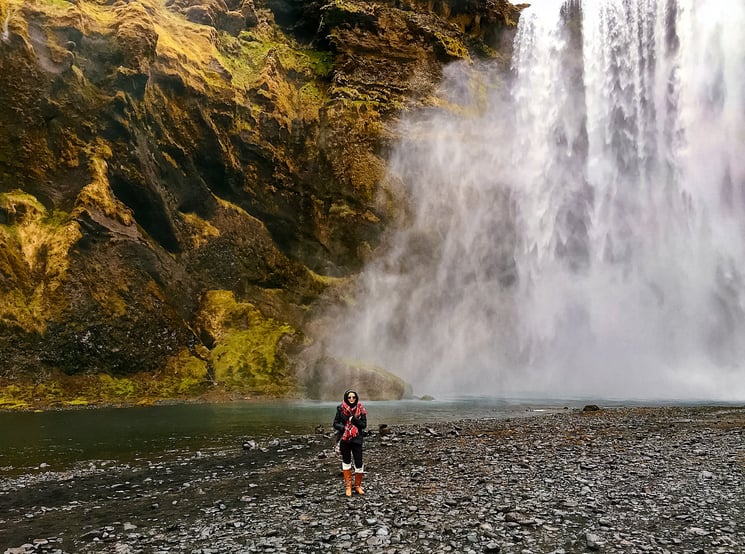 Up close and personal with a waterfall
Ring Road vs. Reykjavík
Iceland actually has a lot more than a thousand natural wonders. There are about 109 fjords, 130 volcanoes, over 250 glaciers, and more than 10,000 waterfalls! You could probably spend months uncovering splendors in the nooks and crannies of this Nordic island nation.
Saad and I only had five days.
Now, we could have driven the Ring Road (a.k.a. Route 1), an 800-mile highway that takes you on a loop of the entire country in 7-11 days, which is what most people who visit Iceland opt to do. But we're not like most people. We didn't want to rush through the countryside, or spend the majority of our days driving, or haul our butts luggage from hotel to hotel in different towns. We wanted to travel at a leisurely pace, be close to the top restaurants, and stay at one fancy hotel. We also wanted to make sure we had time to do stuff (like hiking, snowmobiling, etc.), not just make quick pit stops.
That's why instead of doing the Ring Road road trip, we chose Reykjavík (the capital city) as our home base and did day excursions from there to thoroughly explore the south of Iceland.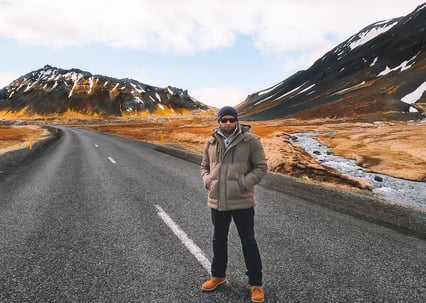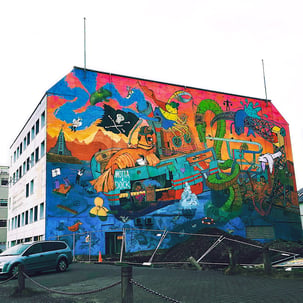 An example of views on the Ring Road vs. views in Reykjavík
Travel tip: Whether you stay in one place or drive the Ring Road, I strongly recommend renting a car with a built-in GPS. Iceland's natural wonders are dispersed, meaning you can't reach them by foot or taxi. Having a car will give you the flexibility to see things at your own pace without being tied to tour bus schedules. If you decide to venture out on the Ring Road, you'll need a four-wheel-drive to access the F-roads and the highlands. Keep in mind that Iceland's weather changes by the hour, so check road conditions regularly using this website.
What to see and do (in the south of Iceland)
Whenever we travel, our mantra is "see things wisely" not "see everything." Our goal is to take part in unique experiences, not simply stop by every notable landmark for that Instagram photo. For Iceland, we created an itinerary that allowed us to see and do a variety of different things. Over the course of 5 days we saw a black sand beach, glaciers, lava fields, waterfalls, an active volcano, geysers, thermal lagoons, fishing villages, and dined at some of the country's most famous restaurants. It was an exhilarating whirlwind of a trip!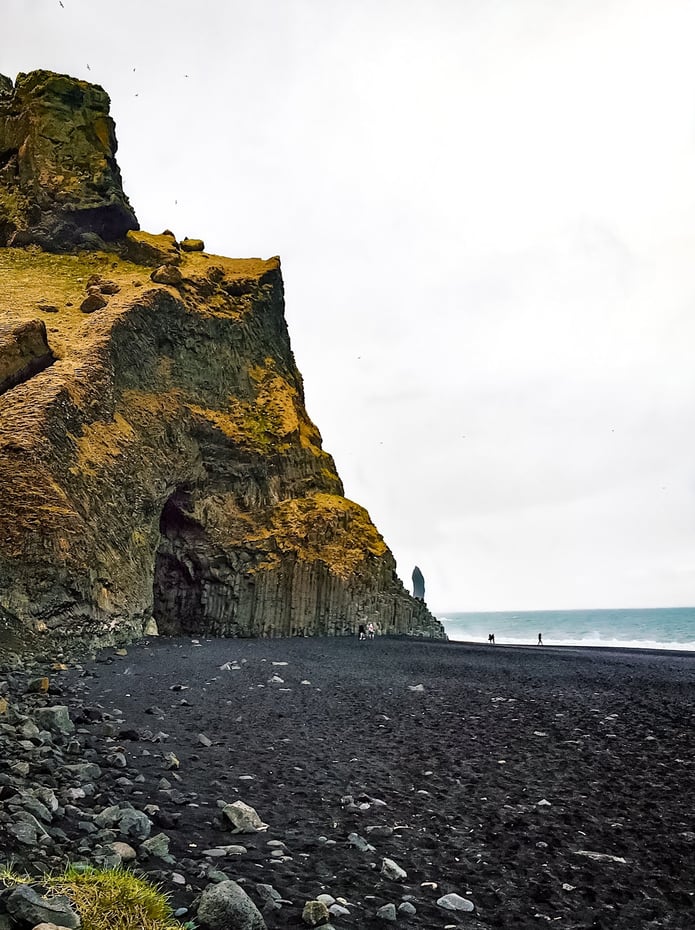 A black sand beach
We enlisted the help of a local Icelandic travel agency to build our itinerary *cue gasps*. I know it might be sacrilegious surprising for a blogger to turn to a travel agency instead of other influencers in today's age of TripAdvisor and social media, but hear me out. Iceland is such a diverse, unpredictable, and geologically gifted country that it can be overwhelming to plan out a trip without being plagued by questions like:
Is this itinerary too jam-packed? Will we burn ourselves out?
Is this road / cave / glacier closed or safe to visit right now?
DID I MISS SOMETHING EXTRAORDINARY?! #FOMO
Travel tip: A travel agency can give you answers and design a trip tailored to your needs. We worked with the team at Eskimos, a travel agency that specializes in private and luxury itineraries… don't judge us for our bougieness 😎. Our rep from Eskimos gave us insight into everything Iceland related. She helped us understand what tours are worth doing with a guide vs. what we can easily see on our own and even told us about local customs, restaurants, and gave us packing advice. And of course she booked everything for us too! Another good, more budget-friendly travel agency is Saga Travel (Eskimos is better though).
Alright, now that we've gotten the logistics out of the way, in the next section, I'll take you through the southern sites of Iceland, share our day-by-day itinerary, and highlight what you can do at each astonishing location.
Day 1: The Golden Circle
Let's start with the Golden Circle because it is a good introduction to Iceland's impressive landscape. The Golden Circle is a popular route running approximately 190 miles (300 kilometers) from Reykjavík into the southern uplands and back. The three main stops on the route are Gullfoss (fun fact: 'foss' means 'waterfall' in Icelandic so yes, this is a waterfall), the geothermal area containing Geysir and Strokkur, and Þingvellir National Park, but there are tons of detours too.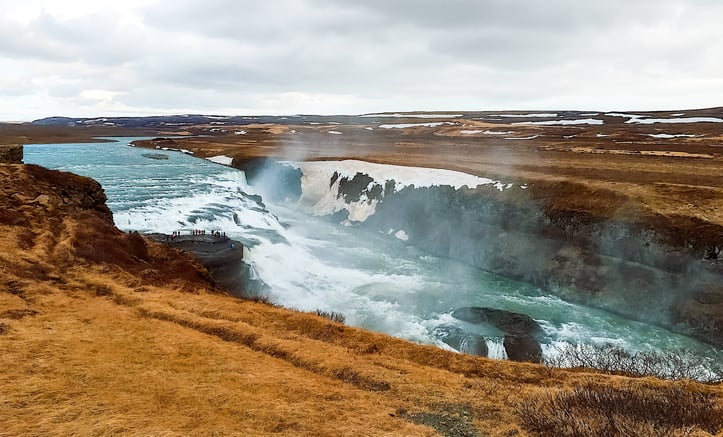 Gullfoss, a main stop on the Golden Circle route
Travel tip: We drove the Golden Circle in 7 hours counterclockwise (the opposite of what most tour buses do) because we're rebels and we wanted to avoid the crowds. I'd recommend budgeting 8-10 hours for this route and following the schedule below - it includes the three main landmarks and the best detours to take for some extra thrills and yummy food.
Check out Kerið crater
Once upon a time, Kerið was a regular lava-spewing, cone-shaped volcano. Then about 3,000 years ago, it erupted and drained its magma chamber causing its top to collapse in on itself. This formed what scientists eloquently call a 'caldera,' and I colloquially call a huge hole. Eventually, mineral-rich groundwater seeped into the crater forming a shallow lake. The coolest thing about Kerið is that this volcanic crater lake is a vivid, milky blue-green color surrounded by red slopes. Although we regrettably didn't stop by Kerið, I long to go back and do the "I'm king of the world!" pose from Titanic here.
Darn, someone beat me to it.
Travel tip: There is a parking lot next to the Kerið crater. For a small entrance fee, you can hike around the rim of the crater and even take a ladder down to the lake inside.
Eat at Friðheimar
As in any country, non-greasy food is hard to find on the road. However, the Golden Circle route will take you past Friðheimar, a lovely family farm that specializes in two unrelated but equally awesome things: 1) they grow tomatoes and cucumbers year-round in geothermal greenhouses and 2) they breed Icelandic horses. The farm includes a small restaurant where you can dine in a charming environment next to plants and try tomato-based dishes (like hot tomato soup) and fresh baked breads made using their own produce. They also put on a lively horse show featuring their noblest steeds.
Travel tip: The restaurant is open every day from 12:00 pm to 4:00 pm, but make a reservation before you go. The horse shows only happen during the summer months and also need to be booked in advance.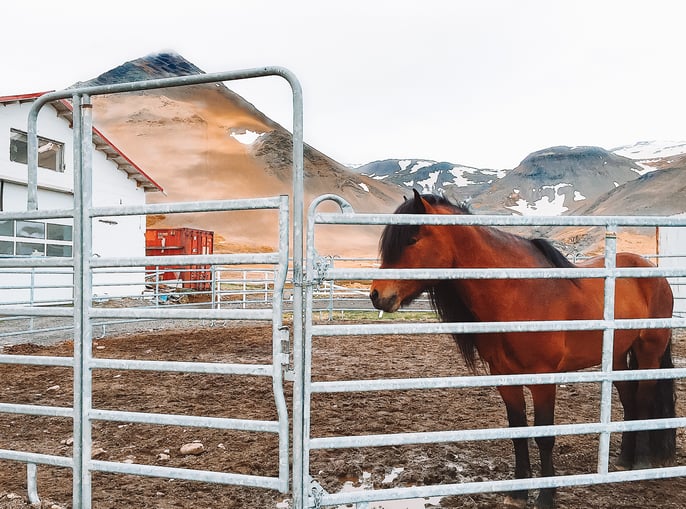 An Icelandic horse
See the Gullfoss waterfall
Gullfoss, translated to 'Golden Falls,' is one of Iceland's most iconic waterfalls and included on Travel+Leisure magazine's list of awe-inspiring waterfalls you must see before you die. High praise, right? So, what makes Gullfoss more remarkable than the other 10,000+ waterfalls in Iceland? Well for one thing, Gullfoss is located in a canyon of the Hvítá river, the most dangerous river in Iceland. And for another thing, Gullfoss is a "staircase" waterfall meaning its water cascades down in two stages (i.e. steps).
It's the kind of waterfall that gives you an onrush of admiration for the raw, relentless power of nature - at least that's how it made me feel when I laid eyes on it.
Travel tip: Since Gullfoss is located in a river canyon, you can see it from above. The waterfall is open 24/7 and free to visit. If you miss eating at Friðheimar, there is a cafe near the entrance where you can grab snacks.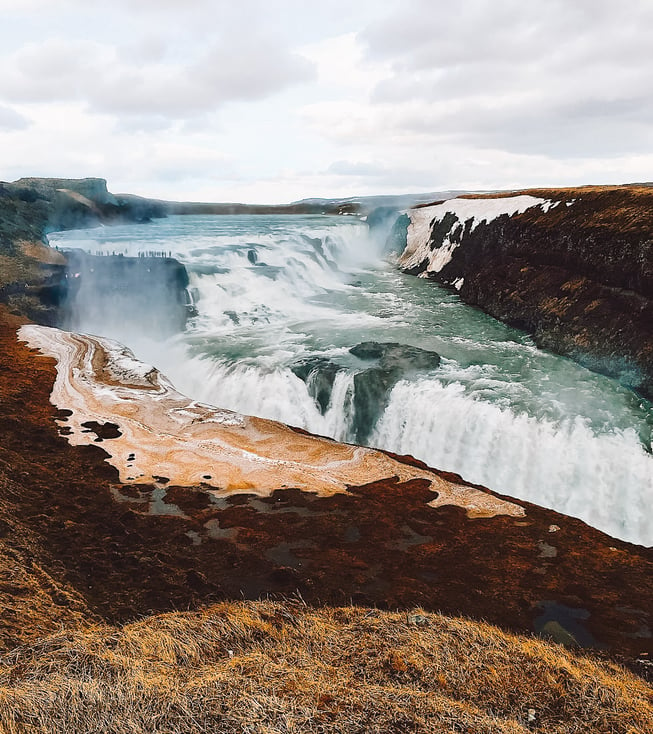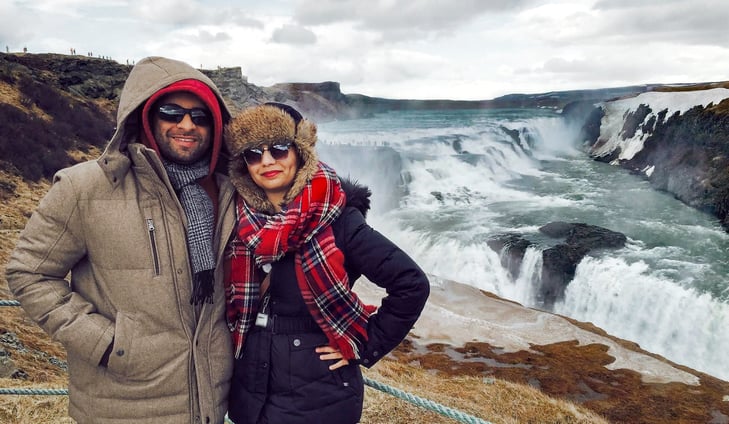 Go snowmobiling on Langjökull glacier
A little ways past Gullfoss is Langjökull glacier, Iceland's second largest icecap and the source of water that feeds Gullfoss. If you only have time to take one detour on the Golden Circle route, make it this one: go snowmobiling on Langjökull glacier! Saad and I self-drove the whole Golden Circle route, but we joined a tour group at the foot of Langjökull for this excursion because you can't just drive onto a dense, glacial ice sheet in a regular car.
The only vehicle that can traverse that terrain is a monster bus.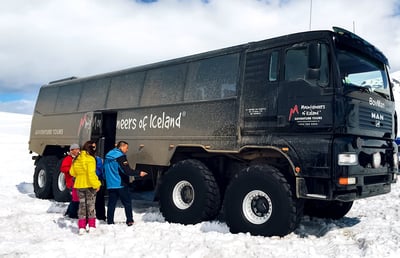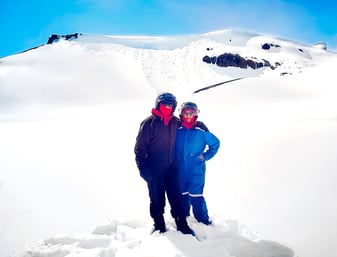 After parking our car, we loaded onto this bus for a bumpy 45-minute ride up to base camp where we changed into fashionable 🙃 jumpsuits, balaclavas, and helmets.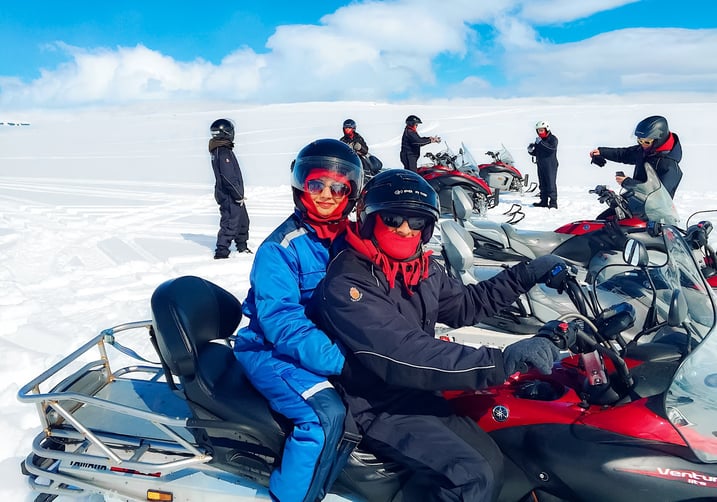 Adrenaline level = 1000, cuteness level = 0
A snowmobile doesn't go super fast, but it is hard to maneuver. Saad and I shared a snowmobile, following our guide from base camp deep into Langjökull's open, wintery landscape. It was cold, even on a sunny day, and the snow came up to my knees at some points. My extremities were frozen and my jumpsuit had a lingering musty odor from the previous wearer. Normally, all of these things would make me cranky uncomfortable, yet the only emotions I remember feeling are wonder and euphoria.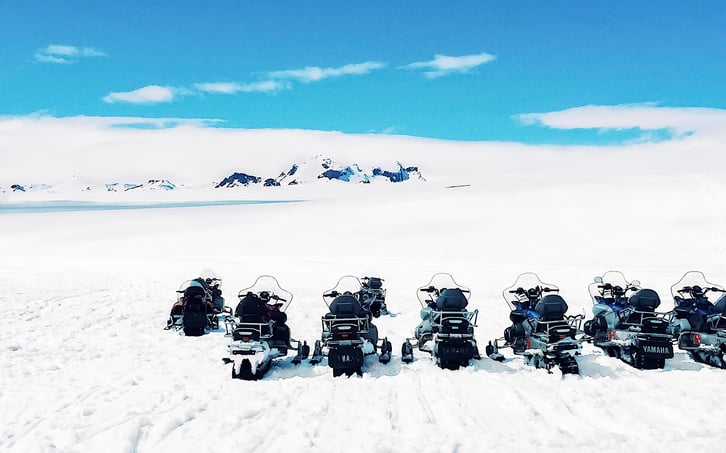 Atop Langjökull glacier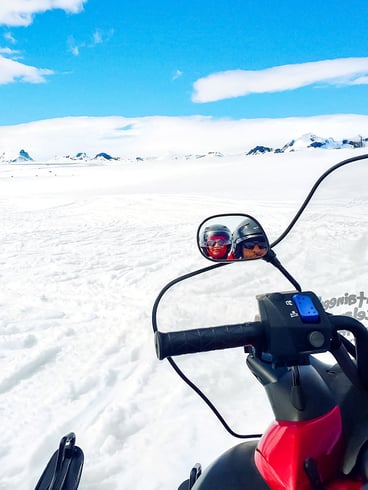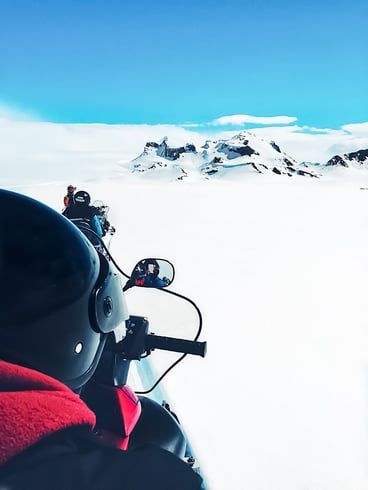 On a glacier, when the powdery white snow meets the wispy white clouds, it's like seeing the place where the Earth and the heavens become one; there is no separation between land and sky anymore.
I felt like we were on top of the world. So here's my "I'm king of the world!" pose now.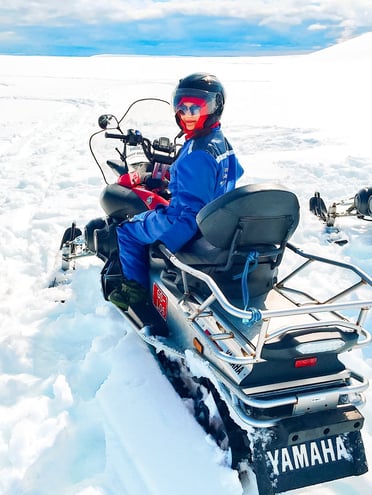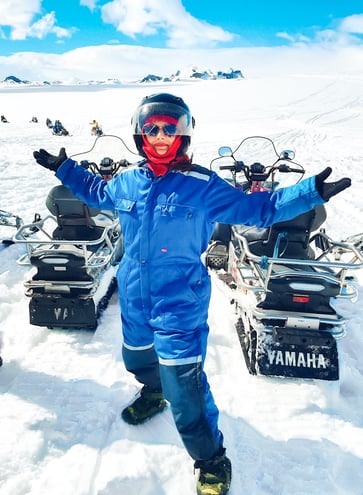 ...and Saad's "draw me like one of your French girls" pose.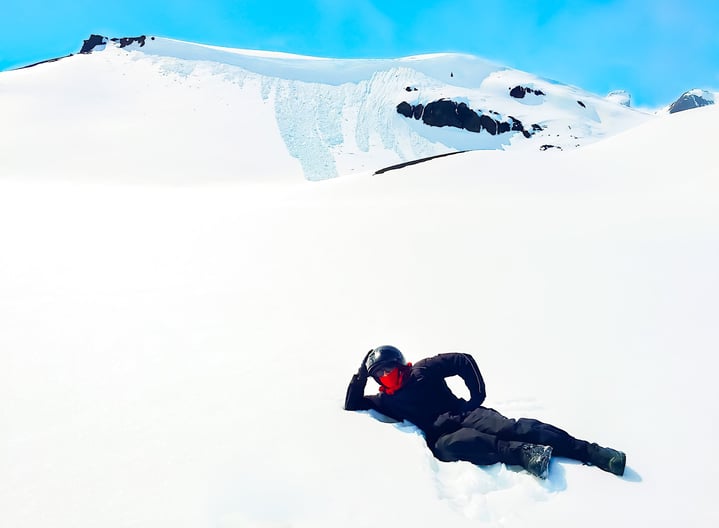 Travel tip: Our snowmobiling tour was with Mountaineers of Iceland. Arctic Adventures is another tour company that offers a snowmobiling plus an ice cave excursion on Langjökull, during which you can step inside the glacier and see neon blue frozen rivers buried beneath its icy surface. These tours are weather dependent.
Watch the Strokkur geyser erupt
If craters, geothermal greenhouses, waterfalls, and even a glacier somehow don't excite you, next up on the Golden Circle is something even more uncommon: geysers. A geyser is a hot spring that intermittently shoots scalding water and steam into the air.
Geysers are a rare natural phenomena because they only exist under certain conditions. First, magma needs to be close to the Earth's surface to make the rocks hot enough to boil water. Second, there needs to be flowing water that gathers in a basin. Third, there must be a plumbing system of conduits and vents coated with silica that causes the pressurized, boiling water to erupt, not evaporate. That's my quick geology lesson for you because I want this travel blog to be inspirational and educational.
The Haukadalur valley on the Golden Circle route is home to two legendary geysers. The Great Geysir was the first geyser discovered in Europe and the namesake for all other geysers. Since 1916, it has been mostly dormant although earthquakes have briefly jolted it to life from time to time. This giant was last awakened in 2000.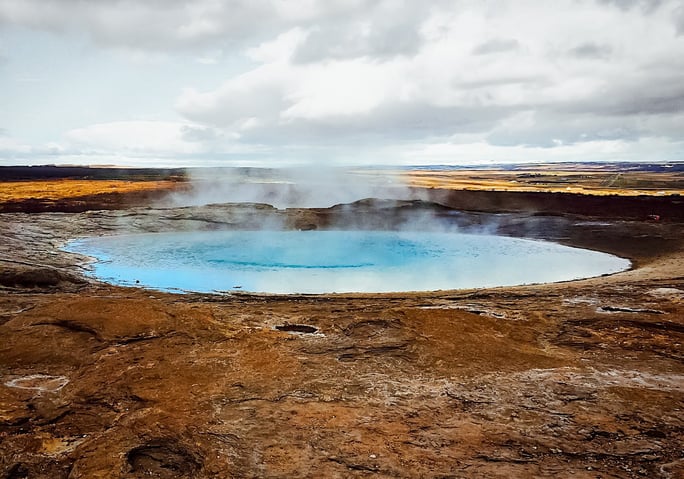 The Great Geysir
Nearby in the same valley is the smaller Strokkur geyser. Strokkur is still active and continues to blast a jet of superheated water 60 feet into the air every 5-10 minutes.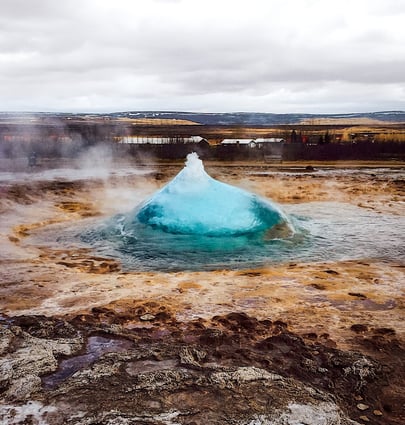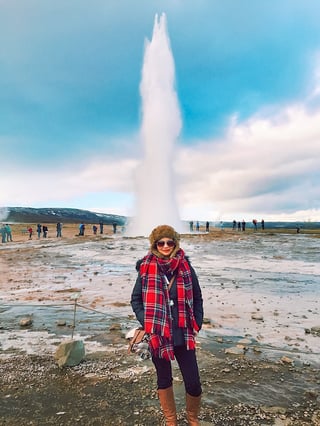 Strokkur geyser erupting

Travel tip: This may seem obvious, but don't throw anything into the geysers. Also, be mindful of the low-hanging white ropes as they mark the safe distance from which you can watch the eruptions.
Try the ice cream at Efstidalur

By this point into the Golden Circle route, chances are you'll be hungry again. Luckily, there's another delightful family-run farm on the way called Efstidalur. Efstidalur is known for their organic and homemade ice cream, made using fresh milk from their own cows. Take a break and treat yo'self here.
Travel tip: Efstidalur also has a coffee shop and walk-in restaurant on the farm. They're open from 10:00 am to 9:00 pm everyday.
Visit Þingvellir National Park

The last stop on the Golden Circle (or the first stop if you go clockwise) is Þingvellir (Thingvellir) National Park, a UNESCO World Heritage Site. Þingvellir National Park holds significant historical, cultural, and geological importance.

Historically speaking, it is where clan chiefs gathered in 930 AD to convene Iceland's first parliament, which still functions today! Culturally speaking, it is where Icelanders abandoned the Old Norse religion of their ancestors and embraced Christianity. And geologically speaking, Þingvellir National Park contains the most visible evidence of plate tectonics (i.e the modern version of the continental drift theory stating that the Earth's crust is made up of 'plates' which are moving away from each other).
In Þingvellir National Park, you can hike through the Almannagjá gorge or snorkel / scuba dive in the Silfra fissure to see the rift between the North American and Eurasian plates.
Travel tip: Silfra is a top dive site because it is the only place on Earth where you can dive in the pristine water between continents. In fact, the visibility of the water exceeds a hundred meters. However, the water temperature hovers around 35°F (2°C) so you'll need to have a dry suit diving certification. Full disclosure: Saad and I are not certified divers so we couldn't do this activity, which is why there are no pictures.
Day 2: Vik
On the second day of our trip to Iceland, we drove from Reykjavík to the seaside village of Vik (part of the Ring Road). By itself, this remote village is small and unassuming, but the roughly 2.5 hour drive to Vik takes you past incredible waterfalls and Iceland's most famous black sand beach.
Walk around Seljalandsfoss
The first waterfall we encountered was Seljalandsfoss, which is fed by meltwater from Iceland's glacier-capped Eyjafjallajökull volcano (I dare you to pronounce its name). Seljalandsfoss' distinguishing feature is that you can fully encircle it. There is a pathway that leads into a wide cavern behind the falls so you can gaze out at the meadow from behind a curtain of water. This is a mesmerizing opportunity, but the pathway is slippery and you must be prepared to get wet.
Travel tip: There are always tons of people at Seljalandsfoss. If you want a more peaceful, off-the-beaten-path moment with nature, go to Gljúfrabúi waterfall. Located less than a kilometer away, Gljúfrabúi is a hidden gem tucked into the cliff rock.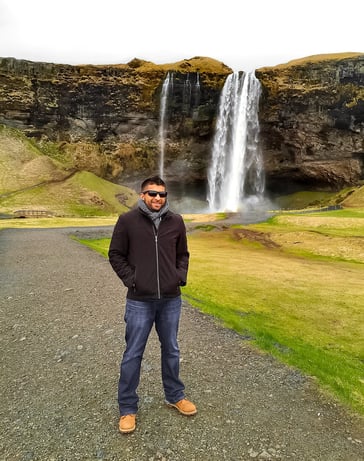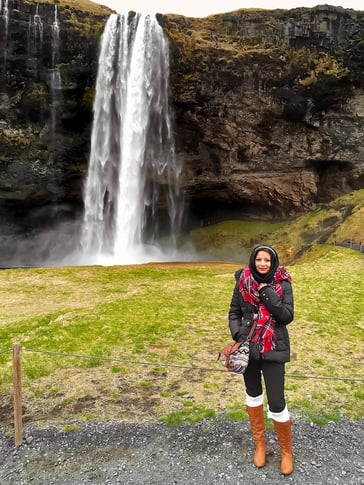 Hello, Seljalandsfoss
Get up close to Skógafoss
Skógafoss, meaning 'waterfall of the forest,' was the second stop on our drive to Vik. With a 60 meter drop and a perfectly rectangular shape, Skógafoss is one of Iceland's largest waterfalls. The land underneath the waterfall is quite flat, so we could walk right up to the magnificent wall of water. On a sunny day, it consistently produces a rainbow. Oh and no big deal, but legend says that long ago, a Viking settler buried a chest of gold behind it that has yet to be found.
Travel tip: For those of you who enjoy backpacking and are in good shape, Fimmvörðuháls pass is a 14 mile (22 kilometer) hiking route beginning at Skógafoss that will take you into the highlands between two glaciers (only open in the summer). For a less strenuous and more eerie hike, the wreck of the United States DC-3 plane lies on a black sand beach right after Skógafoss (but it's a one hour walk from the parking lot to the wreckage each way).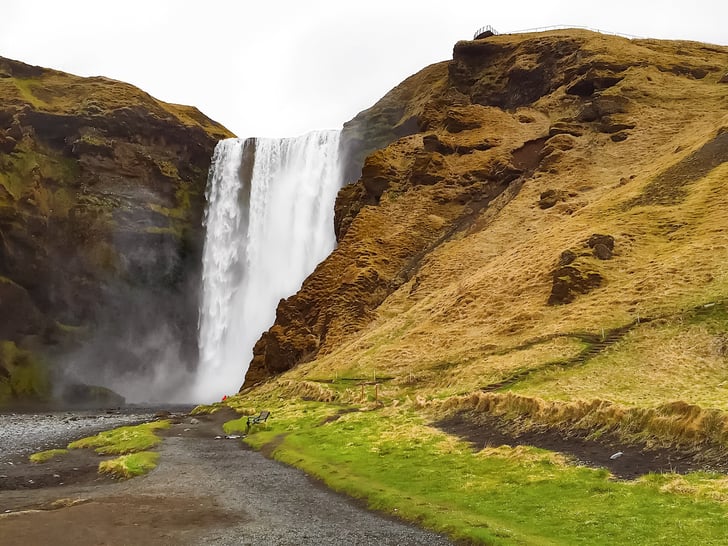 Up close and personal with Skógafoss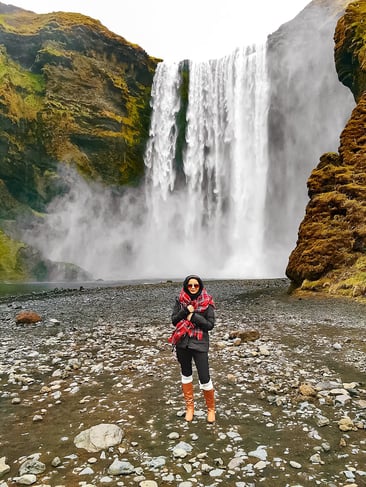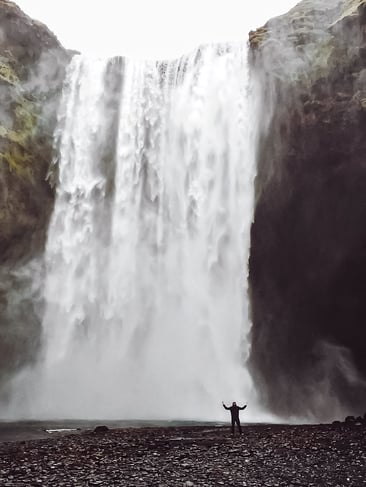 Disappointingly, we didn't find the ancient Viking treasure
Admire the basalt rocks at Reynisfjara beach
Our last stop before arriving in Vik was Reynisfjara beach, which is among the most beautiful non-tropical beaches on this planet. Reynisfjara beach is a black 'sand' beach (sand here = pebbles) with basalt cliffs lining its coastline and rocky sea stacks just off the shoreline. The sea stacks that jut dramatically out of the ocean are known as Reynisdrangar. According to folklore, these basalt columns were once dim-witted, murderous trolls who were turned to stone by the breaking dawn. If you couldn't tell already, I'm drawn to places with unworldly characteristics that take my breath away and raise a of chorus of "subhanAllah" in my heart.
Travel tip: Reynisfjara may be a beach, but this is no place to swim. The roaring Atlantic waves are violent and can sneak up on you, so stay far away from the water and never turn your back to the sea. Seriously, people have been swept into the current and died here before.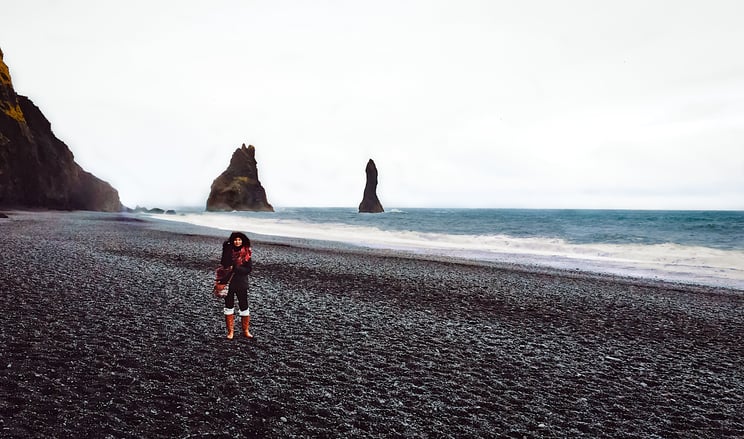 The basalt sea stacks of Reynisfjara beach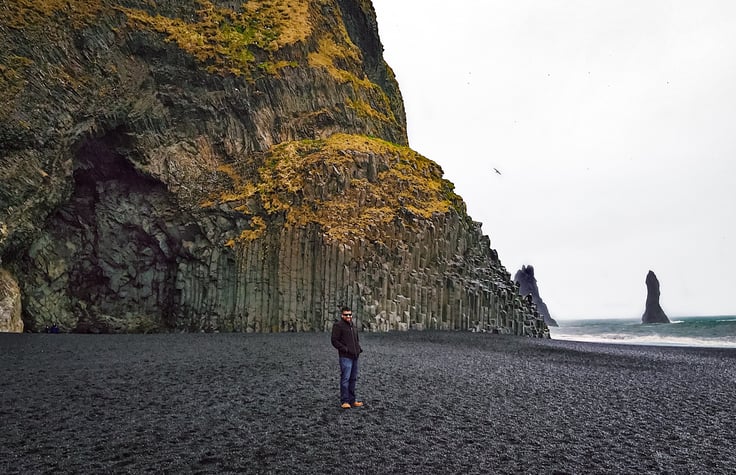 And the basalt cliffs

Eat at Vik
The village of Vik is around the corner from Reynisfjara beach. Vik marks the halfway point between Reykjavík and the stunning Jökulsárlón Glacier Lagoon, which is another 2 hours away. Since we were staying in Reykjavík, we didn't have time to see the lagoon (next visit inshAllah). Our plan was to eat dinner at Vik and then head back to our hotel in Reykjavík. If you are driving the Ring Road or have more time, definitely check out Jökulsárlón Glacier Lagoon or do a glacier hike!
Travel tip: There are two good places I'd recommend you eat at in Vik: Halldórskaffi Café (a diner with lots of fish options on the menu) and Suðurvík (they pride themselves on their pizza).
Day 3: Snæfellsnes Peninsula
The Golden Circle route took us into the central highlands of Iceland. The drive to Vik took us through the southeastern part of the country. On day three, we switched directions (literally) and went west on a road trip to the Snæfellsnes Peninsula. The Snæfellsnes Peninsula is a region dubbed "mini Iceland" (Iceland inception) because it offers a glimpse into everything Iceland has to offer. It's a scenic 2-3 hour drive from Reykjavík, but as usual, there are a million things to see along the way. On this day trip, we stopped at old fishing villages and went horseback riding through lava fields.
See the sculpture at Arnarstapi
In the 18th century, Arnarstapi was a bustling trading port, said to be the home of a half-ogre, half-human named Bárður Snæfellsás, who vanished into the glacier and subsequently became the guardian of the valley. Nowadays, Arnarstapi is dotted with summer houses and the only trace that remains of Bárður is a stone sculpture built to honor him. We spent about 30 minutes at Arnarstapi walking along the edge, admiring how the waves have carved the cliffs.


Travel tip: There is an observation platform near Arnarstapi where you can see Gatklettur, a naturally formed arch surrounded by swirling water. It's a fascinating structure.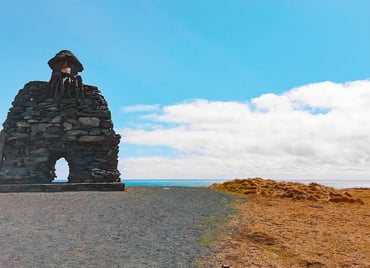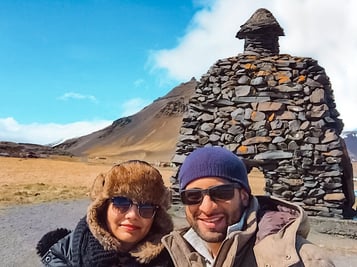 Sculpture of Bárður, protector of the Snæfellsnes Peninsula
Check out the rock formations at Hellnar
A few miles away from Arnarstapi is Hellnar. In its heyday, Hellnar was one of the largest fishing villages on the peninsula but as Iceland began to modernize, it was largely abandoned as the fishing industry moved to Reykjavík. We stopped at Hellnar to see Valasnös, a protruding basalt rock formation with a huge cove. Next to it are the remains of the ancient pier.


Travel tip: If you're hungry and want to savor the view, grab a seat at the outdoor Fjöruhúsið Café and warm up with a bowl of soup.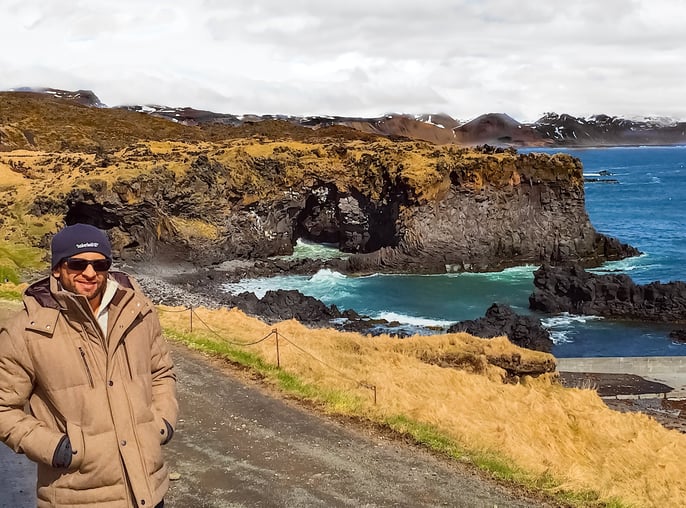 The Valasnös rock formation at Hellnar
Go horseback riding at Lýsuhóll farm
We capped our journey along the Snæfellsnes Peninsula with a private horseback riding tour at Lýsuhóll farm. Now, there are tons of farms where you can ride Icelandic horses, so why did we drive all the way up this peninsula to Lýsuhóll? Because this farm is ideally situated at the base of volcanic mountains and located close to the sea - a beautiful landscape for riding. We trotted along the shore, and through lava fields, on our Icelandic steeds. Icelandic horses are friendly, fluffy, hardy, and bred to carry riders smoothly over rough terrain so even if you've never ridden a horse before, this is a wonderful way to see Iceland and meet these darling animals.
Travel tip: Iceland's wind is especially nippy on this peninsula so bundle up in layers and thick socks. Although Saad and I were frozen on our horses, I loved slowing down and exploring Iceland like a Viking this way.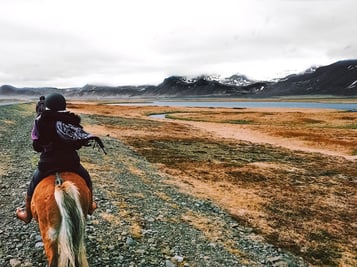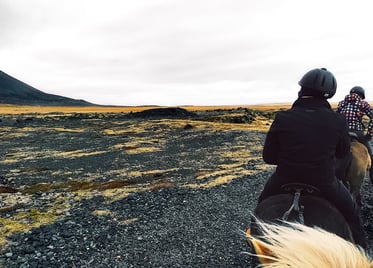 Horseback riding through lava fields (the charred black rock is hardened lava)
More landmarks on the Snæfellsnes Peninsula
There's a lot more to see on the Snæfellsnes Peninsula, like...
Day 4: Reykjanes Peninsula
The Reykjanes Peninsula is perhaps the most underrated part of southern Iceland. Most people come here for the airport or the Blue Lagoon, and then drive away without looking around. But the Reykjanes Peninsula has heightened volcanic activity because it runs along the Mid-Atlantic Rift where the continents are moving apart. On day four of our Iceland adventure, we drove through this lava-scarred peninsula. We crossed two continents (yes, really!), saw lighthouses, walked through a haunted geothermal area, and ended the day at the world-famous Blue Lagoon.
Walk through Krýsuvík & Gunnuhver geothermal areas
Krýsuvík and Gunnuhver are geothermal hotspots that contain steam vents, craters, and boiling mud pools. Both of these areas are desolate and dangerous, with orange-red landscapes that made me feel like I was walking on Mars. There is a seafoam green lake called Grænavatn located near Krýsuvík that's worth checking out. Gunnuhver is said to be haunted by a witch named Gunna, whose spirit is trapped there, so read Ayat Al-kursi (a Quranic verse) just in case.
Travel tip: Follow the hiking trails and stay on the platforms. The steam vents and boiling springs can melt flesh off the bone. And the air is kinda stinky because of all the sulphur that's present in geothermal areas like these.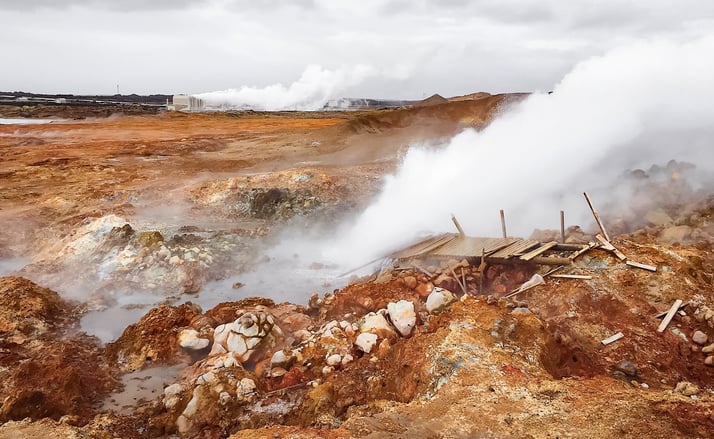 The supposedly haunted Gunnuhver geothermal area
Cross the Bridge Between Continents
What if I told you that you could walk from Europe to America in a few seconds? You'd probably think I'm a little coocoo or that I failed geography in school, right? Well in Iceland, unimaginable feats like these are 100% possible because of the country's position over two tectonic plates, which are continuously moving apart due to great forces. On this peninsula, the divide between the plates is visible above sea level allowing you to walk between continents… or continental plates to be exact. There's no other place in the world where you can do that, so we had to cross the Bridge Between Continents. The Bridge Between Continents lies over a gaping fissure, symbolizing the connection between Europe and America. One side of the bridge is the "American side" and the other is the "Eurasian side."
Travel tip: After crossing the bridge, you can pick up a personalized certificate from the Reykjanes Information Center that verifies the mind-boggling fact that you did indeed just walk between two continents. It'll make one hell of a souvenir and story.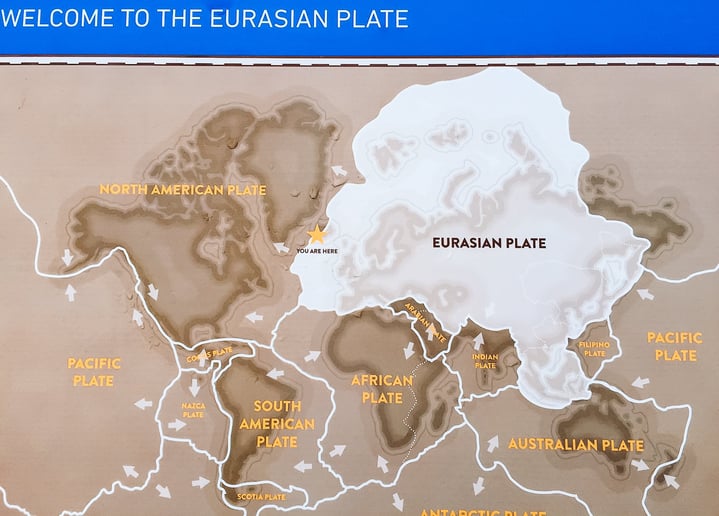 The Bridge Between Continents connects the American and Eurasian continental plates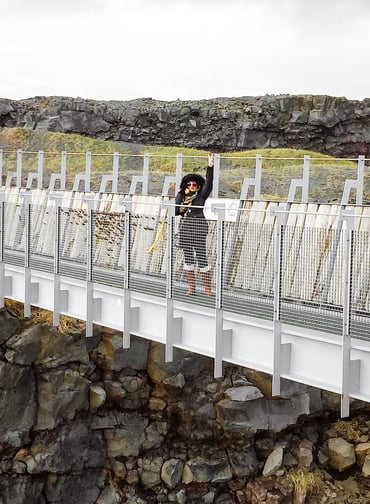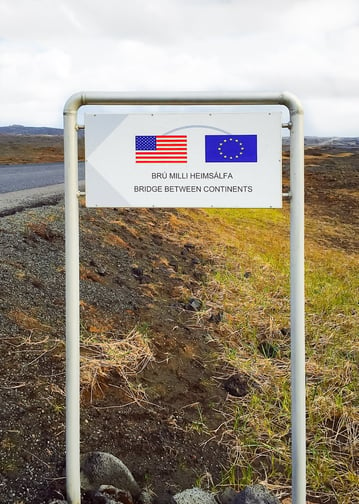 See the lighthouses of Garður
Lighthouses may seem boring, but when you reflect on their purpose, which is to guide those at sea back to shore, back to home, back to safety - these towers of ebbing light become much more interesting. Lighthouses are a monument to mankind's proclivity for voyaging out onto the sea in search of adventure. Since Iceland is an island, there are more than a hundred lighthouses spread along its striking coastline. Each lighthouse is uniquely colored and constructed. During our day trip through the Reykjanes Peninsula, we saw two lighthouses in the fishing town of Garður.


Travel tip: The best time to visit these lighthouses is at sunset (for the pink-purple glow) or at night (for the Northern lights).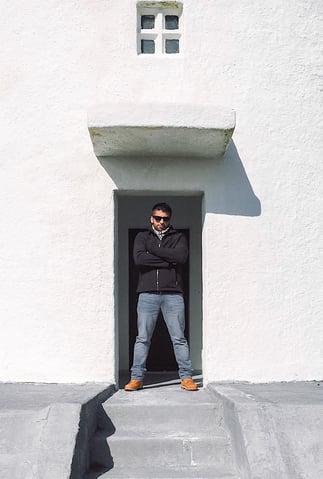 One of the lighthouses of Garður
Relax at the Blue Lagoon
Amidst all the action-packed activities, we found an evening to unwind at the Blue Lagoon, a luxurious geothermal spa that National Geographic called a wonder of the world. Others have dubbed it a tourist trap. But despite what the haters say, I think the Blue Lagoon is an oasis of relaxation. Its balmy, milky blue water is rich with skin-soothing minerals like silica, making it a perfect place to soak regardless of the season. However, contrary to popular belief, the Blue Lagoon is not a naturally occurring lagoon; it sprung up as a result of drilling by the geothermal power plant nearby. Don't let that scare you though, the water is pure and renews itself every 48 hours.
Travel tip: Over the years, Blue Lagoon has expanded its facilities from a spa to also include a hotel and gourmet restaurant. Pre-book your table and package in advance! I'd recommend going with the premium package because it includes a priority entrance line, slippers, bathrobe, towel, skin care trial pack, and a free drink. You can also get in-water massages (they're amazing!). If you're traveling with kids, the minimum age to enter the Blue Lagoon is 2 years old and kids under 13 get in free.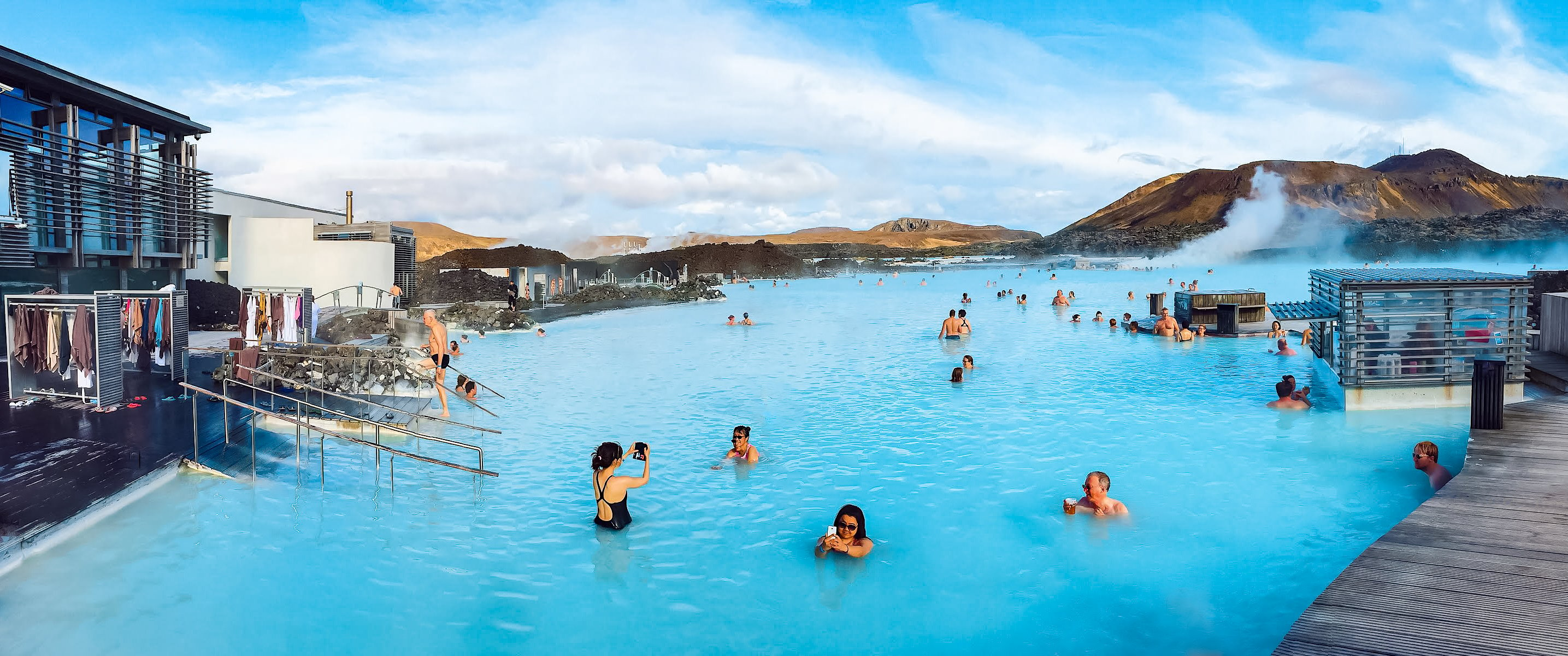 The skin-nourishing water of the Blue Lagoon hovers around 102°F (39°C)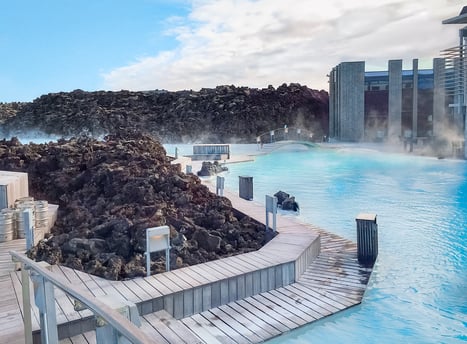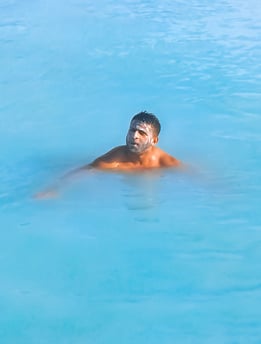 Lather on the algae skin mask to get a youthful glow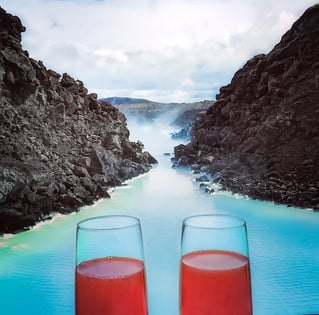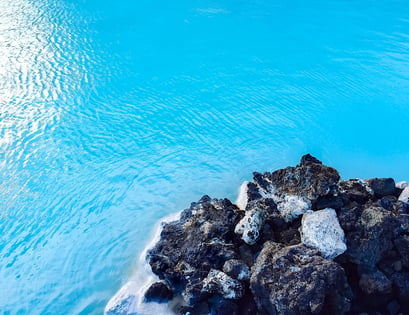 The Blue Lagoon is enclosed within a black lava field
Day 5: Reykjavík
To be honest, we spent most of our time in Reykjavík eating and sleeping. We'd leave in the morning for our day trips and return to stuff our hungry bellies at night. I have plenty of restaurant recommendations in the next section of this blog post, but before we get into that, let me tell you about the two things we did do in Iceland's capital city. One of them was amazing, the other was lackluster. I feel obliged to share the honest truth about both so you can make good choices.
Take a helicopter tour
Google will tell you that the top things to do in Reykjavík are to see the Hallgrímskirkja church, the glass Harpa concert hall, and the Sun Voyager sculpture. All of these things are cool, but in my opinion, the best activity to do in Reykjavík is to take a helicopter tour. As astounding as Iceland is from ground level, a helicopter can fly you to places where no roads lead.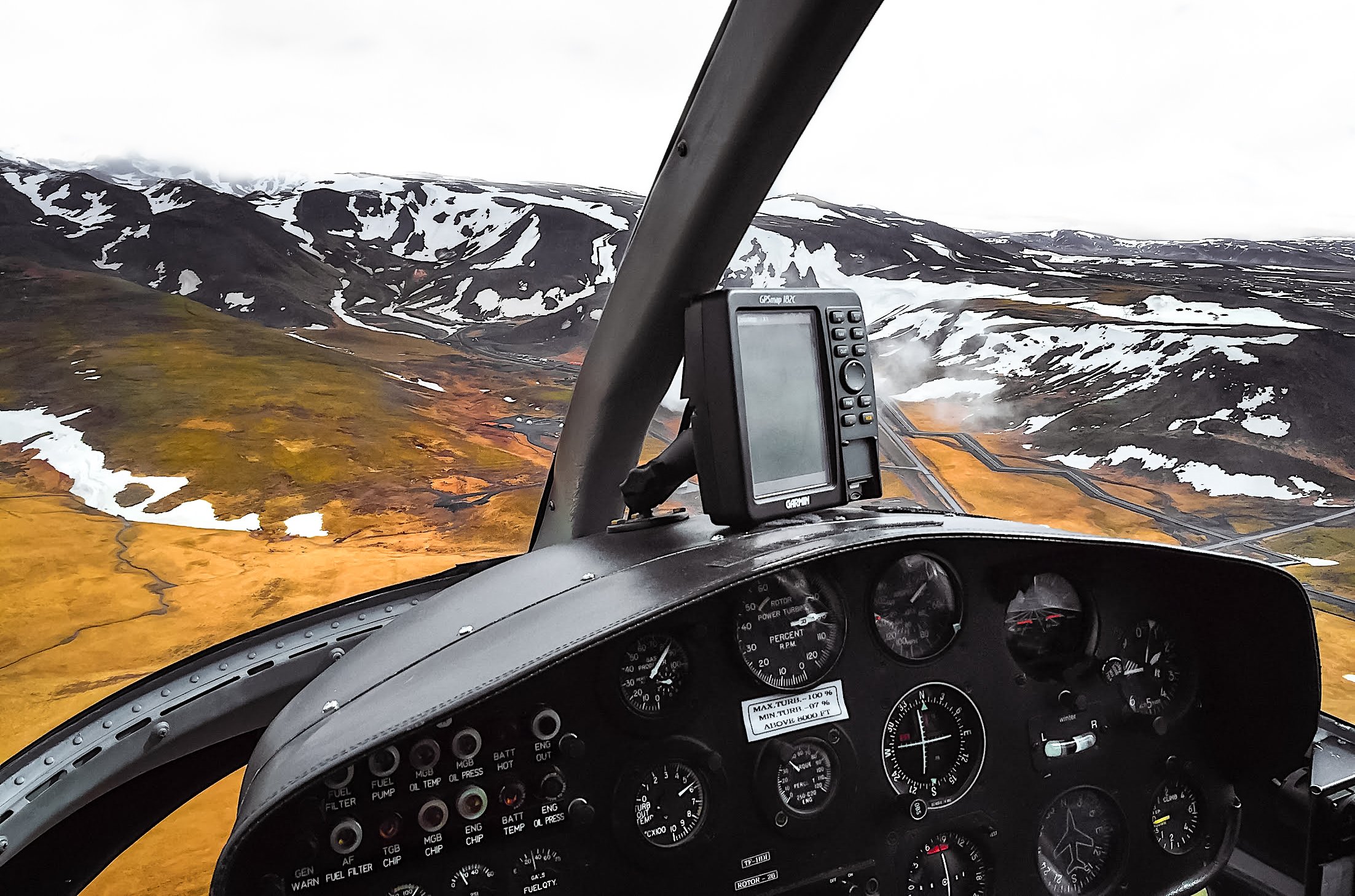 Flying over mountains dusted with snow...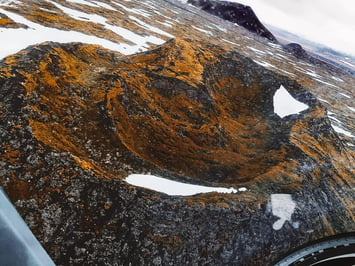 And craters
In Iceland, we took our first ever helicopter ride. Can you guess where we landed? On an active volcano!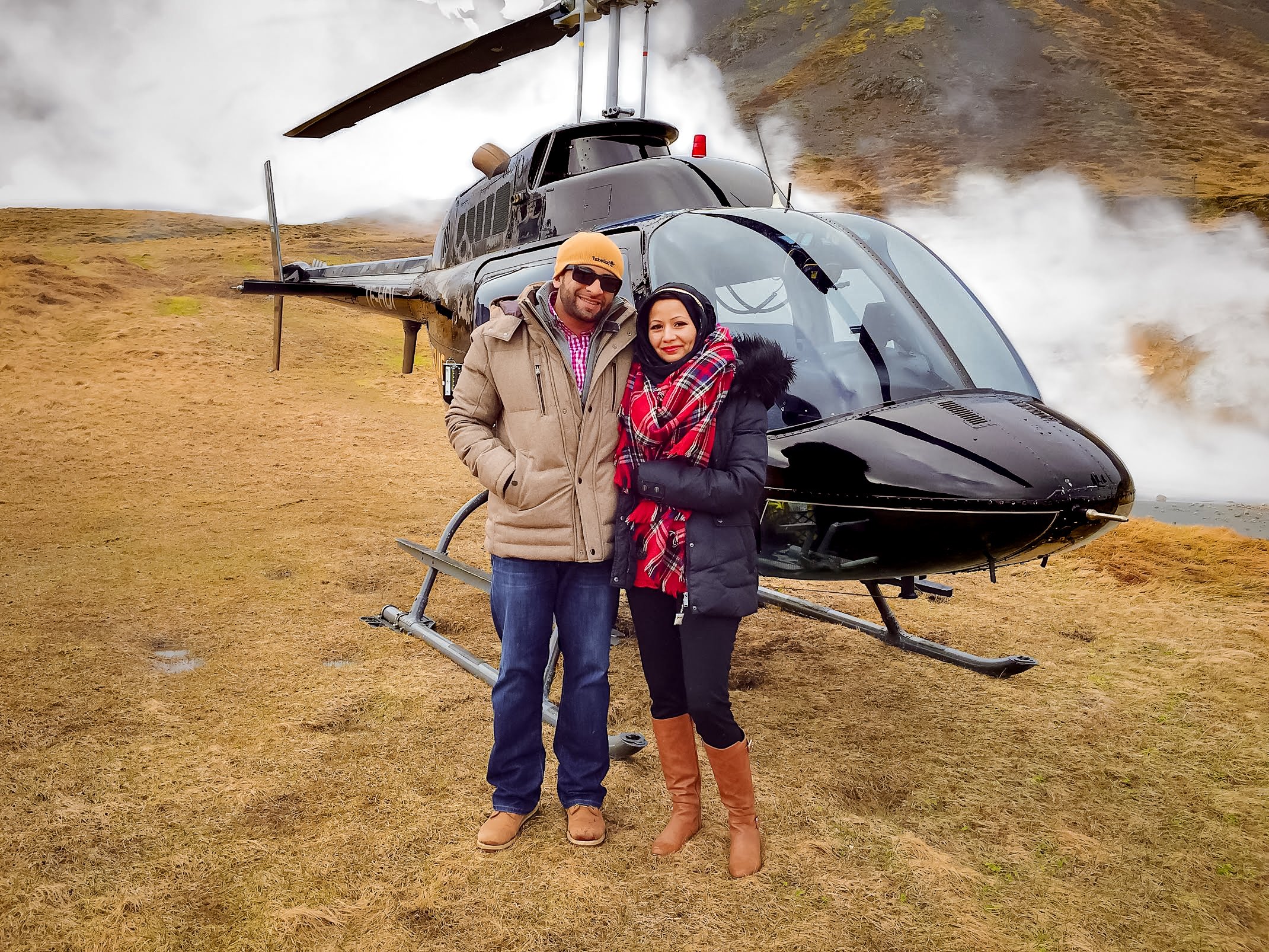 Our first time on a helicopter and we went to an active volcano
Ok so just to be clear, an active volcano is different from an erupting volcano. We didn't land on a volcano that was expelling lava because then we'd be dead. The volcano we were on had lava flowing beneath its surface, emitting heat and gas from the vents on its surface. We scaled the volcano with our pilot, who told us to follow in his footsteps exactly. Otherwise, we could accidentally step into scalding water and burn ourselves. This is totally safe.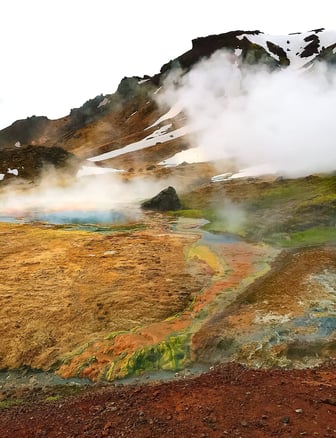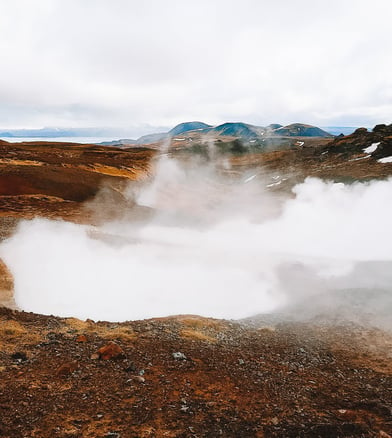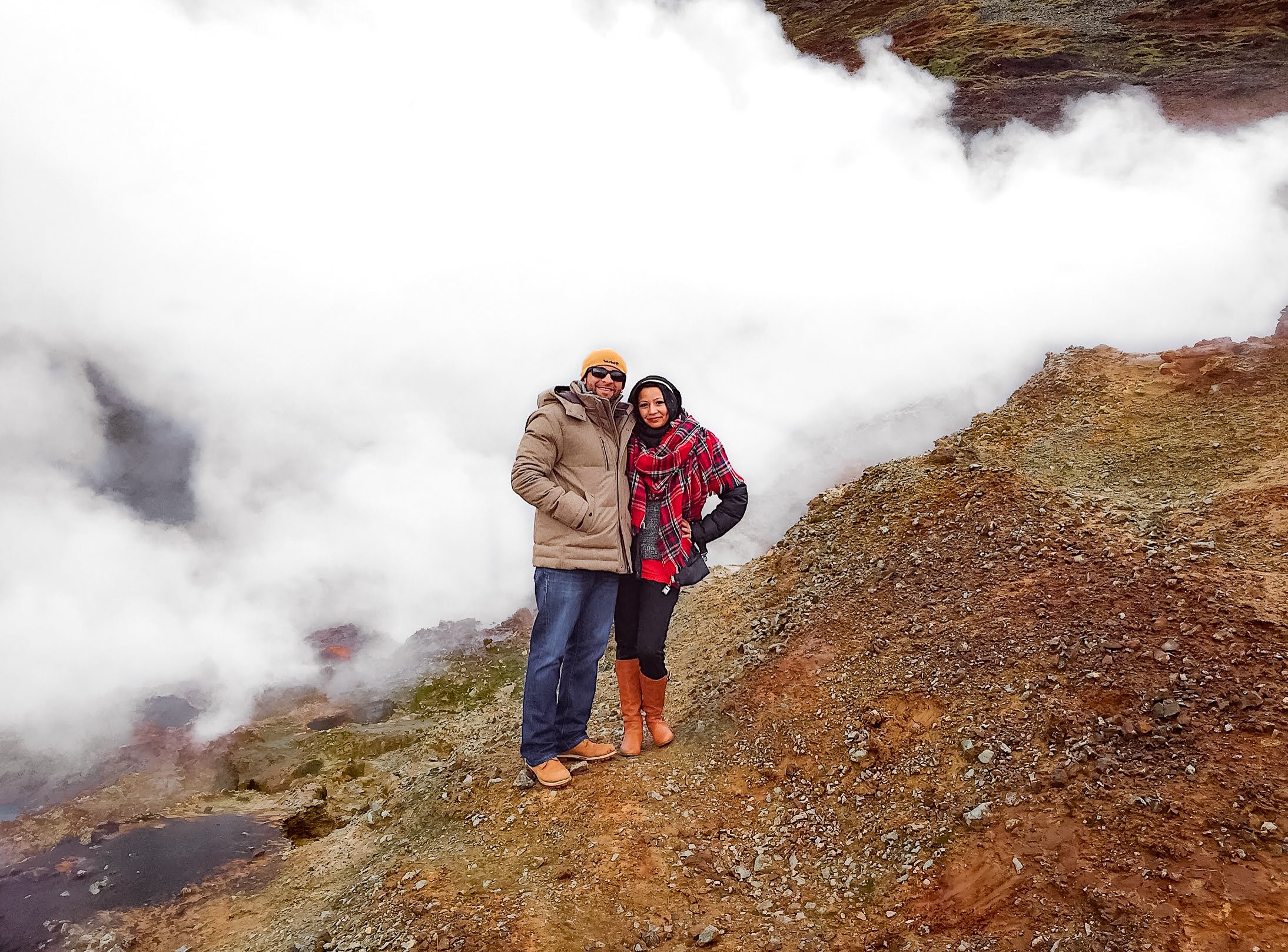 Smoke from the depths of the Earth
Most of the volcano was covered in damp grass that sunk a few inches underneath our weight. Wherever we turned, the mountains were fuming and the atmosphere was heavy with trepidation of the next mighty eruption. But you either take the risk - or lose the chance - to see something this incredible.
Travel tip: Our helicopter tour was with Norðurflug. Although they are expensive, the experience was so worth it. In addition to seeing fantastical panoramas our pilot was very knowledgeable and full of personality.
Skip the whale safari
The other thing we did in Reykjavík was a whale safari. It sounds more exciting than it turned out to be. The brochure promised up close encounters with enormous whales, but in reality, all we saw were a few tiny tail fins pop out of the water far away. On the upside though, it was fun to bounce over the waves on this speedboat.
Travel tip: Reykjavík is not the best place to go whale watching in Iceland. The whale watching capital is Húsavík, located in northern Iceland.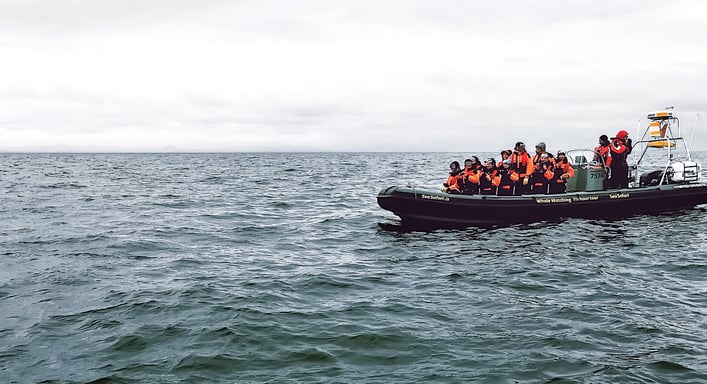 Fun boat ride, but disappointing whale watching
Where to eat in Reykjavík
When it comes to eating out in Iceland, I have bad news and good news for my fellow Muslim travelers. The bad news is that there are very few restaurants that serve halal meat. The good news is that there is no shortage of mouthwatering seafood options because Iceland is a seafaring nation with centuries of practice in cultivating, preparing, and cooking fish. Icelandic cuisine includes a ton of seafood, from the usual fish and shrimp, to the exotic whales and sharks. Some of the freshest and tastiest seafood we've ever eaten was in Iceland.
I'd recommend trying the fish and chips at least once - I know it may sound standard, but the melt-in-your-mouth buttery flakiness of the fish is far superior than any deep fried frozen fish and chips you'll find in America. I'd also humbly advise against eating whale and shark because 1) their halal status is disputed 2) they are an endangered species and Islam is religion of compassion for all life.
That being said, here are my top picks for the best restaurants in Reykjavík, organized by the formality and speed of dining.
Famous fancy restaurants
Travel tip: Of the four restaurants listed above, my favorites were Fish Market and Fish Company. If you can't try them all, prioritize the first two for a fancy dinner or date night in Iceland's capital. Make a reservation before you go. Oh and by the way, the word 'fancy' here means pricey AF (but worth it!).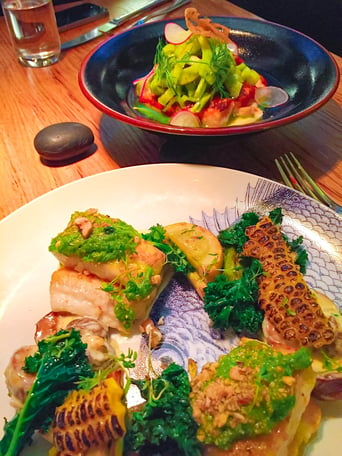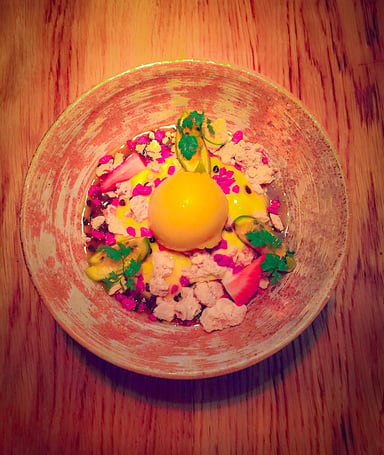 Fine food at Fish Market (the picture on the right is Icelandic cheesecake!)
Hearty halal food
Mandi - Don't be fooled by the low prices and plain exterior, this cafe serves up hearty Middle Eastern food like kabobs and shawarmas and is open late
Shalimar - Pakistani restaurant, with the most overused name in restaurant history, for that biryani and curry fix when you're tired of eating seafood (there's basically a Shalimar in every country!)
Quick bites
The making of a brave woman
At the beginning of this post, I said that travel changes you. Before going to Iceland, I didn't consider myself an outdoorsy person, and my preference was always to go somewhere warm.

In Iceland, I let go of my preconceived notions of who I am and what I like, dared to try new things, and consequently, I found myself growing into the person I was meant to be: an adventure-seeker.

And a brave woman.

On glaciers, on volcanic mountains, on the edge of continents, I found my courage. That is why Iceland will always hold a special place in my heart.
I started this series by referencing the movie Walter Mitty, which partly spurred us to visit Iceland, so I will also end it with my favorite quote from the film:
"To see the world, things dangerous to come to, to see behind walls, draw closer, to find each other, and to feel. That is the purpose of life."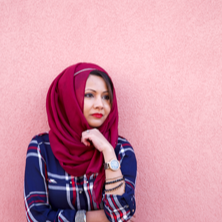 I'm a twenty-something Muslim blogger who's guilty of falling in love with every place I visit. I'm always planning the next trip in my head and missing the last one in my heart. When I'm not off discovering new parts of our beautiful planet, you can find me happily immersed in an art project.