Dear Paris, I had heard the stories, songs, and sayings all effusing your praise. I had seen your iconic Eiffel Tower in countless pictures and movies (let's be real, I'm referring to Ratatouille). And I had craved your crepes and desserts from the depths of my stomach. But I had also read about you in the news - that you were secular, unsafe, with rising Islamophobia that kept me away… until New Year's Eve 2017.
That's when I realized it's true what the poets, artists, musicians, dreamers all say - Paris you are indeed a wondrous city. To quote Ernest Hemingway:
"Paris is so very beautiful that it satisfies something in you that is always hungry in America."
To me, Hemingway's words ring true now that I've actually visited Paris. But how the heck did I go from being apprehensive about going, to asking Saad if we can live there one day (or at least come back inshAllah)? What was it about Paris that captured my heart?
The answer in a sentence: Paris surprised me; it surprised me with its diversity, its weather, its architecture, its food, its culture, and its atmosphere.
In this blog post, I'll share my experience traveling through Paris with my husband, and highlight tips for other Muslim couples who might visit someday. From what to expect, where to stay, what to eat, and what to do, this post is a Muslim-friendly travel guide for Paris. It's also the story of how I accidentally fell for this pretty French city.
Expectations vs. reality
If you've read part I of my Paris blog post, you know that I was wary of visiting Paris because I feared I'd face discrimination for being a visibly (veiled) Muslim woman. However, to my pleasant surprise, Paris turned out to be a diverse city with a large number of Middle Eastern immigrants.
Expectation: I'd stick out like a sore thumb in my olive skin and hijab.
Reality: I spotted a lot of hijabi sisters around the city. #squad

Expectation: Parisians would be curt with us because we didn't speak French.
Reality: Saad spoke a little French and no one was rude.
Expectation: It would be hard to find a mosque in Paris, and if we did, it'd be small.
Reality: The Grand Mosque of Paris is one of the largest mosques in France and it has been around since 1926. I'll talk more about this mosque later on.
Expectation: Halal food would be hard to find.
Reality: There were lots of halal restaurants - not just ones that served Middle Eastern or South Asian food - but also halal French restaurants.
Expectation: Paris does not welcome refugees.
Reality: There are more than 220,000 refugees living in Paris. I was saddened to see that many are homeless, but non-profits like Quatorze are trying to use innovative architectural solutions to help refugees find a place to live. Quartorze's In My BackYard project builds tiny houses for refugees in the backyard or garden of Parisian families who are willing to host them.
Travel tip: You'll see people on the street holding up signs purporting to be Syrian refugees. I use the word "purporting" because as much as I am a trusting person, something about the way they carried themselves, where they appeared (at the tourist spots), or asked tourists if they knew English seemed off. It seemed like their begging was a practiced routine, not the result of unimaginable suffering. I did some research and found that people have been posing as Syrian refugees in Paris to profit off of people's empathy for this humanitarian crisis. Now, I don't mean to cast a dark shadow on Syrian refugees who have given up their livelihoods to escape persecution. On the contrary, I want to make sure my money (and your money, if you're so inclined) actually goes to helping them, not imposters. So, use your best judgment when giving directly to people on the street. Or, consider donating to reputable charities who can be trusted to distribute the funds responsibly. For example, I can personally vouch for charities like the Syrian American Medical Society (SAMS) and MedGlobal because a few of my good friends have worked (and traveled) with them.
Expectation: It would be freezing in January.
Reality: Although Google told me that January is Paris' coldest month, the weather was fairly nice (in the high 40s to low 50s fahrenheit) and sunny, with bouts of rain. Sigh, global warming.
Travel tip: If you go during the winter, be prepared to bundle up and expect snow, but not to the extent you would see in North America.
Expectation: I'd appreciate the architecture of famous landmarks and museums.
Reality: I swooned over every building - from the Eiffel Tower to the malls to the houses on random streets. Parisian architecture mixes warm neutral exteriors with pastel roofs and intricate, classical details giving it it a charming and timeless quality.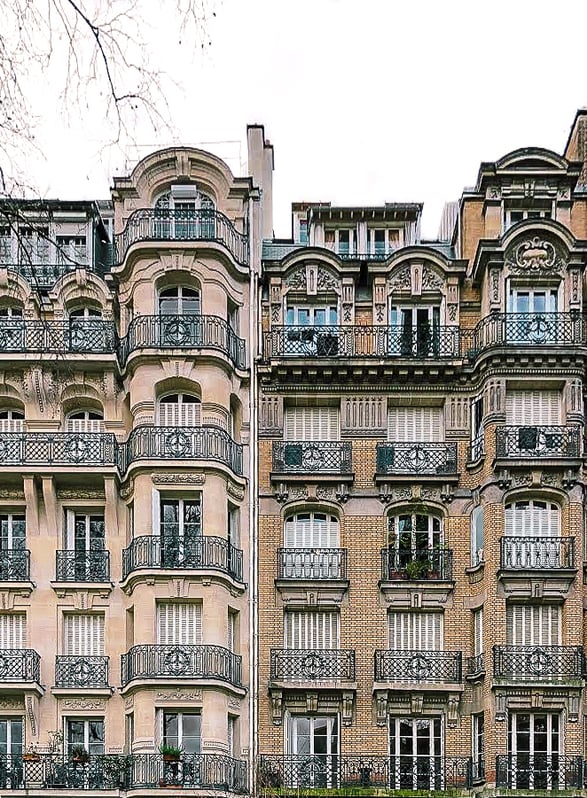 *Swoon*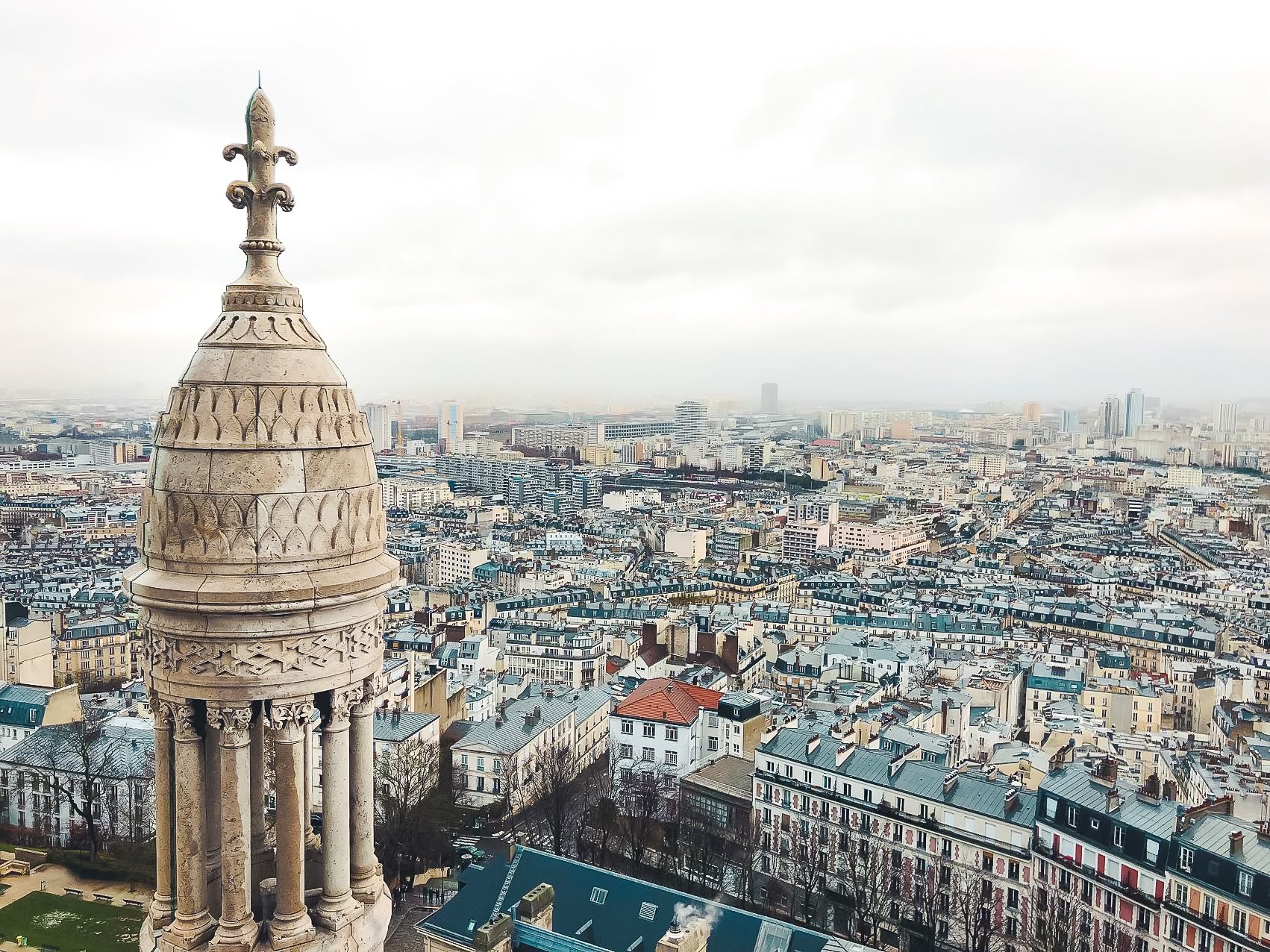 *Swooooooon*
Expectation: Paris is too touristy.
Reality: Any city can feel too touristy if all you do is visit the touristy spots. While we obviously checked out Paris' famous sites, we also made time to venture off the beaten path, try small bakeries, visit a local mosque, and witness mass at Notre-Dame Cathedral (not just take pictures of the outside).
Travel tip: Don't write off Paris because you don't want to be surrounded by throngs of tourists near the Eiffel Tower. The problem isn't the destination, it's what you decide to do there. In the rest of this post, I'll share locations around Paris where you can get your fill of touristy stuff and experience the city's authentic cuisine and culture.
But first, let's cover the basic question of where to stay.
Where to stay
Driven by a mild obsession to stay at a hotel with a view of the Eiffel Tower so I could take a totally casual picture like this marvel at its beauty every night, while also keeping this trip budget-friendly, I spent a TON of time researching lodging options. I learned a few things:
The fanciest hotel (and the closest) offering Eiffel Tower views is the Shangri-La. As a 5-star hotel, it's stunning, but suites with the Eiffel Tower view are very expensive… like for celebrities and heiresses and millionaires (all of which I am not).
There are other, less expensive hotels that also offer Eiffel Tower views, such as Hotel Duquesne, Hotel Pullman, the Peninsula Paris, and La Comtesse. These hotels are lovely, but the Eiffel Tower view rooms book up fast.
Watch out for "partial view" Eiffel Tower rooms - this likely means that you'll see only the top of the Eiffel Tower peeking out above rooftops or the side of it if you crane your neck out the window.
Getting a hotel room with a view of the Eiffel Tower is a tad overrated because, if you're like me, you'll likely spend most of your time outside of your room exploring the city.
Travel tip: It's better to stay near Champs-Elysées than near the Eiffel Tower, especially if you're going to Paris for New Year's Eve. One of the most famous and brightest streets in the world, Champs-Elysées is a 2 kilometre avenue between the Place de la Concorde and the Arc de Triomphe. It's lined with theatres, cafes, restaurants, and luxury boutiques that stay open late into the night. There's so much to do and eat on this historic street - you can check out a museum, eat dinner, watch a show, stop by a historical monument (the Arc de Triomphe) and grab dessert all within walking distance of each other.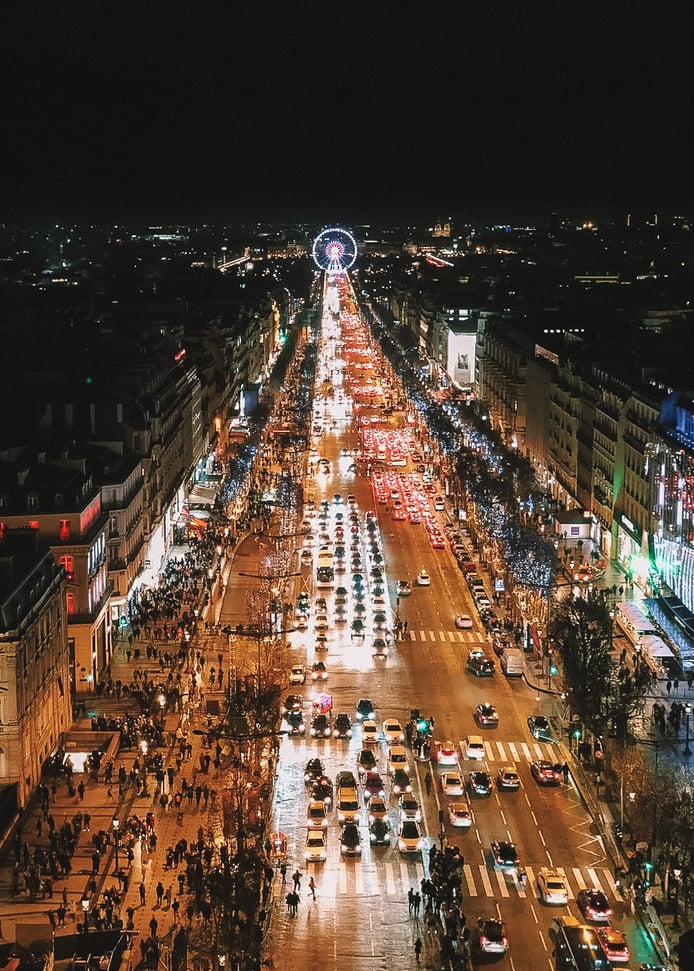 Champs-Elysées is a world famous street in Paris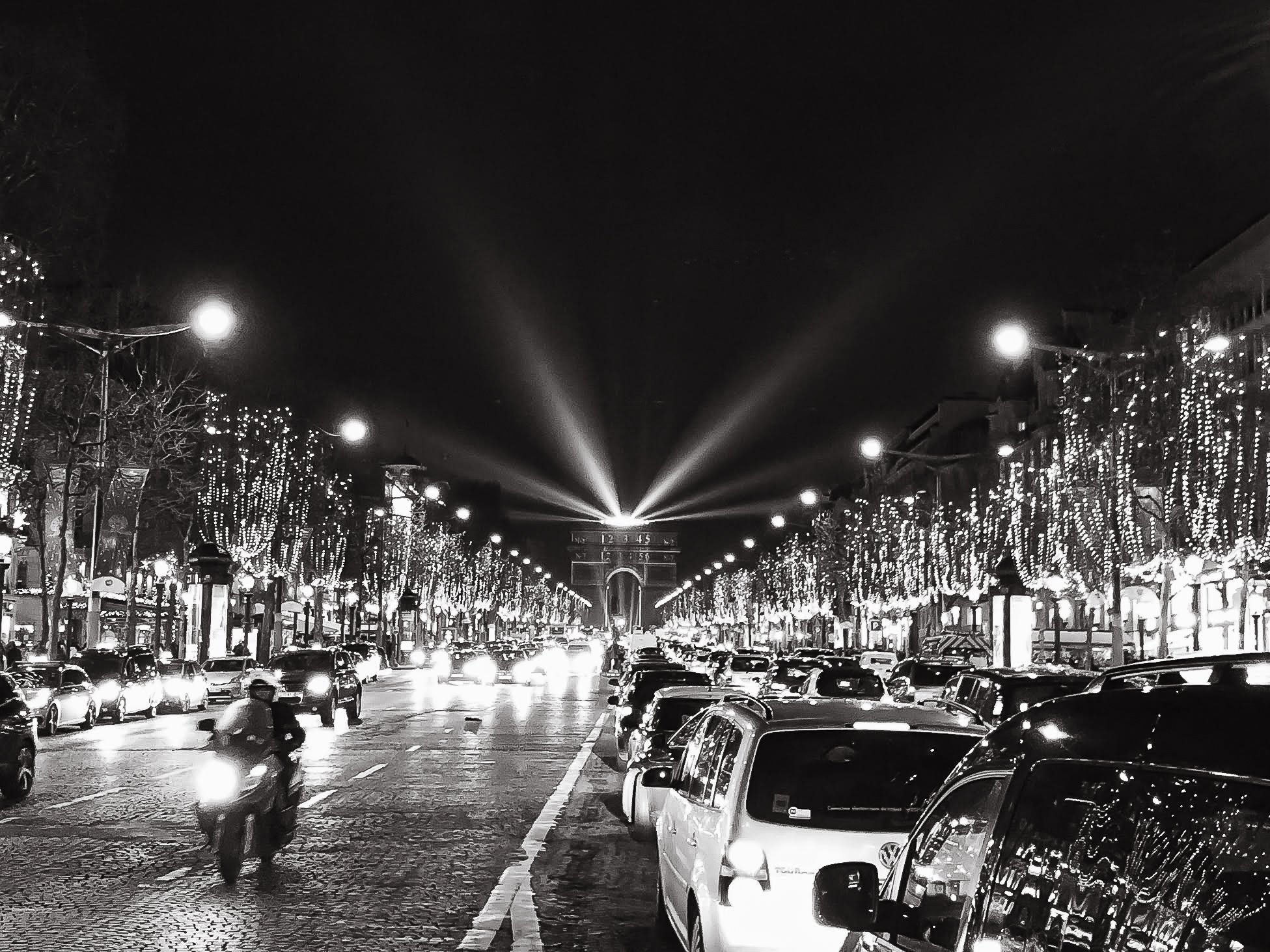 Look how bright it is! So many lights!
Travel tip: We ended up staying right next to Champs-Elysées at Hotel Balmoral. It's a 4-star boutique hotel just a stone's throw from the Arc de Triomphe. The rooms are small, but clean and modern, and the location is phenomenal. If you also end up staying here, ask for a room with the street view (below) and make sure you fill out the short pre-arrival survey they'll email to you because then the concierge will put together a list of recommendations. They even found nearby halal restaurants for us!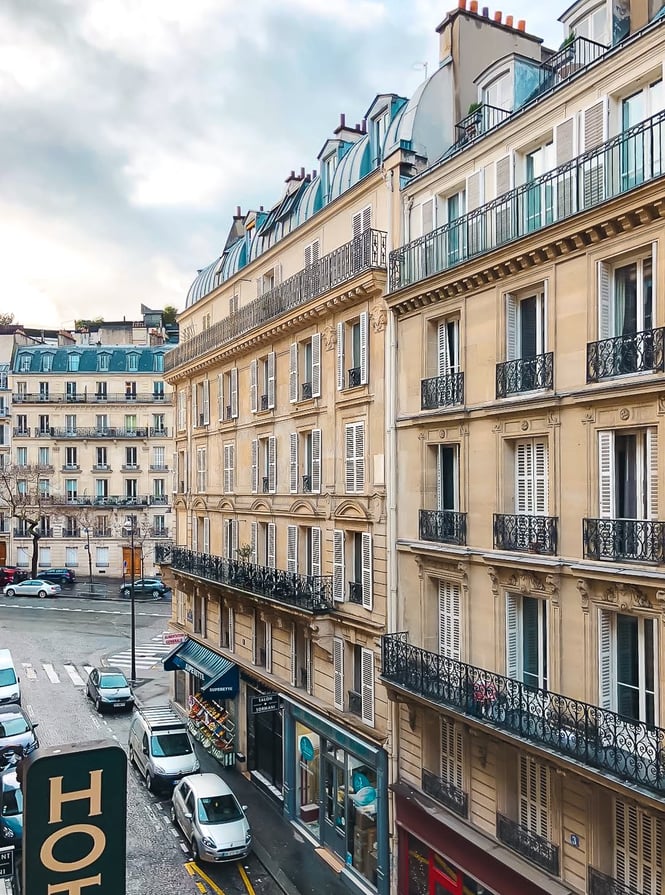 The view from our balcony at Hotel Balmoral (seriously, every alley has the most stunning architecture)
What to eat
Speaking of restaurants, Saad and I discovered some great spots (and one not-so-great spot). We're both foodies and we love trying local dishes so the list that follows will give you a good sampling of French food, dessert (oh em gee, the pastries in Paris are to die for), halal food, comfort food, and a healthy mix of fancy and casual. Here are our recommendations for Muslim travelers on where to dine in Paris.
Breakfast and brunch
If you're staying near Champs-Elysées, go to Laduree for breakfast or brunch. Try the French toast and the French-style omelette. They're also famous for their macarons, which you can purchase from their bakery counter on your way out.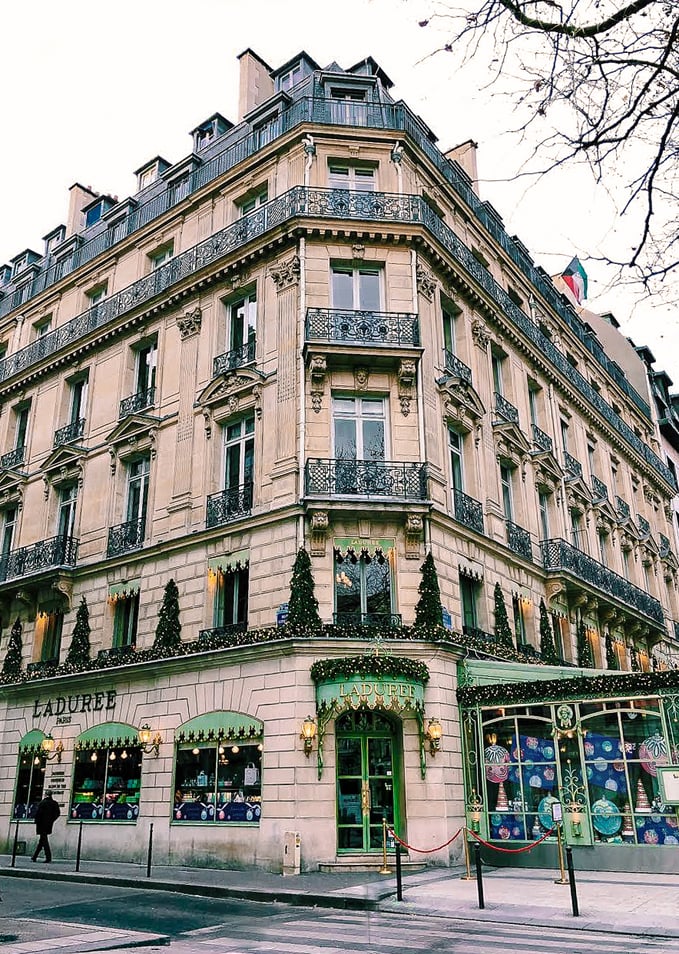 The architecture, shrubbery, and the window displays!!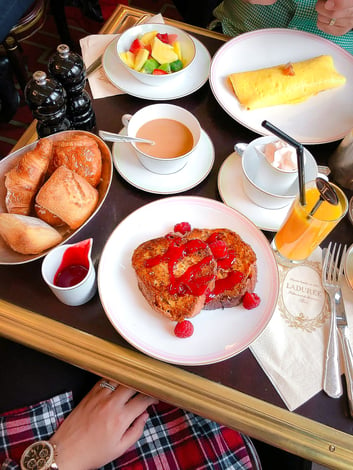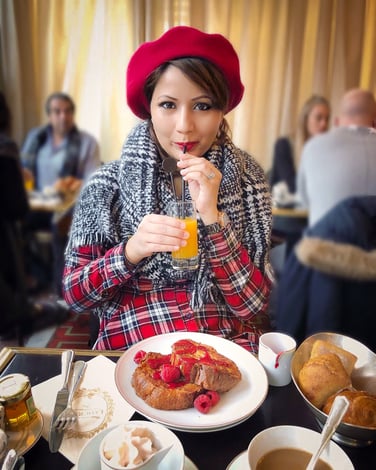 Brunch at Laduree
Travel tip: This place is really popular. To avoid waiting in a long line, come early (they open at 7:30 am on most days).
Dinner
For dinner, try Le Fouquet's on Champs-Elysées. Le Fouquet's provides a classy and chic atmosphere where traditional Parisian brasserie decor is paired with French delicacies. As you eat, look around the walls and notice the black and white photographs of celebrities. For years, Le Fouquet's has hosted the who's who of French cinema.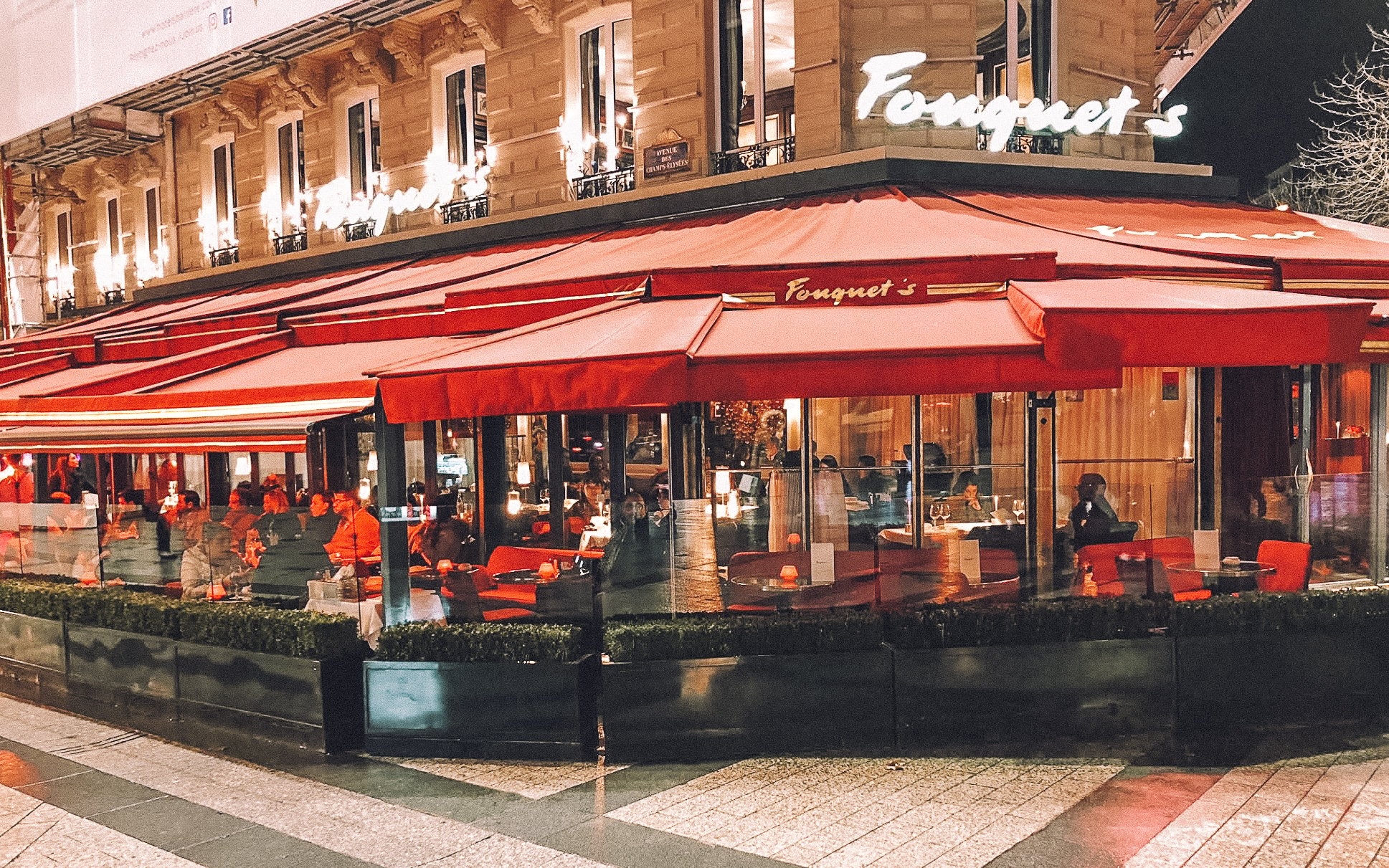 Le Fouquet's is a famous dinner spot on Champs-Elysées
Travel tip: Although Le Fouquet's does not serve halal meat, they do have Muslim-friendly options like pasta and seafood. Because of its prime location and prestige, Le Fouquet's is usually fully booked so make a reservation before you go.
For a surprisingly delicious late-night (or lunch) bite that is also halal, try L'arc Food near the Arc de Triomphe. I have to give Saad credit for finding this hole-in-the-wall spot. He pushed us to try it while I was skeptical. Saad is the risk-taker of the two of us, even with his food. Sometimes it pays off, sometimes it gives me food poisoning. L'arc Food was one of the hits. The burgers were so good and, as you know from my Kyoto post, I'm all about the sauces and L'arc Food gives you a variety of them with fries.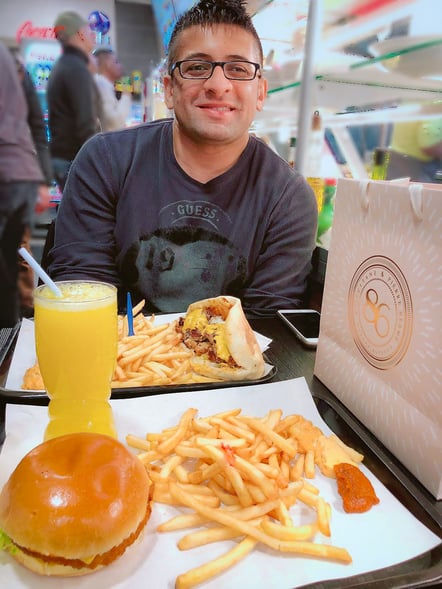 Halal burgers at L'arc Food (cute husband not included with your meal)
Dessert
Now, regardless of what you eat for brunch, lunch, or dinner on Champs-Elysées, do not, I repeat, do not, go home without trying Pierre Herme. Named after and run by pastry chef and chocolatier extraordinaire, Pierre Herme, who was dubbed the World's Best Pastry Chef in 2016, this upscale cafe offers a wide selection of desserts. From macarons to cakes and pastries, there's something sweet and delicious for every palette. The physical set-up of the cafe is also cool because the location is a hybrid cafe and storefront for beauty brand L'Occitane.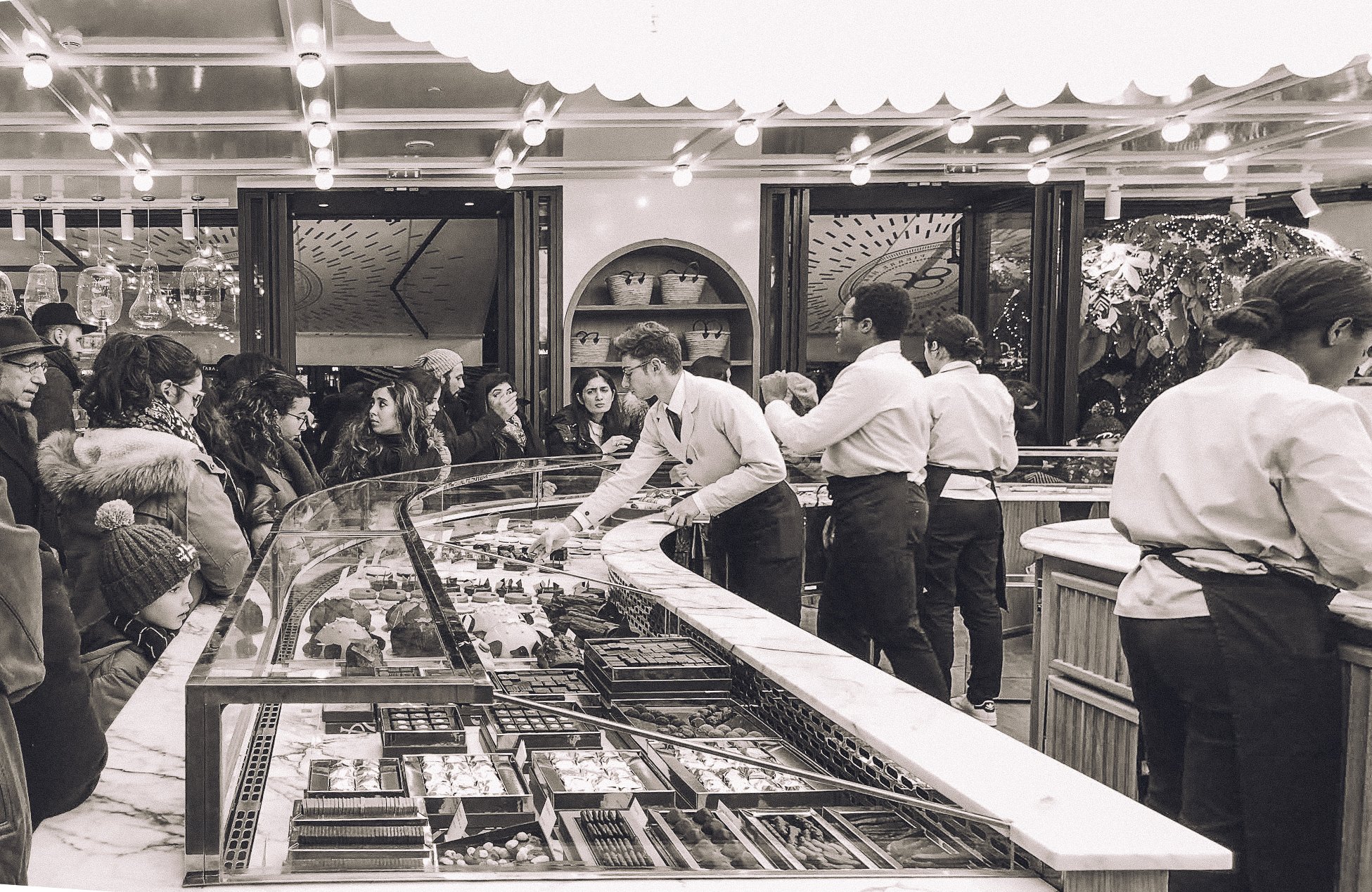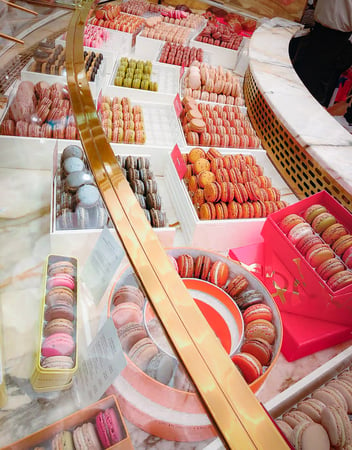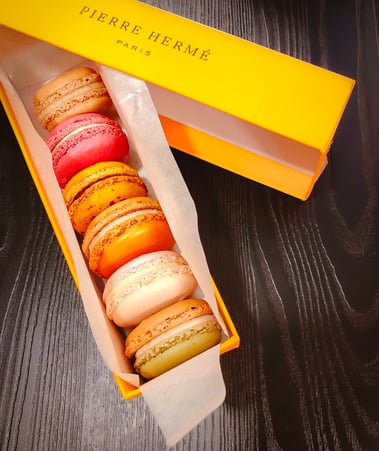 Don't miss the macarons at Pierre Herme
Travel tip: Ask the servers which macaron flavors are unique to that location and don't be afraid to try them! Even if the flavor sounds exotic (like milk chocolate and passion fruit), Pierre Herme combines them in a subtle, balanced way.
Aside from pastries, Paris is also famous for its crepes. You'll find street vendors selling traditional Nutella crepes on every corner, but these are similar to the crepes you'll eat in North America. To try unique Parisian crepes, head to Breizh Cafe. Despite its unassuming exterior, Breizh Cafe serves wholesome and delicious crepes with ingredients sourced from local farmers.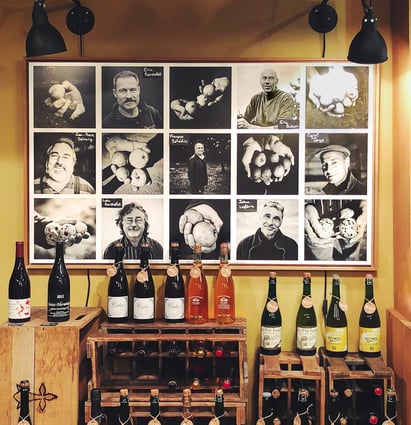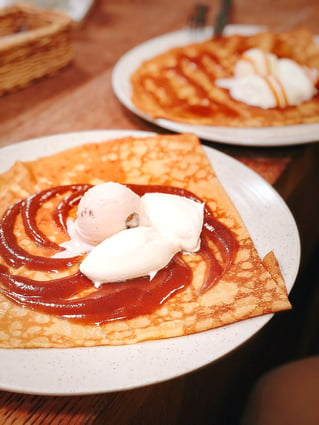 Portraits of local farmers who provide Breizh Cafe with its produce (left) and the unassuming chestnut cream sweet crepe that is jam-packed with flavor (right)
Travel tip: If the main restaurant is packed, go to their shop next door. You can sit at the table in the middle and order from the same menu. The only differences are that the atmosphere is casual and you'll share this table with others.
Other dining recommendations
Since we were only in Paris for 4.5 days, we didn't get to try all the eateries I wanted. But in case you want more options, here they are:
Travel tip: Do not eat at JetSet, it's a Middle Eastern restaurant near Champs-Elysées. We ate there because it was the only restaurant with seating on New Year's Eve, but the food was terrible and the atmosphere was worse.
These recommendations are just the tip of the iceberg. There are so many wonderful places to eat in Paris, once hallmarked as the culinary capital of the world, so I made this list of the best-rated halal restaurants in Paris mapped by location.
What to do
Now, as hard as it was, we didn't spend all of our time in Paris eating pastries and macarons by the dozen. When we weren't stuffing our faces, we were exploring the city's towers, churches, museums, and palaces. At each spot, we learned about the city's history, marveled at its beauty, and wondered how amazing it would be to live here (ok, maybe that was just me).
1. Arc de Triomphe
I'm starting this list with the Arc de Triomphe de l'Étoile, or in English, "The Triumphal Arch of the Star," because it's the first thing we saw when we landed in Paris. And if you stay near Champs-Elysées like I recommend above, it'll also be the first monument you see.
The Arc de Triomphe stands on an "island" at the center of Place Charles de Gaulle and 12 avenues radiate out from it (like rays radiating out from a star). One of these avenues is the lively Champs-Elysées.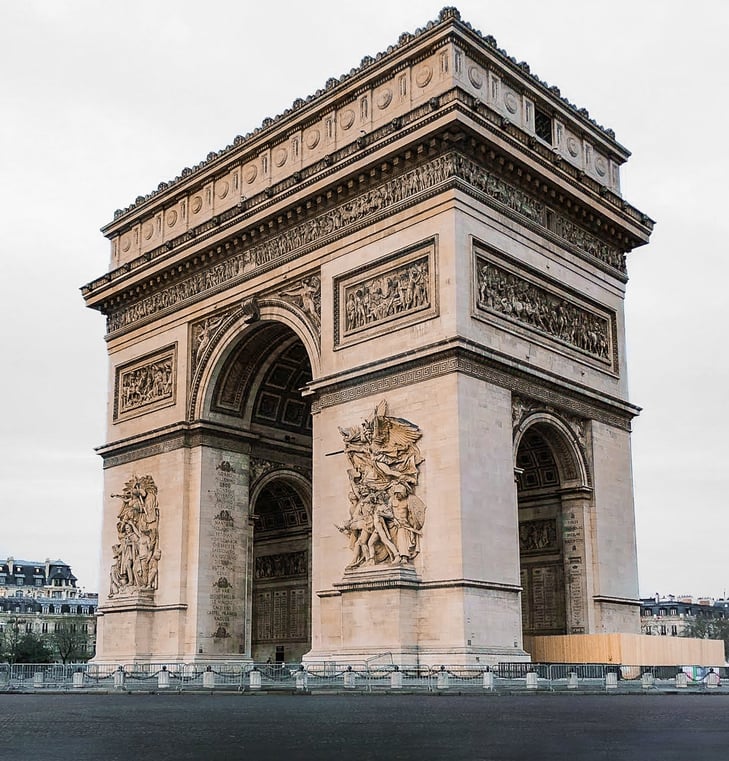 The Arc de Triomphe in Paris
The Arc de Triomphe was commissioned by Napoleon in 1806 and took 30 years to build. Its purpose was to honor those who fought for France in the French Revolutionary and Napoleonic Wars. Engraved into the stone on the arch's outer surfaces and at the top, are the names of the generals who fought in these wars. Although Napoleon never got to march under the finished arch in his lifetime, his body was carried underneath it to its final resting place, as was the body of famous French poet and writer Victor Hugo (author of Les Miserables, and The Hunchback of Notre-Dame).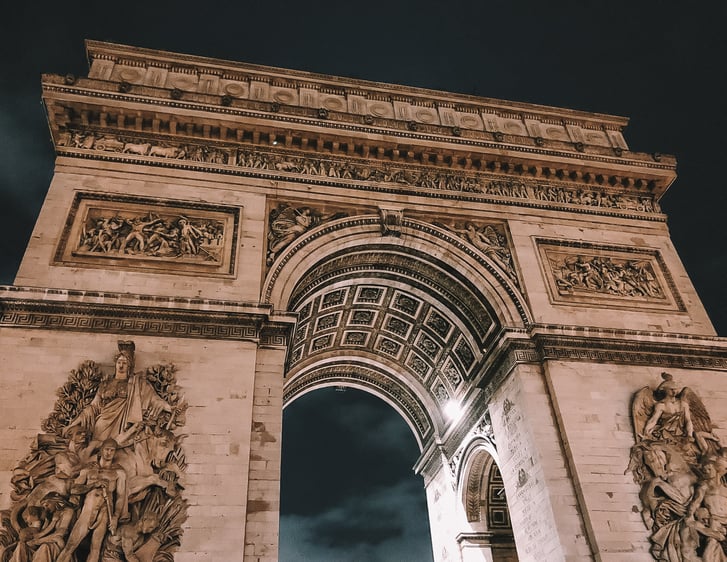 Throughout history, French and Allied troops have paraded under the Arc de Triomphe after victorious military campaigns. Underneath the arch, lies the the Tomb of the Unknown Soldier, a burial site and memorial dedicated to all the unidentified men and women who fought and died for France. An eternal flame burns alongside this tomb. Since the soldier was laid to rest there in 1920, no one has marched beneath the arch out of respect for the tomb and what it represents.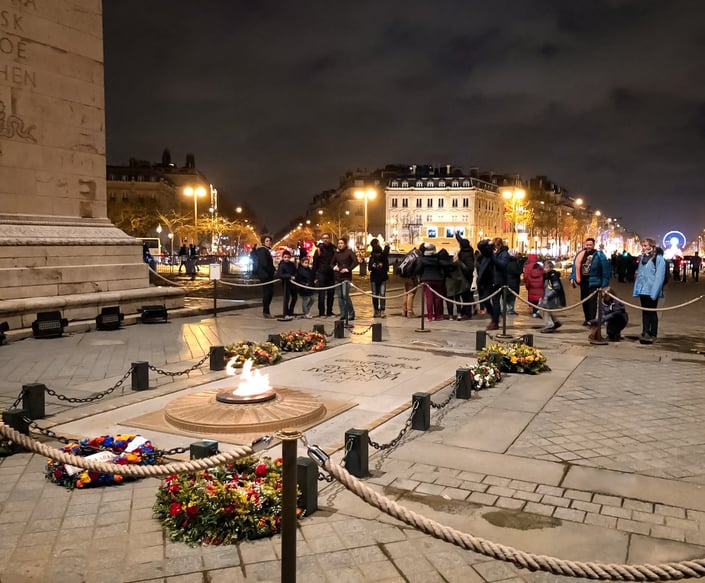 The Tomb of the Unknown Soldier underneath the Arc de Triomphe
Today, the Arc de Triomphe stands as a formidable national symbol. Inside, there are exhibits that recount the history of the arch with tributes to the fallen warriors of France.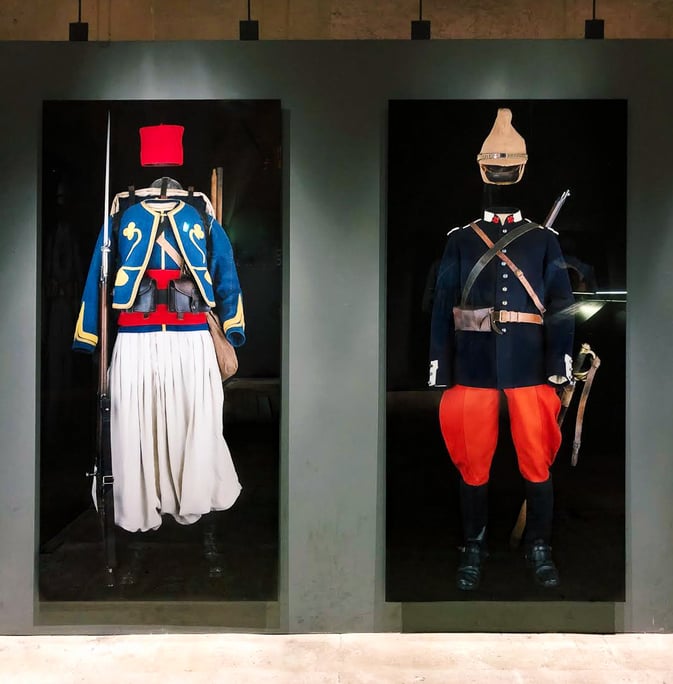 Travel tip: I'd recommend visiting the arch (not just driving by it) and climbing the stairs to the top to see a 360 degree view of Paris, which includes the Eiffel Tower. It's a popular spot to watch the sunset over the Parisian skyline. Make sure you buy tickets online in advance! Otherwise, you'll need to wait in a long line for an hour or more. Oh and by the way, the entrance to the arch is underground.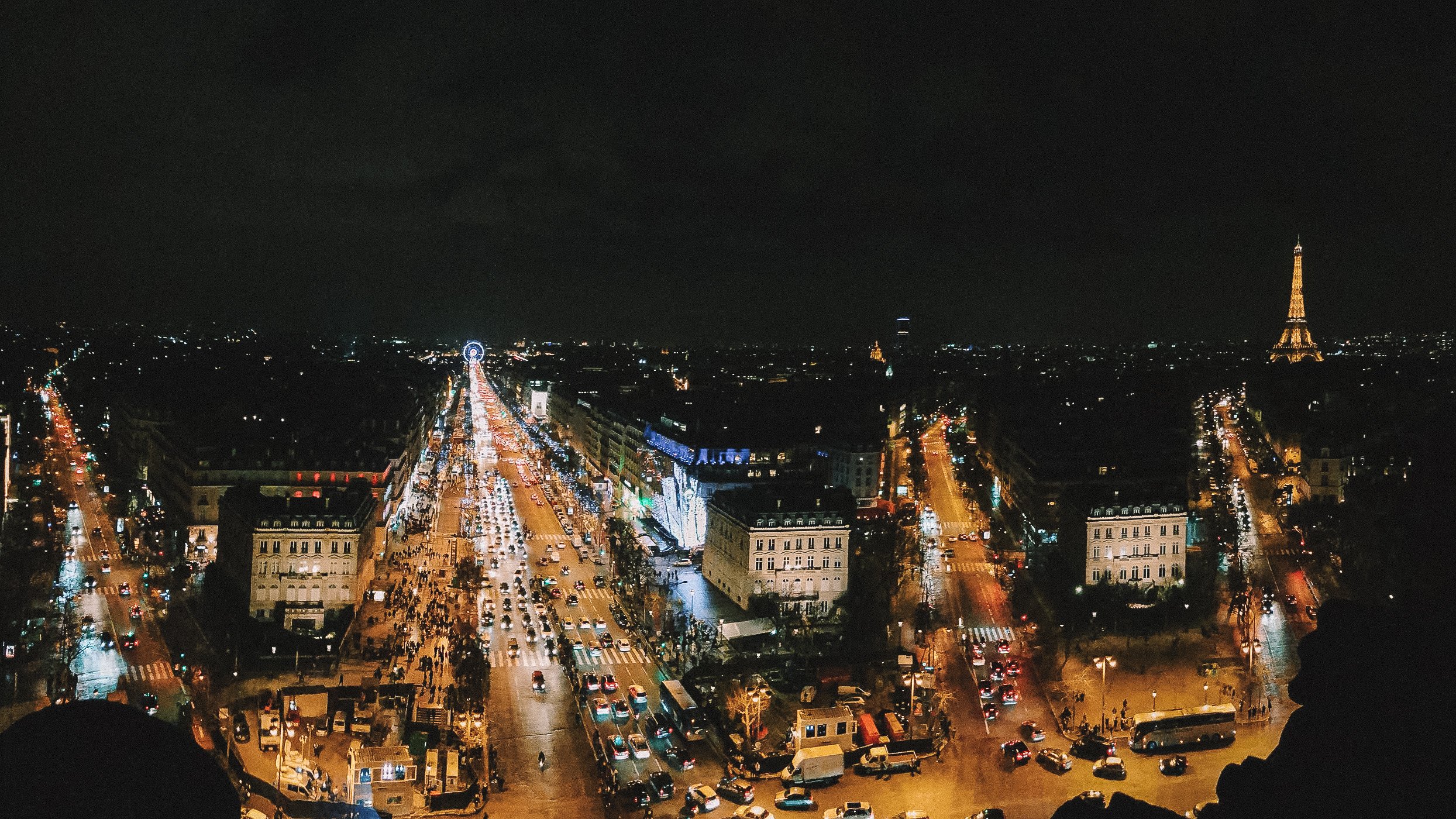 A panoramic view of Paris from the Arc de Triomphe (can you guess which one is Champs-Elysées?)
2. Eiffel Tower
I could not wait to see the Eiffel Tower as soon as we landed in Paris, the city's quintessential landmark. I first spotted it glittering from the top of the Arc de Triomphe.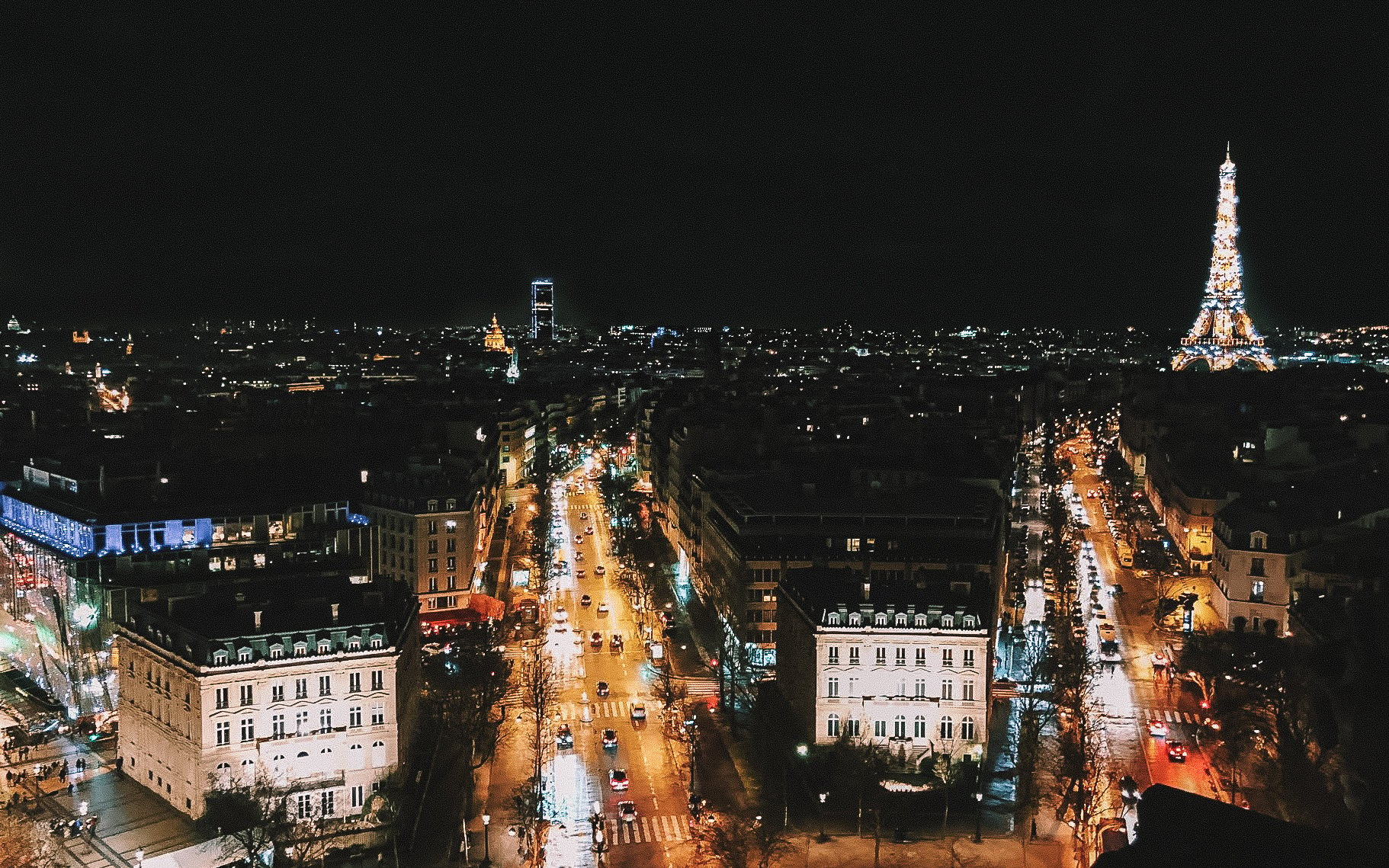 The Eiffel Tower light show underway
Travel tip: The Eiffel Tower is lit up every day from sunset to 1 or 2 am. At the top of every hour, there is a five minute light show, during which the Eiffel Tower sparkles as if it's studded with diamonds.
In reality, the Eiffel Tower is obviously not made of diamonds - it's a wrought iron structure that was built between 1887-1889 as the entrance to the 1889 World's Fair by engineer Gustave Eiffel and his company. For 41 years, it was the tallest man-made structure in the world. But despite its record-breaking height, it was initially criticized and despised by some of France's leading figures.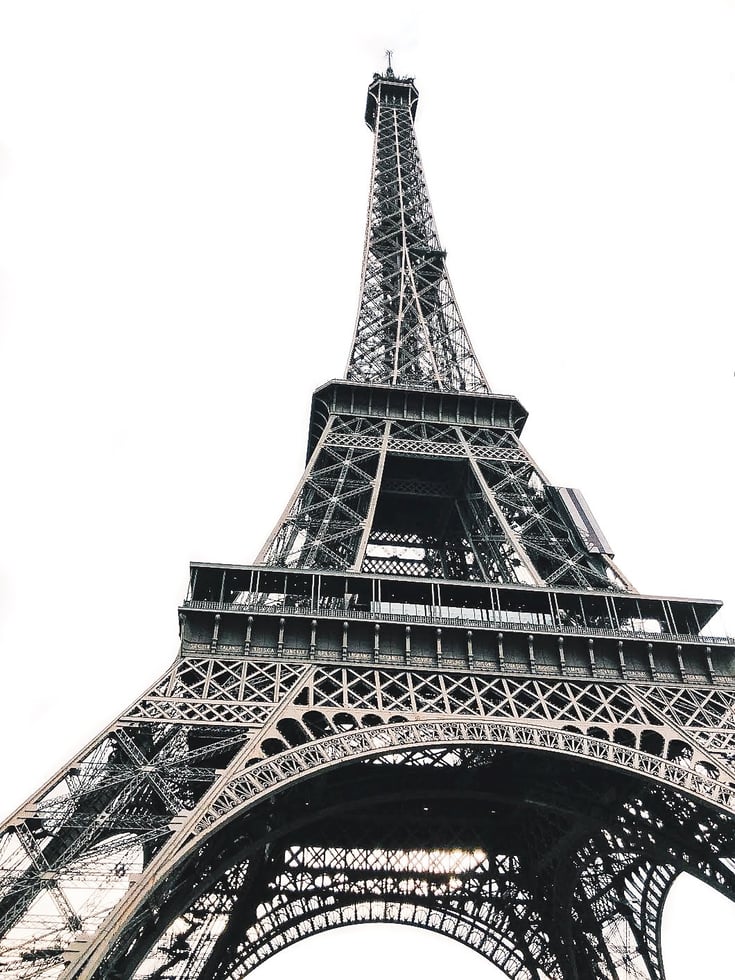 Fast-forward to today, the Eiffel Tower is now a universal icon of Paris and the most visited monument in the world. The Eiffel Tower's unique lattice design has also inspired the construction of replicas in Las Vegas and Japan. I saw Japan's version of the Eiffel Tower, called Tokyo Tower, over the summer and while it was cool, there's nothing quite like the original. In Tokyo, we ventured up to the tower's observation deck. In Paris, we did not take the elevator up the Eiffel Tower because we had already seen Paris from the top of the Arc de Triomphe and we were also planning to climb up to the top of the Sacre Coeur Basilica (more on this in a bit). Plus, I wanted any skyline view of Paris to include the Eiffel Tower.
Travel tip: The Eiffel Tower has three levels that are open to the public, with restaurants on the first and second levels. If you decide to eat here, make sure you buy tickets and make a reservation to avoid the lines. Instead of going up, we chose to admire the tower from the ground. If you do the same, cross the bridge over the Seine river and take a ride on the carousel with the tower in the background - it'll give you pure joy! #kidatheart
Then keep going past the carousel until you see stairs, and take those up to get a fantastic view of the Eiffel Tower for your Instagram memory.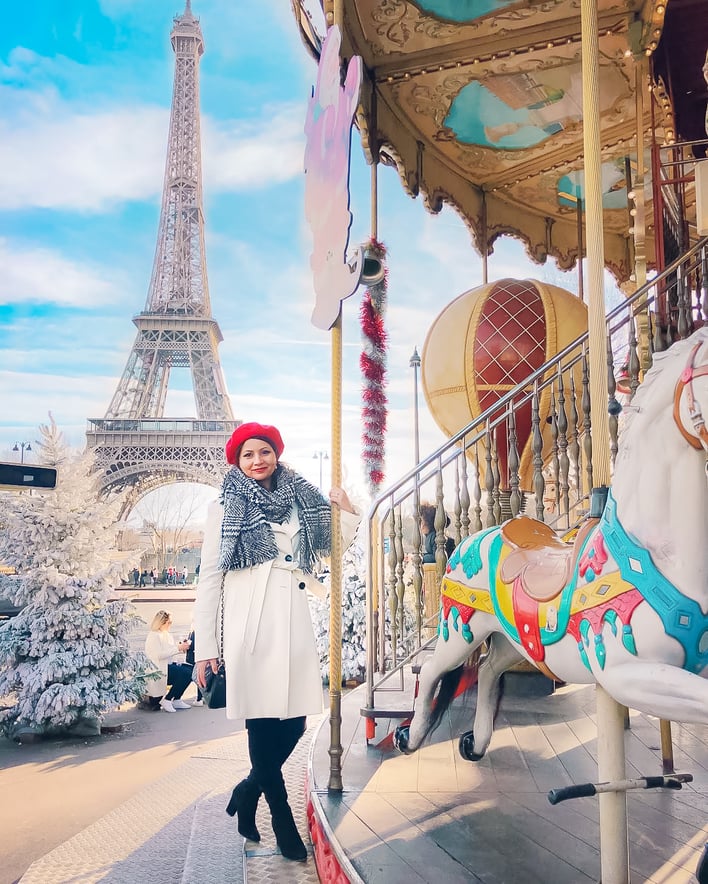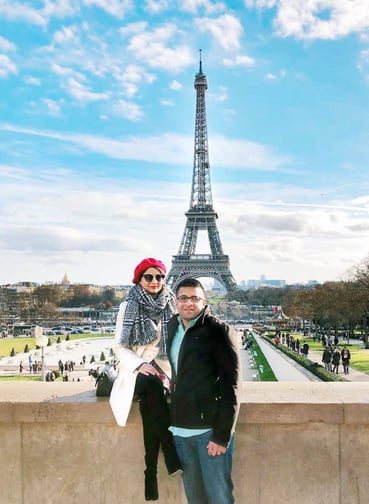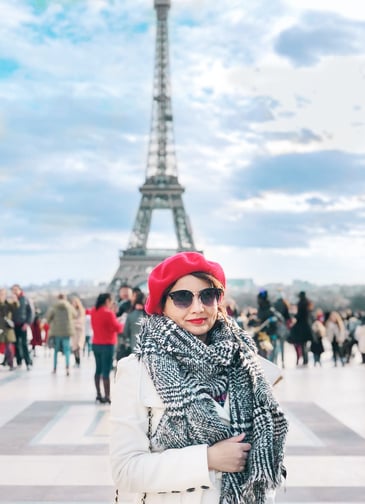 Just your average tourist pictures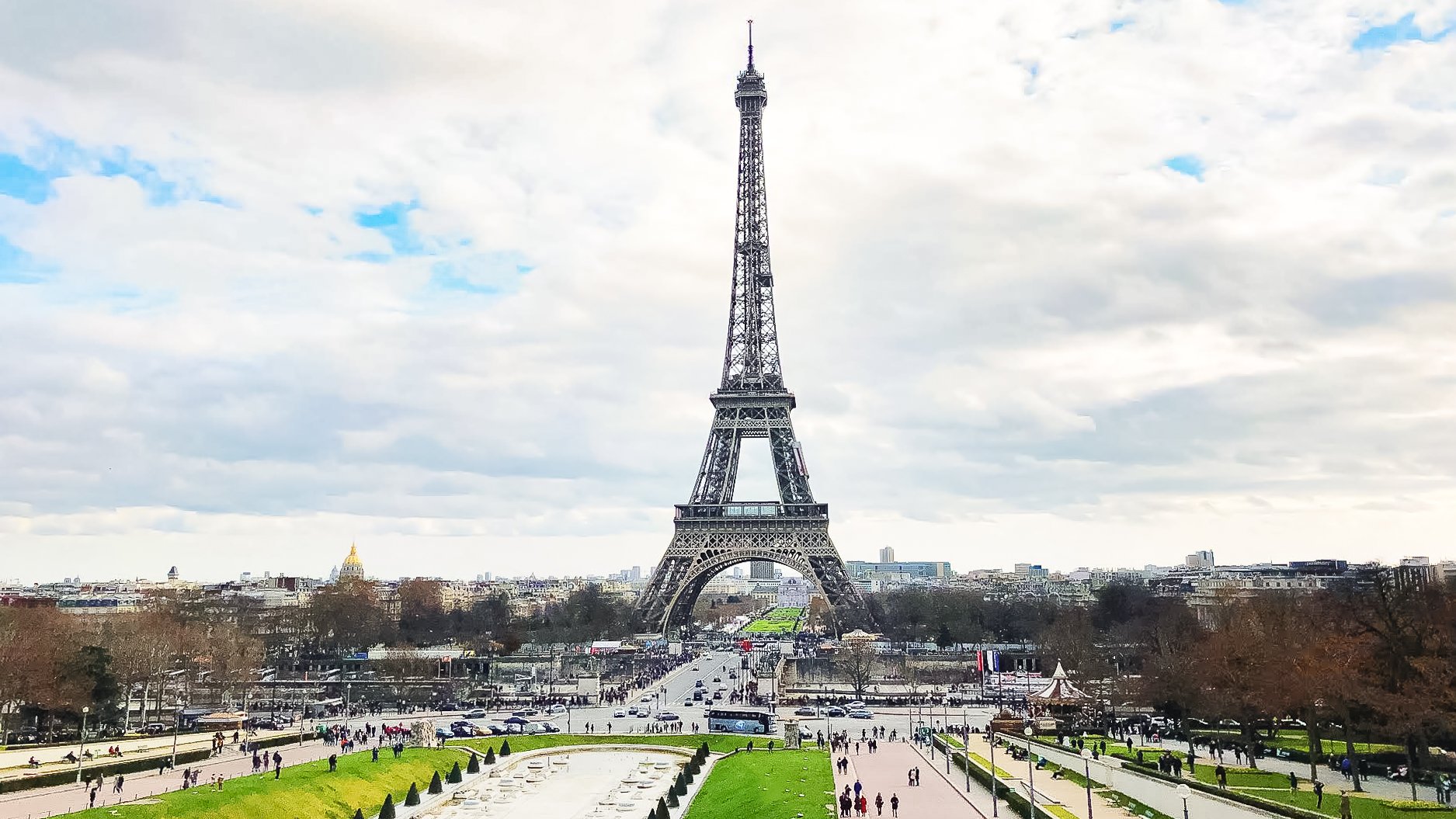 The magnificent Eiffel Tower, the tallest structure in Paris
3. Sacré Coeur Basilica & Montmartre
Sacré Coeur Basilica, translated as the Basilica of the Sacred Heart of Paris, is a Roman Catholic church that sits at the summit of France's largest hill, Montmartre. As the name implies, it is dedicated to the sacred heart of Jesus, which is said to represent his love for mankind. The basilica is notable for two things: its long-lasting chalky white exterior (which is due to the type of stone that was used to build it) and the view from the dome (which offers breathtaking views of Paris and all of its major monuments).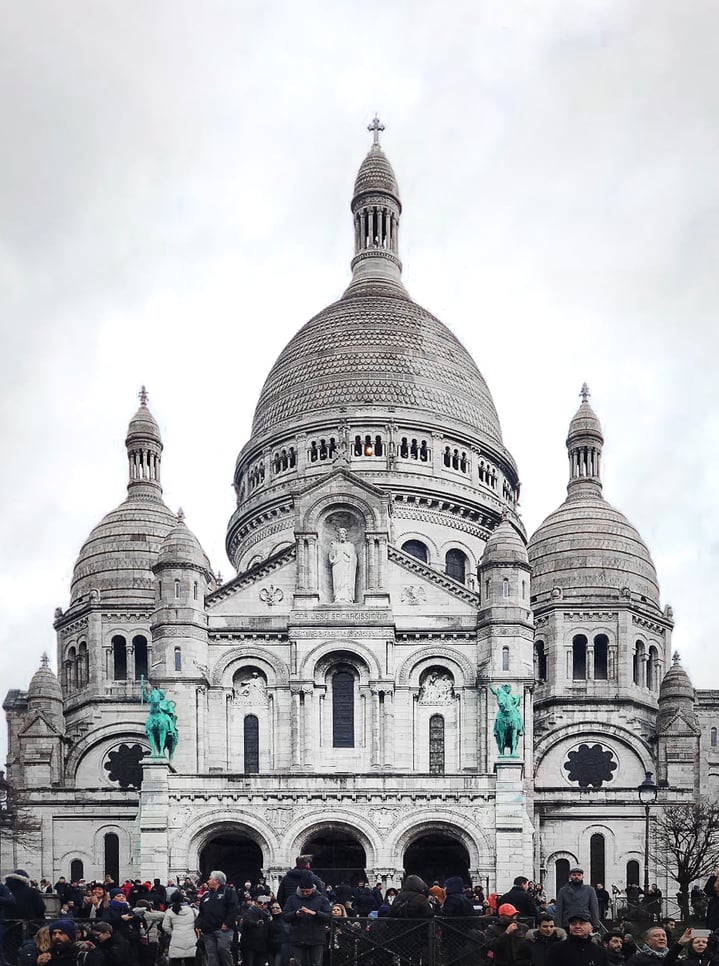 The exterior of the Sacré Coeur Basilica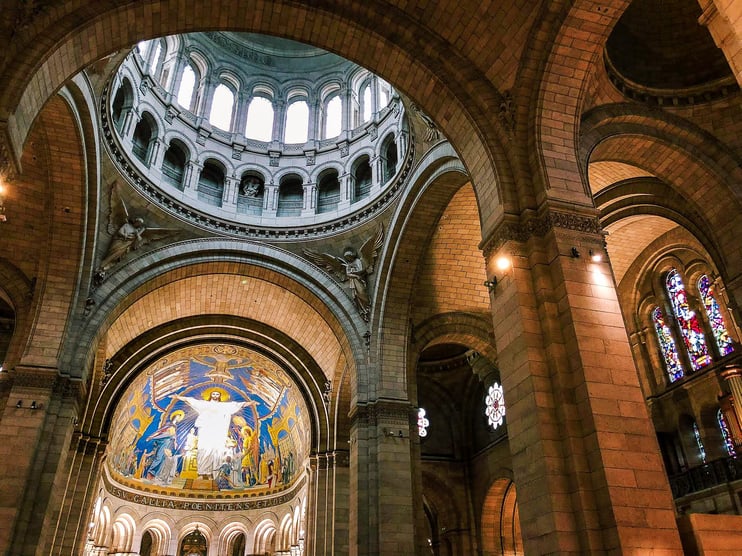 The interior of the Sacré Coeur Basilica
Travel tip: The basilica is open to the public, but you'll need to buy a ticket to get to the top of the dome. Fair warning - you will need to climb 300 steps of a narrow, spiral staircase to get to the top. It's so worth it though.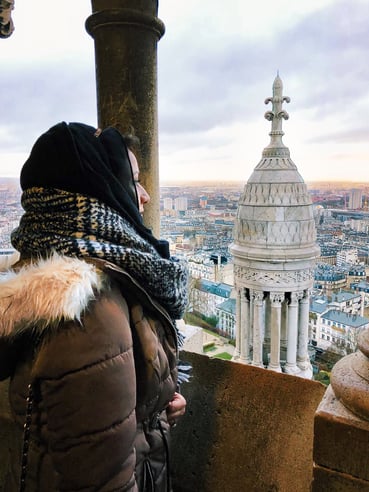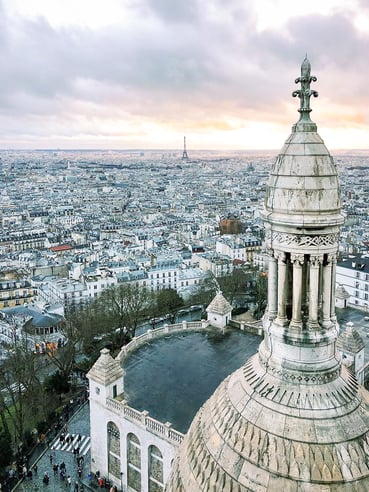 Views from the top of the dome with the Eiffel Tower in the distance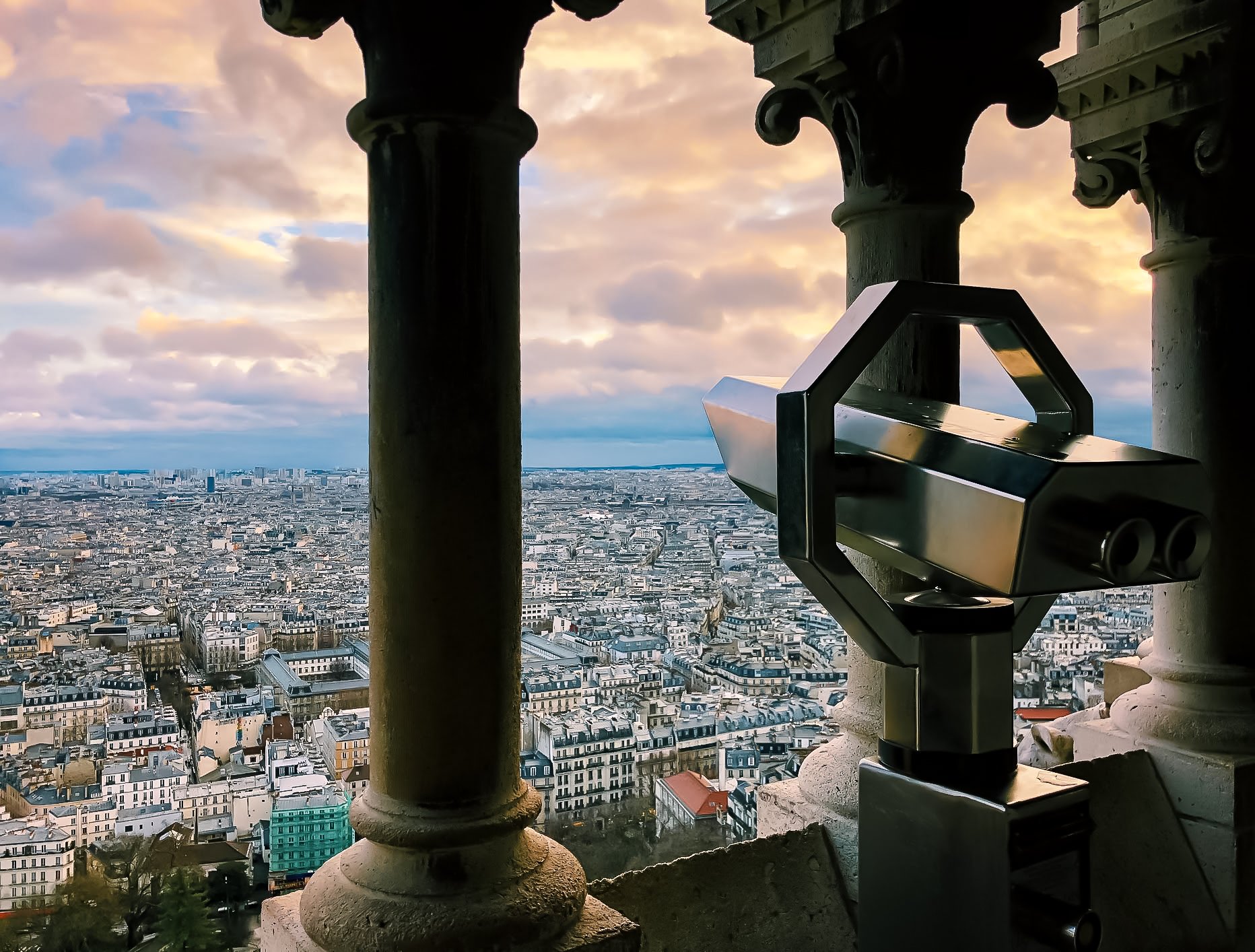 The view just before sunset
Travel tip: Climb to the top of the dome just before sunset to see the Parisian sky and Sacré Coeur drenched in pink. On warm evenings, the steps in front of the church are a great place to hang out and people-watch. The cheerful atmosphere usually includes delicious street food and live music.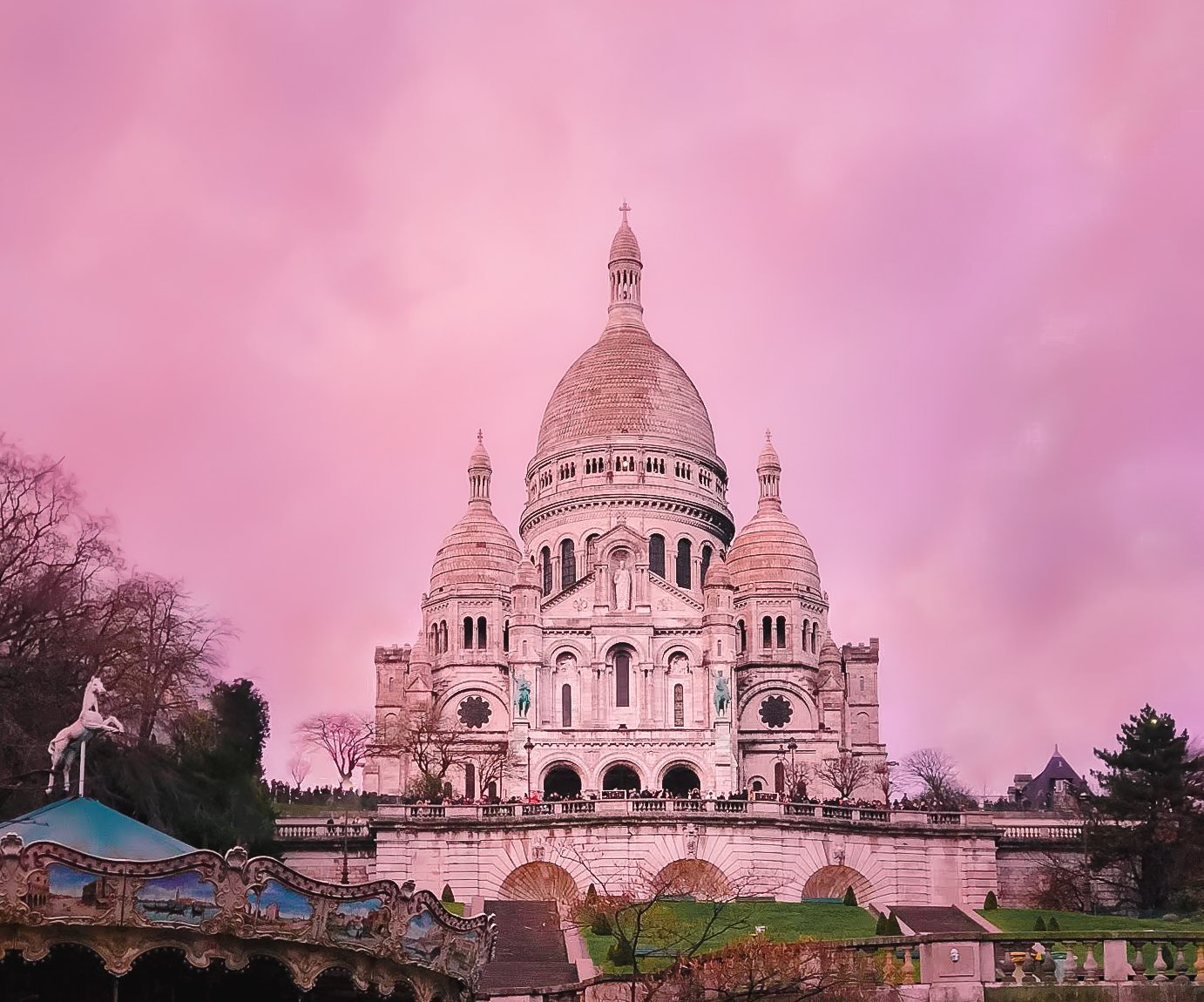 4. Notre-Dame Cathedral
Sacre Coeur isn't the only famous Catholic church in Paris; Paris is also home to the Notre-Dame Cathedral (Our Lady of Paris Cathedral). This cathedral is a central focus of Victor Hugo's classic book, The Hunchback of Notre-Dame, which tells the story of a disfigured bell-ringer who lives inside the church and struggles to gain acceptance into society.
The Hunchback of Notre-Dame was adapted into an animated film by Disney in the 90s. The reason I share this backstory is because as a child, I watched this movie and was especially fascinated by how it was made. I vividly remember being glued to the TV as Disney gave a behind-the-scenes look at the animators' journey to Paris, to sketch the cathedral from life. Visiting that same cathedral as an adult and seeing it with my own eyes was incredible.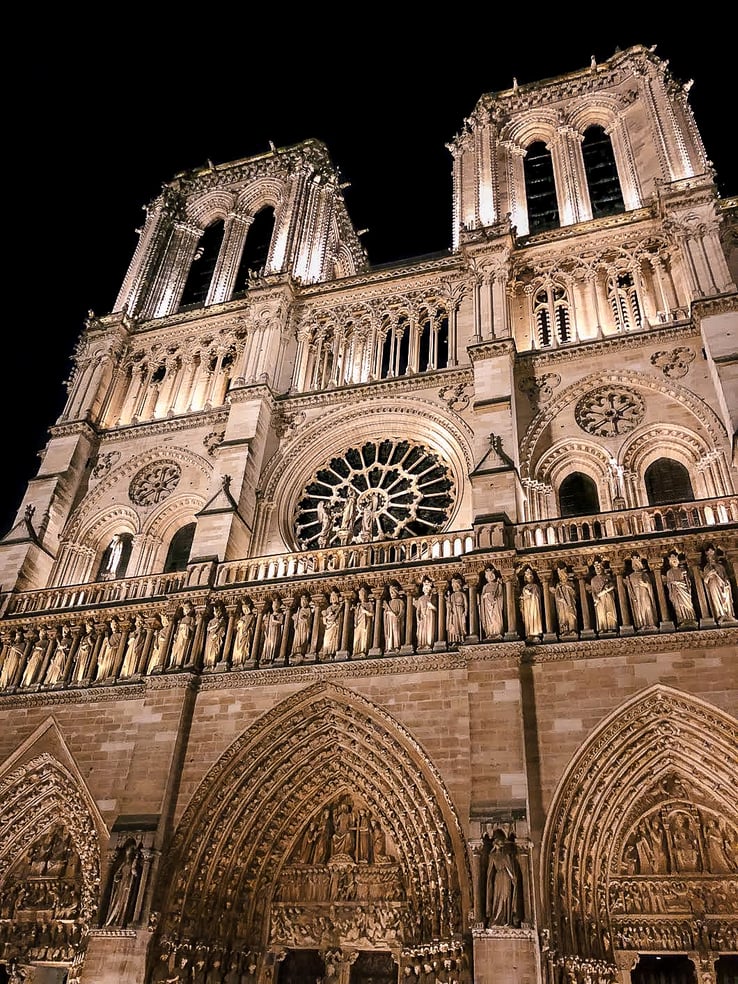 The Notre-Dame Cathedral
Aside from the legend of the hunchback, Notre-Dame Cathedral is renowned as one of the finest examples of medieval gothic architecture. The cathedral's facade includes many gargoyles, sculptures, and a long spire.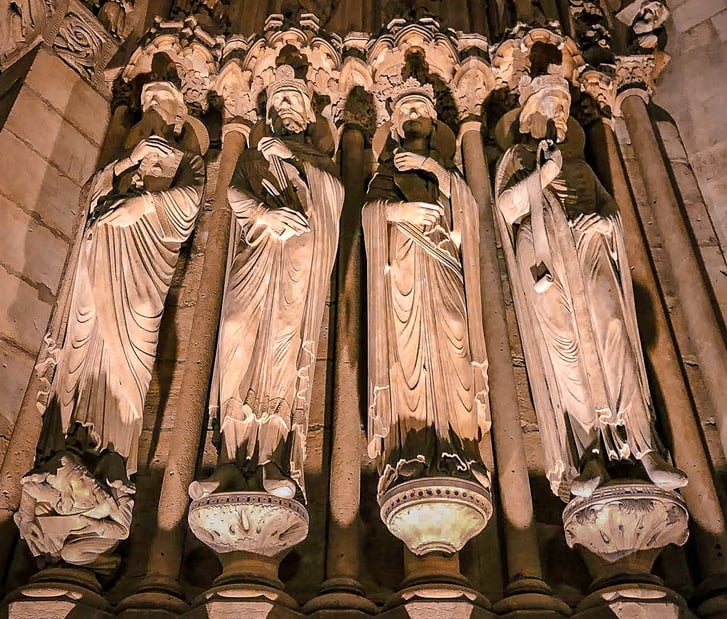 The spire (the blue-ish cone in the middle) of Notre-Dame Cathedral
Travel tip: Notre-Dame Cathedral is open to the public. Try to go during mass to hear the resounding sound of the church's organ. You can also go up to the top of the cathedral's towers and stand next to the gargoyles on the roof - but first you'll need to climb about 400 steps.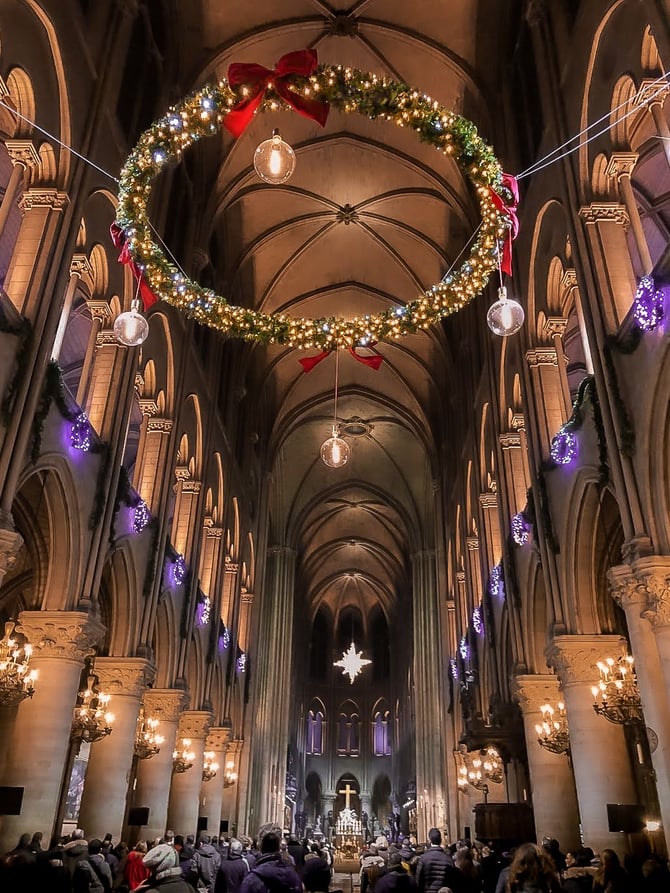 Notre-Dame Cathedral decorated for Christmas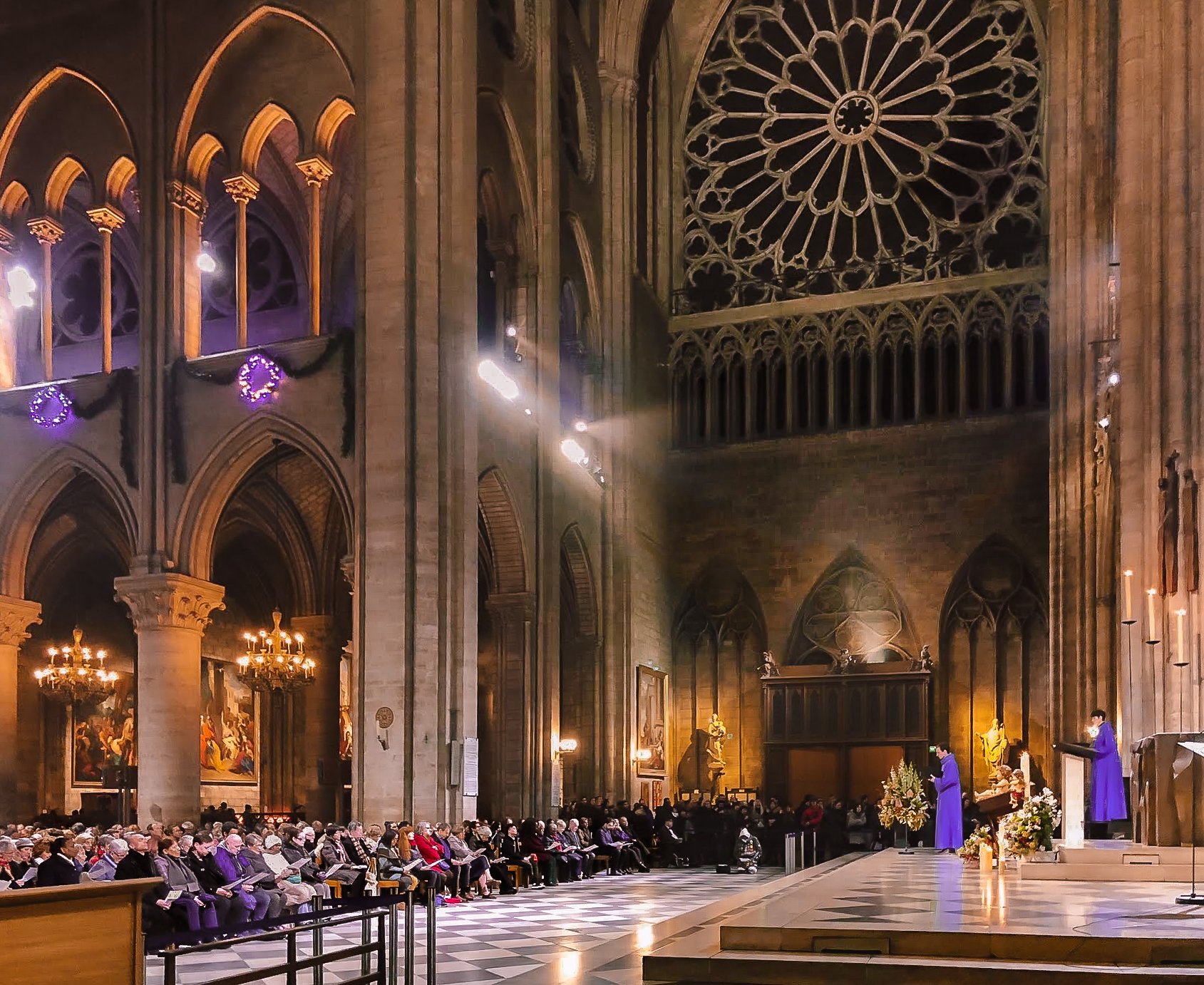 Evening mass in session
5. The Grand Mosque of Paris
One of our travel traditions is to visit a local mosque whenever we travel abroad. After visiting two churches in Paris, we stopped by to pray at a Muslim house of worship: the Grand Mosque of Paris. While it's not as well-known as the typical tourist attractions, the Grand Mosque of Paris is a hidden gem with a fascinating history.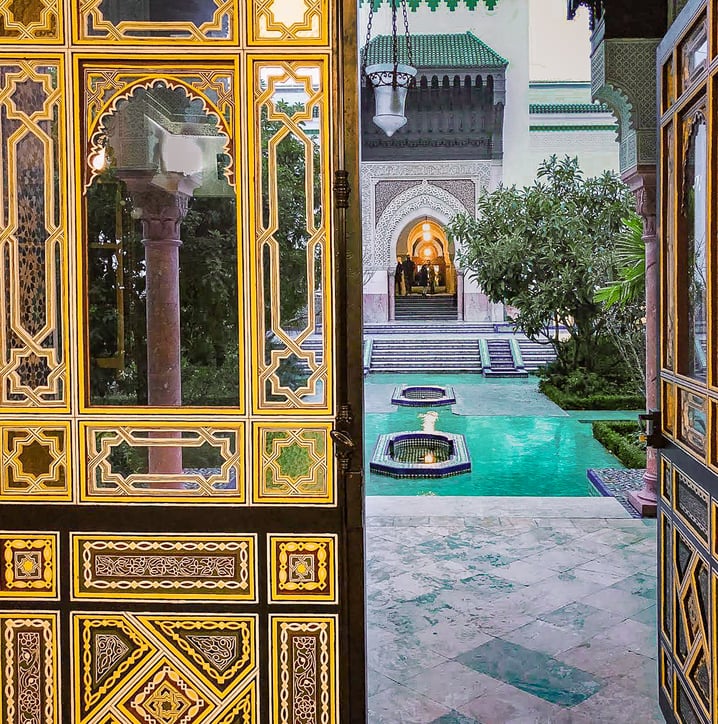 The Grand Mosque of Paris, one of the largest mosques in France
The mosque was built in 1926, shortly after World War I, as a token of gratitude for the Muslim tirailleurs who had fought against Germany (of whom 100,000 died). During the second world war, the mosque provided shelter, safe passage, and fake Muslim birth certificates to European and Algerian Jews to protect them from persecution by German Nazis who had occupied Paris.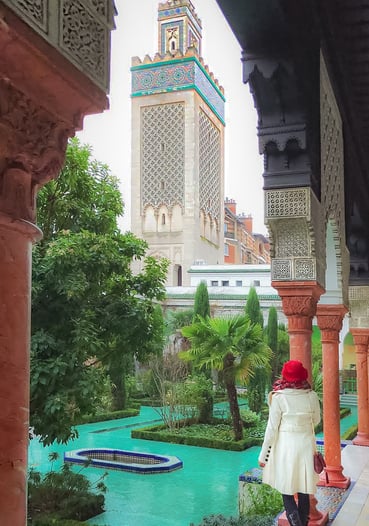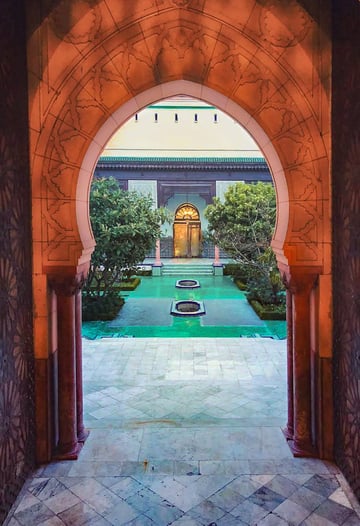 The mosque's inner courtyard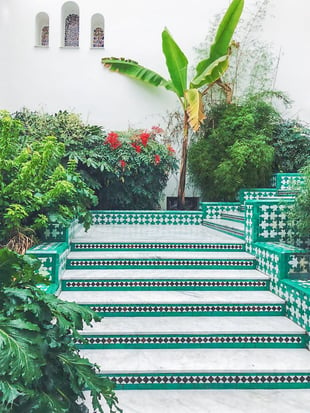 The architecture of the mosque follows the Moorish style of North Africa and Spain. In the summer, its inner courtyard resembles an oasis with flowers and greenery adorning the walls, and water flowing gently in green-tiled fountains.
Travel tip: The Grand Mosque of Paris is open to the public. If you're craving halal Moroccan tagine and mint tea, there's a restaurant attached to the mosque.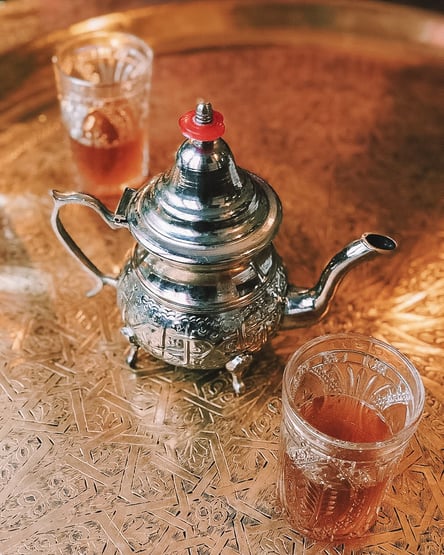 Mint tea at the mosque's Moroccan restaurant
6. Louvre Museum
Paris has a lot of museums, but in the absence of time to check them all out, we opted to visit its most famous one - yep, you guessed it - the Louvre Museum. The Louvre Museum houses more than 700,000 objects (the world's largest collection of art), including Leonardo da Vinci's Mona Lisa. The museum's other collections include a wing for Egyptian antiquities, Greek and Roman exhibits, a sculptures department, Islamic art, etc.
Located inside a former palace and once home to several generations of kings, the museum itself is also a work of art. The museum's recognizable glass pyramid is situated in a courtyard surrounded by buildings constructed in the classic French Renaissance style.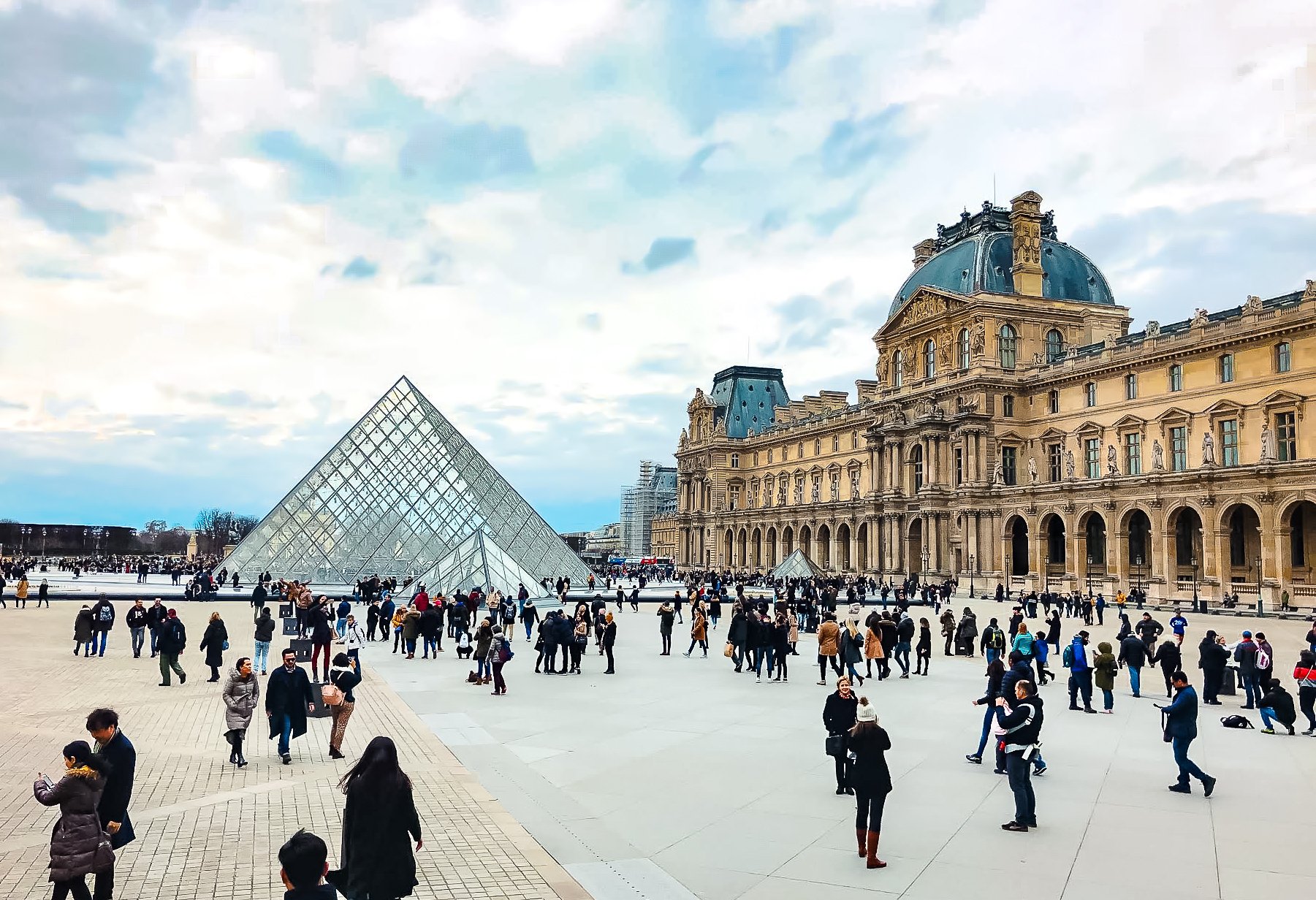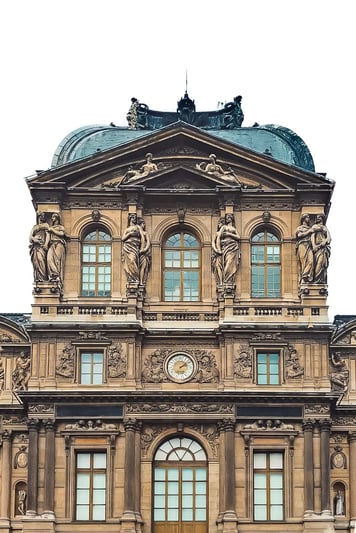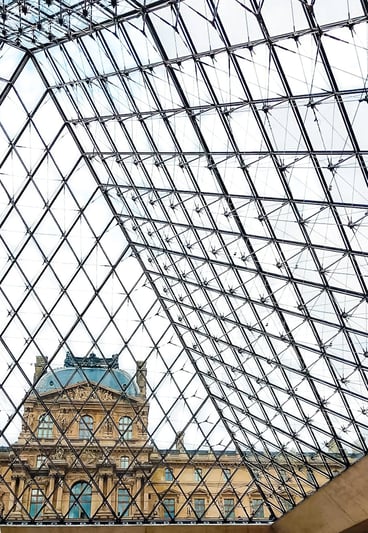 Outside and inside the Louvre Museum's glass pyramid
The Louvre Museum owns one of the most valued paintings in the world, the Mona Lisa. The portrait of Mona Lisa is famous for her coy smile and her lack of eyelashes and eyebrows. One of the big reasons we chose to visit the Louvre was to see this painting up close and personal, after seeing it in countless mystery and heist films scholarly articles. In real-life, the Mona Lisa is actually pretty small. The portrait is protected by sheet glass and guarded by security staff. If you want to get close to this painting, be prepared to fight your way through a crowd of tourists, smartphones, and body odor.
Saad got close enough to take the picture below. I was overwhelmed by the pushing and shoving and people stepping into my personal space.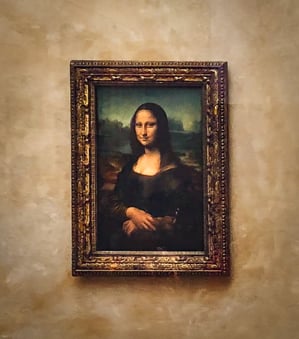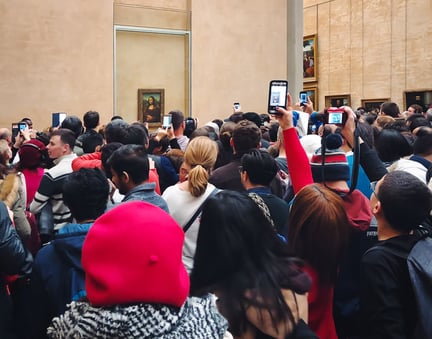 The Louvre Museum is home to the Mona Lisa, but getting close to it isn't easy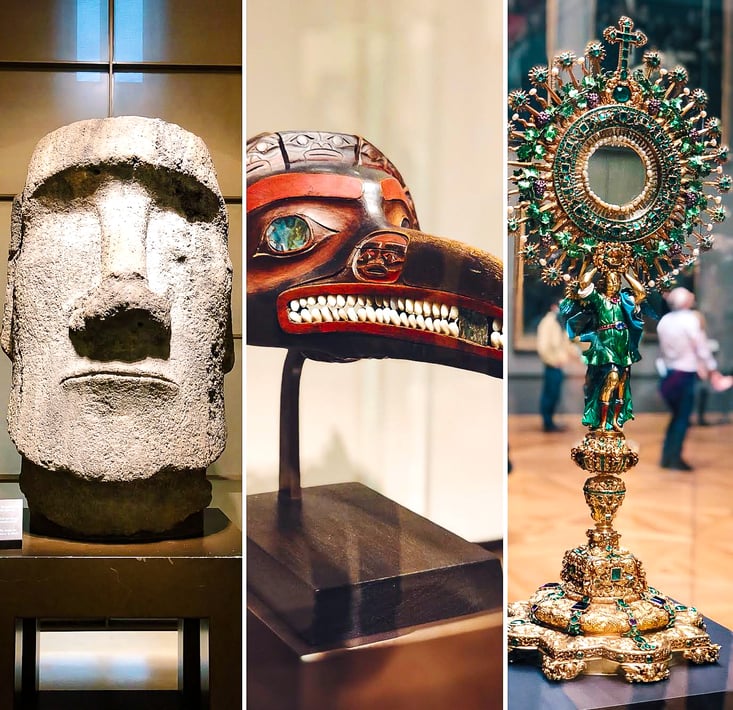 Other items on display at the Louvre Museum (Can anyone recognize what movie the statue of the head on the far left was featured in? Hint: "Dum dum give me gum gum")
Travel tip: The museum is closed on Tuesdays.
7. Palace of Versailles
Located about 20 minutes outside of the city, is another former-palace-turned-museum. The Palace of Versailles is a royal chateau that was once the seat of political power in the Kingdom of France. One of the palace's most famous royal residents was Queen Marie Antoinette, who lived there with her husband, King Louis XVI and their children until the French Revolution forced them to flee to Paris.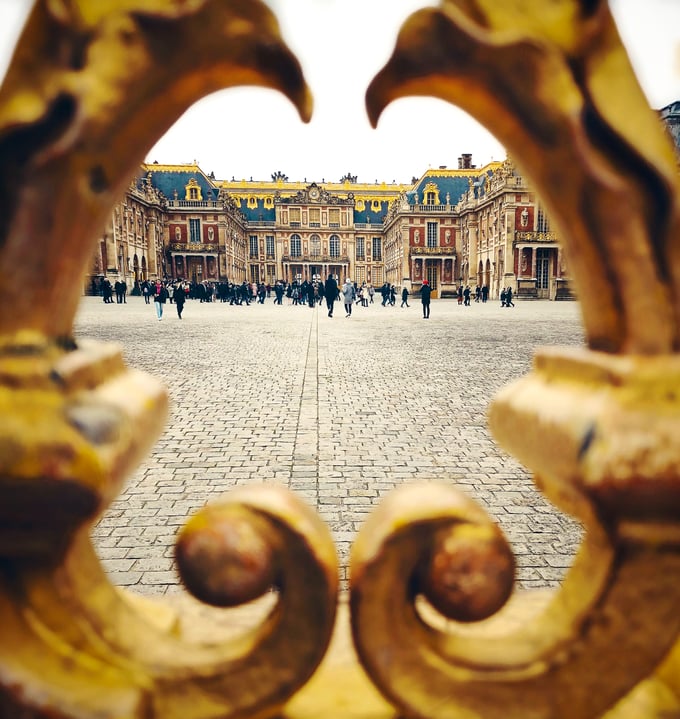 The golden gates of the Palace of Versailles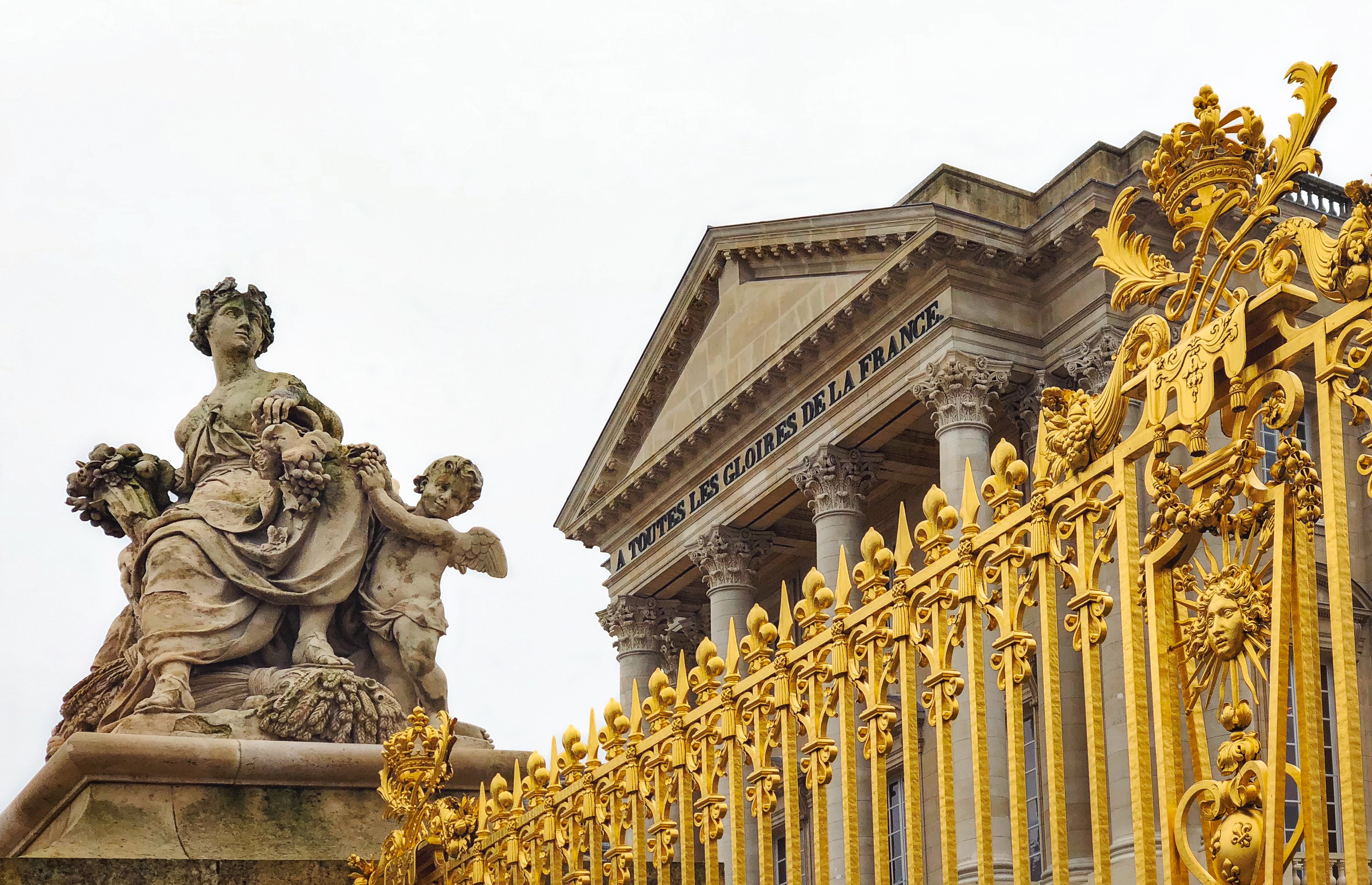 The engraving says, "To all the glories of France"
Travel tip: If I haven't stressed this enough, buy your tickets online in advance! And avoid visiting the palace on a Tuesday because that's the day it has the biggest lines / crowds since all the museums are closed.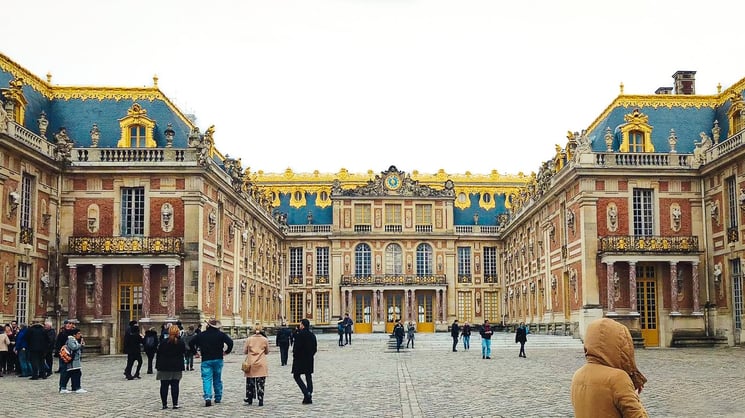 Beyond the golden gates
The Palace of Versailles is grand and luxurious. Its rooms are ornately furnished, and usually include ceiling murals that depict significant moments from legend and history.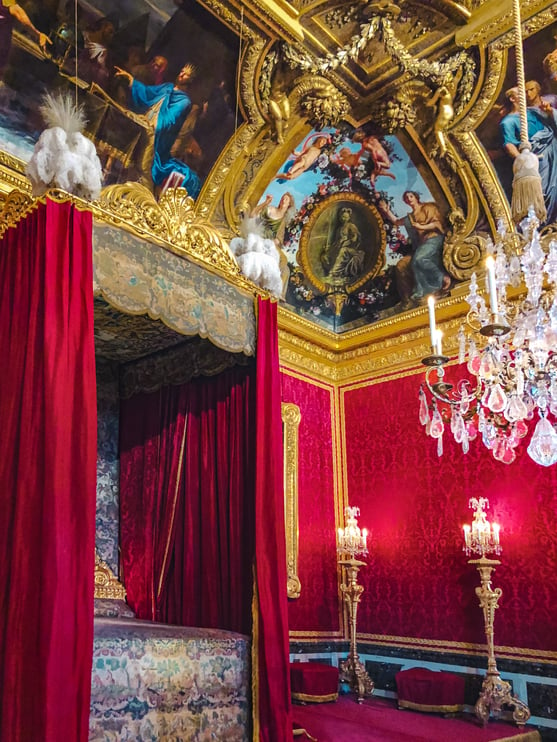 Of particular importance is the Hall of Mirrors, which contains 357 mirrors to project opulence and strength since mirrors were a rare and expensive commodity back then.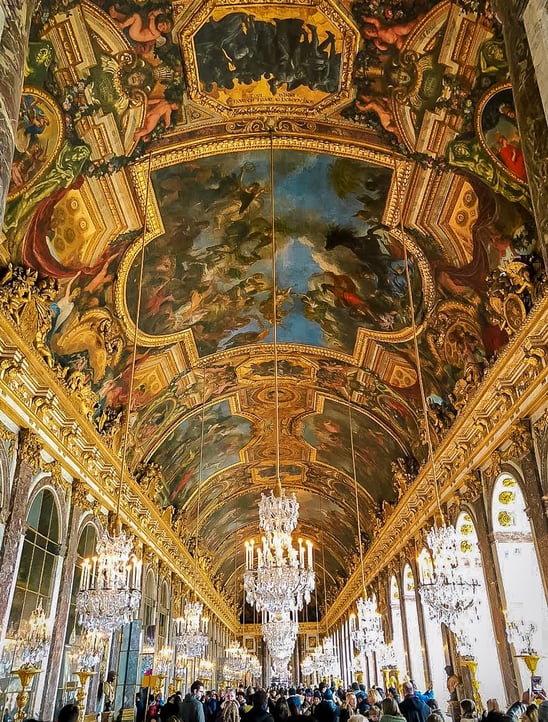 The Hall of Mirrors, inside the Palace of Versailles
The palace grounds also include expansive gardens and smaller chateaus.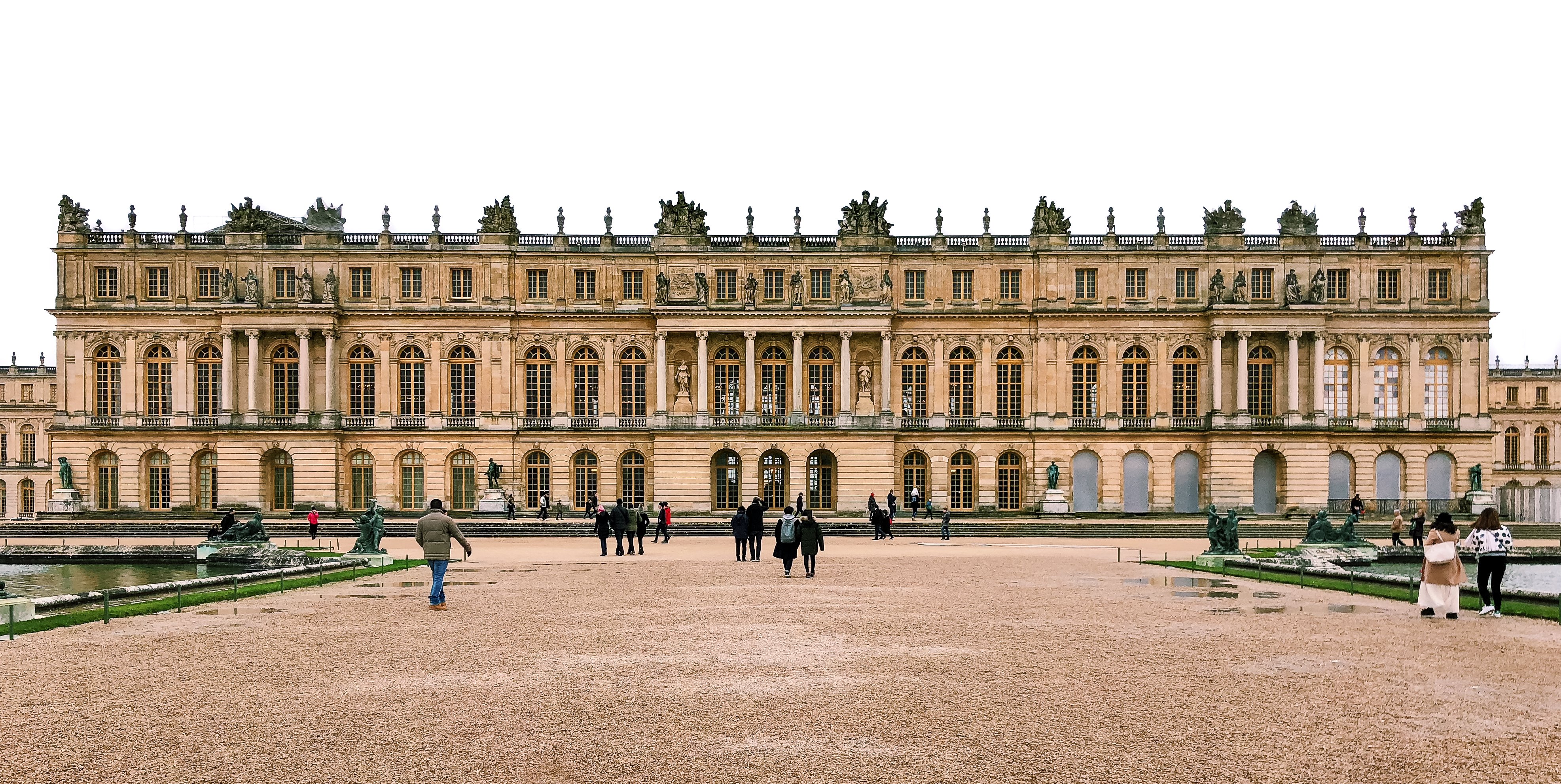 The Palace of Versailles, exit to the gardens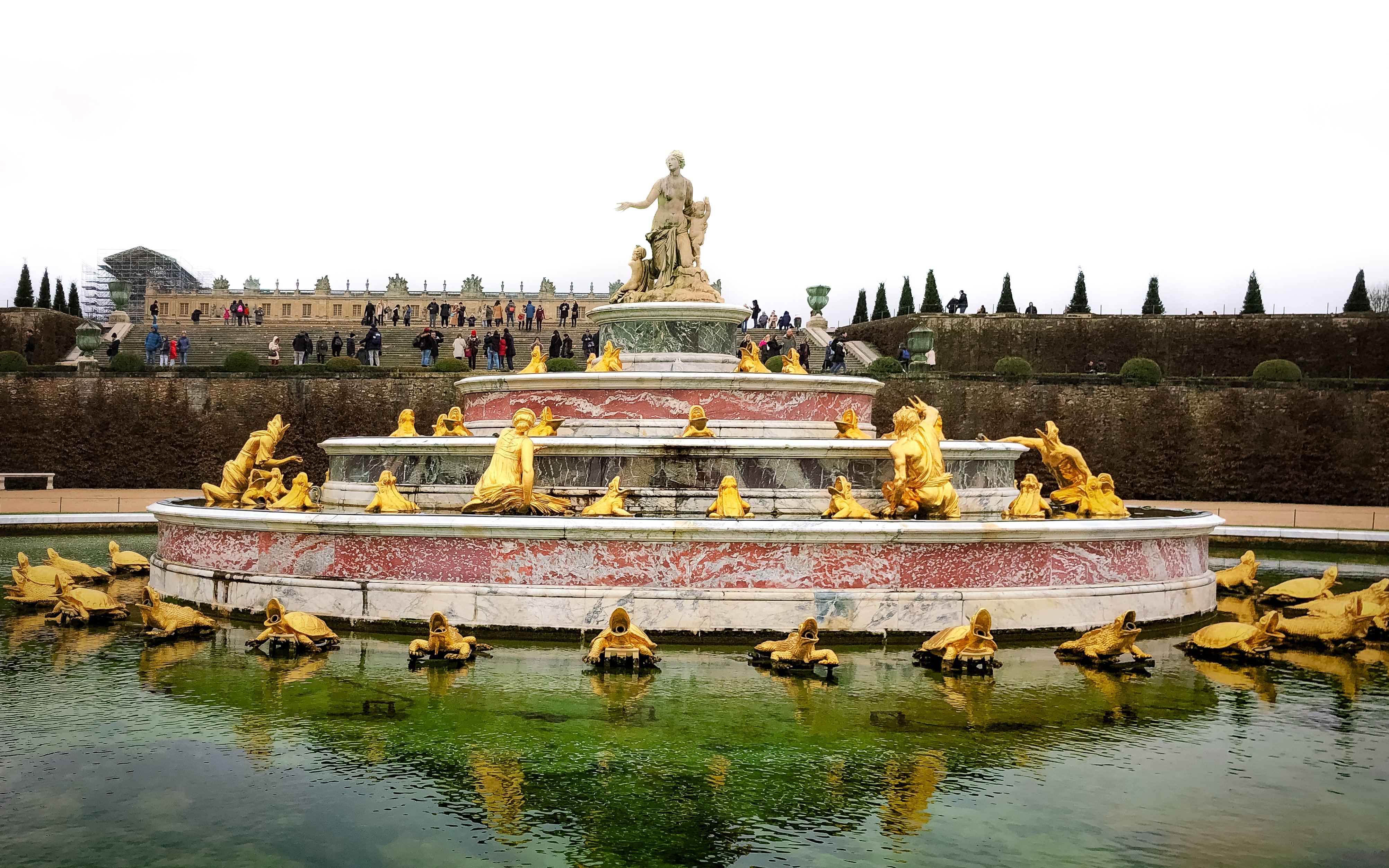 The gardens of the Palace of Versailles
Travel tip: Don't forget to check out the palace's marble court (it's easy to miss because it's located on your left as you walk outside from the ticket counter to the audio guide pick-up counter). I totally walked by this 😭, which is why there are no pictures of it here.
8. Galeries Lafayette and Au Printemps
When in Paris, one of the most fashion-forward cities in the world, you have to make time for some shopping. I'd recommend shopping at Galeries Lafayette and Au Printemps on Boulevard Haussmann. These are both department stores, but they're unlike any in America. For one thing, they're absolutely massive. For another thing, they carry a variety of trendy designer brands meaning you're bound to find something chic and unique.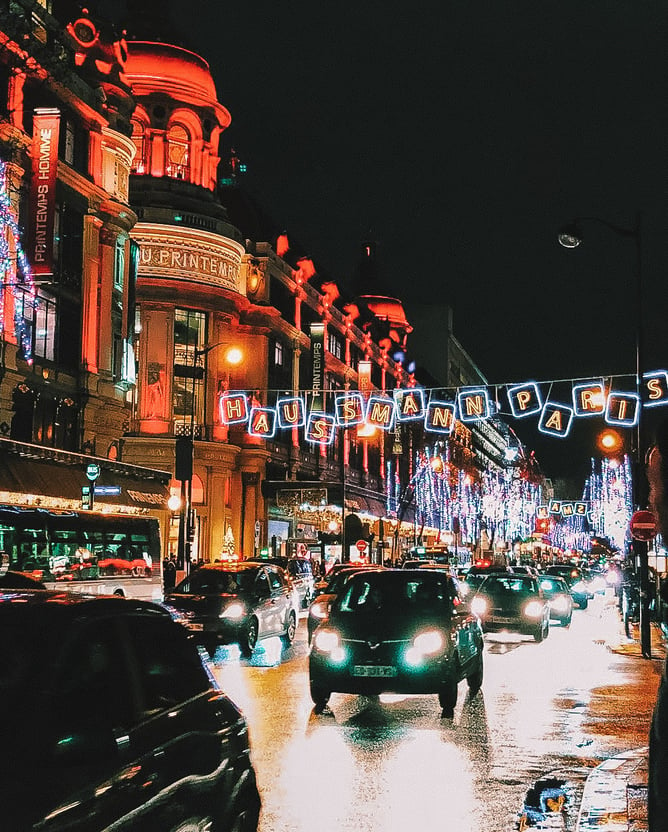 Travel tip: There are also some awesome restaurants located in Galeries Lafayette and Au Printemps if you need to take a snack break.
Other things to do:
There's a lot more to see in Paris than the eight places I listed above. Some other recommendations are:
Travel is fatal to prejudice
Sharing these memories, pictures, and tips with you made me reflect back on my trip to Paris. I had initially feared that I'd face a lot of Islamophobia. But after visiting Paris, learning about its history, and seeing its diversity, I had a change of heart.
Granted, we mostly stayed within the confines of the city where racism tends to be lower. Granted, that just because I didn't encounter racism doesn't mean that other Muslims don't / won't. And granted, I was always accompanied by my bodyguard husband.
The point I'm trying to make is that travel is fatal to prejudice. Visiting a new place can challenge and change your preconceptions of it, so travel as much as you can, as far as you can, for as long as you can. Go someplace you haven't been, someplace outside of your comfort zone. And take time to learn about the world. You'll be surprised by how much you grow. Paris reminded me about this.
Since I started this blog post with a quote, I thought it'd be fitting to end with one too (from Mark Twain):
"Travel is fatal to prejudice, bigotry, and narrow-mindedness... Broad, wholesome, charitable views of men and things cannot be acquired by vegetating in one little corner of the earth all one's lifetime."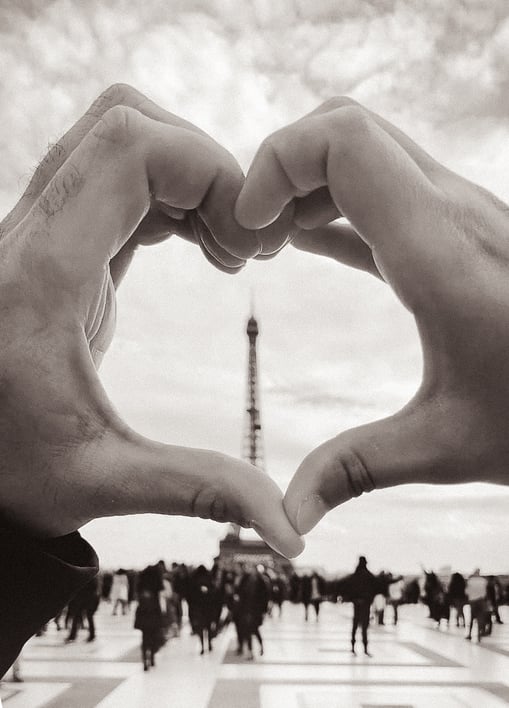 A bientôt, Paris!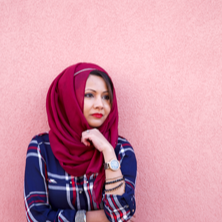 I'm a twenty-something Muslim blogger who's guilty of falling in love with every place I visit. I'm always planning the next trip in my head and missing the last one in my heart. When I'm not off discovering new parts of our beautiful planet, you can find me happily immersed in an art project.