Every year, I promise myself that I'll decorate our condo for Ramadan. And every year, I get bogged down with making samosas, patties, and kabobs instead. Miraculously, this year I managed to do both freezer prep and a little artsy fartsy decorating. In this post, I'm sharing a few simple ways I decorated our home for Ramadan, the holiest month of the Islamic calendar.
In case you're not familiar with the significance of Ramadan, it is the month during which the Quran was revealed to Prophet Muhammad (peace be upon him) as a guidebook for life. To commemorate this revelation, Muslims abstain from food, water, sexual activity, sin, and other worldly pleasures from dawn to sunset for about 30 days. Fasting also helps us learn self-restraint, patience, and humility. In addition to fasting, Ramadan is a month of increased prayers, charity, reflection, service - and let's be real - socializing (#iftarparties and #ihopsuhoor). After Ramadan, we party celebrate Eid, which is a joyous holiday that marks the end of fasting.
Needless to say, it's a pretty special time of year. I wanted our home to reflect that.
Keeping it modern & minimalist
Saad and I live in a loft-style condo. Our style is a mix of transitional (dafuq is transitional you ask? a blend of traditional and modern) and Hollywood glam. Basically, our home is anchored by black and white furniture with pops of color from art and accessories that we've collected from our travels.
Whenever I spruce up our condo for events, I want the decorations to match the space like icing on a cake. That's why my Ramadan decor, as you'll see below, consists of adding a little creative twist to traditional decor items.
1. Ramadan "wreath" with paper flowers
If you read my Eid blog post from 2017, you may have noticed that I have this baroque, white frame hanging above my kitchen island. Every so often, I update the display inside to reflect the season, an upcoming holiday, or special occasion. Since Ramadan now occurs during the spring / summer months, I wanted to create a display that was both colorful and Ramadan-y.
I've been loving paper flowers lately so I decided to create a Ramadan "wreath" using this paper wreath kit from Paper Source. I first assembled the flowers according to the instructions in the kit (it's actually fairly straightforward because the cutting is already done for you - ain't nobody got time for that).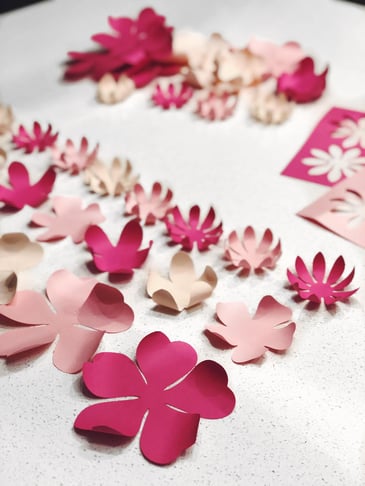 Then, I arranged the flowers in a half-moon pattern on either side of the frame and stuck them on with some strong double-sided adhesive.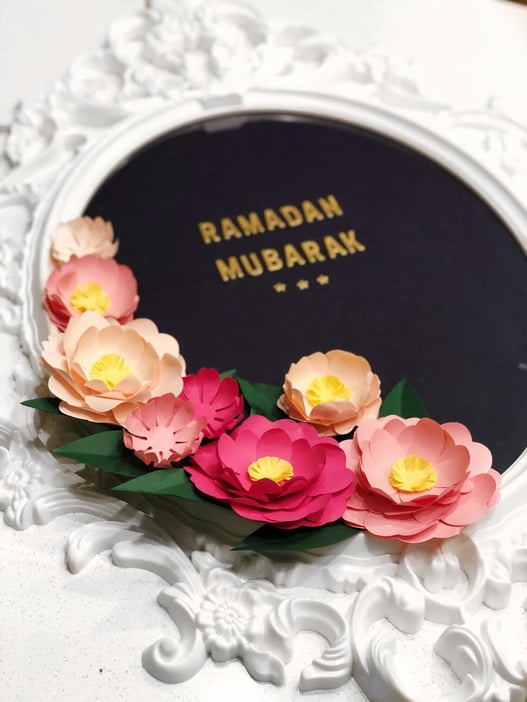 In the center, I used gold alphabet stickers to spell out "Ramadan Mubarak," which means happy Ramadan. I also added some stars underneath the sign because Ramadan themes usually include some sort of lunar or spatial elements.
This was the finished product. I'm really happy with the way it came out :)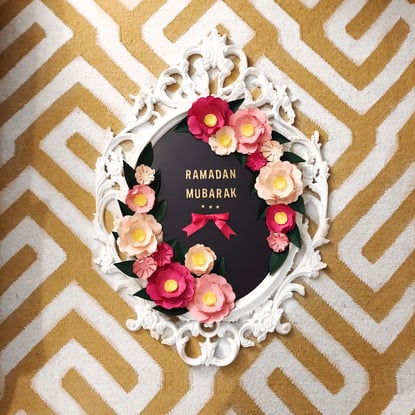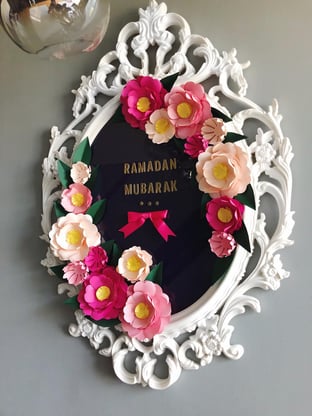 Decorating tip: Another idea for a Ramadan wreath is to glue artificial flowers onto a hoop and pair it with a Ramadan sign on your door. Here's an example from my friend Farah from Facet Events. It looks super cute paired with a wooden Ramadan Mubarak sign from Made With Hab.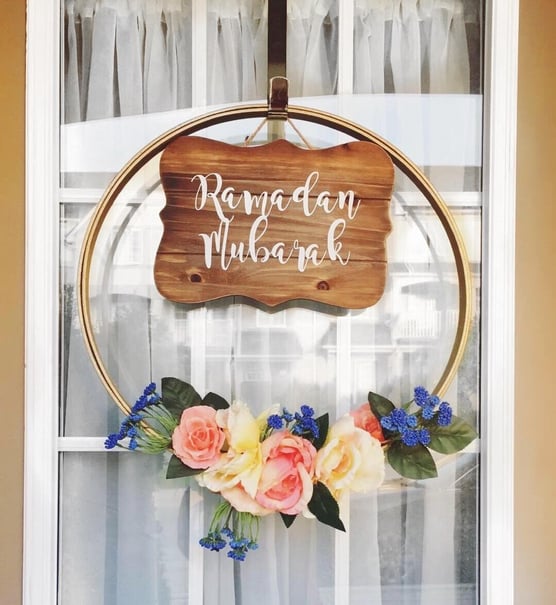 2. Chalkboard of Ramadan reminders
While Ramadan is indeed a month of merriment, it's important not to forget the religious aspect of it. To give Saad and I daily soul food, I created a chalkboard display that includes a countdown to Eid, prayer timings, one of the 99 names of Allah, and a hadith. I update the board on a regular basis and have it hanging in our entryway so we can't miss it.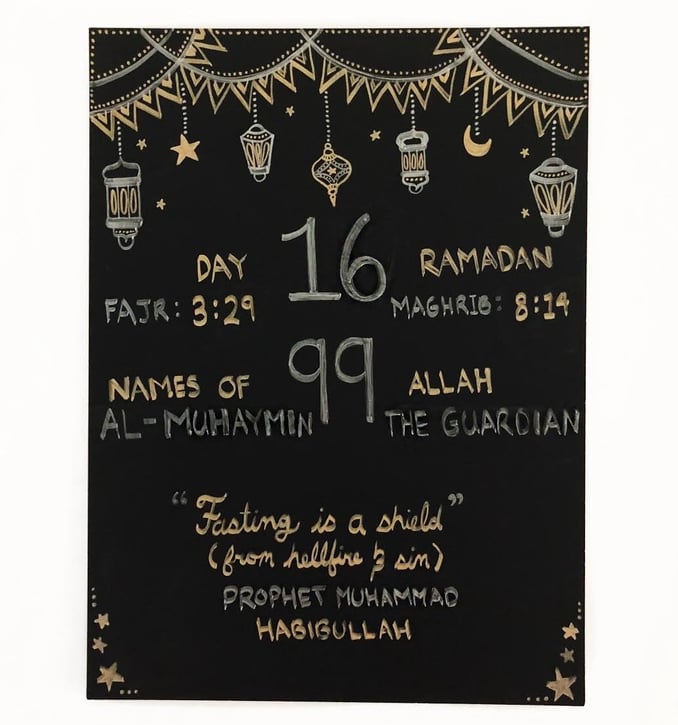 Decorating tip: If you hate chalk dust (like I do), buy a blackboard and liquid chalk markers from Chalk Ink. You can create intricate designs with the markers and then wipe them off with water, which is perfect for detail-oriented clean freaks like me (and you?).
3. Lights & lanterns
Another simple way I decorated our condo for Ramadan was by filling lanterns with fairy lights and candles. The glow that radiates out from this nook makes me feel all warm and fuzzy inside.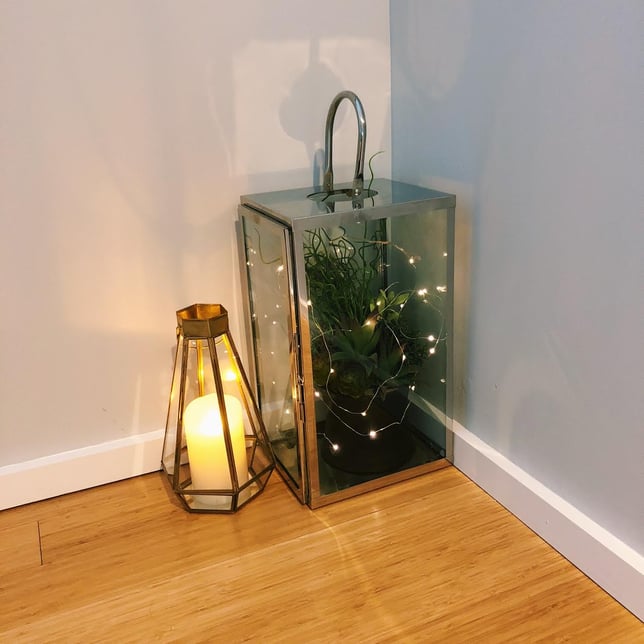 Decorating tip: For the ultimate cozy corner, pair lanterns of different sizes and styles together, like this.
4. Minimalist framed prints
A few years ago, Saad spotted this beautiful "Salams" print at a local Islamic shop in Toronto. I love the soft cursive writing and the burst of pastel polka dots that surround it. We framed it and hung it up on our door.
Although it stays up year-round, I'm including it in this Ramadan decor post because it fits so well.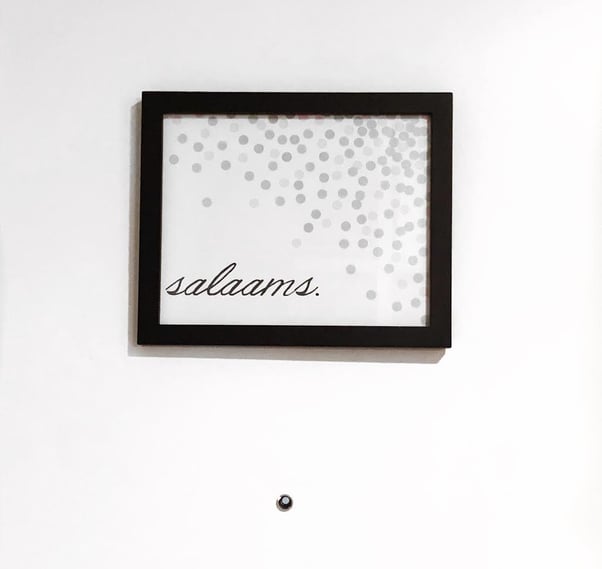 Decorating tip: Another friend of mine also used framed prints and lanterns to decorate her home for Ramadan. I love the gold monochromatic theme and the simplicity of the prints, which are from The Art Souq.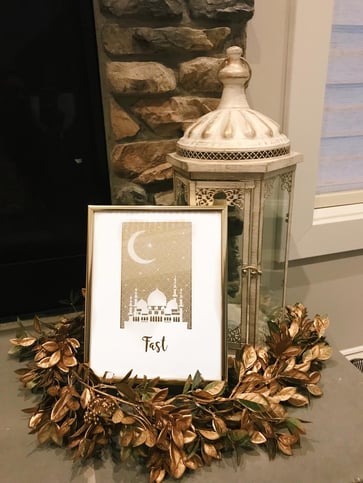 More Ramadan decor inspiration
If you need more inspiration for modern Ramadan decor, here are some of the other items I'm crushing on.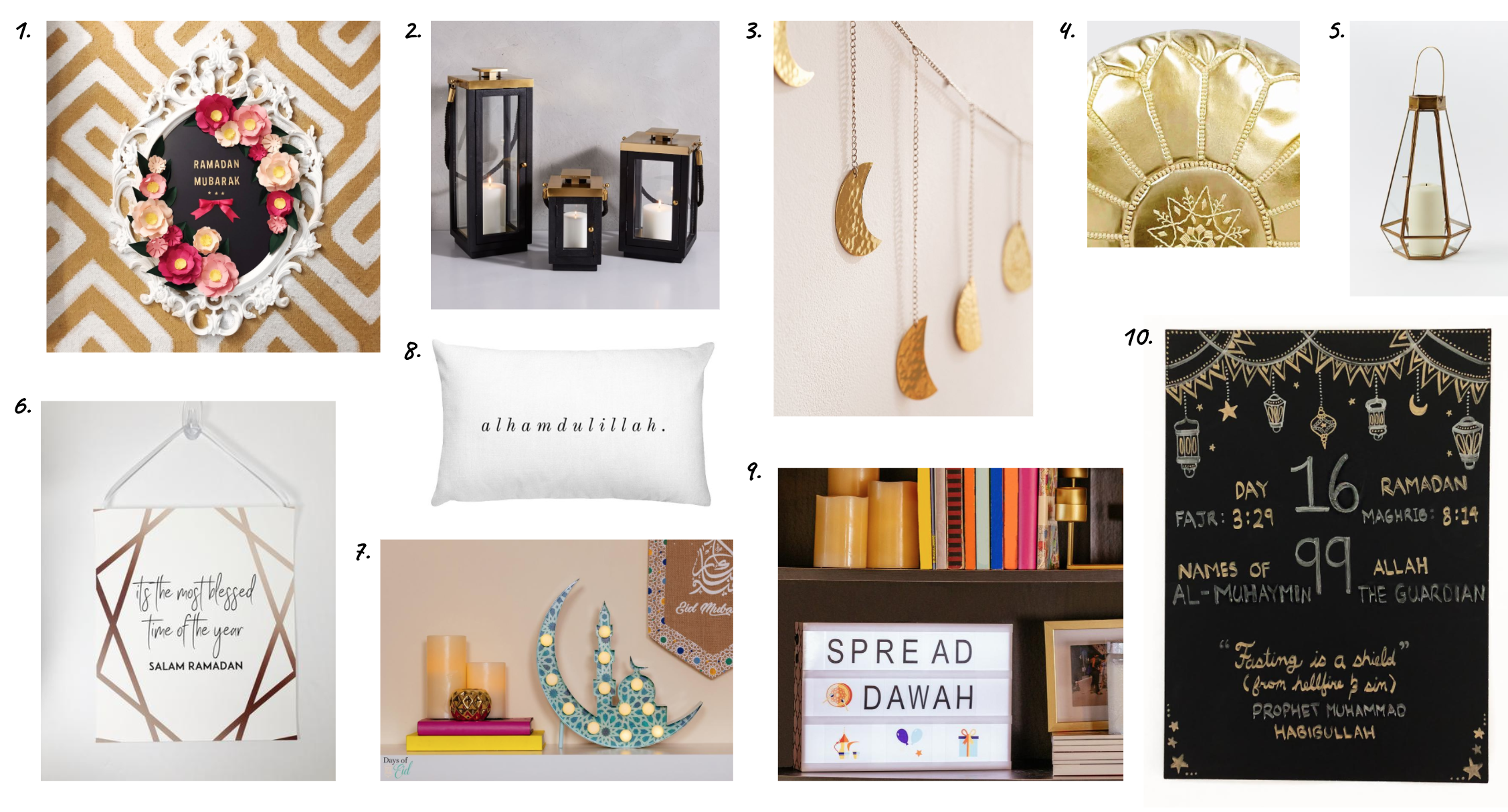 Ramadan wreath with paper flowers (featured above)

Blackboard of Ramadan reminders (also featured above)
I hope these pictures / ideas get your creative juices flowing and motivate you to decorate your home for Ramadan & Eid!
I wish you all a wonderful, blessed, and joyous Ramadan and Eid!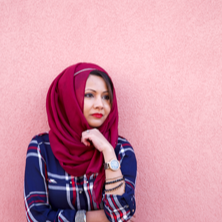 I'm a twenty-something Muslim blogger who's guilty of falling in love with every place I visit. I'm always planning the next trip in my head and missing the last one in my heart. When I'm not off discovering new parts of our beautiful planet, you can find me happily immersed in an art project.