I wish Eid was more like Christmas. There, I said it. *cue gasps and astaghfirullahs* Let me explain: Eid al-Fitr is the most important holiday celebrated by Muslims around the world. It marks the end of Ramadan, the month of fasting, and should be a joyous occasion full of festivities and merriment. But unless you live in a predominantly Muslim country, Eid can sometimes be… meh (i.e. unexceptional / just like any other day).
Maybe it's hard to take the day off work, maybe you're too tired from fasting to plan a party, maybe you feel sad because Ramadan is over, or maybe you want to see some friends but have no time because of the family / aunties you need to visit first. After all, there's no "Friendsgiving" version of Eid, right?
The point is, I wish Eid was celebrated with as much pomp and circumstance as Christmas so you feel excitement as it approaches, so you get to share it with all of your loved ones (not just your blood ones - see what I did there?), and it blows regular dinner parties out of the water.
Challenge accepted: make Eid great again
When I was growing up in Canada, Eid would occur in December and coincide with Christmas and Hanukkah. This was wonderful because it created a sense of unity between Muslims, Christians, and Jews. It also allowed us to soak in the lights, decorations, and festivities of the season as if they were also meant for Eid.
Now, Eid occurs in the summer so we can't ride the Christmas bandwagon anymore. By the way, I know a lot of the Christmas hullabaloo is manufactured, but artificial or not, it contributes to the attachment and happiness people associate with the holiday, which is why I want to infuse that holiday spirit into our big ol' Muslim holiday too.
The challenge was, how could I do that while preserving the unique essence of Eid and without totally ripping off Christmas? Well last Eid al-Fitr, I accepted my own challenge.
How to host a festive Eid party
This past July, Saad & I hosted our first ever Eid open house for about 60 people. Here's how we pulled it off - from decorating, to cooking, and everything in between.
1. Themed invitations
Paper invitations may be more formal and elegant, but electronic invitations can be put together and sent in only a few minutes. Plus, it's easier to track RSVPs online. For our Eid party, we used this free Eid / Ramadan template from Evite to invite our guests. I loved the gold and purple color scheme and the intricate Moroccan lanterns, but if these aren't to your liking, Evite has other designs too (just search for "Eid").

Eid party invite from Evite
Eid party tip: We live in a condo in the city, so we didn't have space to host 60 people all at once. For our sanity and our guests' comfort, we actually sent four invitations and staggered the times to evenly distribute the flow of people throughout the day. We invited our family early in the day and our friends at night for FriendsEid! FriendlyEid? FrenzEID? Friends-Who-Eid-Together-Stay-Together? Ok, I digress.
2. Not-your-usual Eid menu
Saad and I are both Pakistani, which means we (mostly me) eat a lot of samosas, chaat, biryani, and other South Asian delicacies regularly. We hypothesized that our guests would be eating Pakistani food throughout the day on Eid, so we wanted to offer them something different at our place. The menu had to be versatile enough to appease both kids and elders, and balance sweet and savory items.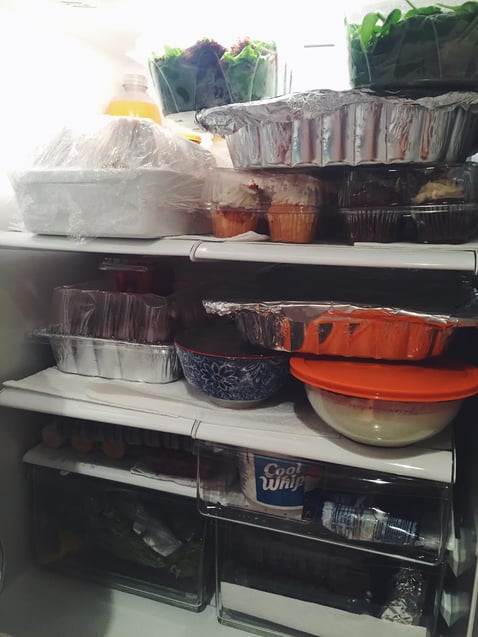 Party prep: my fridge has never been this full (taking stuff out is like playing food Jenga)
For brunch and lunch, here's the menu we landed on: baked french toast with blueberries (easy to make ahead), mini raspberry parfaits, assorted muffins, scrambled omelette and paratha rolls, mini samosas, and lobSTAH rolls (a New England specialty).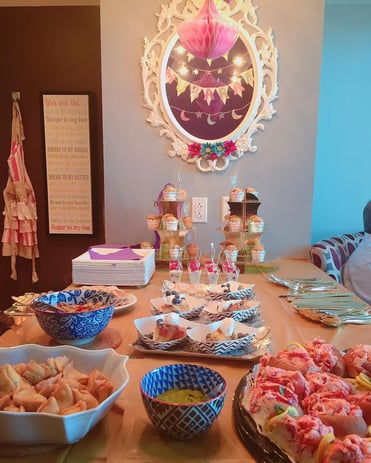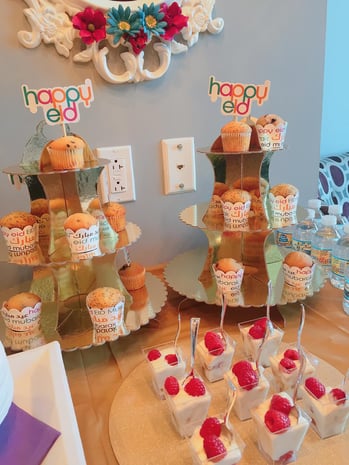 Brunch and lunch Eid party spread
For dinner, we added in a couple more items: stuffed cheese shells with meat sauce, egg salad sandwiches, and cheesecake (which I made from scratch!).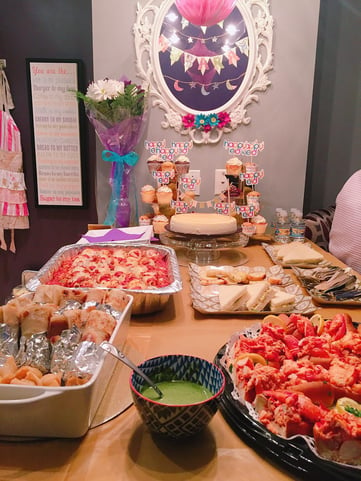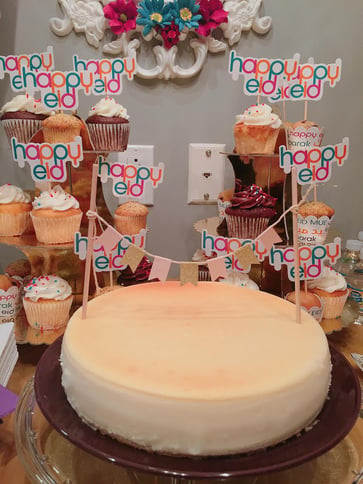 Dinner spread with homemade cheesecake that took me two days to make 😆
Eid party tip: You can get those happy Eid cupcake toppers I used from Amazon.
3. Custom drinks
Whenever we host a party, I do most of the cooking and I put Saad in charge of something low-key-that-he-won't screw up the drinks. For our daytime guests, I made jugs of mango lassi and poured it into cute spill-proof glass bottles. For our evening guests, Saad concocted a mocktail that he dubbed the "Eido Mojito."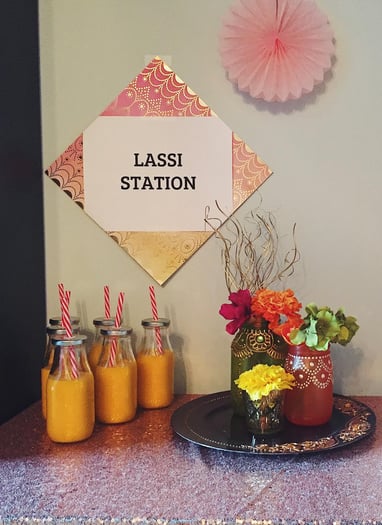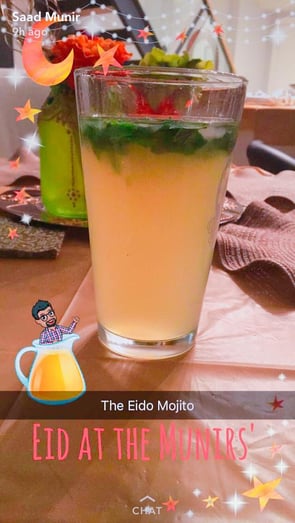 Mango lassi station (right) & bitmoji Saad with his Eido Mojito (left)
Eid party tip: I convinced Saad to reveal his precious Eido Mojito recipe for you. To make it, mix ⅔ cups of ginger beer (don't worry, it's non-alcoholic), ⅓ cup mango juice, and a tablespoon of crushed fresh mint leaves in a glass. As a totally neutral judge, it was delicious.
4. Decor & details
Every epic Eid party should include decorations to liven up the space, set the ambiance, and welcome guests. Decorating sets the stage for fun and envelops your home in holiday cheer. Inspired by the color palette of our invitations, Saad and I hung tissue paper fans and lanterns on the walls in bright hues of pink and purple. The focal point of the wall was an "Eid Mubarak" banner, which Saad made using bunting banners from Michael's.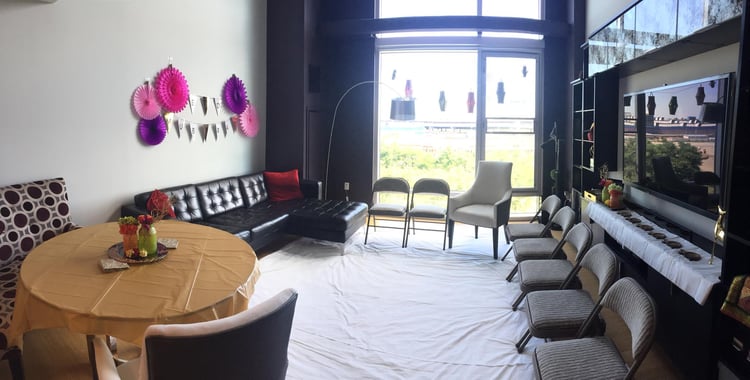 The living room layout optimized for seating
I also made Moroccan paper lanterns (here's the step-by-step tutorial) to hang across the window and created a mini "Eid Mubarak" display inside an IKEA frame.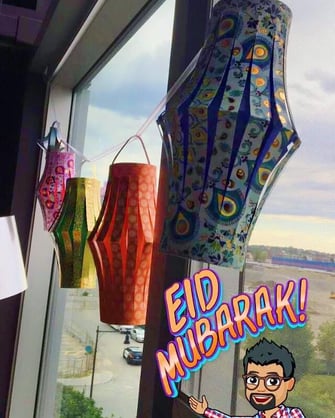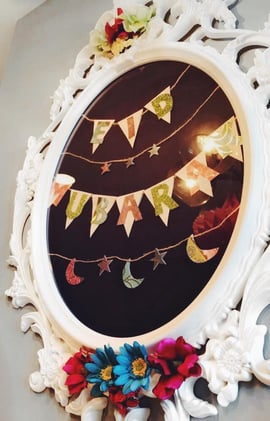 Lanterns and Eid art
Finally, I covered our dining table with a gold tablecloth and used plates and mason jars adorned with mehndi (henna) as centerpieces. The theme of our Eid party was stuff I had lying around a fusion of South Asian and Moroccan.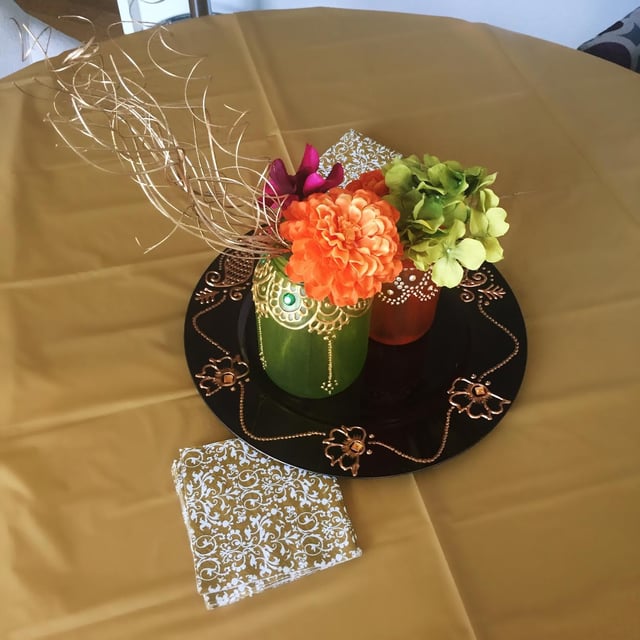 Eid party centerpieces
Eid party tip: If you had a recent wedding in the family, you can reuse wedding decor as Eid decor (like I did with the mehndi trays, which were originally for my brother-in-law's wedding).
P.S. Don't have mehndi trays lying around? Located in New England? You can rent mine! Send me an email at s(dot)annum(dot)munir@gmail(dot)com for details.
5. Favors in many flavors
It meant the world to us that our friends and family visited us on Eid and filled our home with joy. As a token of our appreciation, Saad and I assembled favors that we distributed to guests as they said goodbye. These favors consisted of macarons (in mango lassi, coconut cream pie, nutella, and vanilla milkshake flavors) with "Eid Mubarak" emblazoned on them in gold. To hold the macarons, I ordered flower top favor boxes from Etsy that I absolutely adored.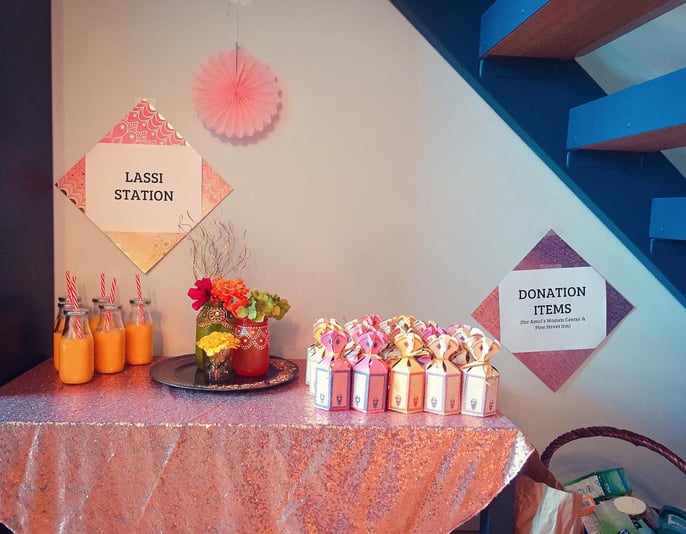 The lassi station & favor table
Eid party tip: The seller provides a discount on large orders (message them for a coupon code prior to purchasing).
6. Baskets for charity
You may have noticed the "Donation Items" sign in the last photo. This was an area in our condo where we placed two empty wicker baskets to collect hygiene items and socks for two local charities. I wanted to find a way to keep the giving spirit of Ramadan alive on Eid, so in lieu of bringing us gifts or treats, we asked guests to bring an item or two for someone in need. Hygiene items and socks only cost a few bucks, but they can go a long way in improving the life of those less fortunate who do not have easy access to self-care essentials. We were so humbled at how generous our friends and family are because we were able to fill these baskets to the brim!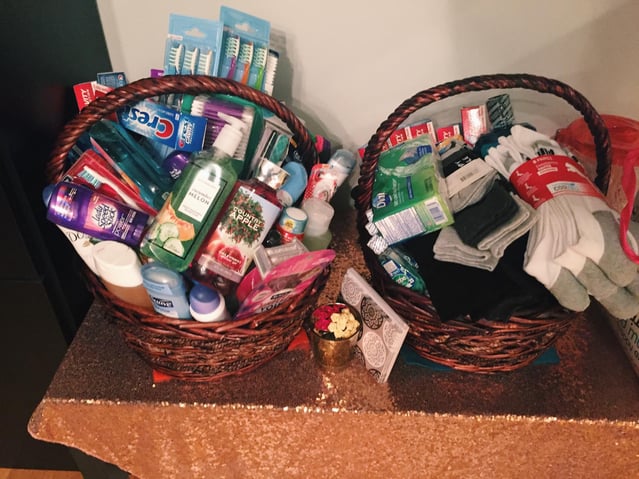 Donation baskets full of hygiene products and socks that our guests helped us fill
Eid party tip: For some extra dawah, write a note explaining the importance of charity and helping others as prescribed in the Quran, and demonstrated by the sunnah of the Prophet (peace be upon him). This will give context to your donation and help combat negative perceptions of Islam. For example, here's a hadith you can share in the note.
7. Social media pizazz
Because Saad and I are millennials, we know social media is a big part of life. That's why we purchased a Snapchat filter that our guests could use while at our house. Yes, getting a Snapchat filter for your Eid party is a tad over the top, but it's also a good way to encourage people to share their Eid celebrations… which can then lead to conversations that increase Eid awareness.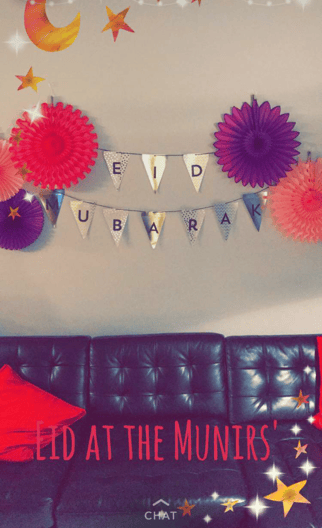 Custom Eid Snapchat filter
Eid party tip: Here's a walkthrough of how to create a Snapchat geofilter.
Other Eid party ideas to try
Even though it was a lot of work to throw an Eid open house / party, it was so much fun. We got to exercise our creativity, hone our hosting skills, and celebrate with our loved ones throughout the day.
We're thinking of making this an annual thing, and I already have some new ideas for next year. I might try to organize an Eid version of a Yankee swap (Muslim swap?) and make these lantern envelops to give Eid money to kids.
Do you have other awesome Eid party ideas? How do you celebrate Eid? Tell me in the comments!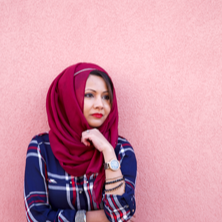 I'm a twenty-something Muslim blogger who's guilty of falling in love with every place I visit. I'm always planning the next trip in my head and missing the last one in my heart. When I'm not off discovering new parts of our beautiful planet, you can find me happily immersed in an art project.