People have extolled the virtues of traveling alone for years, but I've never had the opportunity to do it. That is, until I organized a developer summit for Google in Madrid, which necessitated a semi-solo trip. The plan was, I would go to Madrid first and PAAAAAARTY... err I mean explore the Spanish capital amidst all the event prep, and then Saad would join me after for a much-needed, post-work vacation through the other cities.
I was equal parts excited and nervous. Excited to have the freedom flexibility to do whatever I wanted in a foreign country without my husband there as a chaperone, while also nervous at the possibility of being taken totally responsible for myself in a foreign country without my husband there as a bodyguard. Basically, I wanted to avoid this fate.

Thankfully, Spain, and by extension Madrid, is a safe place to visit; there's little violent crime even though petty crime (i.e. pickpocketing) is high in touristy areas. So, I created a walkable itinerary that allowed me to squeeze in sightseeing between my work commitments and try this 'solo traveling' thing out. What follows in this blog post are my memoirs interwoven with recommendations from the experience.
Section overview
A brief history: Mayrit to Madrid
Every time I travel somewhere different, I'm more mindful of my surroundings. I've realized that traveling - especially traveling alone - gives you a heightened state of awareness in which we are receptive, stimulated, and undimmed by the unfamiliar. Stay in a new country long enough, and the unfamiliar will start to become familiar as you make connections between cities and civilizations.
Madrid reminded me of Lisbon, another European capital. Like Lisbon, Madrid's architecture is a mix of colorful, contrasting styles from different historical periods. In the old city center, you'll find a maze of narrow, winding streets leading to stately squares dating back to the 17th century.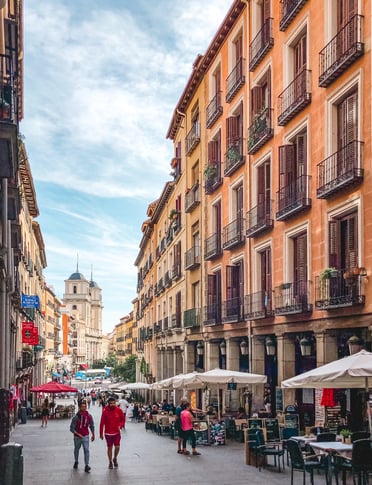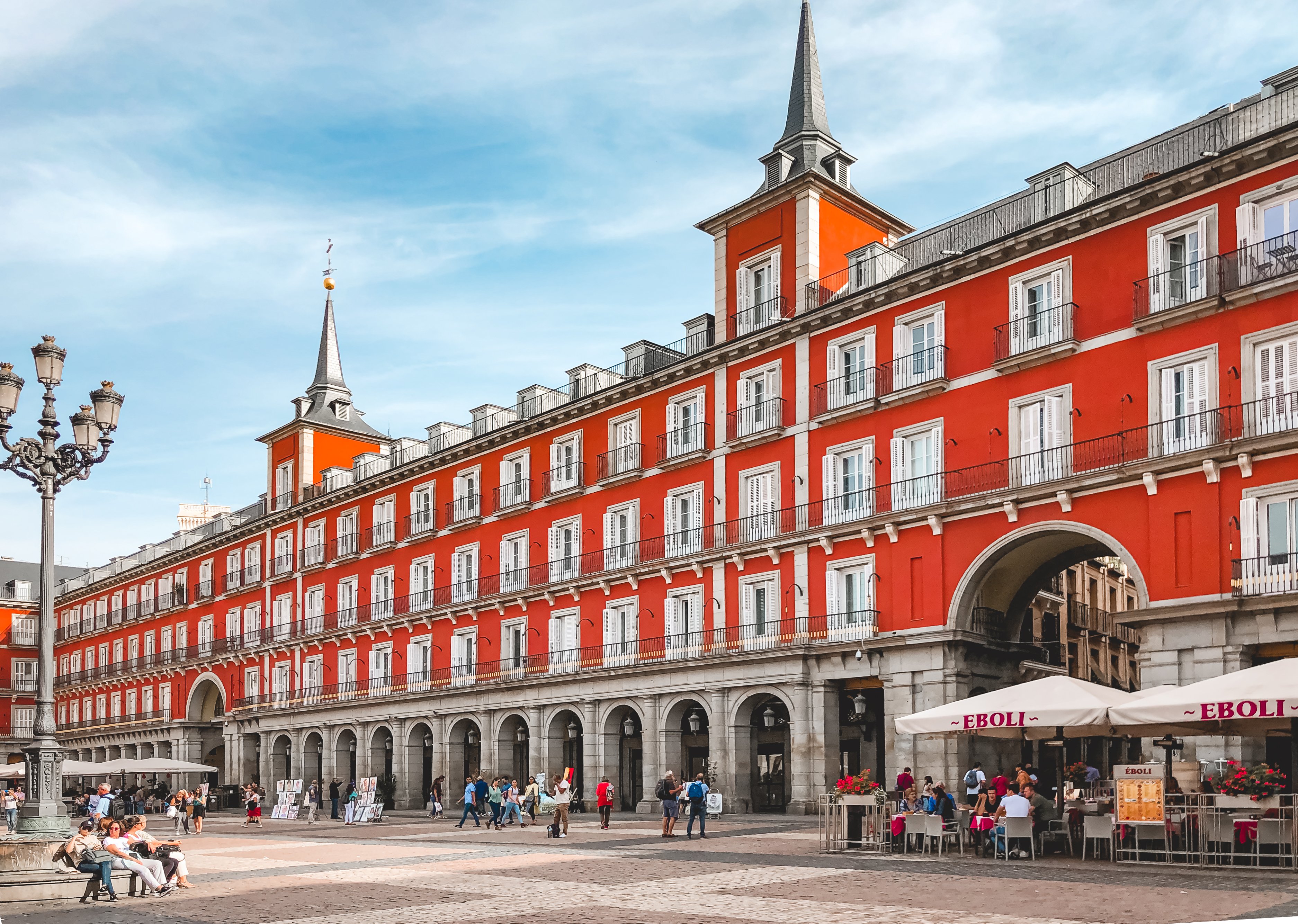 A few blocks away, you'll see grand roundabouts flanked by statues and palaces evoking Madrid's imperial age. In the Cuatro Torres Business Area, glass-encrusted skyscrapers poke out between tiled rooftops and church domes. Heck, there's even a real Egyptian temple in Madrid!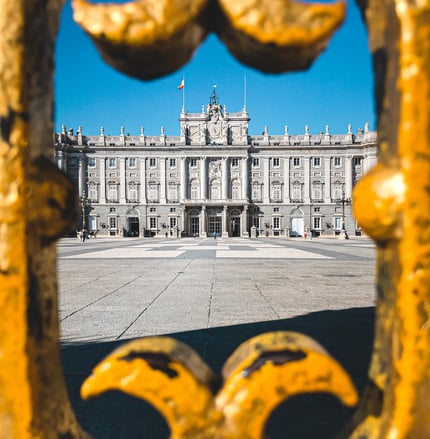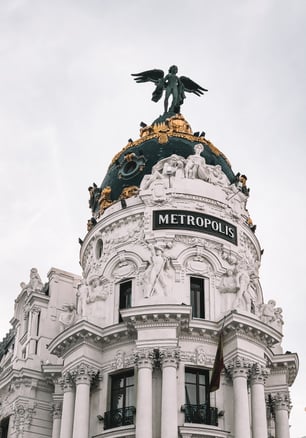 One reason for this architectural mishmash is that rulership of Madrid changed hands several times. Like Lisbon, Madrid was once under Islamic reign. Over seven centuries in the Middle Ages, Muslim emirs established the kingdom of al-Andalus, controlling vast swaths of the Iberian Peninsula including modern-day Spain and Portugal. An emir named Mohamed built an alcázar (fortress) in an elevated region near the Manzanares river with excellent surveillance. He called this citadel "Mayrit" stemming from the Arabic word mayra, meaning source of water.
When Christians reconquered Spain, the name of this region evolved to "Madrid." Even though most traces of the Arab occupation were demolished, it was during the Muslim era that the city of Madrid rose in prominence and found its name.
What to expect
Culture and customs
Today, Madrid is a thriving metropolitan city and the economic and financial hub of Spain. It is the third largest city in the European Union by population size (i.e. it's crowded), the fourth wealthiest by gross domestic product (i.e. it's home to lots of super rich people), and it has the most green space per resident (i.e. there are a ton of parks).
Madrid also has a lively art and nightlife scene. People who live in Madrid, called Madrileños, are passionate about their fiestas and siestas. The city's bars, clubs, and restaurants are always buzzing and open late. On warm evenings, Madrileños flock to terraces and plazas for hours of socializing. When I'd walk back to my hotel at night, every street corner would be full of revelers dining outside and enjoying life - but I never felt unsafe.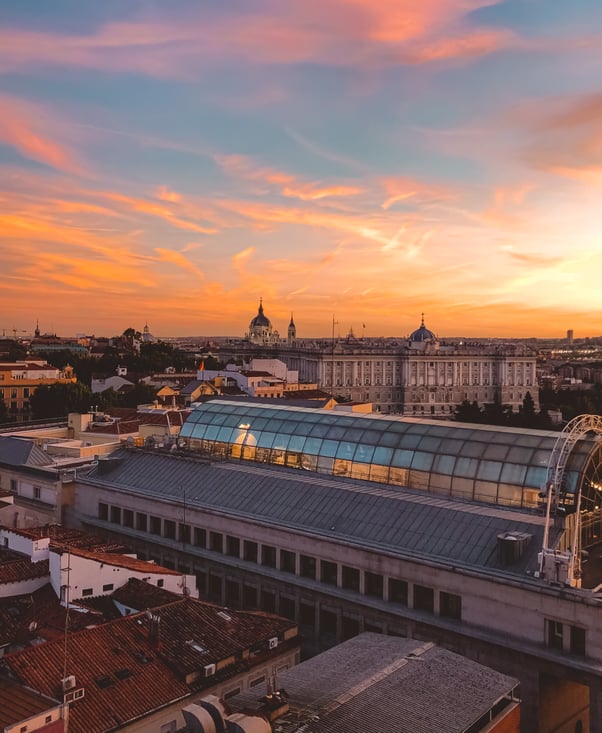 Sunset views of the Royal Palace from a rooftop terrace on a warm evening
Sundays in Spain are a day of rest. Stores, malls, luxury boutiques, are all closed on Sundays except a few supermarkets so don't plan on doing any shopping then.
Travel tip: Wondering what to do on Sundays in Madrid? I have a few recommendations! If you live for bargains and funky knickknacks, check out the El Rastro Market, held every Sunday from 9:00 am to 3:00 pm. El Rastro is Madrid's biggest and best open-air flea market. There you'll find a mix of handmade and antique items, food stalls, and local musicians. Go in the morning to avoid the crowds. If you like looking at expensive paintings of historical figures you don't know have an eye for art, then visit the famous Prado Museum. It is renowned for having one of the world's finest collections of European and Spanish art. Admission is free on Sundays between 5:00 pm - 7:00 pm.
Transportation
Madrid is a very walkable city. If you stay in the right place (which I'll tell you about shortly), you'll have no problem going to the plazas and parks on foot. I used Google Maps to strut my solo butt walk around town without getting lost. The Madrid metro system is clean, accessible, and runs on time too.
Travel tip: Other ways to get around are taxis, Uber and Cabify. The taxis are the most convenient and cheapest method of transportation. Uber is generally the pricest option. I didn't have much luck with Cabify, but my teammates said it worked better than Uber. Remember, Madrid is crowded so traffic is bad.
When to go
With 250-300 sunny days a year, Madrid is Europe's sunniest capital. Peak tourist season is from July to August, despite the temperatures soaring into the 90s (Fahrenheit) on most days. The best time to visit Madrid is actually in late spring (May and June) or early fall (September and October). This is when temperatures are pleasant and you'll be able to avoid hordes of people. I visited Madrid at the end of September and the weather was perfect - lots of sunshine without the sweltering heat.
Travel tip: Many Madrileños close up shop in the summer to spend their holidays elsewhere. Particularly in August, some restaurants, cafes, and stores may be closed.
Where to stay
The most central neighborhood in Madrid is… wait for it… Centro (which no one would be able to riddle out without this blog 😅). And the most happening street in this neighborhood is Gran Vía. Translated as the "Great Way," Gran Vía is lined with theatres, restaurants, bars, hotels, and big name clothing stores. Gran Vía is often called the "Spanish Broadway" so needless to say, it's a street that never sleeps. From Gran Vía, it's easy to walk to many of the top sites.
Since I was traveling alone, working intermittently, and on the company's dime, I stayed on each end of Gran Vía in a 5-star hotel - for security and sanity reasons. The first hotel I stayed at was VP Plaza España Design, located at the Plaza de España end of Gran Vía. This hotel has spacious, minimalist rooms, large bathrooms, and views of the Madrid skyline. It's within walking distance of the Royal Palace and the Egyptian temple. I'd highly recommend VP Plaza España Design! Another similar, contemporary hotel I'd recommend is Hyatt Centric Gran Via Madrid. The Hyatt Centric is located in the middle of Gran Via and has airy rooms with great reviews about its service.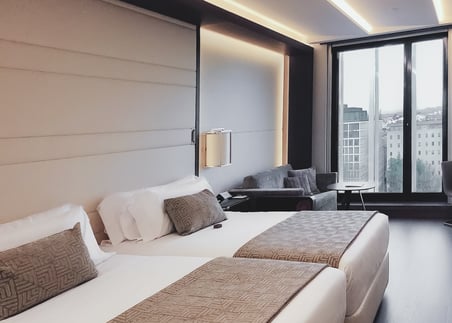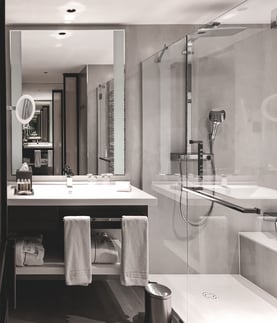 Modern and minimalist rooms at VP Plaza España Design
The second hotel I stayed at was The Principal Madrid, which is a boutique hotel at the other end of Gran Vía. This was a 5-star hotel as well, and we upgraded to the balcony suite, but I wasn't a fan of its dark interiors, small bathroom, or views. I wouldn't recommend this hotel.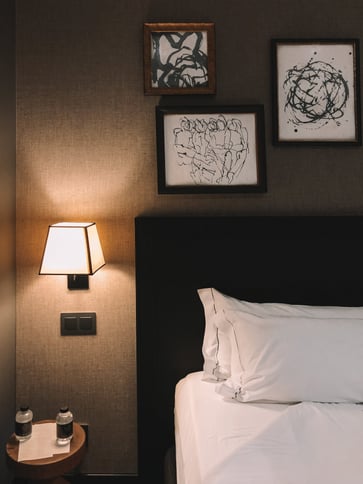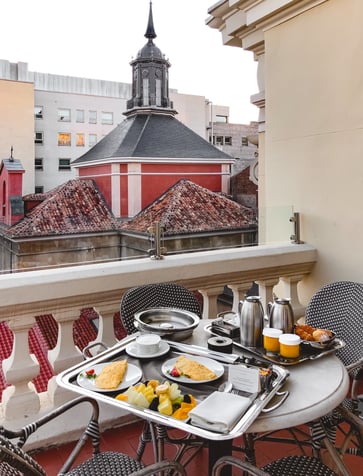 Nice balcony but mediocre interiors at The Principal boutique hotel
It's hard to beat Gran Vía in terms of location. However, if you want to stay in a quieter, less rowdy part of town, here are other nice hotels (nice being an understatement because these are mostly palaces hah):
Travel tip: Even if you don't stay on Gran Vía, take a leisurely walk from one end to the other, marvelling at the architecture and hysteria of the street. Then, go up to the rooftop terrace of the Círculo de Bellas Artes for the best view of Madrid with the emblematic Metropolis building. This is a wonderful place to watch the Spanish sunset. Arrive a few hours early or make a reservation because there will be a line.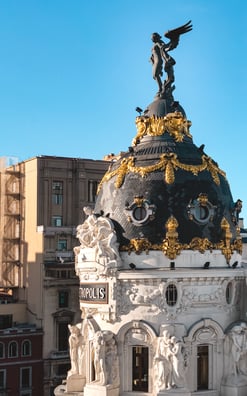 We missed the sunset because of the long line 😭
What to eat
Spanish cuisine features a lot of meat, especially Iberian pork, which as my fellow Muslim travelers know, is prohibited according to Islamic law. You'll see dozens and dozens of dangling pork legs suspended from hooks in storefronts everywhere you go. This odd tradition of hanging pork legs has an upsetting origin. In the 1400s, When Jews and Muslims were being expelled from Spain or forced to convert to Christianity under pain of death, hanging pork legs in prominent view was a way to convince the authorities of one's Christian religion.
Fast forward to today, there are now almost 2 million Muslims living in Spain. Pork is still widely consumed, but there are plenty of other halal-friendly local dishes you can try, which I'll share in the next section.
Tapas to try
Some people eat to live, I live to eat. When Saad and I go on a date, I have trouble deciding what to order because I want to try multiple things. Luckily, I married a man who is always willing to share and never judgmental about my monstrous healthy appetite. Unluckily, he was not with me during most of my time in Madrid, so I learned that a downside of solo travel is the constant struggle between eating everything delicious in sight vs. not doubling in size.
As fate would have it, Spain is known for its tapas. Tapas are small plates with small portions of food allowing you to sample a variety of dishes instead of resigning yourself to one main entrée. Tapas are not appetizers; they are the meal. When you visit Spain, you must try these tapas:
Patatas bravas - Fried potatoes smothered in the most delectable spicy / garlicky sauce
Cod or shrimp croquettes - Crispy on the outside, soft on the inside, these are breaded and fried rolls that contain a mixture of seafood and cream
Padrón peppers - Blistered, usually mild peppers that resemble shishito peppers but originate in Spain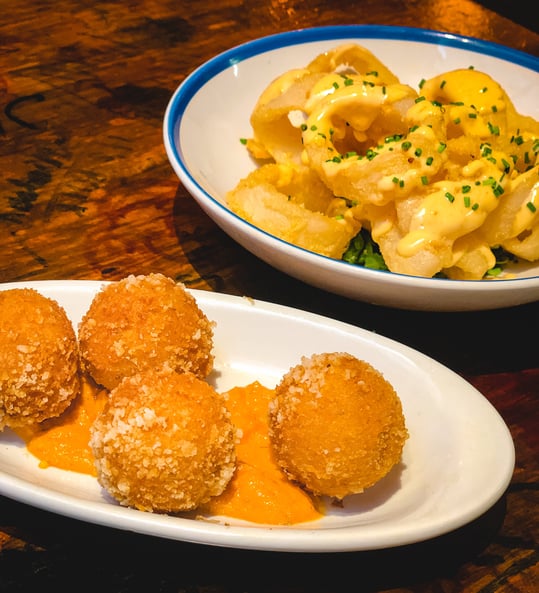 Tapas! Cod croquettes in the front, calamari in the back
Travel tip: There are plenty of tapas restaurants in Madrid (too many to list and visit), but you can taste a tapa or two from a bunch of them at Mercado de San Miguel. The Mercado de San Miguel is a wholesale food market where you'll find gourmet tapas and other staples of Spanish cuisine from over 30 vendors.
Entrées to try
Spain's most well-known entrée is paella, a bright yellow rice dish cooked with various meats or seafood and served in a shallow pan. I must warn you, paella is not for squeamish people (like me) because it often contains whole shrimp, with eyes and tentacles still attached, that stare blankly at you from their black, beady, dead eyes. I prefer my food to be headless (too morbid?). Although advertisements for this dish will be everywhere, go to a high quality restaurant to try it, not a hole-in-the-wall eatery.
Madrid's most famous entrée is bocadillo de calamares, a calamari sandwich consisting of lightly fried squid rings served in a crusty roll of bread with a dollop of aioli. This no-frills sandwich is the city's specialty and like paella, it's also halal.
Travel tip: The mecca for this sandwich is Plaza Mayor and the side streets around it. The spot that locals love is Bar La Campana, an unassuming little place that serves better bocadillo de calamares than the tourist traps inside the plaza.
Brunch to try
Brunch is my favorite meal. No matter what country I'm in, the eggs, pastries, and parfaits never disappoint. In Madrid, I had the tastiest brunch at Zenith Brunch & Cocktails just off Gran Via. As the name implies, Zenith specializes in brunch and serves it daily. From buttery, fluffy pancakes to piping hot shakshuka to all types of bagels and toasts, Zenith has an extensive brunch menu and every dish is very instagrammable.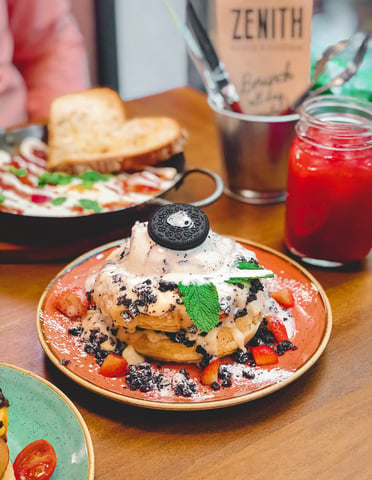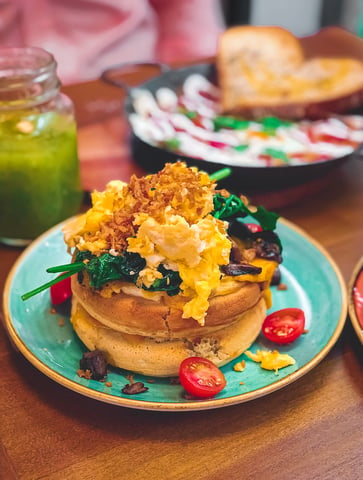 Oreo pancakes, the Zenith pancake, shakshuka, and fresh juices at Zenith Brunch & Cocktails (not pictured: husband who joined me for my last day in Madrid, so I didn't eat all of this alone 😉)
If you're more of a health junkie, try Federal Cafe, an Aussie-inspired cafe where you can grab brunch with a fruit smoothie (or coffee) to give your morning a jolt of freshness. Try the eggs benedict!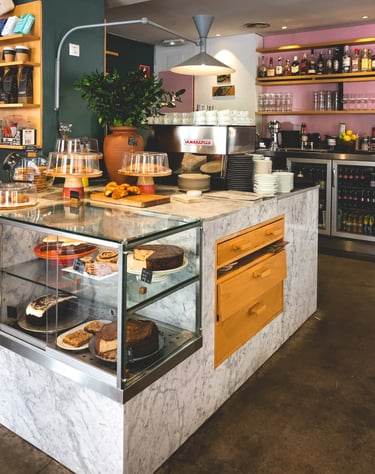 Healthy brunch at Federal Cafe
Travel tip: Zenith and Federal Cafe are casual weekday brunch spots, but if you're feeling fancy, try GANZ Café-Bistrot, a French cafe in the Literary Quarter. The chef fills his brunch menu with dishes he discovers on his travels. If you're feeling very fancy (and willing to pay upwards of 70 euros per head), go to the Westin Palace for their Sunday opera and brunch or Hotel Intercontinental for an elaborate weekend buffet dubbed by Condé Nast Traveler as "The Father of All Brunches."
Dessert to try
In Spain, it's common to eat dessert for breakfast - a custom I immediately embraced. Their dessert of choice? Churros! Churros are long, crunchy pastries made of fried dough. Spanish-style churros are different than American churros. Instead of coating churros in sugar and cinnamon, Spaniards prefer to eat churros con chocolate, which means plain churros served with a cup of thick, steamy chocolate for dipping.
There are tons of chocolate shops in Madrid so naturally, I went on a churro crawl to find the yummiest churros and chocolate combo.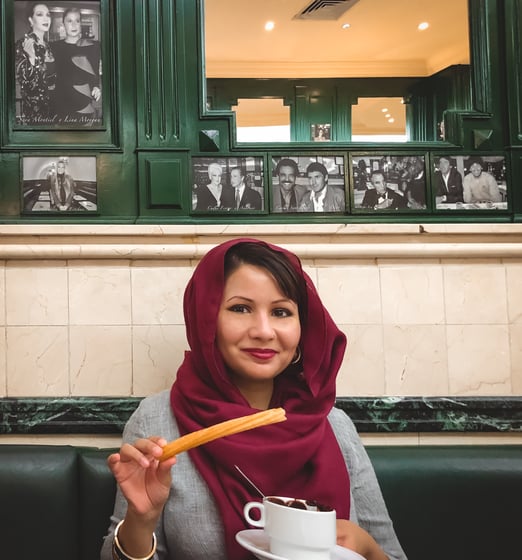 Not pictured: The 10 other churros on my table just for me because husband wasn't here yet 😏
My first stop was San Ginés, Madrid's oldest and most famous chocolateria. San Ginés has been serving churros con chocolate 24 hours a day, for over a 100 years in its old-fashioned, green-panelled cafe. I was a fan of its vintage vibe and enjoyed the churros at San Ginés, but the chocolate was a bit on the bitter side. Still, I recommend checking this place out because of its hype.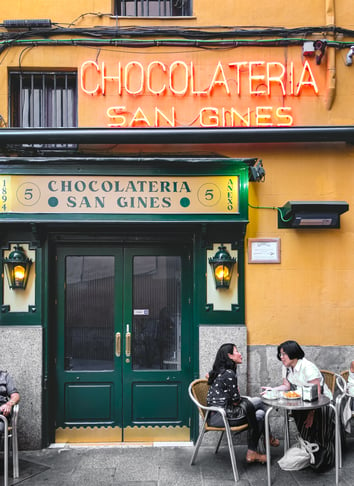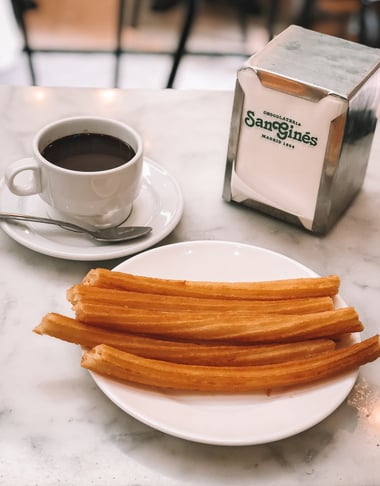 Churros con chocolate at San Ginés
Two other good chocolate shops to visit are 1902 Churreria Chocolateria and Chocolat Madrid. Unlike San Ginés, these shops are off the radar of most tourists so here, you'll get a more local, authentic experience and be able to watch the master churro makers work.
Travel tip: The worst churros I ate in Spain were at Chocolatería Valor. Valor is a Spanish chocolate brand that has many chocolate shops around Madrid, but the churros con chocolate were too crusty and the chocolate was watery.
Dinner & flamenco show
Don't leave Madrid (or Spain) without watching a flamenco show! Flamenco is a highly expressive Spanish dance characterized by hand clapping, percussive footwork, and intricate body movements. The performance usually includes live singers, musicians playing the guitar, and dancers who passionately twirl in rhythmic patterns. It's a beautiful, mesmerizing dance to behold.
Travel tip: The most prestigious tablao flamenco in Madrid is Corral de la Morería. It pairs nightly flamenco performances from national leading artists with a Michelin Guide-recommended menu for its inventive Spanish cuisine.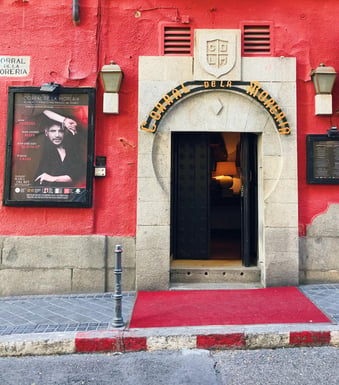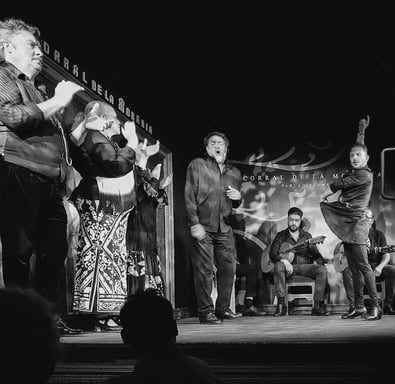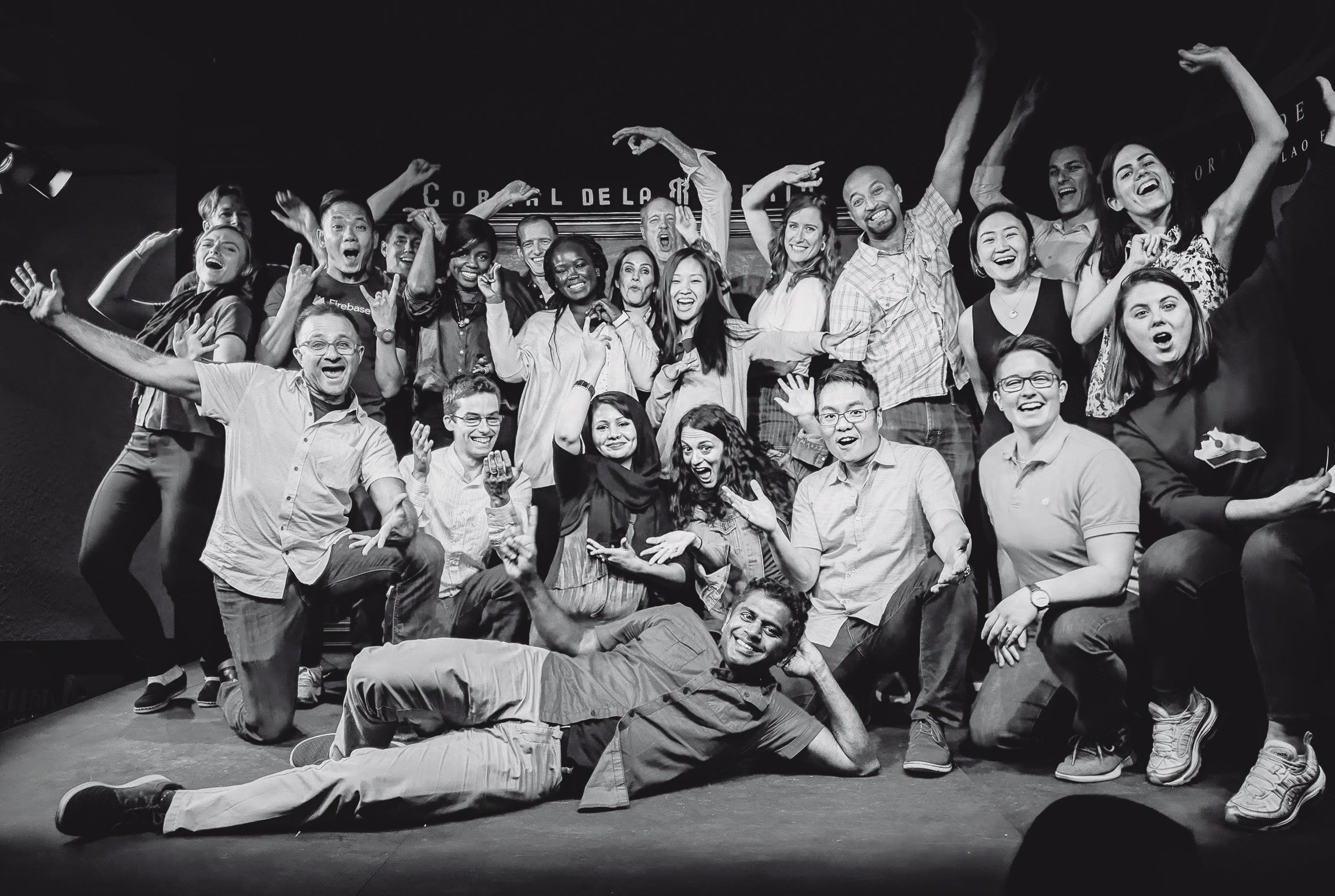 I dined at Corral de la Morería with my team and we took to the stage to show off our best flamenco moves (can you spot me?)
What to do
To cancel out all the churros I stuffed into my belly, I spent a lot of time walking around the city.
I can bucket the things to see in Madrid into two categories: plazas and parks. Plazas are lively public squares, with defining architecture, where Madrileños gather to socialize and eat. And parks are... well, you know, green places with lots of trees where you can escape the urban jungle for some tranquil time with nature.
The plazas
1. Plaza Mayor
Plaza Mayor is Madrid's main square. It's a grand, arcaded plaza with a continuous sequence of arches and columns circling its perimeter. The buildings that face inward towards the plaza are painted a vivid shade of red and in the center stands a statue of King Philip III on horseback. Once the center of Old Madrid, Plaza Mayor has been used for many different events throughout history; some good (like markets, festivals, and soccer games) and some grisly (like executions and bullfights).
Travel tip: Plaza Mayor is a good place to experience Madrid's vibe, but I wouldn't recommend eating a full meal at the restaurants within the square because they're overpriced. It's better to explore the labyrinth of narrow streets that surround the plaza for more authentic grub. P.S. Two eateries I listed above are located near this plaza: Bar La Campana, where you can try the calamari sandwich, and San Ginés, where you can try churros con chocolate.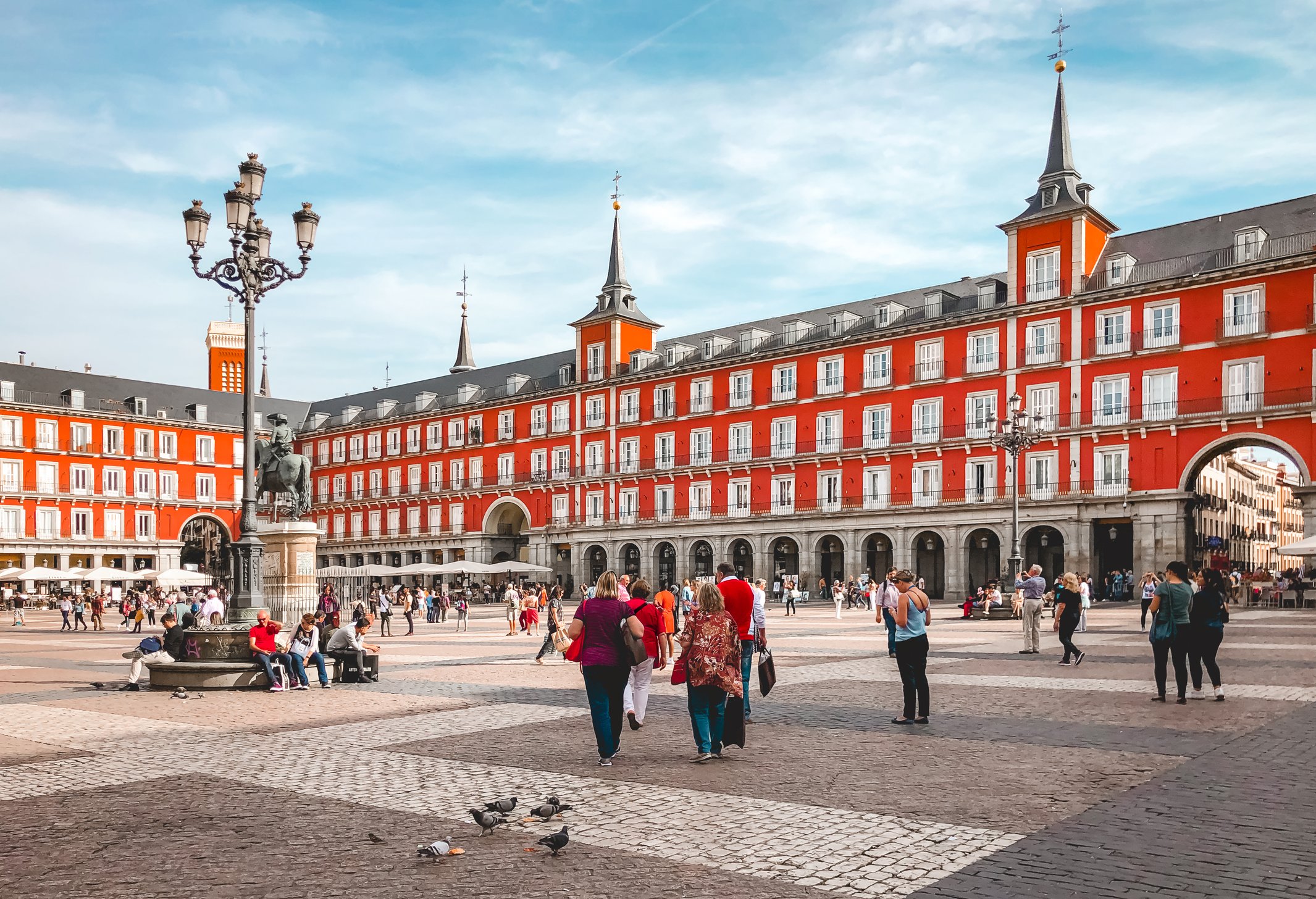 Madrid's main square, Plaza Mayor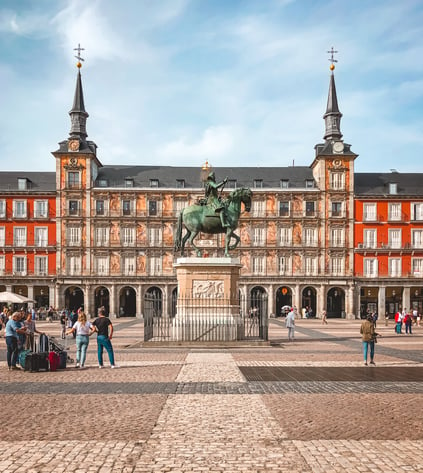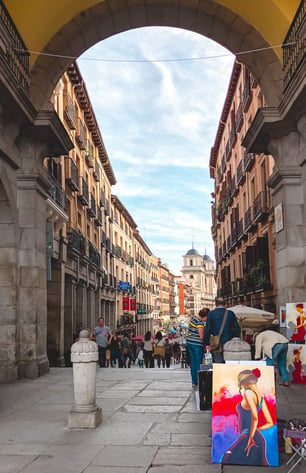 Tucked into the side streets of this plaza are better food options than within the plaza
2. Puerta del Sol
Only a few blocks away from Plaza Mayor is another major square called Puerta del Sol ("Gate of the Sun" in English). Puerta del Sol is a bustling, semi-circular square known as the symbolic center of the country because all of Spain's national roads start from here (i.e. this square marks Spain's kilometer 0). Puerta del Sol also serves as a junction for many of Madrid's famous landmarks.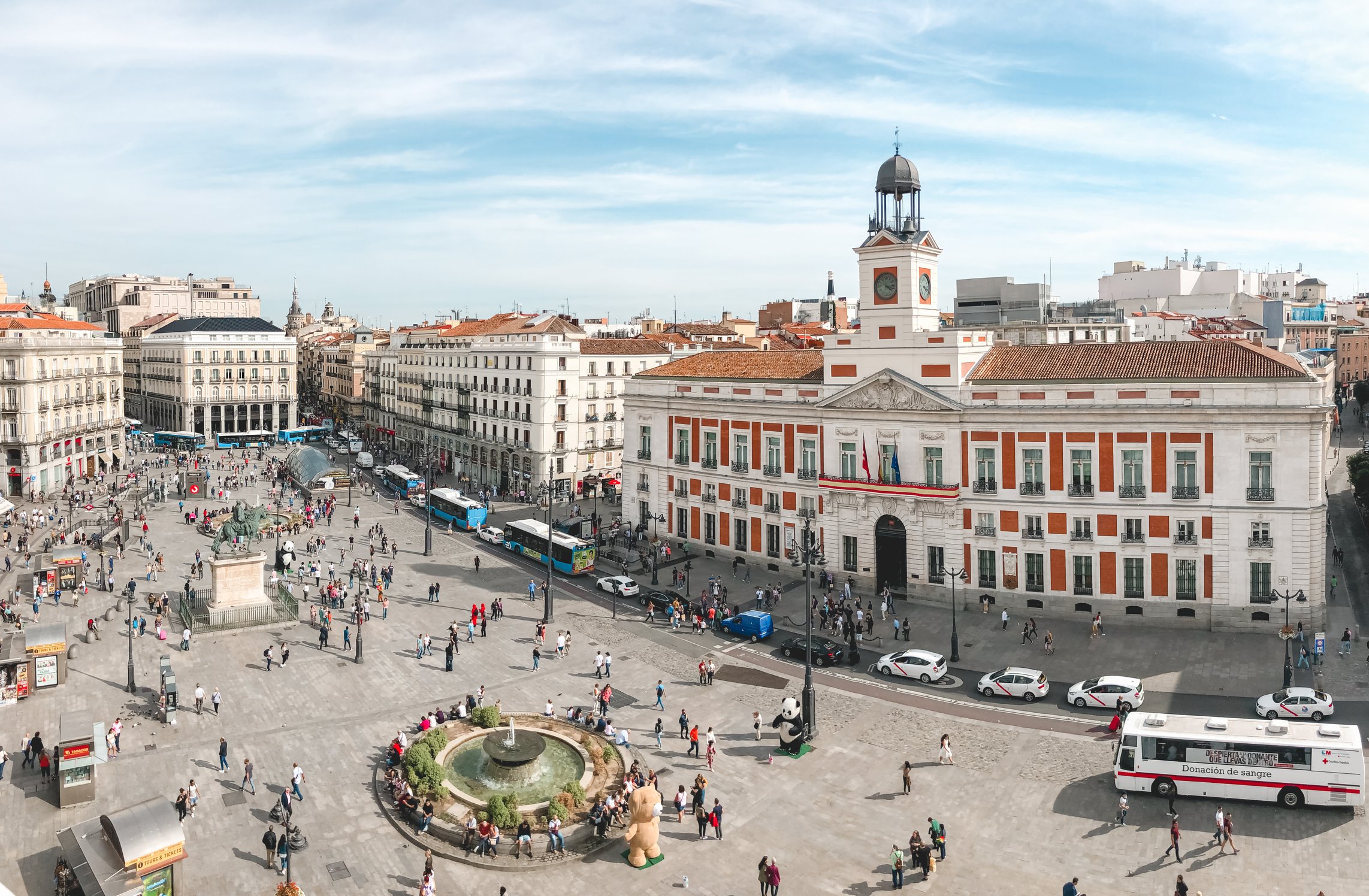 I spent a fair bit of time in this square, sitting at a rooftop bar with a mocktail in hand. Here are the landmarks I spotted.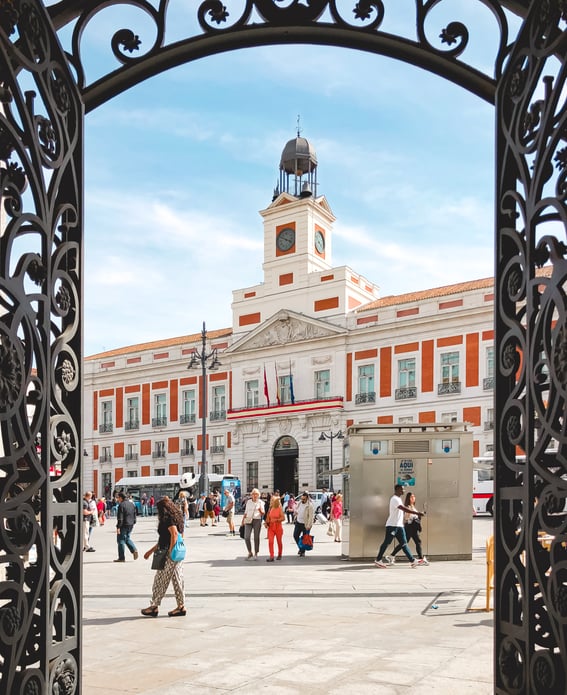 The old Post Office
This is the old Post Office building and the current headquarters of the Madrid regional government. Sitting atop it is a famous clock that rings in the New Year with twelve chimes at midnight.
Opposite the regional government office is the iconic, lighted Tío Pepe sign. Tío Pepe is a Spanish brand of sherry (not halal, obviously).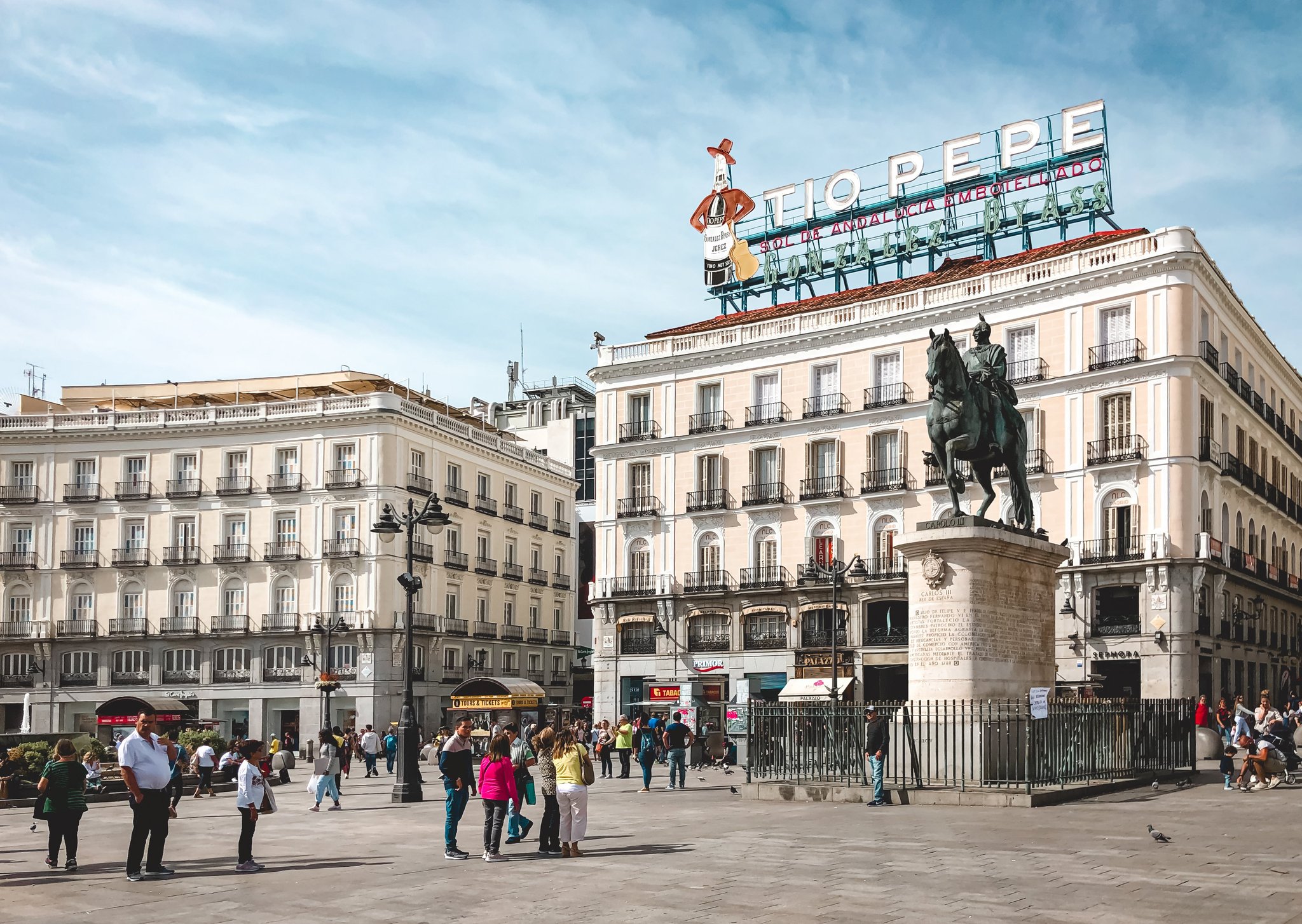 The famous Tío Pepe sign
There are two statues in this square. One of them, located in the middle of the square, is that of King Charles III of Spain who introduced many progressive reforms and gave the city of Madrid a drastic makeover. The other statue is that of a Bear and the Strawberry Tree. At first glance, this statue may seem odd and random, but it actually represents Madrid's coat of arms!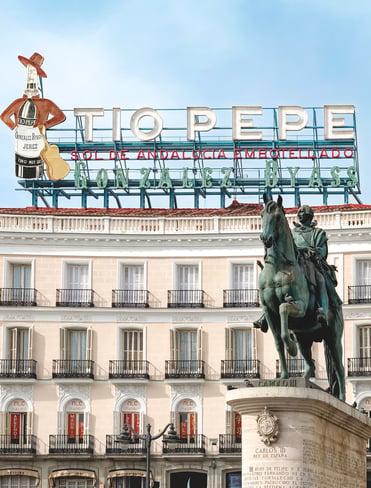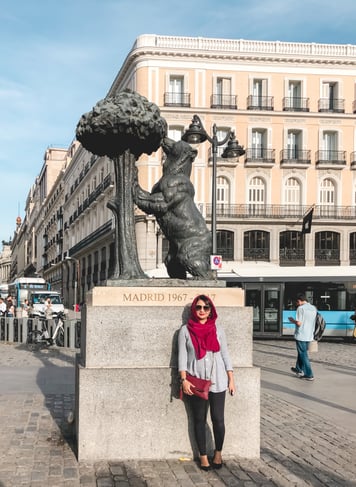 The statue of King Charles III and the statue of The Bear and the Strawberry Tree
Puerta del Sol is also always full of street performers and live musicians. The area remains active late into the night because of the dance clubs and bars closeby.
Travel tip: If you're looking to do some shopping, there is an El Corte Inglés near Puerta del Sol. El Corte Inglés is the biggest department store chain in Europe. They carry a massive inventory (shoes, clothing, accessories, electronics, etc.) from a variety of European brands so it's worth checking out (although I thought it was a tad overrated).
3. Plaza de Cibeles
Plaza de Cibeles is a complex of marble sculptures and neoclassical buildings that house a bank, cultural center, and government offices. At the front of this plaza is a statue of Cybele, a Greek goddess, who is depicted sitting on a lion-drawn chariot. She is surrounded by a water fountain and behind her is Cybele Palace, which serves as Madrid's city hall. This is where Madrid's professional football and basketball teams (including Real Madrid) celebrate their victories.
Travel tip: This plaza has stunning architecture, but there's not much to do here - just stop by for a few pictures and then carry on.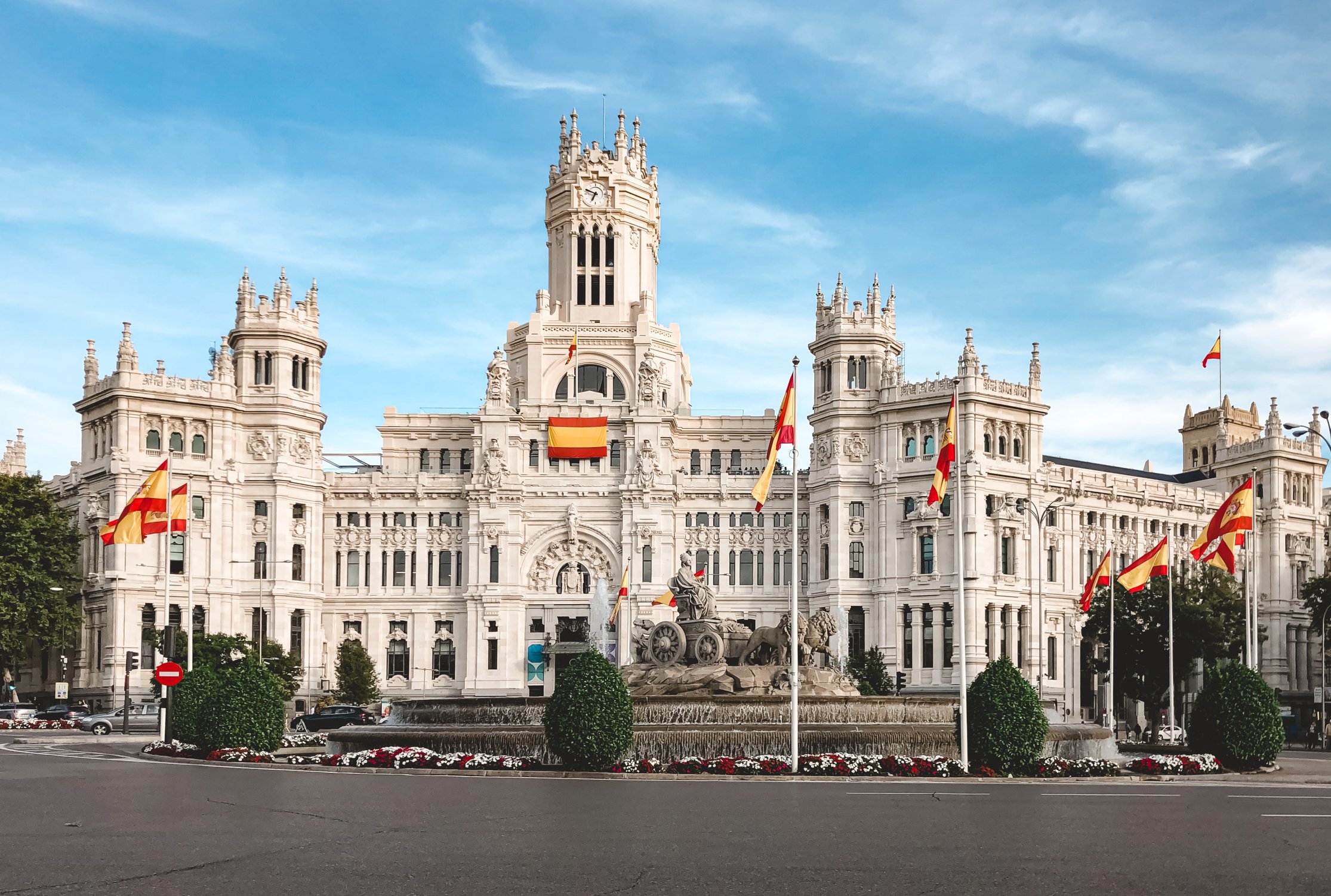 Other plazas
Two other plazas you may come across are Plaza de Santa Ana and Puerta de Alcalá. Plaza de Santa Ana has some nice tapas bars and cafes, but when it comes to architecture, it pales in comparison to Plaza Mayor and Puerta del Sol. Puerta de Alcalá is an intersection with a triumphal arch. It's similar to the Arc de Triomphe in Paris, but much less grand. If you're short on time, skip these plazas.
The parks
1. El Retiro Park
El Retiro Park is a magnificent, must-see park in Madrid. Its expansive grounds are filled with beautiful gardens, interesting sculptures, serene lakes, and other hidden treasures. For example, in it you'll find Madrid's oldest tree - a Mexican conifer that is almost 400 years old. Near the rose garden, you'll encounter the Fountain of the Fallen Angel, which is the only monument in the world dedicated to the devil (astagfirullah) - sitting curiously at 666 meters above sea level. El Retiro is also home to a gorgeous Glass / Crystal Palace that was used to house exotic plants, but is currently used for art exhibitions.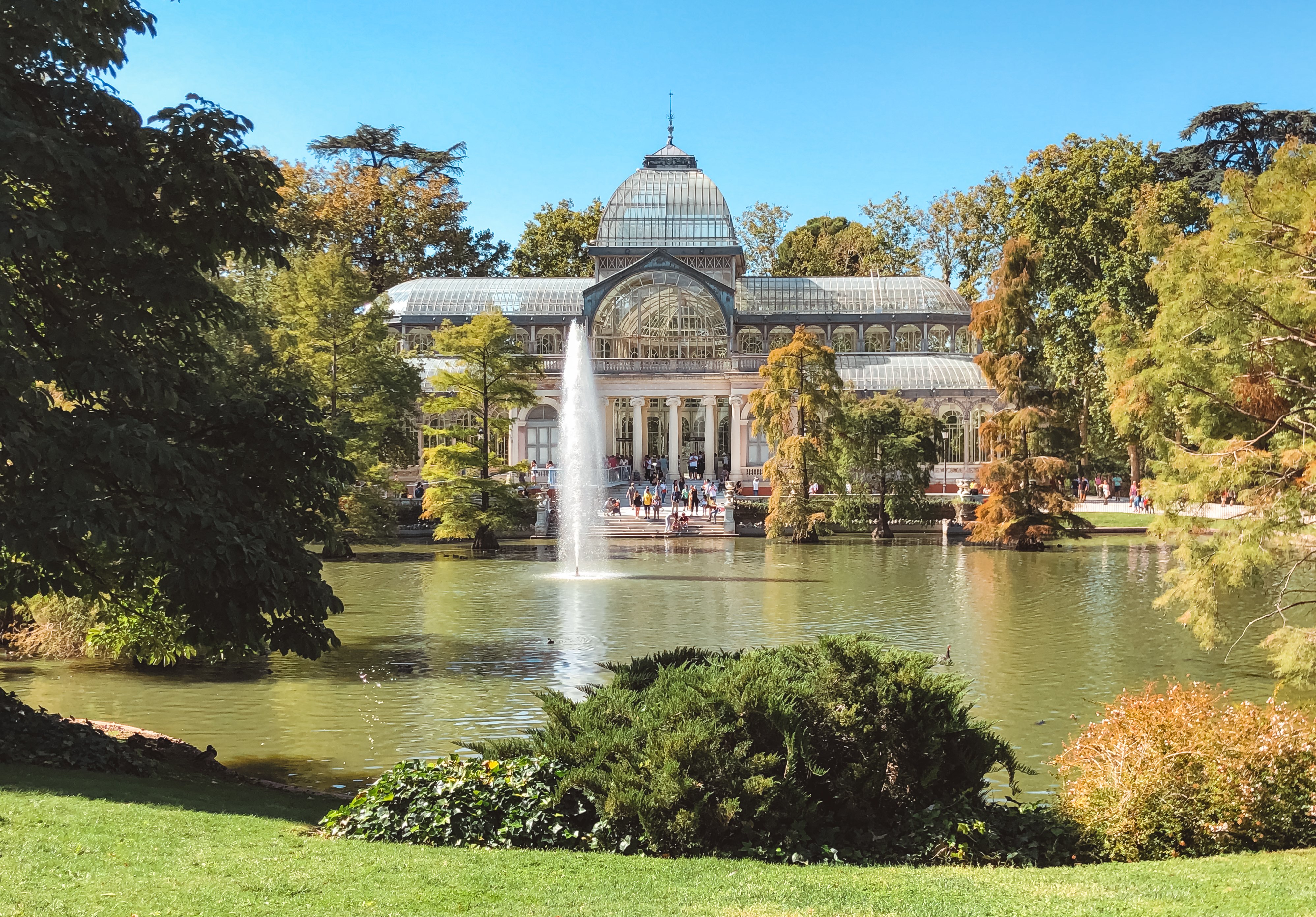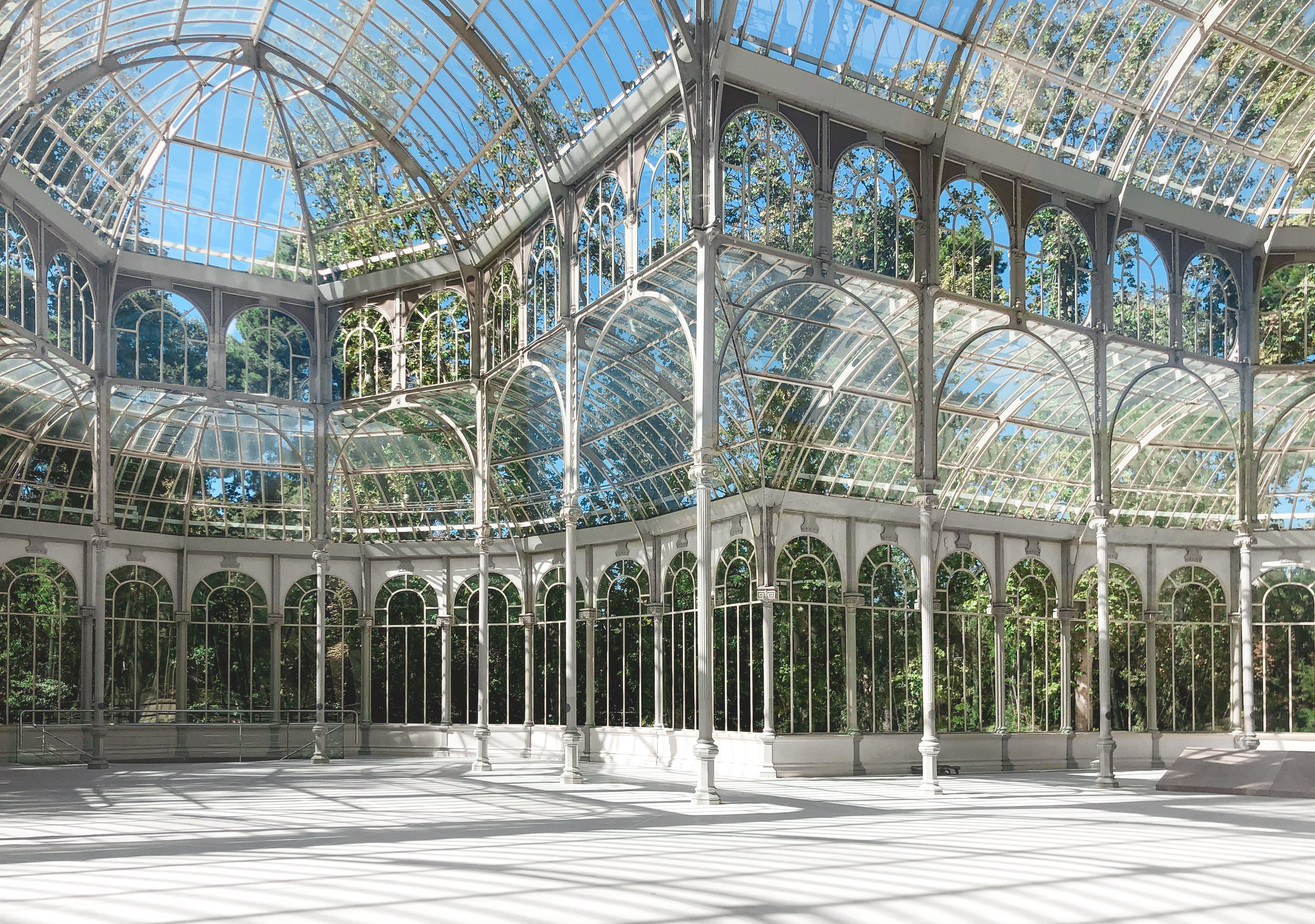 The Glass Palace located inside El Retiro Park
Travel tip: You may think, "Eh, parks are boring." Not El Retiro! There's so much to do you could easily spend a whole afternoon lost in this green oasis. I think parks are a romantic place, so I waited to visit El Retiro until Saad arrived. Then, we rented a boat and Saad rowed me around the lake while Kiss the Girl played in my head #LivingOutMyDisneyDreams. You can also rent bikes, grab a bite at an outdoor cafe, watch the puppet show (held every weekend), or stroll through the various gardens.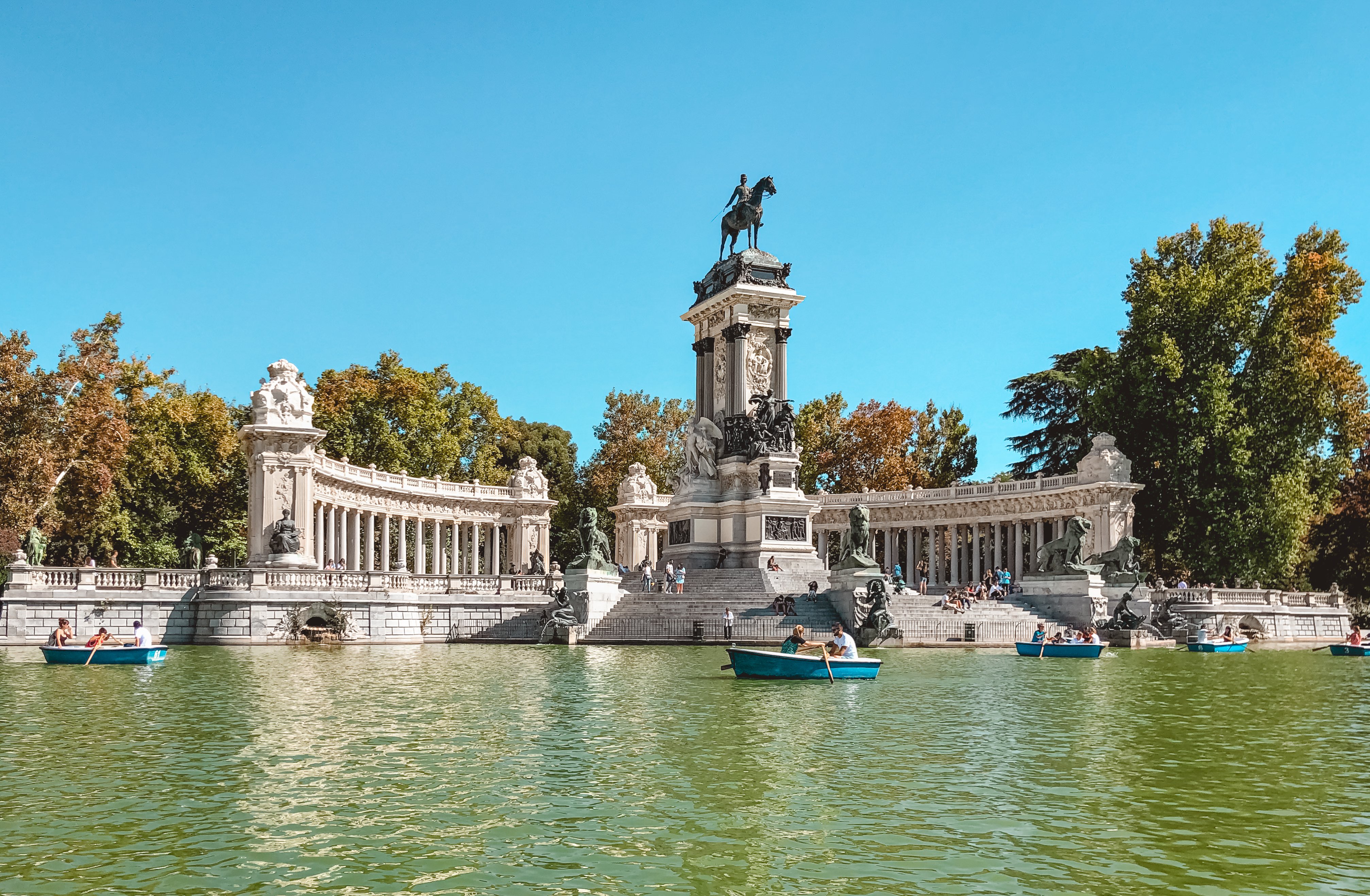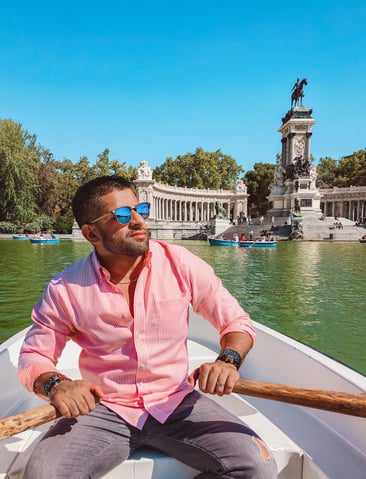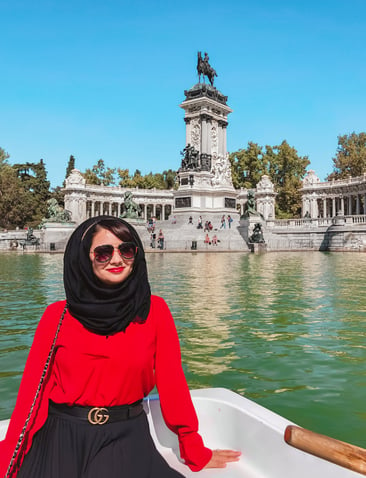 🎵Sha-la-la-la-la-la
Don't be scared
You got the mood prepared
Go on and kiss the girl 🎵
2. Palacio Real and Sabatini Gardens
Like many other European countries, Spain has a glamorous royal family that lives in gilded palaces. The Royal Palace of Madrid (Palacio Real) is their official residence and the largest royal palace in Europe, built on the same plot of land where an alcázar (fortress) from the Muslim era once stood. The interior of the palace contains a wealth of art and ornate decorations. Many rooms are open to the public, unless there is a state ceremony taking place. On the north side of the palace are the classical Sabatini Gardens, which consist of well-sheared hedges, marble statues of former kings, and a large rectangular pool with fountains. There's not much to do in these gardens, but they offer a fantastic view of the palace's facade.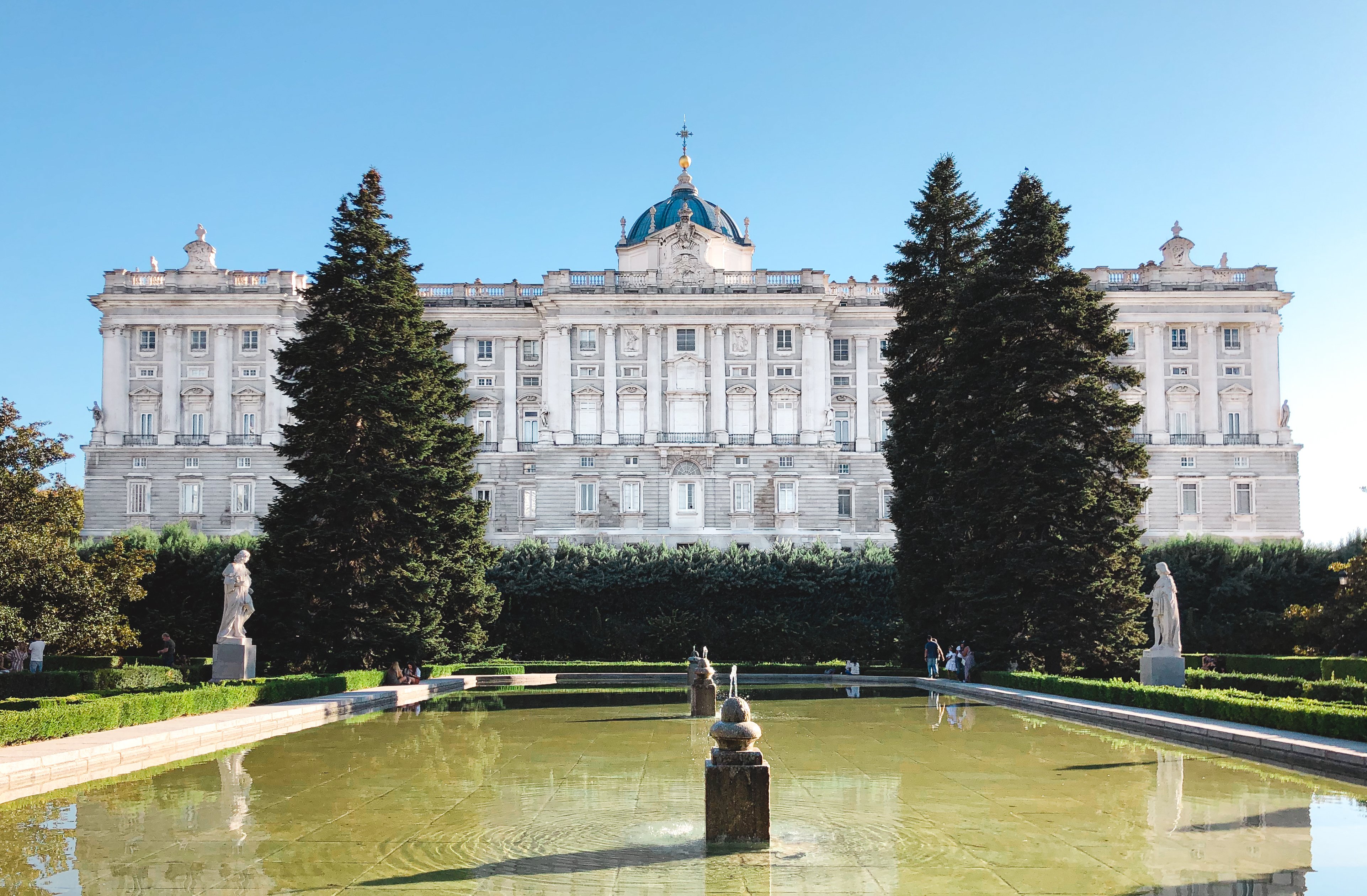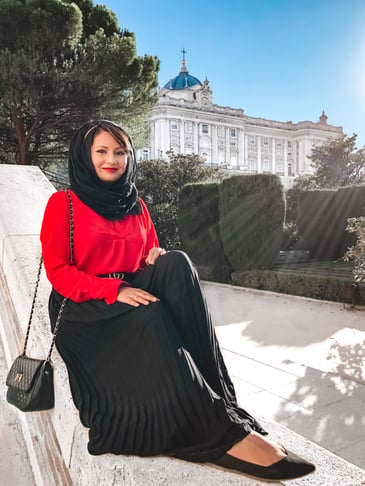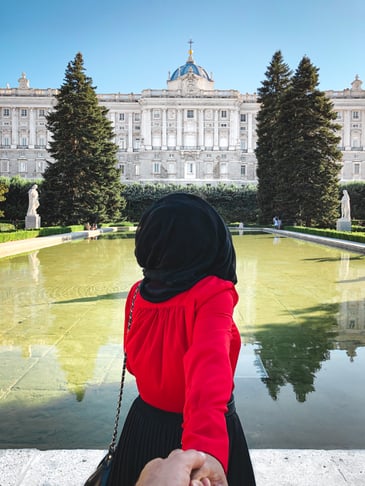 Sabatini Gardens and the Royal Palace of Madrid
Travel tip: Next to the Royal Palace is Almudena Cathedral, Madrid's grandest Neo-gothic church. The cathedral was constructed on the site of a medieval mosque. If you visit the Royal Palace, pop into the cathedral to see the colors in its main nave and ceiling.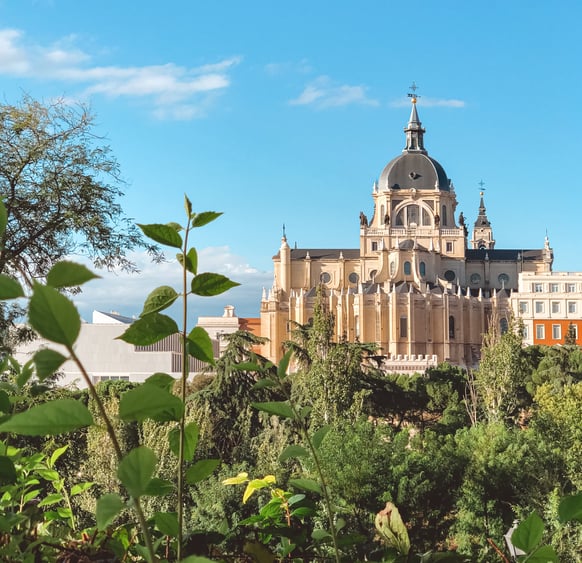 3. Parque del Oeste
The tree-lined Parque del Oeste (Oeste Park) contains a very unique monument: the Temple of Debod. The Temple of Debod is an Ancient Egyptian temple that Egypt gifted to Spain as a token of gratitude for the help Spain provided in building the Aswan dam that saved the Abu Simbel temples. Dedicated to the Egyptian goddess Isis, the Temple of Debod was disassembled from its original location by the Nile and rebuilt in Madrid in the middle of a reflecting pool. It's one of only a handful of Ancient Egyptian temples located outside of Egypt. I didn't visit the temple on my trip because it was undergoing restoration, but you can see what it looks like here.
Travel tip: There is no entrance fee to visit the Temple of Debod, although it normally has a line. Given the temple's hilltop location, this is a popular spot for watching the sunset.
Other things to see
Santiago Bernabéu Stadium

- If you're a soccer fan (I'm not), you can check out the stadium where Real Madrid plays

Prado and Reina Sofia museums - The top museums in Madrid housing a vast collection of Spanish art, including works by Pablo Picasso
Madrid Central Mosque - The first mosque constructed in Madrid since the end of the Islamic reign, with architecture inspired by the Alhambra
What
not

to do

Bullfighting and running with the bulls are controversial parts of Spain's national heritage and cultural identity. During a bullfight, matadors dressed in colorful garb subdue, immobilize, and eventually kill a bull in front of spectators. Running of the bulls is a festival in which people run in front of cattle that have been let loose on sectioned-off streets. Both of these are blood sports (prohibited in Islam) that cause stress and suffering to the animal, so I humbly ask you not to attend a bullfight or participate in the run.
Solo to YOLO travel
People who travel solo talk about how empowered and liberated they feel on their trips. I now understand why. As you travel alone, being totally responsible for yourself, you inevitably discover how capable and courageous you are.
It's hard to describe the sensation of waking up in a strange town completely alone, except that I felt surrounded by adventure and possibility (#YOLO - you only live once). I went out into the city, spoke to strangers, tried new foods, and found myself being more observant, reflective, and mindful. My company was my soul and my Creator.
...Until Saad arrived and off we went to Barcelona together!
Through this experience, I have learned that traveling solo renews your confidence and reminds you of your strength. Traveling in the company of someone you love is like having home with you wherever you go.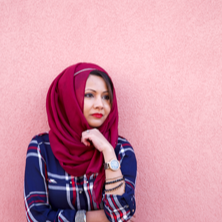 I'm a twenty-something Muslim blogger who's guilty of falling in love with every place I visit. I'm always planning the next trip in my head and missing the last one in my heart. When I'm not off discovering new parts of our beautiful planet, you can find me happily immersed in an art project.