If Tokyo embodies modern Japan, Kyoto is your peek into ancient Japan. Once the imperial capital of Japan (i.e. the former residence of the Emperor), Kyoto has the highest concentration of cultural treasures in the entire country, which include magnificent temples, shrines, and zen gardens. It is also where we had the best Turkish food of our life (seriously!). No trip to Japan is complete without a visit to Kyoto.
Saad and I travelled from Tokyo to Kyoto via bullet train. The whole trip takes about two and a half hours one way and the bullet train is very comfortable.
Travel tip: Buy the Japan Rail Pass in advance - it's not available at the ticket counter.
Tokyo vs. Kyoto
Although only separated by a couple hundred miles, Kyoto seems to be worlds away from Tokyo: there are wooden structures instead of metal skyscrapers, rural towns instead of crowded city corners, enchanting forests instead of parks, and more kimono-clad people than those wearing pants and shirts. Don't get me wrong, Tokyo is a great city, but Kyoto possesses its own unique beauty.
We spent our time in Kyoto temple-hopping (can this be the refined version of bar-hopping?!) and strolling through historic districts. There are over a thousand temples and cultural attractions in Kyoto, but in case you don't have time to visit them all, here are my top recommendations. Let's go temple-hopping, shall we?
1. Yasaka Shrine
Yasaka Shrine is located near the Gion District (a good area for spotting Geisha!). It consists of several buildings including the main hall, entrance gates, an inner sanctuary, and a dance stage with hundreds of hanging lanterns. It's a popular tourist stop year-round, but gets especially busy in July becuase Yasaka Shrine hosts the Gion Matsuri summer festival.
Travel tip: If you visit Kyoto during the cherry blossom season in April, take some time to visit Maruyama Park beside Yasaka Shrine and participate in a hanami (cherry blossom viewing party).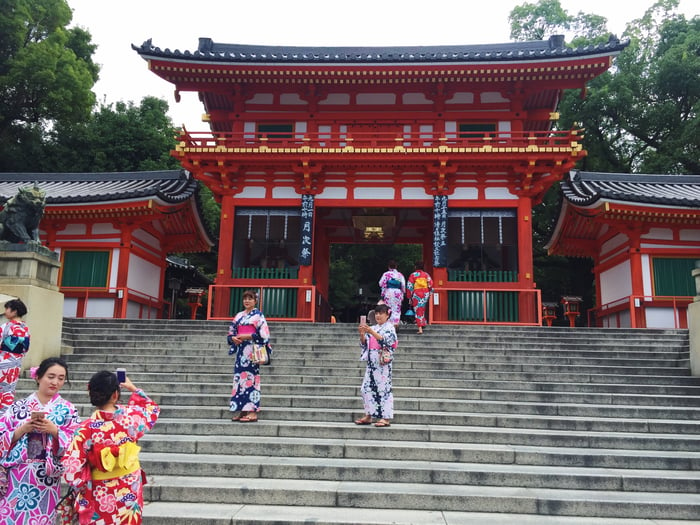 The entrance to Yasaka Shrine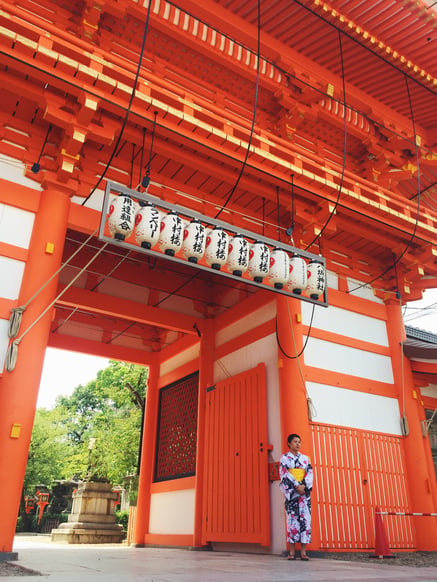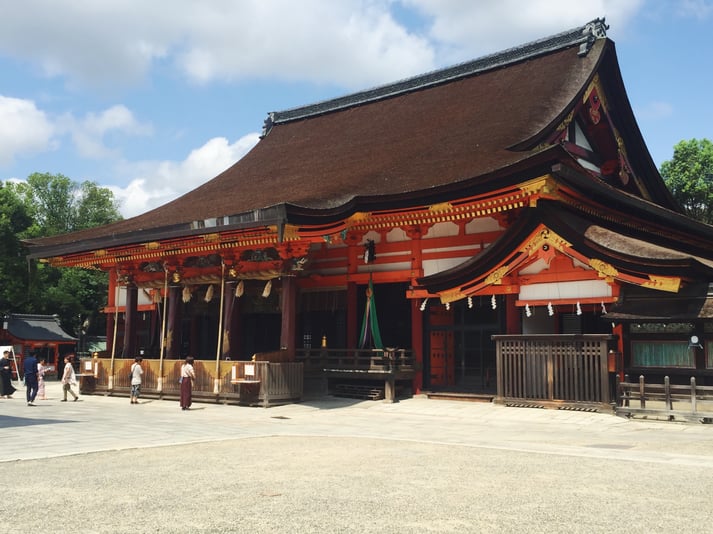 Worshippers in front of the main hall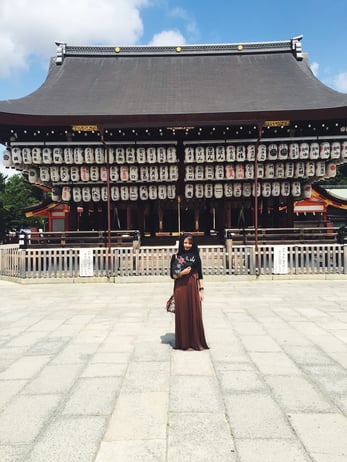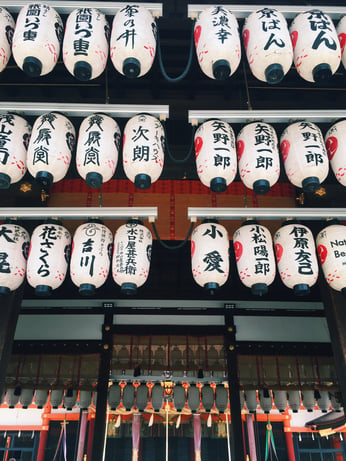 The dance stage adorned with lanterns
2. Higashiyama District
After visiting Yasaka Shrine, I'd recommend walking through the Higashiyama District. This 30 minute walk will take you through narrow streets lined with merchant shops, cafes, kimono boutiques, etc. which sell local crafts, bites, and souvenirs. The wooden exteriors and brick roads accentuate the district's old-world vibe. This is a great place to buy an authentic keepsake (I bought a folding fan and a red parasol… while Saad bought a samurai sword).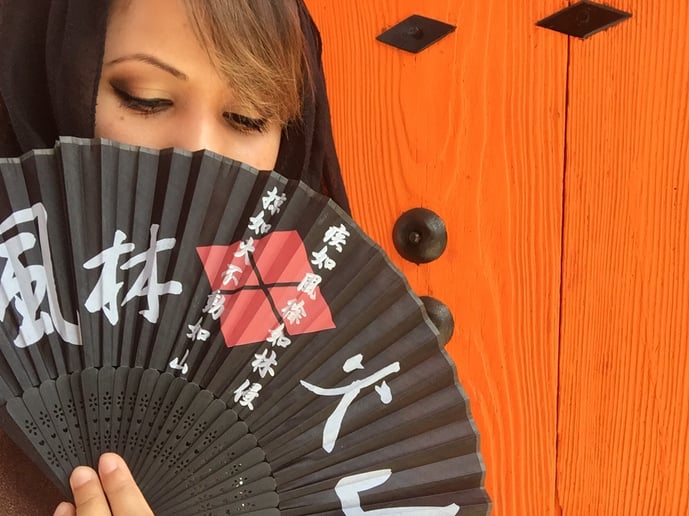 Sophisticated lady purchase = fan with a samurai saying (below)
"Fast as the wind, quiet as the forest, aggressive as fire, and immovable as the mountain"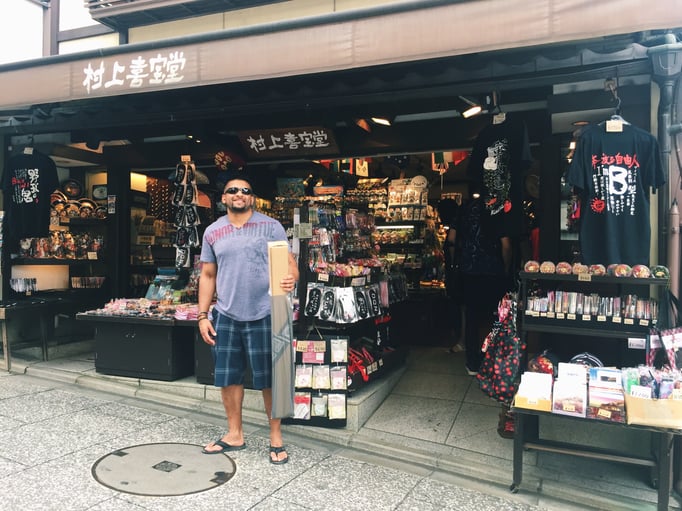 Impulsive wannabe warrior purchase = imitation katana (can't wait to be detained at U.S. Customs for this)
While walking through the Higashiyama District, we also stumbled upon a wedding photo shoot and a caravan covered with colorful mini-cushions that were inscribed with prayers.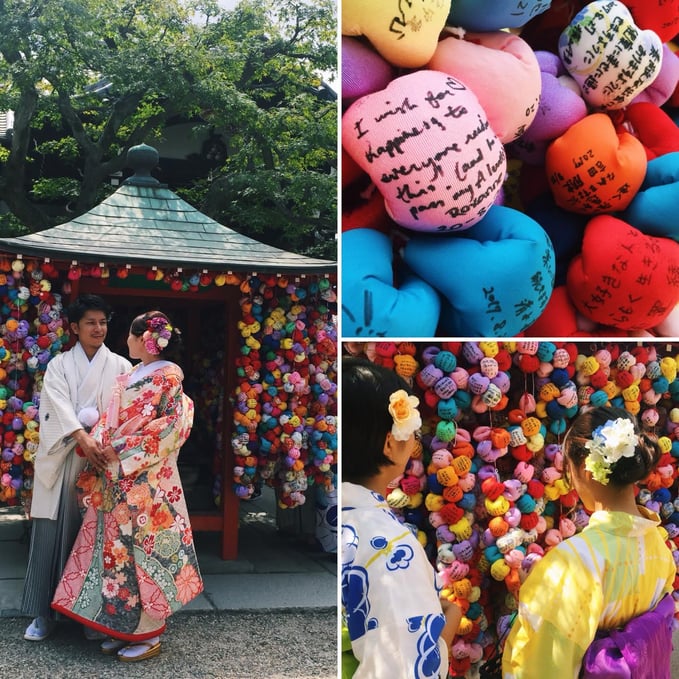 A Japanese bride and groom in traditional wedding kimonos
Travel tip: As you stroll through the streets, let the Hokan-ji / Yasaka Pagoda be your north star. There's a small window-shop at the base of the pagoda that sells soft-serve ice cream covered in *wait for it* real gold foil! It'll cost you an arm and a leg (ok about $10) for a small cone and to be honest, the gold foil had no taste, but the ice cream was yummy and it sure made for a pretty picture. Do it #ForTheGram.
Japan's gold foil ice cream with Hokan-ji in the background
3.
Kiyomizu-dera
The busy and steep streets of the Higashiyama District will lead you to Kiyomizu-dera, one of the most renowned temples in Japan. Kiyomizu-dera was built on the site of a waterfall, which is why its name literally means "Pure Water Temple." At the base of the main hall, water from this waterfall is divided into three streams each said to possess a different benefit: longevity, success, and love. You'll notice a long queue of visitors lined up to drink from the stream of their choice.
Kiyomizu-dera is also famous for its wooden stage that juts out from the hillside it is situated on. From here, you can see the Kyoto city skyline on one side, and bright orange pagodas surrounded by a sea of green trees on the other. The location, view, and sprawling temple grounds are so beautiful and historic that UNESCO deemed it a world heritage site.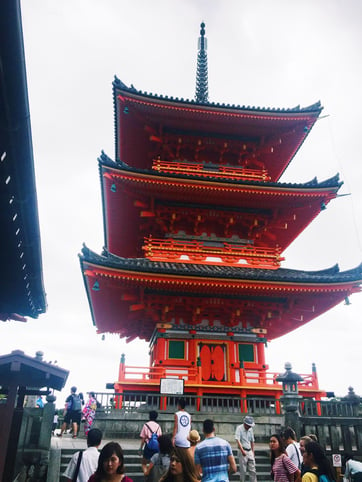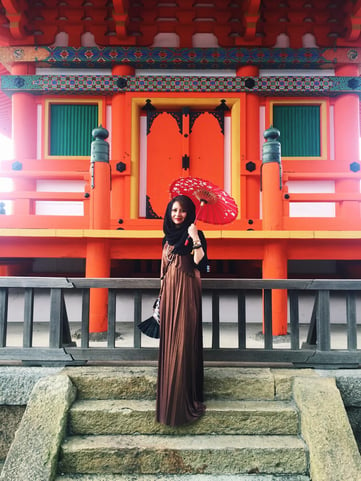 Posing at the base of Kiyomizu-dera's pagoda with the red parasol I bought in Higashiyama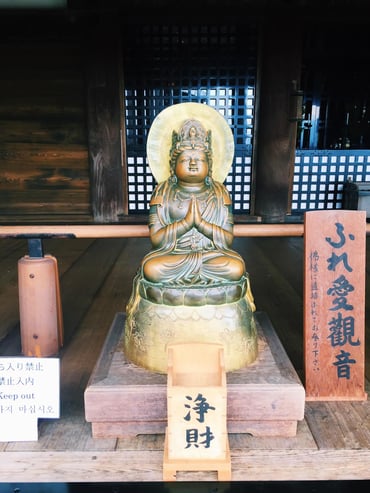 Kiyomizu-dera's lanterns and statues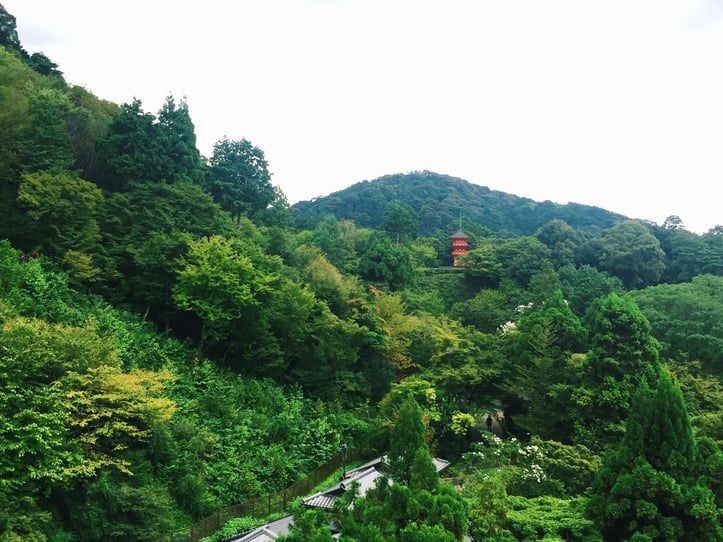 View from the wooden stage
View of Kyoto just outside the wooden stage
Travel tip: Kiyomizu-dera is even more stunning in autumn, when the trees around it turn vibrant shades of orange, red, and yellow. During this time, the temple has special illuminations that begin in mid-November.
4. Sanjusangendo
Also located in the Higashiyama District is Sanjusangendo, a Buddhist temple that houses 1001 statues of Kannon, the goddess of mercy. In the center of the hall, lies a large, 1000-armed statue of Kannon, which is guarded by 500 statues of human-sized versions of Kannon on each side. In reality, the statues have just over 40 arms and less noticeably, more than 10 heads. If you look closely, you'll see that each arm holds a different weapon or object to help end human suffering.
It's pretty cool to walk through the temple and see rows of golden statues standing together in haunting symmetry. Plus, educational snippets about the statues explain which Buddhist gods have counterparts in Hinduism, shedding light on the connections between these two major eastern religions.
Travel tip: Photography is strictly forbidden so respect the rules and don't take your camera out. This is why I don't have pictures to share, but Google sure does.
5. Fushimi Inari Shrine
Although Fushimi Inari Shrine is another place of worship, it is unlike any other temple or shrine in Kyoto because it is home to over 1000 torii gates that lead you up the sacred Inari mountain. Inari is the name of the Shinto god of foxes and rice (meant to symbolize business). Fushimi Inari Shrine is the head shrine dedicated to this god and each of the 1000 torii gates was donated by a business or individual in the hope that it would bring them good fortune by earning Inari's favor. The black Japanese writing you see on each gate is actually the name of the donor of that particular gate.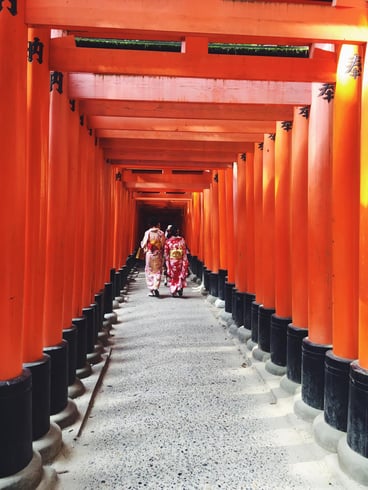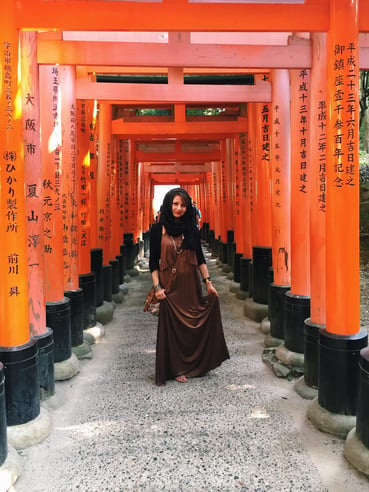 The 1000 torii gates of Fushimi Inari Shrine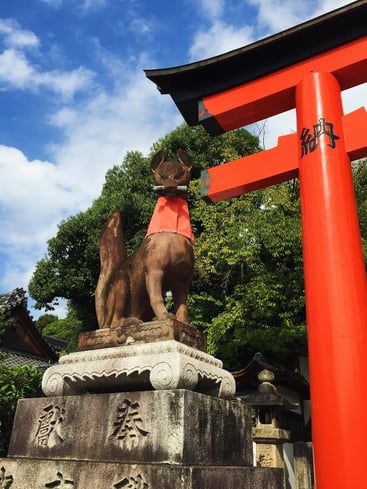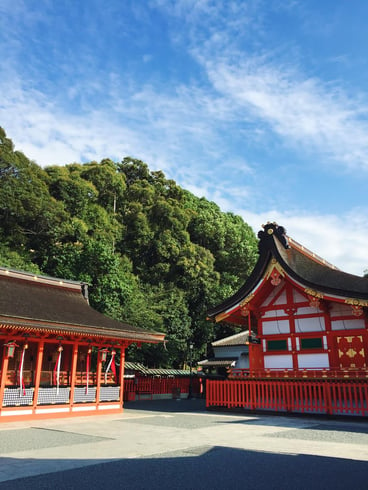 There are many fox statues around the Fushimi Inari Shrine because Inari is the god of foxes
Travel tip: To access the hiking trails with the 1000 torii gates, you'll need to go to the back of the shrine. The torii gates and the trails take you all the way to the summit (in about 2 hours), but you can go as far as you're comfortable. Saad and I were about 15 minutes away from the top when we turned around because gradually the density of the gates decreased and the forest got thicker meaning there were more bugs in sight. Bugs terrify me. But hey, I did pretty well for someone wearing sandals and a dress 🙃.
6. Kinkaku-ji
While the majority of Japanese temples we visited were fiery orange, Kinkaku-ji stood out because its second and third floors are completely covered in gold leaf with a golden phoenix perched on top (a statue, sadly not the mythical creature from Harry Potter). This gleaming golden pavilion is a zen temple surrounded by a large pond. Originally a retirement villa for a powerful and wealthy statesman, Kinkaku-ji was converted to a zen temple focused on the art of meditation per the statesman's final wishes.
Travel tip: Although visitors are not allowed to enter the pavilion, you can see some statues from across the pond on the first floor. Inside, is a seated statue of Kannon (Buddhist goddess of mercy) surrounded by statues of the Four Heavenly Kings.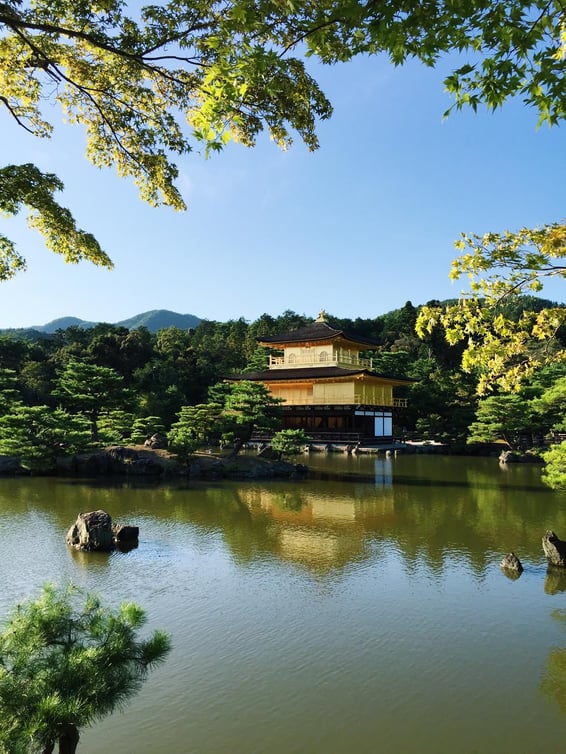 Kinkaku-ji, also known as the Golden Pavillion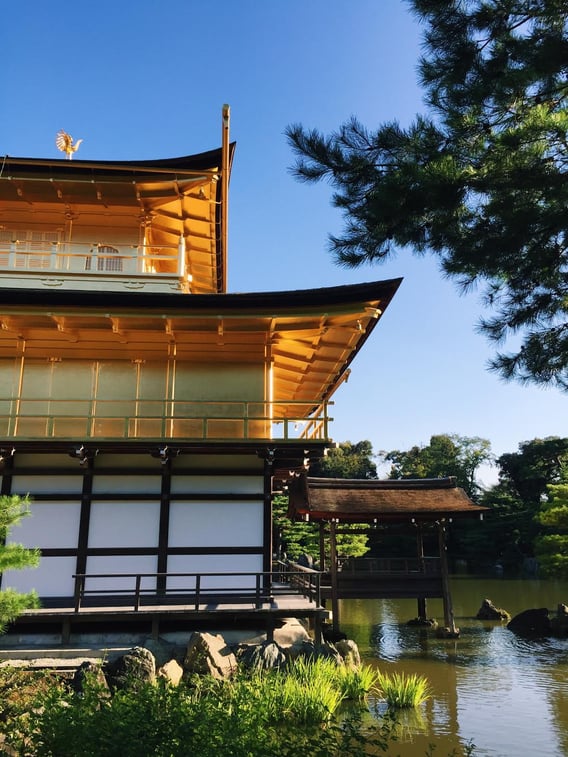 That's a golden phoenix perched at the top
7. Arashiyama Bamboo Forest
Have you ever seen those stock photos or screensavers of bamboo forests? Those are most likely from Arashiyama Bamboo Forest / Grove in Kyoto! A wide pathway will lead you through the grove where you can gaze at the towering bamboo plants that sway gently with the wind. During the day, the height and density of the bamboo stalks prevent the sun from fully streaming in, giving the forest a green glow instead of being completely lit up. Nearby, local merchants source some of this bamboo to make baskets and other household objects.
Travel tip: Arashiyama is open 24 hours a day and there is no cost to enter. However, the forest is far from Kyoto's main city center (where your hotel probably is) and will take you 30-45 minutes by cab. If you visit Kinkaku-ji, it's easier to stop by the Arashiyama Bamboo Forest because it's only a 15 minute cab ride from the Golden Pavilion.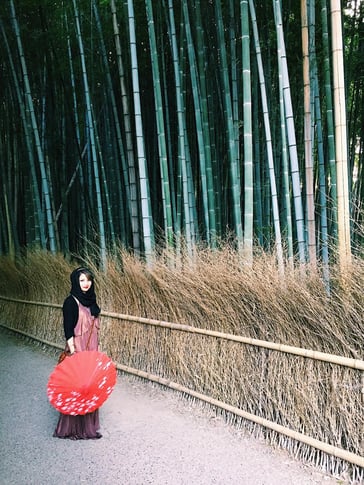 8. Istanbul Saray
This last name on my list of Kyoto recommendations is not a temple, it's a restaurant. All that temple-hopping and hiking will surely work up your appetite and this is by far the BEST Turkish restaurant Saad and I have ever eaten at.
Yes, I know it's a bit weird to promote Turkish food in Japan.
No, we haven't been to Turkey (yet).
With that said, Istanbul Saray is a halal Turkish restaurant in Kyoto that serves amazing kebabs (especially adana and iskender) and lamb and onion pizza. Their hummus was delicious too. To be honest, everything we tried was amazing. It was so amazing that we went there both nights we were in Kyoto.
Travel tip: Istanbul Saray is located on the second floor of the building.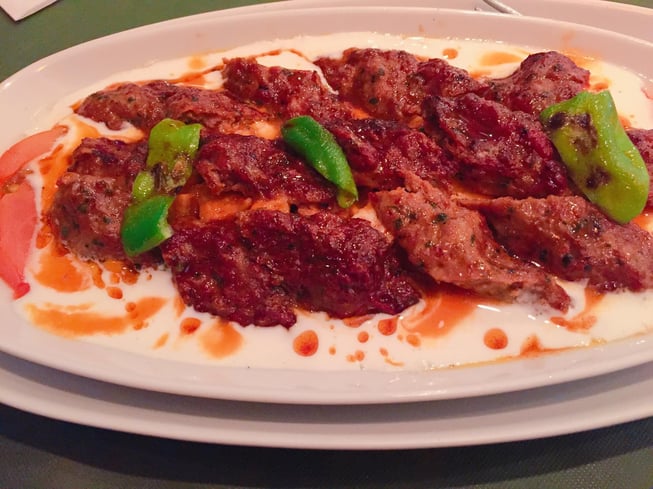 The mouthwatering 🤤 kebabs at Istanbul Saray (look at all that sauce! I'm a sauce girl, some have even called me "Sauce Queen"... sometimes Saad calls me "Sass Queen"... but I digress)
Other recommendations:
There are so many more beautiful temples and things to see in and around Kyoto. We didn't get a chance to visit them, but if you have more time, here are my other Muslim-friendly recommendations: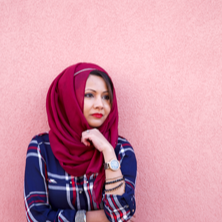 I'm a twenty-something Muslim blogger who's guilty of falling in love with every place I visit. I'm always planning the next trip in my head and missing the last one in my heart. When I'm not off discovering new parts of our beautiful planet, you can find me happily immersed in an art project.